Woody Allen's memoir earned little interest by publishers, report says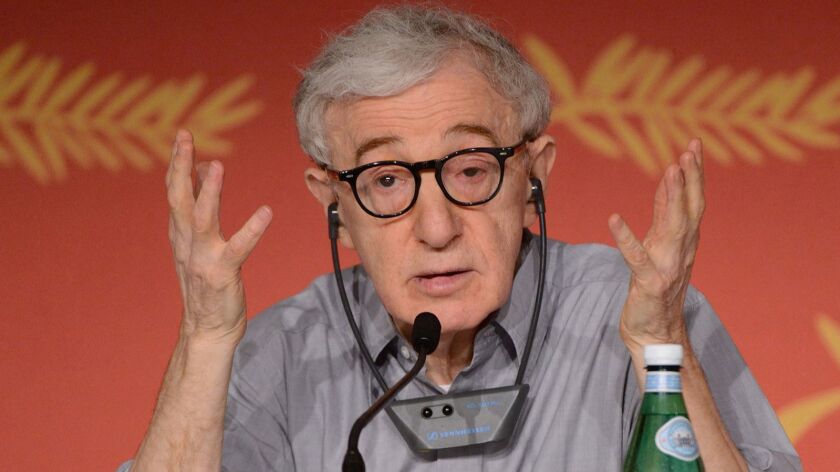 Woody Allen wrote a memoir, but couldn't find a publisher interested in buying it, the New York Times reports.
The film director, who has faced turmoil after the re-emergence of allegations of sexual abuse, had no luck getting publishers interested in a manuscript he had written, according to the newspaper, citing "executives at four major publishing houses."
Allen reportedly pitched his memoir to four of the so-called "Big Five" publishing houses, "only to be met with indifference or hard passes."
"Some publishing executives used the word 'toxic' when describing the challenges of working with Allen in the current environment," according to the New York Times, "noting that while he remains a significant cultural figure, the commercial risks of releasing a memoir by him were too daunting."
In 1992, Allen's adopted daughter Dylan Farrow, who was then 7 years old, accused him of molesting her at the Connecticut home of her mother, Mia Farrow. Allen denied the accusation, and criminal charges were never filed against him.
Although the accusations were public, Allen's career didn't suffer. He would go on to direct a series of hit films including "Bullets over Broadway," "Mighty Aphrodite" and "Match Point."
In a 2014 letter, reprinted in a column by Nicholas Kristof in the New York Times, Dylan Farrow renewed her allegations, writing: "That he got away with what he did to me haunted me as I grew up. I was stricken with guilt that I had allowed him to be near other little girls.... That torment was made worse by Hollywood. All but a precious few (my heroes) turned a blind eye. Most found it easier to accept the ambiguity, to say, "who can say what happened," to pretend that nothing was wrong. Actors praised him at awards shows. Networks put him on TV."
Three years after that, Dylan Farrow wrote a column for the Los Angeles Times headlined, "Why has the #MeToo revolution spared Woody Allen?"
"It isn't just power that allows men accused of sexual abuse to keep their careers and their secrets," Farrow wrote. "It is also our collective choice to see simple situations as complicated and obvious conclusions as a matter of 'who can say'? The system worked for Harvey Weinstein for decades. It works for Woody Allen still."
Earlier this year, Amazon Studios backed out of a production and distribution deal with the filmmaker, leading him to sue the company, alleging breach of contract.
Allen is the author of several books, including "Getting Even," "Without Feathers" and, most recently, "Mere Anarchy."
Allen's publicist and production company did not answer requests for comment about the memoir from the New York Times. His agent, John Burnham, told the New York Times: "For the 30 years that I've worked with Woody, the standard mantra on anything is, 'I can't discuss his business.'"
---
Get the latest news, events and more from the Los Angeles Times Book Club, and help us get L.A. reading and talking.
You may occasionally receive promotional content from the Los Angeles Times.