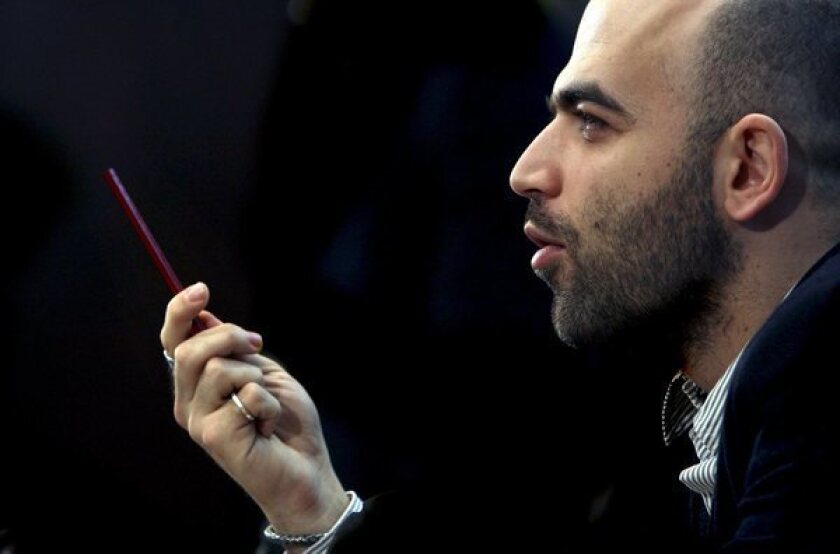 Few people read more literature that's written outside their own borders than the French. And if you want to get a really good sense about what's out there in the vast multilingual world of books, there's no better place to look than a French newspaper.
This week, the respected Paris daily newspaper Libération asked 20 non-French writers to recommend 20 recently published books to their readers. (Among them there is a certain American novelist and blogger for Jacket Copy — moi.)
If you read French, you can check out our essays at this link. Even if you don't, the list itself is a wonderful journey through the international literary moment. Most of the books have been released in English -- a few were published many years ago in English but only recently in other languages. I won't name all 20 here, but among the highlights are:
The Nobel laureate Mo Yan's novel "The Republic of Wine" is the recommendation of the Russian novelist Andrei Gelasimov.
The Italian writer Roberto Saviano chooses the work of a writer I interviewed this year — Salman Rushdie and his memoir "Joseph Anton."
Rushdie himself suggests one of my own favorite books of 2012, Junot Diaz's "This Is How You Lose Her." I called it a work of "acrobatic word wizardry" and "a three-dimensional, laugh-out-loud experience."
César Aira of Argentina suggests a more subdued book and one that's much harder to find: the Canadian artist Rodney Graham's novel/artwork, "The System of Landor's Cottage: A Pendant to Poe's Last Story."
The Scottish poet John Burnside recommends a book published by PM Press here in California: "Love and Struggle," David Gilbert's memoir of life in the Students for a Democratic Society and the radical Weather Underground.
Durbravka Ugresic, a Croatian writer, recommends "Freud's Sister," a novel of the Holocaust by the Macedonian writer Goce Smilevski, which won the European Union Prize for Literature.
Another book actually written during the Holocaust is the suggestion of the Italian writer Erri De Luca: "Etty Hillesum: An Interrupted Life the Diaries, 1941-1943."
Fiona Kidman of New Zealand picks Alice Munro's "Dear Life," and the massive "Parallel Stories" by the Hungarian novelist Peter Nadas is the choice of the German writer Gila Lustiger. Hideo Furukawa of Japan picks a book set in Los Angeles: Thomas Pynchon's "Inherent Vice."
Among the few modern non-fiction books on the list is Steven Pinker's "The Better Angels of Our Nature: Why Violence Has Declined," which is the choice of the Colombian author Hector Abad.
And speaking of Hectors, this Hector's addition to the list was Kevin Powers' "The Yellow Birds," a novel of the Iraq War. My review in The Times called it "a beautiful and horrifying trance of a book."
hector.tobar@latimes.com
ALSO:
Neil Gaiman plans last book-signing tour, ever
11 last-minute gift ideas for book lovers (that aren't books)
Oprah's choice: melodrama overtakes Ayana Mathis' "Twelve Tribes of Hattie"
---