Netflix flexes its muscle again as it spends big to lure top talent from networks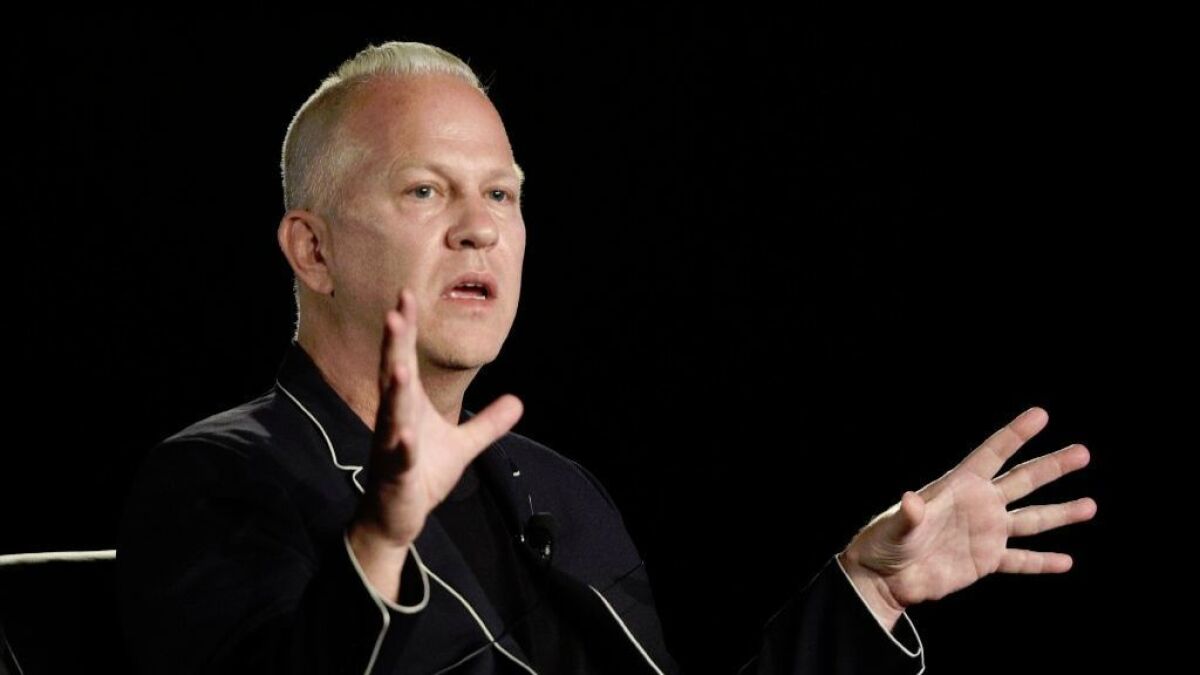 With yet another mighty roar, Netflix sent a warning shot to the rest of the entertainment industry — landing a new multiyear deal with prolific TV producer Ryan Murphy, the man behind 20th Century Fox Television's "Feud," "American Horror Story," "Glee" and more. The deal — which some pegged at as much as $300 million — is the latest evidence of just how powerful the streaming giant has become at luring Hollywood's top talent away from established competitors.
The agreement, which was announced late Tuesday, adds another name-brand producer to Netflix's growing stable of hit makers. It also signals the company's willingness to splurge on big names as it continues to borrow heavily to fund its ambitious growth strategy, which will see the company spend a projected $7.5 billion to $8 billion on content this year, up from $6 billion in 2017.
While some experts see the Murphy deal as the latest exhibit in Netflix's profligate ways, the announcement is being lauded as a coup for the Los Gatos, Calif., company, which recently poached "Grey's Anatomy" and "Scandal" producer Shonda Rhimes from ABC in what is shaping up to be an escalating war for talent with traditional networks.
Netflix declined to comment on the financial terms of the five-year deal, which begins July 1, after his agreement with Fox expires.
The producer, whose shows appear on the Fox broadcast network as well as the FX cable network, is known for his edgy creative tastes that win awards and critical plaudits but not always mass viewerships. His latest project for FX is "Pose," a transgender-themed dramatic series that is set to debut this summer.
"Ryan Murphy is a win for Netflix because he will make good content. But he's a risk because he may not make commercial content — shows that people will want to see," said Michael Pachter, a digital media analyst at Wedbush Securities.
He said Netflix probably overpaid to persuade Murphy to leave his longtime creative home at Fox. "It's everything that's wrong with Netflix. He's going to have expensive tastes and will want to hire A-list stars. That could push the price of his shows even higher," Pachter said.
The streaming service typically pays talent more upfront than traditional media companies because there is a smaller back-end revenue stream due to the absence of certain residuals, such as syndication.
The Murphy deal could escalate the wild west ethos that Netflix and other streaming services such as Amazon have brought to the TV industry — where longtime loyalties are broken in an instant and everyone is up for the taking.
"It's land-grab time in the world of television," said Peter Csathy, founder and chairman of Creatv Media.
"They're grabbing up the biggest names they can get for marketing purposes. In isolation, it may not be seen as a smart financial deal. But if Netflix is able to parlay that into more subscriptions and customer retention, then it's smart."
Netflix's subscriber base continues to soar, breaking expectations on a regular basis. For the recently concluded fourth quarter, the company added 8.3 million new viewers, which was a quarterly high. Global subscriptions stood at 117.6 million at the end of last year. And it has continued its physical march into Hollywood, too, moving into more buildings on the Sunset Bronson Studio lot — and expanding both its office space and soundstage footprint.
"Ryan Murphy's series have influenced the global cultural zeitgeist, reinvented genres and changed the course of television history," Ted Sarandos, Netflix chief content officer, said in a statement announcing the new partnership. "His unfaltering dedication to excellence and to give voice to the underrepresented, to showcase a unique perspective or just to shock the hell out of us, permeates his genre-shattering work."
Prior to Tuesday's announcement, Murphy had already struck a deal with Netflix to release his new original series "Ratched" and "The Politician," which will premiere globally on the streaming platform.
Murphy has spent the bulk of his career at 20th Century Fox Television, a place he lovingly called home. His new Fox series "9-1-1" was well-received when it debuted last month and has been renewed for a second season. But Netflix's deep pockets for programming and its more than 100 million subscribers are proving to be a potent lure.
Netflix's projected $8-billion annual content spend would put it well ahead of rivals Amazon, Hulu and HBO.
Michael Pressman, a veteran television director who recently helmed episodes of "Law & Order: Special Victims Unit," "Chicago Med," "Justified" and "Elementary," described the Netflix-Murphy deal as a "complicated situation for the networks."
"Netflix seems to be offering creative freedom, stretching the envelope, doing something different — bold, courageous — and they have deep pockets. How do you compete with that?" Pressman said.
Murphy's move signals the beginning of an expected talent drain from Fox even before its $52.4-billion sale to Walt Disney Co. is completed.
Fox has been battling Netflix in court for months over the streaming company's aggressive poaching of its executives. Netflix's voracious appetite for top artistic and executive talent has rubbed many in Hollywood the wrong way, giving it a reputation as an overly aggressive player willing to use sharp elbows.
Netflix has also snapped up executives on the movie side, hiring Scott Stuber last year after his successful stint at Universal as vice chairman of worldwide production.
The company is likely to continue poaching more Hollywood names in the months and years ahead, said Ashwin Navin, CEO of Samba TV, a data and analytics company for the TV industry.
"When you say you're going to spend $8 billion on content, that is an enticing statement to make to the creative community, which is struggling to fit their expression in the current [media] model," he said.
The Murphy deal is part of Netflix's long-term strategy to create more self-owned original shows, as opposed to series such as "House of Cards" and "The Crown," which it licenses from other studios.
That brings higher upfront production costs for Netflix, but allows the company to control the rights to the shows and insulate it from higher licensing fees. Netflix has stated that it wants half its content to be owned originals.
"Netflix is clearly trying to build more self-sufficiency in its content catalog so it is not faced with rising costs," Navin said.
Murphy, 52, first broke out on the TV scene as the creator of the FX series "Nip/Tuck," which debuted in 2003 and ran for several seasons. "Glee" later became a hit on Fox, cementing Murphy's industry cachet as a producer of popular TV fare.
But Murphy's shows have skewed darker in recent years, including FX's recent "The Assassination of Gianni Versace," the latest installment in his "American Crime Story" anthology series. The drama depicts the gruesome murder of the fashion icon, and takes viewers on a tour of the worlds of drugs and male escorts.
His other hits include FX's "The People vs. O.J. Simpson," which won multiple Emmy Awards.
In a statement, Murphy said the Netflix deal represents the culmination of his professional and personal lives.
"The history of this moment is not lost on me," he said. "I am a gay kid from Indiana who moved to Hollywood in 1989 with $55 in savings in my pocket, so the fact that my dreams have crystallized and come true in such a major way is emotional and overwhelming to me.
Times staff writer Daniel Miller contributed to this report.
---
UPDATES:
Feb. 14, 5 p.m.: This story was updated with additional analysis and reaction.
This story was originally published on Feb. 13 at 8:15 p.m.
Inside the business of entertainment
The Wide Shot brings you news, analysis and insights on everything from streaming wars to production — and what it all means for the future.
You may occasionally receive promotional content from the Los Angeles Times.