Talent agencies are reshaping their roles in Hollywood. Not everyone is happy about that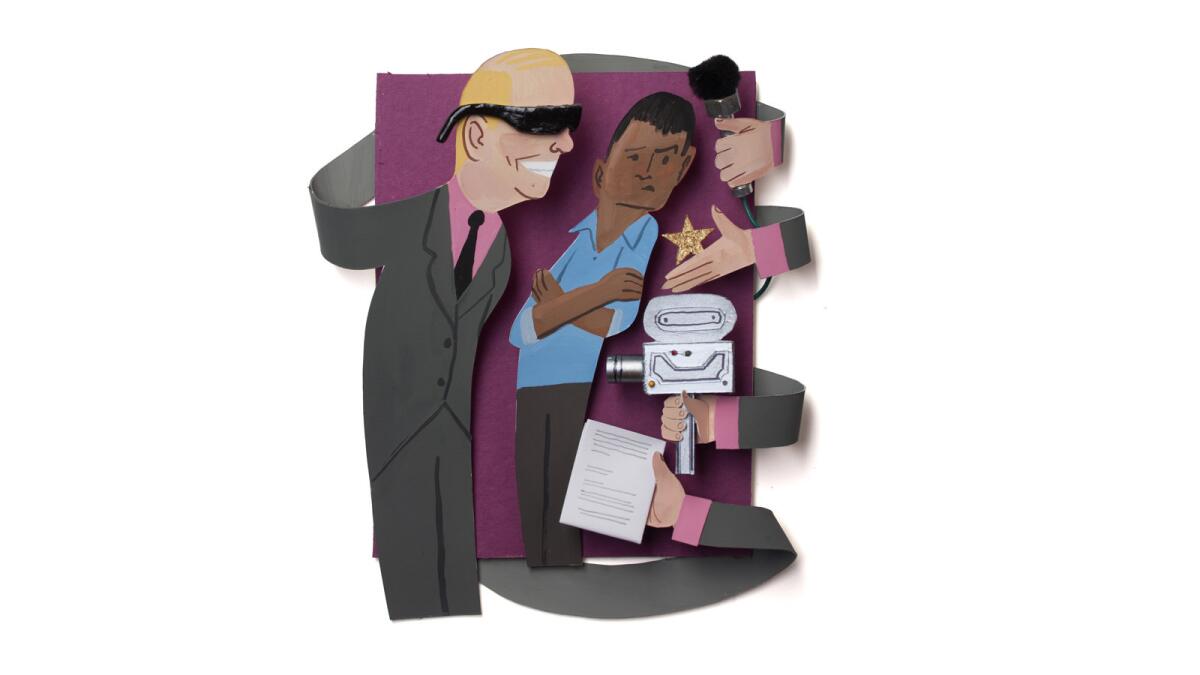 When the talent agency formerly known as WME-IMG rebranded itself late last year as Endeavor, it was more than just a simple name change. The Hollywood giant was sending a signal that it was recasting itself into a bigger and more ambitious role — a full-fledged media company.
From packaging TV shows to producing and distributing them, the newly christened Endeavor has inserted itself at nearly every level of the Hollywood food chain — as well as the worlds of sports and fashion. While this has opened up new revenue streams for the company, it has also sent waves through the industry, reanimating long-simmering concerns about the encroaching power of the big agencies.
Endeavor in October created its own content division, Endeavor Content, to spearhead TV and movie projects. It has expanded its reach mainly through acquisitions, including multibillion-dollar deals for IMG in 2013 and the Ultimate Fighting Championship two years ago. Creative Artists Agency has also entered the production business, though in more targeted ways than its rival. CAA recently brought on board former ABC executive Paul Lee to pursue programming for streaming outlets and cable TV.
The Writers Guild of America sounded an alarm in March to thousands of its members nationwide, arguing that agencies face a conflict of interest when they step into the producing arena. The union posed the question: Will an agency's fiduciary responsibility be to the staff writer it represents, or to the TV series that it owns and on which the writer is employed?
"The fiduciary should fully, without compromise, assert the complete and unmitigated interest of the client," the WGA said in a report sent to members and obtained by the Los Angeles Times.
On Friday, the East and West Coast branches of the WGA escalated tensions by announcing to members that the guild will be terminating its franchise agreement — the contract governing the relationships between guild members and the agents who represent them, including provisions regarding agents' traditional 10% commission.
The Assn. of Talent Agents, the trade organization that represents the agencies, confirmed that it received the guild's termination notice.
"It's unfortunate that the WGA has taken this step without ever having reached out to ATA to discuss any of the issues it sets forth in its proposals," the association said in a statement. "That said, the ATA will do what it's always done: constructively engage in a dialogue with the guild to consider any legitimate concerns."
The WGA's decision sends a bold message to the major agencies and reopens a contract that hasn't been renegotiated in more than 40 years.
It faces formidable opponents. The combined power of Endeavor and CAA is enormous — together, they represent the bulk of Hollywood's A-list celebrities and the majority of all packaged TV series. As a result, most people in Hollywood are unwilling to speak about the issue publicly. The WGA declined to comment, as did representatives of CAA, Endeavor and other agencies.
"There are a lot of disgruntled people. But it's whispered about. Everyone on the talent side is afraid to challenge the agencies for fear of being blackballed," said Neville Johnson, a Los Angeles attorney who has represented prominent Hollywood writers and actors in profit disputes.
The fear is pervasive. "The studios are afraid of not getting pitches and opportunities if they take a hard line against this," Johnson added.
Leaders in the agency business argue that the changes equate to a net benefit for clients, enabling them to pursue projects without having to navigate through the traditional studio system. Instead, clients are theoretically able to conceive, pitch and execute projects entirely within the walls of the agency.
"The idea is to let clients become the studio. That's been the function of it — wrapping services around these clients to allow them to be the studio," said one talent agency insider.
Some agency executives believe concerns about conflicts of interest are exaggerated since agencies deal with potential conflicts all the time. Endeavor's WME frequently encourages clients to have outside counsel working on their behalf and in some cases requires it.
But others say the conflicts are real. "There's too much power concentrated within two agencies," said Gavin Polone, a film and TV producer who is one of the few Hollywood insiders willing to talk publicly about the issue.
Polone, who produced last year's "A Dog's Purpose," has been an outspoken critic of agency packaging practices and has written about agency power for the Hollywood trade publications. (His production company is aptly named Pariah.)
"They'll say they would never do anything to disadvantage a client of ours and we'll make a better deal. But it's well known that when you create a self-interest that isn't aligned with someone you have a fiduciary relationship with, there will be people who take advantage of that."
Rumors abound that Endeavor and CAA are looking to go public and that new revenue streams from production ventures will improve their chances of successful offerings. But some industry insiders say any IPO would be in the distant future, if at all. Endeavor now appears preoccupied with Saudi Arabia, whose sovereign wealth fund is exploring the acquisition of a minority stake in the company worth between $400 million and $500 million.
The other two big Hollywood talent agencies — ICM Partners and United Talent Agency — also have pursued production deals, but not on the same scale as their competitors. ICM recently acquired the Just for Laughs comedy festival in Montreal, a deal that will give the agency ownership of the festival's TV production and distribution businesses that reach more than 135 countries. (The purchase was made with an ICM client, Howie Mandel.)
The blurring lines between agency and studio is the result of a unique confluence of industry trends. For decades, agencies have depended on packaging fees as their bread and butter. The fees are what an agency charges a studio or network for bundling its talent — actors, writers, directors — on a project, usually extracting a percentage upfront and on the back end.
But back-end revenue (the money generated after a film or TV show is released) has taken a hit as TV syndication and the DVD market have dried up in the age of streaming media, with companies like Netflix aiming to create more self-owned shows to which they own the rights in perpetuity.
In recent years, private equity firms have increased their stakes in Endeavor and CAA, exerting pressure on the agencies to find new sources of revenue beyond packaging and traditional talent representation. The result has been a further diversification of their portfolios to include production and other media ventures.
The law is ambiguous when it comes to talent agencies and production. California's labor laws don't specifically prohibit agents from acting as producers. But the law does bar agents from referring a client "to any person, firm or corporation in which the talent agency has a direct or indirect financial interest for other services to be rendered to the artist."
The clause, contained in the California Labor Code, is generally regarded as out of date, according to Jody Simon, a partner at Fox Rothschild where he practices entertainment law.
Simon said agencies are producing through related companies or making investments in third-party companies. In these cases, the licensed agency isn't doing the actual producing. Endeavor Content, for example, has recently partnered with Chernin Entertainment to develop scripted series and has invested in the newly formed faith-based entertainment company Third Coast Content.
Any successful pushback would probably have to come from the guilds. The WGA and SAG-AFTRA haven't updated their franchise agreements with the agencies in years, meaning they have little contractual power to halt the agencies' expansion.
SAG members rejected a new agency agreement in 2002. The guild declined to comment. The last time the WGA renegotiated its contract was 42 years ago.
"There's no rule or law that says there has to be a franchise agreement between the guilds and the agencies," Simon said. "There was a time when the guilds were able to say if you want to represent our members, you have to agree to a franchise agreement. But there doesn't have to be."
Antitrust action from the federal government also seems unlikely in the case of Endeavor, whose CEO Ari Emanuel is the former agent of President Trump.
Complaints about conflicts of interest date at least as far back as Lew Wasserman, the uber-agent who expanded his company MCA into film and TV production. His ambition caused much grumbling in Hollywood, and Wasserman eventually gave up the agency side of the business in a deal with the Justice Department in 1962.
Today, agencies retain much of their power through packaging, a practice that Wasserman helped make popular and that still rankles many in the industry. Together, Endeavor's WME and CAA comprise almost 80% of all packaged TV series, according to the WGA.
Agency executives privately argue that packaging benefits clients by giving projects more momentum, minimizing the chances of a deal falling apart in the development stages.
Recent attempts to break the grasp of the agencies have failed. An antitrust lawsuit brought in 2015 by the boutique agency Lenhoff & Lenhoff against ICM and UTA was dismissed last year, as was an appeal in March.
As agencies aggressively consolidate their power, clients are the ones who stand to lose, said Charles Lenhoff, who heads Lenhoff & Lenhoff.
"The creative community of artists is entitled to know that they are represented by agents who are not in league with their employer," he said.
---
UPDATES:
4:08 p.m.: This article was updated with additional details regarding the WGA's decision to terminate its agency agreement.
This article was originally published at 11:15 a.m.
Inside the business of entertainment
The Wide Shot brings you news, analysis and insights on everything from streaming wars to production — and what it all means for the future.
You may occasionally receive promotional content from the Los Angeles Times.