With a starring role on Fox Nation, Tomi Lahren wants to save California from itself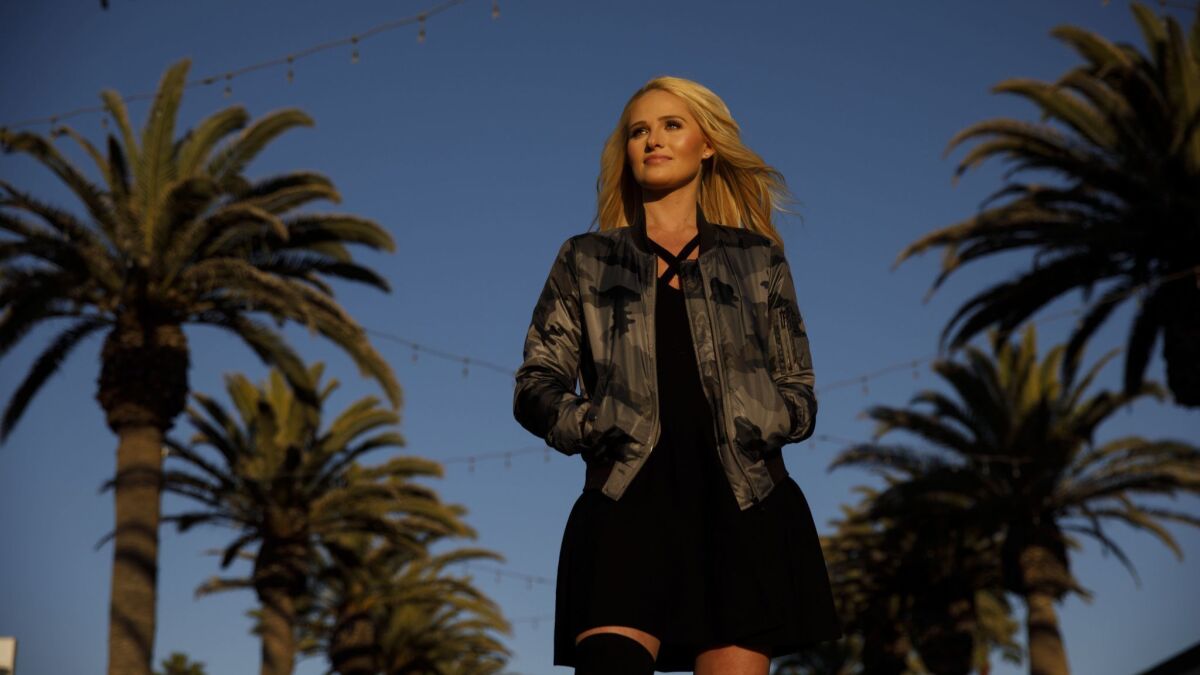 Tomi Lahren has some thoughts and she's not holding back.
In a small TV studio situated on the top floor of her home in Los Angeles' South Bay, the 26-year-old Fox Nation host and conservative media firebrand was recording "First" and "Final Thoughts" — her twice-daily short videos that function as quick hits of outrage.
Looking into the camera with a glare, she labels Sen. Kamala Harris a socialist, mocks Gov. Gavin Newsom as "Greasy Gavin" and dismisses Rep. Alexandria Ocasio-Cortez as a "dimwit." She also lashes out at the media's coverage of "Empire" actor Jussie Smollett, who at the time faced charges that he faked a hate crime, though prosecutors later dropped the charges. "You need this story to be true to preserve a narrative?" she asked, practically shouting. "That's sick."
Lahren spikes her unique brand of rage bait with righteous anger, riling up her millions of fans and her haters in equal but opposite measure. As a marquee host on Fox News' new digital streaming service, the social media star now has the resources of the country's top-rated cable news network to amplify her voice to new levels.
It represents a remarkable rebound for Lahren, who split acrimoniously from Glenn Beck's The Blaze two years ago following comments she made that were sympathetic to legal abortion on ABC's "The View." With a new platform, Lahren promises to be combative, unfiltered and happy to infuriate the opposition.
"Before I was hired [at Fox], I made it very clear — this is who I am. I sometimes say things that some people view as controversial," she explained later in an interview at a favorite hangout spot in Hermosa Beach.
But Lahren, who was widely criticized for comments she made in December about migrant caravans supposedly bringing disease into the country, has no plans to tone it down. "This is what I do."
"She's taken outrage to the next level," said Lauren Feldman, an associate professor of journalism at Rutgers University.
But Lahren is more complex than just a purveyor of outrage, said Feldman. "Tomi is savvy at injecting herself into the pop culture conversation. Like a lot of young celebrities, she gets that there is this bleeding of the line between entertainment and politics and that's what draws young people into the political space."
Lahren moved to L.A. a year and a half ago when she became a Fox News contributor, following her departure from the Texas-based The Blaze. And she has stayed because she views California as fertile ground for Fox Nation coverage, which includes her reports from the U.S.-Mexico border — she is adamantly pro-wall — as well as commentary on a range of state issues like the the bullet train and the homelessness epidemic.
"I love California. I think it needs to be saved," she said. "Things that happen here trickle down. California is a cautionary tale for the rest of the country."
Lahren said converting her millions of Facebook fans to Fox Nation subscribers will be challenging. But, "if anyone can do it, it's a Fox News platform," she said.
Though she didn't initially support Donald Trump for the Republican presidential nomination, she has since become a vocal backer of Trump, who frequently praises Fox News.
Her ardent conservatism has made her a target for virulent criticism from the left. She has been called a "white power Barbie" and is labeled a racist on a regular basis. Lahren has repeatedly denied that she is racist and has condemned white supremacy. "They think if they say something horrible and disgusting about me, I deserve it because in their minds, they've made me out to be this villain," she said.
Lahren has devoted ample Fox Nation coverage and social media bandwidth to Cpl. Ronil Singh, the California police officer and Fijan immigrant of South Asian descent who was killed while on duty in late December. The suspect arrested in the case is a Mexican national who had illegally crossed into the U.S.
"If this doesn't piss you off, you're not paying attention," Lahren wrote on Instagram.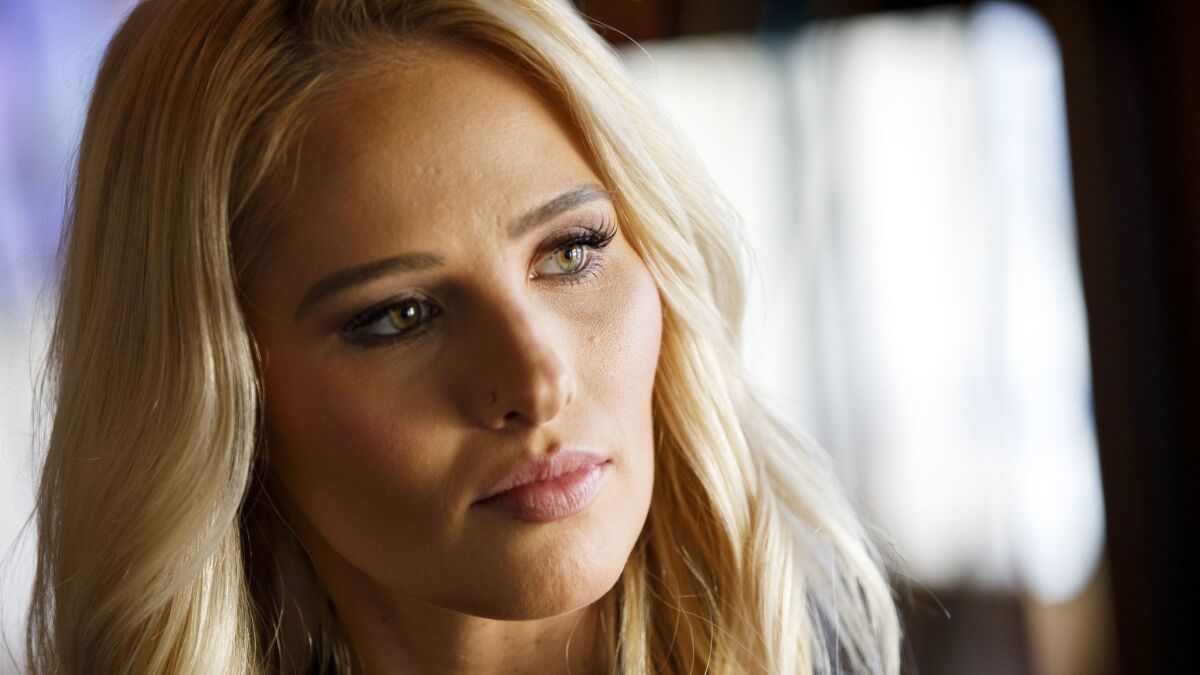 In person, the petite news host is less aggressive than her on-air persona, but she still speaks with the rapid-fire confidence of someone born to the pundit class. In reality, Lahren grew up in rural South Dakota, far from the media world. Her father is a building manager for Target; her mother, a bank loan officer. Lahren discovered her calling early as a kid.
"My cousins and I did a cooking show with Play-Doh and I would host it. We set a camcorder and we made my parents watch it afterwards," she recalled. "I always knew I wanted to be in media."
At 21, while still a broadcast journalism student at University of Nevada, Las Vegas, she landed her own show on One America News Network, the San Diego conservative news channel. Her "Final Thoughts" video clips, some of which have tens of millions of views, established her spitfire style and turned her into a YouTube celebrity.
"She is somebody who has this innate knack to get people talking, to get people to be passionate, that would be right on brand," said John Finley, the network's executive vice president of development who also oversees Fox Nation. "We give her guidance but 99% of her stuff originates with Tomi and is her voice."
Fox Nation, which debuted in November, is the first streaming service launched by a major cable news network. The network declined to provide viewership data but said the service is expected to beat internal benchmarks for the fiscal year.
Aimed at Fox News "super fans," the on-demand platform, which some have dubbed Netflix for Conservatives, features opinion-based series as well as documentaries from familiar Fox News personalities. It also spotlights newer faces like Lahren, who hosts the interview series "No Interruption" in addition to her daily "Thoughts."
Despite having Fox News producers, technicians and fact checkers at her disposal, Lahren retains the same do-it-yourself spirit that she honed after her departure from The Blaze, when she was making videos in her car with her phone. She still writes her own scripts. She does her own hair and makeup. Her high-end outfits come from an online designer dress rental service.
"If I don't have the resources, I make them," she said. "So I've never been someone who needs a big budget to do anything."
Her only indulgence appears to be her home TV studio, which Fox created for her in a concession to L.A. traffic and her unusual schedule that sometimes requires her to stay up until 3 a.m. for her appearances on the "Fox & Friends" morning show.
Fox News has come under intense pressure in recent months following controversial statements made on-air by hosts Tucker Carlson, Laura Ingraham and Jeanine Pirro. Liberal activist groups have pressured advertisers to flee the network they view as a propaganda arm for the White House.
Though Fox Nation isn't ad-supported, Lahren nonetheless has felt the heat for some of her comments, including those she made in December about migrant caravans coming through Mexico. "Do you want TB, HIV/AIDS, chicken pox and hepatitis in your communities, at your children's schools?" Lahren asked in a Fox Nation segment. The comments drew vehement condemnation on social media and from health experts, with some accusing her of fear-mongering.
"I don't apologize for anything I've said in my 'First' or 'Final Thoughts,'" she said, adding she used information from Mexican health officials.
Lahren often crosses the aisle to appear on left-leaning shows like "The View" and "The Daily Show" on Comedy Central, where she has been booed and heckled by the in-studio audiences. "Daily Show" host Trevor Noah once called her a racist but recently complimented Lahren for her willingness to venture into the lion's den.
She has also engaged in social media wars with prominent rap artists, including Cardi B, who threatened to "dog walk" Lahren after they feuded over President Trump's border wall. Her Twitter post gloating over rapper 21 Savage's arrest by ICE agents in February has only inflamed the situation. The rapper known as The Game recently tweeted back sexually explicit insults, which Lahren addressed on Fox Nation.
Like other Fox News hosts, Lahren has received her share of threats. She said she's filed police reports, including one incident in which someone threatened to kill her at her home.
But playing victim isn't part of her repertoire.
"I believe in the 2nd Amendment," said Lahren, who has posed with firearms on her Instagram account. "That, to me, is the key to female empowerment — is being able to protect and defend yourself."
Far more traumatic for Lahren was her departure from The Blaze, the conservative new media company founded by Beck. Lahren, who had an hour-long show, sued the company in 2017, claiming that Beck fired her after she made comments about abortion on "The View." The suit was eventually settled, but not before Beck labeled her difficult in his own filing, alleging that Lahren was rude to crew members and clashed with colleagues.
Lahren said the suit was financially and personally draining, but there's at least one positive outcome. Her first book, which will be released in July, uses her experience at The Blaze to counsel young women on self-confidence and fighting back.
"The No. 1 question I get from my fan base is a lot of young women asking about confidence," she said. "They can say whatever they want about me but they can't say I don't stick to my guns and follow through with it. I don't sway with the wind."
---
Inside the business of entertainment
The Wide Shot brings you news, analysis and insights on everything from streaming wars to production — and what it all means for the future.
You may occasionally receive promotional content from the Los Angeles Times.