Writers Guild votes overwhelmingly for code of conduct limiting talent agency practices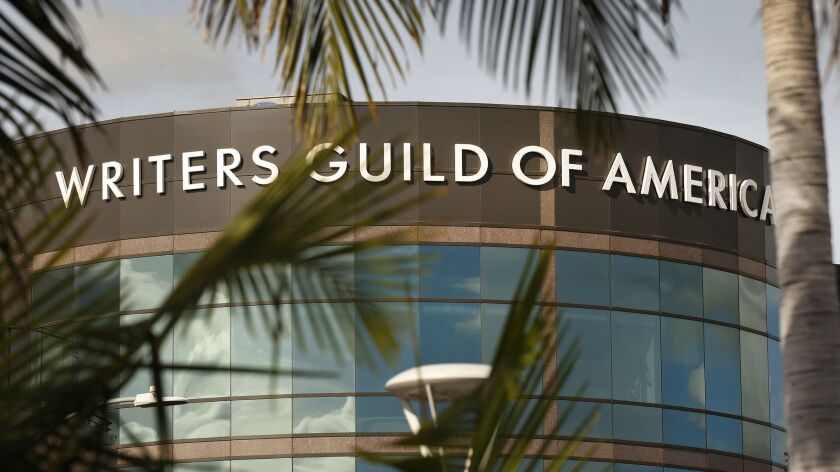 The divide between Hollywood writers and their agents deepened on Sunday when members of the Writers Guild of America voted overwhelmingly in favor of a new code of conduct that would curb the use of packaging fees and other unpopular industry practices.
The WGA said Sunday that 95.3% of members who participated in the vote, or 7,882 individuals, said they are in favor of the new code, with just 4.7%, or 392 people, voting against it. The guild said it had no further comment.
Voting began Wednesday and concluded Sunday morning as talks between the two sides appeared to make little headway.
The Assn. of Talent Agents, the organization that represents the talent agencies, said in a statement that it was eager to resume negotiations.
"Now that the WGA is past its vote, we look forward to getting back into the room to work through an agreement that serves the best interest of writers, respects their individual choice, and prevents unnecessary disruption to our industry. We stand ready and waiting."
Writers Guild vs. talent agencies »
While Sunday's vote is largely regarded as symbolic, since no talent agency has thus far agreed to sign it, the resolution is expected to put more pressure on agencies as the two sides are set to recommence talks this week ahead of Saturday's deadline to negotiate a new franchise agreement.
The WGA has taken the extraordinary step of saying its members will fire agents if they don't abide by the new code. Initially, the threat was seen as little more than rhetorical saber-rattling. But in recent days, many high-profile Hollywood writers have signaled that they support the WGA's efforts if their demands aren't met.
J.J. Abrams, the writer-director-producer behind "Star Wars: The Force Awakens" and ABC's "Lost," said Wednesday that he was throwing his considerable clout behind the guild.
"If you agree with me that it's finally time to end agencies' conflicted practices, I urge you to join me and vote yes," he said in a statement to other WGA members last week.
Abrams joined a growing list of prominent Hollywood writers including Aaron Sorkin, David Chase and Jenji Kohan who have signed a statement saying they will fire their agents.
"I think [Sunday's] vote is a tactic," said Elsa Ramo, an entertainment attorney who isn't involved in the negotiations. She said the union is using the vote of support to maximize its leverage. "The question is if all the barking is going to result in a bite?"
The unprecedented dispute has put much of Hollywood on edge.
Writers last negotiated a franchise agreement with their agents in 1976. In that time, the agency industry has dramatically evolved, especially in the last decade as an influx of private equity investment has put pressure on agencies to grow their bottom lines.
Writers are arguing that their agents face rising conflicts of interest as the major agencies seek out new revenue streams to supplement, and perhaps overtake, the traditional business of talent representation.
Much of the dispute revolves around packaging, a longstanding practice in Hollywood. But the WGA has said agencies are prioritizing packaging fees over client representation. Packaging fees are the percentages that agencies earn on a project for putting together talent from their client rosters.
While packaging fees have become an important revenue stream, the major agencies said that their clients earn more from packaged shows, in part because they don't have to pay the traditional 10% commission.
Writers are also objecting to agencies' move into the world of TV and movie production. Three of the big Hollywood agencies — Endeavor, CAA and UTA — have embarked on production activity, either through new internal divisions or outside partnerships. The WGA last week blasted plans by Endeavor, which has become a major player in entertainment production, for an initial public offering.
The guild argues that agencies face a conflict of interest when they both employ and represent talent on a show. But the agencies said they are capable of handling potential conflicts by involving talents' managers and attorneys.
The dispute could end up heading to court. The major agencies are gearing up for a potential lawsuit if the two sides don't reach an agreement by Saturday's deadline, according to an individual with knowledge of the situation. But the WGA could sue the agencies over their business practices. Last week Creative Artists Agency was sued by a writer who claims the agency stole his idea for a TV pilot and handed it to another client. CAA has denied the allegations.
In a speech given Wednesday to guild members, WGA, West President David A. Goodman said that the agencies' business model has become "fundamentally flawed."
"Our goal for a new agency agreement remains to realign the agencies' incentives so their welfare is directly tied to writers," he said.
---
UPDATES:
1:35 p.m.: This article was updated with additional details.
---
Inside the business of entertainment
The Wide Shot brings you news, analysis and insights on everything from streaming wars to production — and what it all means for the future.
You may occasionally receive promotional content from the Los Angeles Times.