A gold-plated healthcare plan lies at the center of a dispute between writers and major studios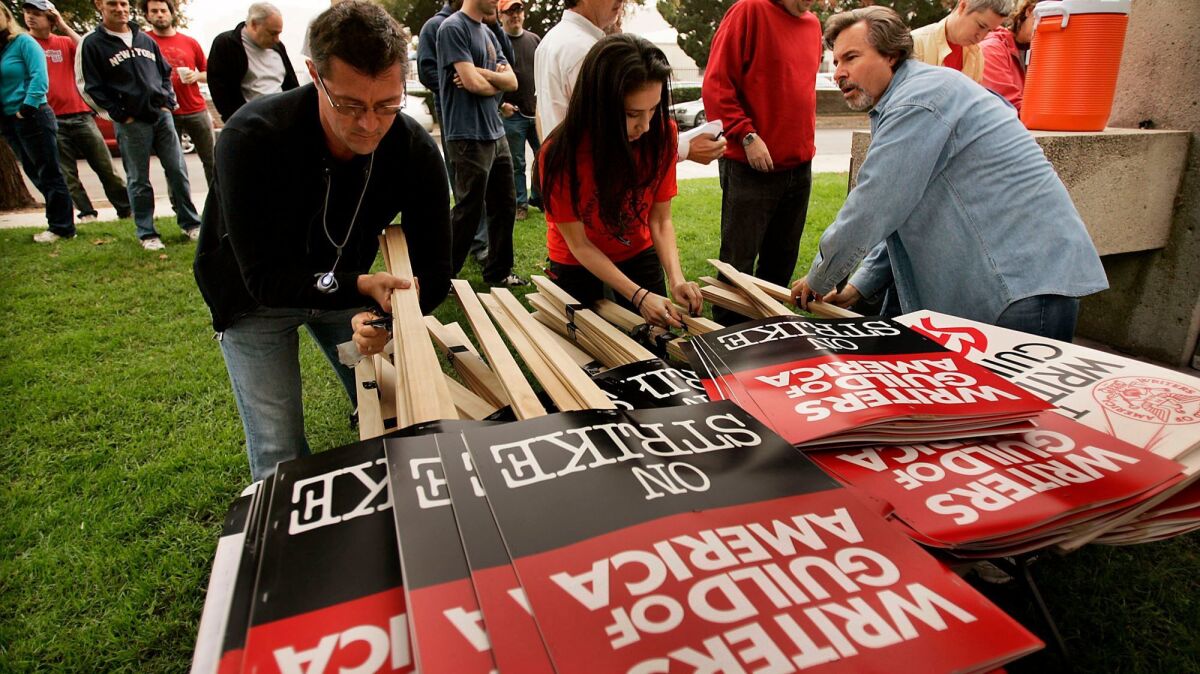 When Hollywood writers went on strike in 1973, they were agitating for something new -- the creation of a health plan that would offer comprehensive coverage for its guild members.
Since then, the writers' insurance plan has grown to become one of the most envied in Hollywood. Members don't pay monthly premiums and have deductibles far below the national average. Writers have access to a wide network of care providers, including top-notch facilities in Los Angeles where patients are responsible only for co-pays.
As writers and studios work to avoid a strike ahead of Monday's contract deadline, the guild's employer-funded health plan has emerged as a major bone of contention.
Like many plans, it faces spiraling costs and declining reserves.The negotiations come amid heightened healthcare anxiety nationwide as President Trump fights with Congress over his promise to repeal and replace Obamacare.
Gold-plated plans like the Writers Guild of America's were once common among big industrial unions but have become increasingly rare in the last decade as unions such as the United Auto Workers and others have faced pressure to rein in costs and have members contribute more.
"It's a very unusual and generous plan," said Dan Handman, a partner at Hirschfeld Kraemer, where he specializes in labor and employment law.
The Writers Guild has sought a 1.5% increase in employer contributions to the health plan. But Hollywood studios have balked at increasing their contributions and have instead proposed at least $10 million in cuts, guild officials say. They also want writers to start covering more of the costs. The guild is equally dug in and remains intent on protecting its hard-won gains.
Guild members have defended the generous provisions of their plan, saying that writers often face sporadic employment and go long periods without work. The health fund acts as a much-needed source of financial stability in a capricious profession and has long been one of the coveted perks of membership in the union.
"Most of our writers are middle class," said Chris Keyser, co-chair of the WGA's negotiating committee in an interview in March.
Keyser and other union leaders contend that studios can easily afford to help shore up the health fund. The studios believe that "cuts alone would solve shortfalls and not employer increases," he said.
Hollywood studios generally contribute 9.5% of a writer's gross income to the health plan, though contributions are capped at compensation of $250,000. But the trend toward shorter TV seasons has put downward pressure on writer pay, as well as the fund.
"As overall compensation for writers is going down, the contributions to the healthcare plan are going down because it is based on a percentage," Handman said.
As a result, the WGA is forecasting mounting deficits for the next four years, with shortfalls projected to balloon from $13.2 million in the current year to $65.8 million by 2020. The guild said that the fund recorded a $5.1-million surplus last year, which was consumed by the $31.5-million deficit for the previous three years.
Other unions face similar challenges with their health plans.
"These deficits aren't atypical of union funds," said Daniel Stone, an entertainment attorney at Greenberg Glusker. He said the problem stems from an aging baby boomer population that is drawing more on health plans, combined with stagnant incomes for younger members.
"It's a comparably less-affluent group paying for those who are older," Stone said.
The WGA said its health fund faces a hit from Obamacare, which imposes a tax on so-called "Cadillac" plans that are expensive to maintain and offer generous benefits. At the same time, any repeal of the law would remove a safety net for writers who don't earn enough to qualify for the union's health plan.
Guild officials also say that high mental health costs among its members are weighing on the fund. These include sessions with therapists and other mental health professionals.
"These costs have increased dramatically for our plan over the last few years," the guild said in a recent report.
Among the compromises that have been placed on the bargaining table is a switch to a tiered system, such as those offered by the other two major Hollywood guilds — SAG-AFTRA and the Directors Guild of America. The actors' union offers two separate plans based on income brackets and also requires that participants pay a quarterly premium.
The Directors Guild plan also offers two tiers based on income but doesn't charge premiums for members.
"I would say that the writers' plan is the most generous of the three," said David Smith, associate professor of economics at Pepperdine's Graziadio School of Business. The WGA's plan features a $300 deductible and $1,000 limit on out-of-pocket expenses per year.
The WGA currently offers a second, less comprehensive plan that is for COBRA participants only.
While people around the country have seen cuts to their health plans, "the [Hollywood] guilds have been able to avoid much of that," Smith said. But the WGA is now at "a breaking point. There's going to have to be more cost sharing, like a tiered plan, or lower benefits."
Like the other Hollywood guilds, the WGA imposes a minimum income threshold for its health plan. Writers must make at least $38,302 in one year to participate at a time when their incomes have been squeezed by rapid changes in the industry.
Healthcare isn't the only source of dispute in negotiations that have twice broken off since they began in March. Among the other points of contention are increases in compensation for writers, including higher streaming residuals and bumps in minimum pay to counter the effects of shorter TV seasons in a period of digital upheaval.
The two sides have made some progress in the last few days and are working to avoid a walkout, according to people familiar with the talks.
The writers are negotiating with the Alliance of Motion Picture and Television Producers, the bargaining organization that represents the major Hollywood studios and networks. Both the alliance and the WGA have imposed a media blackout for the duration of the talks and weren't available for comment.
Labor disputes in Hollywood often come at a time of industry upheaval, said Miranda Banks, an associate professor at Emerson College and author of "The Writers: A History of American Screenwriters and Their Guild." These include technological changes, from the advent of TV in the 1950s and the digital revolution of today.
"When those shifts happen, there needs to be a shift in the way people are compensated for their work," Banks said. "You have all of these elements of change that are making it a very intense time."
ALSO
L.A. businesses brace for writers' strike. One car lot is auctioning a third of its showbiz vehicles
No picketing for Pixar? Why a writers' strike won't hobble animation studios
A strike by TV and movie writers may be just days away. Here's what you need to know
---
Inside the business of entertainment
The Wide Shot brings you news, analysis and insights on everything from streaming wars to production — and what it all means for the future.
You may occasionally receive promotional content from the Los Angeles Times.