Las Vegas Convention Center may gamble on Elon Musk's Boring Co. for people mover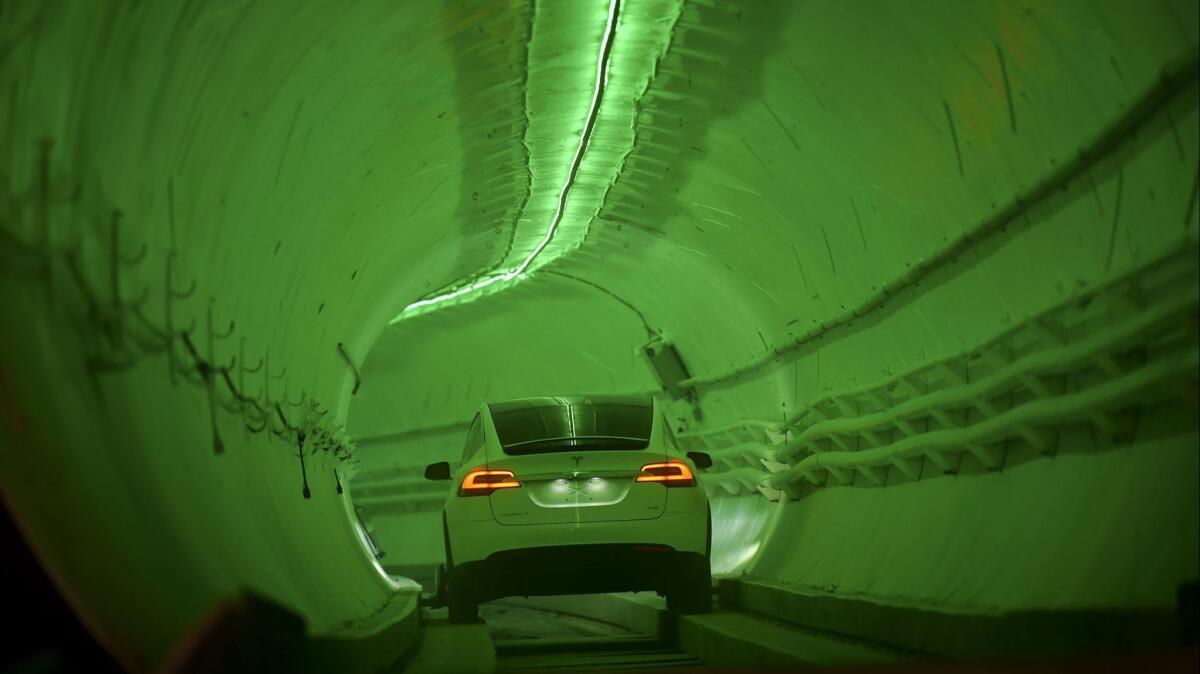 Elon Musk has promised to revolutionize underground tunneling in no less a fashion than his SpaceX rocket company and Tesla electric car maker have upended their respective industries.
Now, the L.A. entrepreneur's Boring Co. may have its best chance yet to see if that is even possible.

For the record:
1:15 p.m. March 8, 2019A prior version of this article inaccurately said the Las Vegas convention center was two miles from end to end. It is 1 1/4 miles long.
The Las Vegas Convention and Visitors Authority on Wednesday announced that it was taking a gamble with the fledgling infrastructure company, recommending it as the company to build an underground people mover as part of a 1.4-million-square-foot expansion now underway.
The project will make the massive center — already 1 1/4 miles from end to end — so large that the convention bureau put out bids for an automated transit system.
If the organization's board of directors approves the recommendation Tuesday, it could also pave the way for Boring Co. to eventually build tunnels that could connect the convention center to the city's downtown and the Strip.
"The team of people they have working on this are very capable people," said Steve Hill, president of the visitors authority. "They obviously know how to build a tunnel, and a lot of people have done that. They are doing it more efficiently than others have been able to do in the past."
The decision by the board could provide the best opportunity for Boring Co. to complete a commercial project, which Musk has boasted will allow autonomous vehicles to travel at very high speeds in narrow tunnels that dramatically cut the cost of construction.
Boring Co. estimated the cost of the Las Vegas project at $35 million to $55 million, the least expensive proposal, Hill said. The figure could vary depending on the tunnel alignment, the number of stations and other factors.
So far the only tunnel Boring Co. has completed has been a 1.14-mile test route beneath the streets of Hawthorne. It also is in negotiations to build a tunnel that would connect downtown Chicago and O'Hare International Airport.
It's also reportedly been in talks to build a high-speed tunnel between John F. Kennedy International Airport and Manhattan, and it has proposed a 3.6-mile underground route that would carry baseball fans between Dodger Stadium and a nearby Metro subway station.
However, those projects could be far more complicated and involve multiple bureaucratic hurdles. The Las Vegas visitors authority, though, wants its automated transit system to be done by the time the convention center expansion is complete in 2021.
Michael Manville, an associate professor of urban planning at the UCLA Luskin School of Public Affairs, said the Boring Co. proposal in Las Vegas has a lot in common with the transportation systems used in airports, where travelers have to take trams to get to different terminals.
Based on the information released Wednesday by the visitors authority, he said the proposal is interesting but far from revolutionary.
"All it is right now is kind of a fancy people mover through a convention center," Manville said.
Boring Co. said Musk would not comment on the announcement, but President Steve Davis issued a statement saying the company was "excited to work with the [visitors authority] to provide a world-class mass transit system in Las Vegas."