Newsletter: Cal Inc.: Google gets in the hot seat before a House committee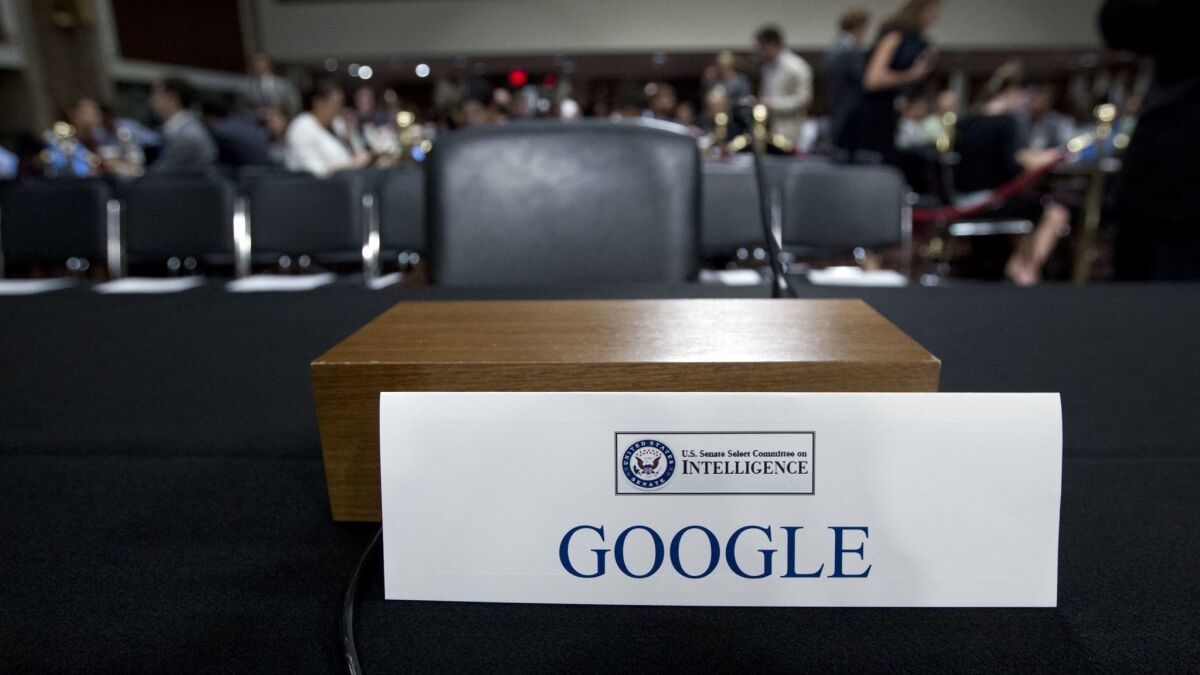 Welcome to California Inc., the weekly newsletter of the L.A. Times Business Section.
I'm assistant Business editor Laurence Darmiento, sitting in for the vacationing David Lazarus, and here's a rundown of upcoming stories this week and the highlights of last week.
A speech by Fed Chief Jerome Powell propelled the market to a weekly gain after investors interpreted his remarks as evidence the central bank may end its campaign to raise interest rates sooner than expected. And it won't be surprising if December gets off to a promising start after President Trump and Chinese leader Xi Jinping agreed Saturday to a cease-fire of their trade dispute. Trump promised not to raise tariffs amid continued negotiations while China will purchase more U.S. agricultural and energy products.
LOOKING AHEAD
Still purring: The 111th edition of L.A. Auto Show, which began last week, continues this week and runs through Dec. 9 at the Los Angeles Convention Center. Hundreds of thousands of visitors are expected to view the show's nearly 1,000 vehicles from dozens of manufacturers during its 10-day run.
Lift off: Hawthorne's SpaceX is scheduled to launch a Dragon rocket carrying supplies and research equipment to the International Space Station on Tuesday from Cape Canaveral in Florida. The rocket will carry the third phase of a NASA project demonstrating the use of robotic systems to refuel spacecraft.
Taking a seat: On Wednesday, Google Chief Executive Sundar Pichai will testify at a congressional hearing on the company's business practices, just three months after an empty chair was left to symbolize his refusal to appear at a similar hearing. Pichai will appear before the House Judiciary Committee to discuss transparency and potential bias at Google.
Jobs report: On Friday, the Labor Department is expected to report another strong month of jobs growth. Forecasters say 216,000 jobs were added in November and the unemployment rate held steady at 3.7%.
Box office intrigue: Debuting this weekend is "Mary Queen of Scots," a good old-fashioned European royal faceoff featuring Margot Robbie as Queen Elizabeth I and Saoirse Ronan as the infamous Mary Stuart, who tries to overthrow her. Also in limited release is "Ben Is Back," starring Julia Roberts as the mother of a drug-addicted teenager played by Lucas Hedges.
THE AGENDA
American automakers are abandoning the sedan in favor of faster-selling SUVs and highly profitable trucks, but it isn't just because the four-door passenger car that dominated the 20th century is no longer in vogue — Accords, Camrys and other foreign models still sell well. Instead, automotive writer Joe Nocera traces the vehicle's demise to reputational problems that go all the way back to the 1970s when Americans first started driving Japanese cars and never looked back.
STORY LINES
Here are some of the other stories that ran in the Times Business section in recent days that we're continuing to follow:
Breach redux: Another major corporation has suffered a data breach. This time it's hotel giant Marriott, which said as many as 500 million guests worldwide had private information exposed, in some cases credit card numbers, birth dates and passport numbers. The affected hotel brands were operated by Starwood before it was acquired by Marriott in 2016 and include W Hotels, Sheraton and Westin.
Sex scandal: Former CBS Chairman and Chief Executive Les Moonves will likely not receive a penny of the $140 million in severance he could have collected since being fired in September amid a sexual harassment scandal. This week the New York Times uncovered new details indicating that Moonves had offered roles on network shows to several actors in an effort to silence those who knew about his past sexual encounters.
Slowing market: Southern California home sales tumbled 7.5% in October from a year earlier, as buyers are being increasingly tapped out by a combination of rising mortgage rates and years of steady price hikes. Last month was the third straight of declines, and the 19,193 homes sold were the lowest number for an October since 2011, before the housing market took off following the financial crisis.
Mixed results: Fewer Americans shopped during the long Thanksgiving weekend this year than last year, and they spent less, according to the National Retail Federation trade group. NRF officials said consumers optimistic about the economy could be spacing out purchases instead of rushing to snag deals. Meanwhile, online sales totals for Black Friday hit $6.2 billion, the largest total ever.
Auto restructuring: General Motors Co. will cut as many as 14,000 workers in North America and put five plants up for possible closure as it abandons many of its car models and cuts costs to focus more on autonomous and electric vehicles. The moves reflect changing North American auto markets, which have been shifting away from cars and toward SUVs and trucks.
WHAT WE'RE READING
And some recent stories from other publications that caught our eye:
Rubber stamped: Bloomberg examines how small businesses are having their assets seized by predatory lenders through an obscure legal loophole called a "confession of judgment" executed by rural county clerks: "Their sign-offs — with electronic signatures or old-fashioned rubber stamps — give loan companies the legal authority to raid borrowers' bank accounts and seize other assets, bypassing the fuss and expense of a trial."
Taking a stand: More corporation are tiptoeing into politics but Patagonia, the Ventura outdoor retailer, has gone much further with its liberal activism — even endorsing two Democrats in November: "Much was made about how unprecedented and bold it was to make the corporate endorsements. For anyone paying attention, however, the move wasn't terribly surprising," Inc. reports.
Rabbit hole: New York Times contributor Jenny Odell dives into a web of online and brick-and-mortar businesses connected to Newsweek Media Group and Olivet University, a Christian college indicted along with Newsweek's former owner in connection with money laundering. "I couldn't get over the idea that a church might be behind a network of used business books, hair straighteners, and suspiciously priced compression stockings."
Hackers beware: The FBI has started deploying its own hacking techniques to identify financially driven cybercriminals, according to Wired, which documents cases involving two companies: "The news … ushers in a potential normalization of this technologically-driven approach, as criminal suspects continually cover up their digital trail and law enforcement have to turn to more novel solutions."
SPARE CHANGE
We're not usually much here for endorsing commercial enterprises, but the Christmas shopping season is here and we all could use some inspiration. This dose comes courtesy of nymag.com, which has collected "43 Surprising, Delightful, and Weird Holiday Gifts Under $50." And they're not exaggerating.
There's the $16 natural rubber teething mushroom for your toddler, the $15 reproduction of a 1972 handbook of drug terms issued by New York State and $6 melatonin tea biscuits to conk out your dog. And for those who want to teach their kids some early life lessons, select the $25 "Dyson for Kids," a 25-inch replica of the Rolls-Royce of vacuums. Presumably one step above a lump of coal.
For the latest money news, go to www.latimes.com/business. Mad props to Scott Wilson for helping put this together. David Lazarus will return next week.