Disneyland fans gripe about Shanghai Disney's free digital Fastpass, which costs $10 in Anaheim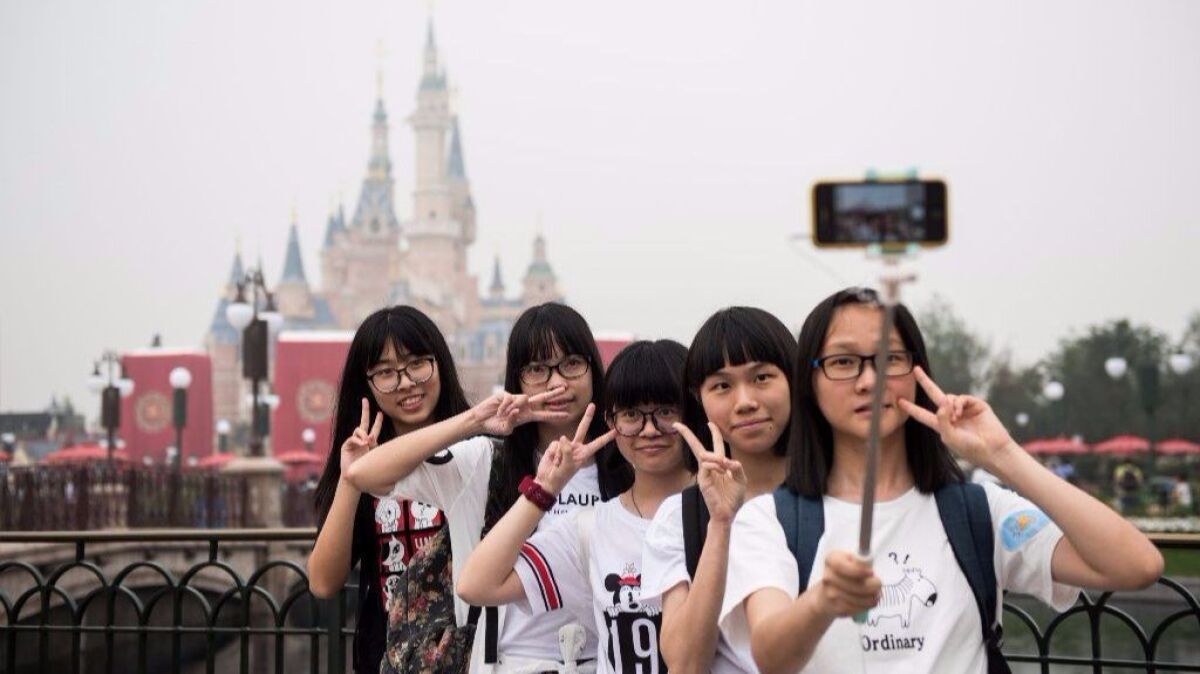 Visitors to the Shanghai Disney Resort in China will soon get to use a smartphone app to reserve a time to visit their favorite attraction without waiting in a long line — at no additional cost.
But some Disney fans are irked because the Disneyland Resort in Anaheim launched a similar app in July at a cost of $10 a day. The difference between the two is that the Disneyland app — called Maxpass — comes with free downloads of photos taken by park staff. The Shanghai app does not.
Some Disney fans are complaining online, saying the photo downloads aren't worth the extra fee. They also say cellphone and Wi-Fi service in the Anaheim parks is often weak, which hinders app use.
"It's just the latest money grab," wrote a Disney fan who goes by @RobertofDisney on Twitter. "There's no reason it shouldn't be free."
Both the Disneyland resort in Anaheim and the park in Shanghai have Fastpass kiosks throughout the parks where visitors can get a paper ticket that reserves a time later in the day to visit a ride without waiting in a long line.
With the digital systems, visitors can reserve a time to visit the ride using the Disney app without having to visit the kiosks.
In Anaheim, visitors can make reservations through the app to 16 rides at Disneyland and California Adventure Park.
At the Disney resort in Shanghai, the app makes reservations for seven rides. It is expected to be offered starting this fall.
In both parks, guests can continue to get paper tickets from the Fastpass kiosks.
To read more about the travel and tourism industries, follow @hugomartin on Twitter.
ALSO
Don't waste your time at Disneyland. Here's how to avoid the lines
Disneyland raised prices to shorten waits. Here are the results
This is your brain on Disneyland: A Disney addict's quest to discover why he loves the parks so much
Sign up for the California Politics newsletter to get exclusive analysis from our reporters.
You may occasionally receive promotional content from the Los Angeles Times.