Fed downgrades U.S. growth forecast and signals no more rate hikes until 2020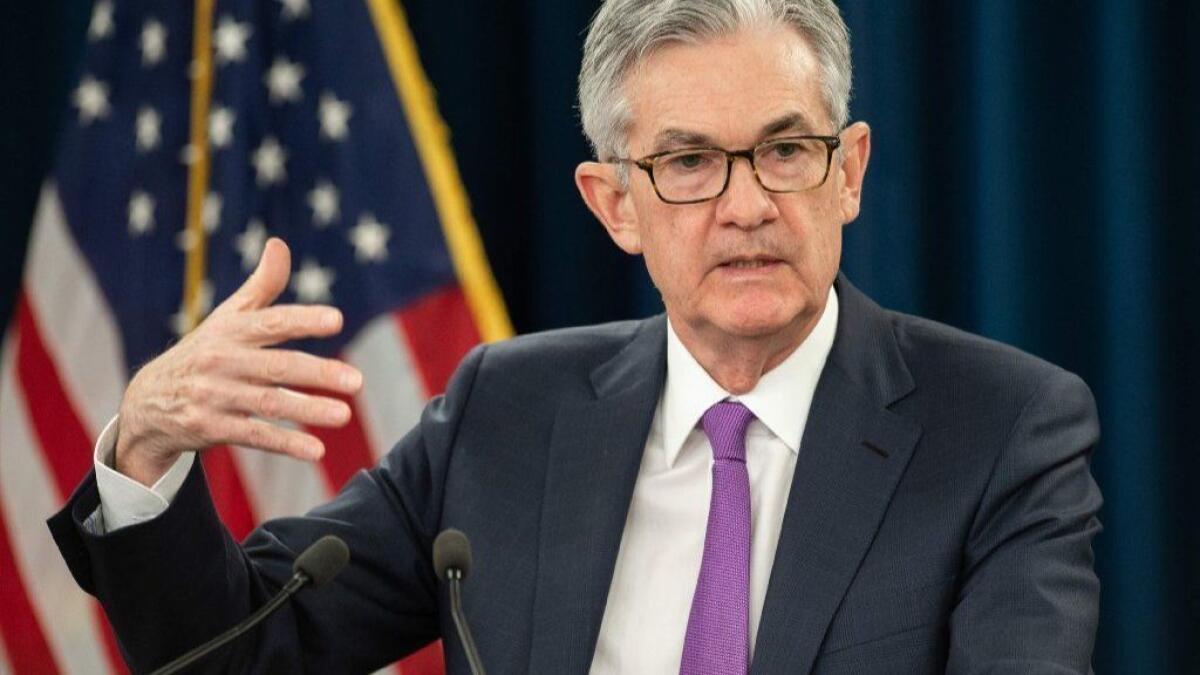 Reporting from Washington —
Federal Reserve officials on Wednesday poured some chilly water on President Trump's assertion that the U.S. economy is red hot.
They downgraded their estimate for U.S. economic growth this year to just 2.1% amid a slowdown here and abroad — while signalling there will be no more interest rate hikes until 2020.
Central bank officials also announced that they would slow the unwinding of a Great Recession-era stimulus program starting in May and end the scale-back efforts in October.
The Fed purchased trillions of dollars' worth of bonds to stimulate the economy from 2008 to 2014 in a controversial initiative known as quantitative easing. Since 2017, the Fed has been gradually reducing that stockpile as part of a broad effort to return to a more normal monetary policy.
Taken together, the Fed's actions showed that officials there aren't acting like the economy has never been better, as Trump frequently and incorrectly says, and are concerned about a significant slowdown.
Their economic forecasts are well below those released recently by the White House that predict 3.2% growth this year after reaching 2.9% last year. The 2018 growth was the best since 2015.
Asked about that large discrepancy in forecasts at a news conference Wednesday, Fed Chairman Jerome H. Powell scrunched his face and then said, "I haven't seen their projection."
The White House economic estimates are "an outlier," said Diane Swonk, chief economist at accounting and advisory firm Grant Thornton.
"The consensus has moved down in general for 2019," she said. "But the White House has something going for them: They were right last year. That isn't an indicator of future returns, as we say, but growth came in stronger than expected last year because of tax cuts and spending increases."
After a strong first half of 2018, however, the U.S. economy has slowed significantly in recent months, buffeted by the Trump administration's trade war and the partial government shutdown.
Fed officials said in a statement Wednesday, after a two-day policy meeting, that economic growth "has slowed from its solid rate" in the last three months of 2018.
The Fed's statement was more downbeat than after its last meeting in January. Fed officials noted Wednesday that recent economic indicators point to "slower growth" of household spending and a key type of business investment.
Given those forecasts, Fed policymakers voted unanimously, as expected, to keep their short-term interest rate steady at a range between 2.25% and 2.5%. The Fed hiked the rate a quarter of a percentage point four times last year as economic growth accelerated with the stimulus from the Republican tax cuts.
But that immediate economic boost now is fading. Economists have been forecasting much slower growth this year despite repeated assurances from the White House that growth would reach 3% or higher through 2024.
Powell gave a less gloomy assessment of the economy in speaking with reporters. The economy appeared headed toward a "modest slowdown" but the "underlying economic fundamentals are still very strong," he said.
"My colleagues and I have one overarching goal: to sustain the economic expansion with a strong job market and stable prices for the benefit of the American people," he said. "The U.S. economy is in a good place, and we will continue to use our monetary policy tools to help keep it there."
Swonk said Powell was trying to avoid sounding so downbeat that investors would anticipate an interest rate cut soon to stimulate growth.
"If he had been any less upbeat, he risked triggering the vicious cycle of people worrying about a rate cut," she said.
The Dow Jones industrial average, which had been off slightly for the day, jumped nearly 200 points initially after the Fed news before giving back most of those gains. The Dow closed down 141.71 points, or 0.6%, at 25,745.67.
Trump and congressional Republicans have argued that the $1.5-trillion tax cut legislation would add "rocket fuel" to the economy and end a period of sluggish growth of about 2.5% a year. Based on their forecasts, Fed monetary policymakers strongly disagree.
They downgraded their growth estimate for this year to 2.1% from the 2.3% projection made in December. And they now are expecting growth below 2% through 2021.
Also in December, Fed officials had indicated there would be two 0.25-percentage-point hikes this year in the short-term federal funds rate, a benchmark for credit cards, auto loans and other short-term consumer lending.
But in the estimates released Wednesday after a two-day meeting, Fed officials indicated there would be no hikes this year and only one in 2020.
Those forecasts are consistent with the Fed's statement in January that it "will be patient" in determining the future interest rate level.
Powell emphasized that approach Wednesday.
"It's a great time for us to be patient and watch and wait and see how things evolve," he said.
Since last summer, Trump had engaged in highly unusual public criticism of the Fed's gradual interest rate hikes. He called for the hikes to stop, but Fed policymakers continued them until the economy began slowing recently.
Hit by the 35-day partial government shutdown from December into February, the economy now is expected to grow at only about a 1.5% annual rate in the first three months of this year. Some forecasts call for growth of less than 1% in the first quarter.
The Fed also serves as a key financial regulator and Powell weighed in Wednesday on the consumer-abuse problems at Wells Fargo & Co.
Lawmakers from both parties lambasted the bank's chief executive, Tim Sloan, at a House hearing last week where Rep. Maxine Waters (D-Los Angeles) denounced the bank's "ongoing lawlessness." News the following day that Sloan received a 4.9% pay increase to $18.4 million in 2018 further inflamed the bank's critics.
In response to Wells Fargo's fake accounts scandal and other controversies, the Fed last year imposed an unprecedented cap on the bank's growth.
Powell would not comment Wednesday on Sloan's pay, but said the bank's executives still have "a lot of work to do" in repairing their risk management practices before the Fed will lift the cap.