FCC fines Cesar Chavez Foundation over promotions on its radio stations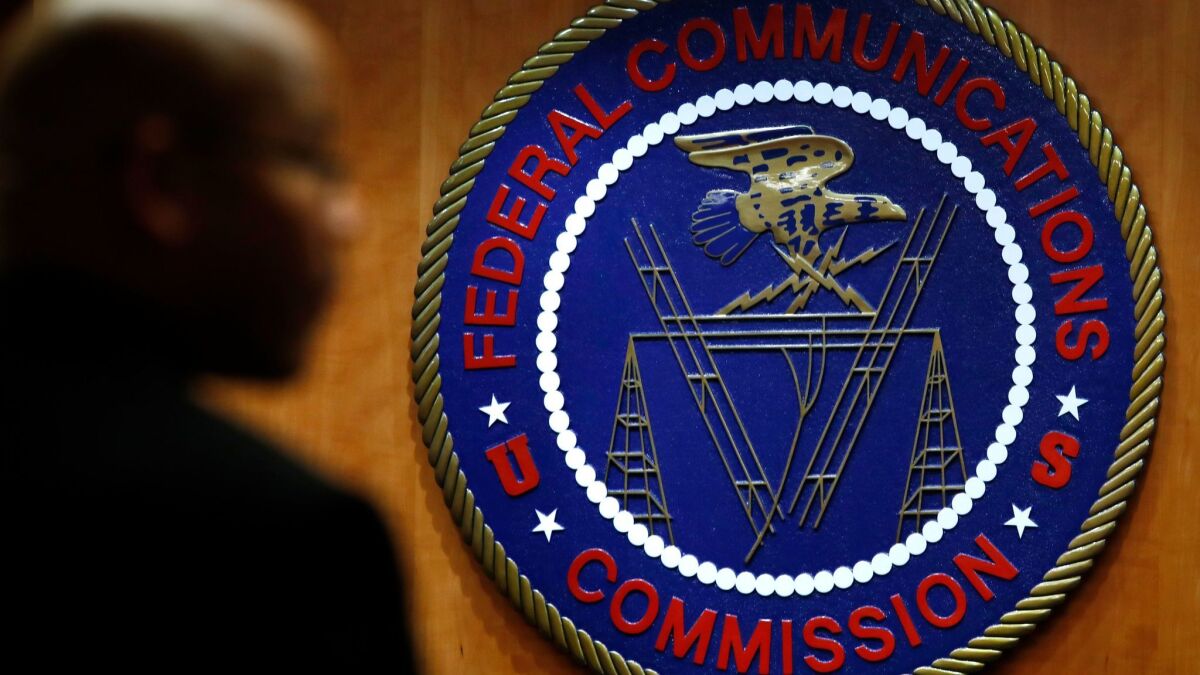 The Federal Communications Commission has levied a record fine against two farmworker radio stations in California and Arizona for overstepping restrictions against commercial advertising.
The Cesar Chavez Foundation, a nonprofit social service affiliate of the United Farm Workers union, agreed to a $115,000 fine and a one-year moratorium on new underwriting from for-profit sponsors on the two stations, the FCC said Thursday.
The stations — KUFW-FM (90.5) in Woodlake, Calif., and KNAI-FM (88.3) in Phoenix — strayed from rules that allow educational stations to acknowledge underwriters without making "commercial" pitches for them, the FCC found.
Those violations, from August 2016 to March 2017, involved promotional announcements that implicitly compared an underwriter's business with competitors', provided information about valuation and discounts, and urged listeners to contact a business.
Examples included assuring listeners they could "trust" one car dealership, and listing services and products of specific cellphone companies, according to the FCC. And at 30 to 60 seconds, the announcements were too long, the agency said.
Such violations "threaten to upset the reasonable balance between the financial needs of noncommercial educational stations and their obligation to provide an essentially noncommercial service," the FCC said.
The Cesar Chavez Foundation — which operates eight radio stations through its Campesina network — said in a written statement that it "fully cooperated" with the FCC and accepted the findings.
"This has been a learning experience for the organization, and as we move forward in polarizing times, we will continue being a voice for our community," the foundation said.
One of the complaints about the radio spots came from an attorney for Gerawan Farming Inc., a fruit grower and packer in the San Joaquin Valley that has been locked in a decades-long battle with the UFW over representation of its workers, according to FCC documents.
KUFW was fined $12,500 in 2010 over similar violations, according to FCC records. It also was required to repay nearly $400,000 to the Corp. for Public Broadcasting in 2013 after an audit revealed accounting irregularities involving restricted grants to the station.
The Farmworker Educational Radio Network, a for-profit corporation owned by the Cesar Chavez Foundation, agreed last December to pay $20,000 to the FCC over unauthorized broadcasting blackouts and failure to maintain proper records at KRIT-FM (93.9) in Parker, Ariz.
The Cesar Chavez Foundation reported $39 million in revenue and more than $100 million in assets in 2015, according to Internal Revenue Service documents.
Follow me: @LATgeoffmohan
---
Sign up for the California Politics newsletter to get exclusive analysis from our reporters.
You may occasionally receive promotional content from the Los Angeles Times.