Sen. Elizabeth Warren presses Wells Fargo on problems with consumer refunds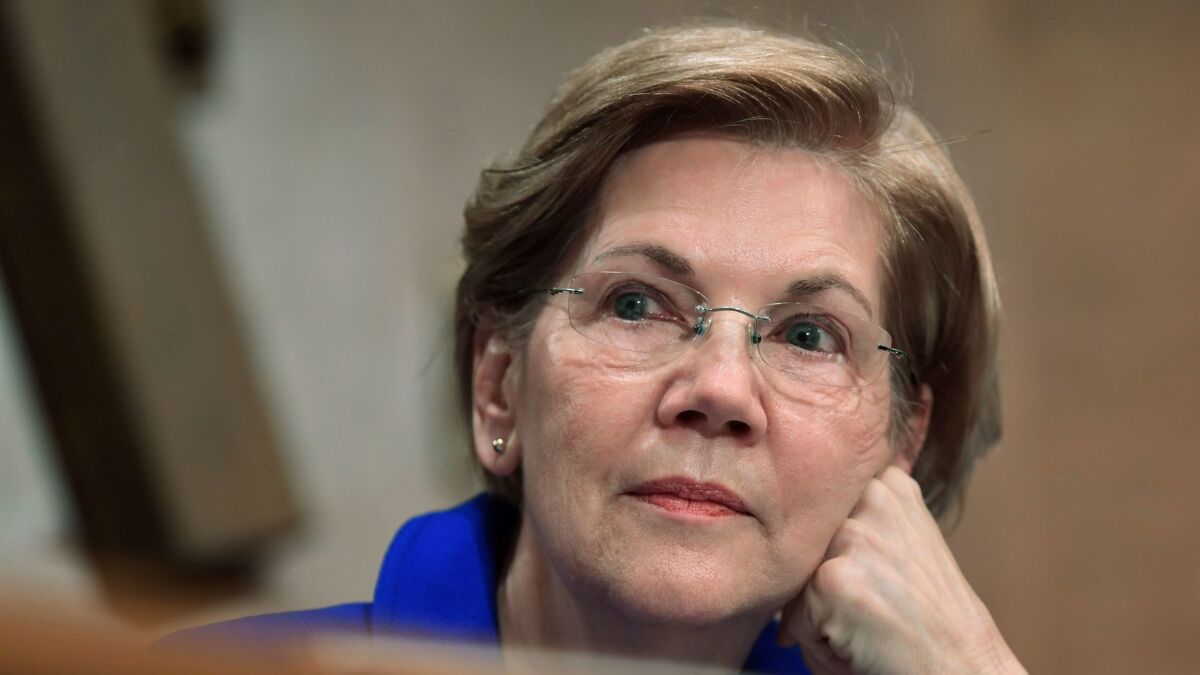 Reporting from Washington —
Sen. Elizabeth Warren is pressing Wells Fargo & Co. to explain reported problems in issuing refunds to customers for who were charged inappropriately for auto insurance and mortgage fees.
In a sharply worded letter to Chief Executive Tim Sloan, Warren called the problems "unacceptable."
"Wells Fargo has stolen money from its customers," wrote the Massachusetts Democrat, who has been an outspoken critic of the San Francisco bank's practices since its unauthorized-accounts scandal exploded in 2016.
"It has caused thousands of people to spend valuable time and money trying to deal with a problem Wells Fargo created," she said in a letter dated Tuesday. "And now the bank is providing the customers it harmed with inaccurate information or making them jump through hoops to get their money back."
Last week, the Wall Street Journal reported that Wells Fargo had sent erroneous letters to 38,000 customers who had been forced to buy unneeded auto insurance. The letters were unnecessary and did not contain refunds the bank has said it would pay.
Wells Fargo spokeswoman Catherine Pulley said a vendor caught a coding mistake that resulted in the letters, and that the bank would "work with our vendor to ensure these customers receive the appropriate communication — including any refunds they're eligible for."
The Journal also reported that Wells Fargo had not begun broadly reaching out to customers for refunds it agreed to pay for fees assessed to mortgage borrowers whose delays in completing loan applications were primarily the bank's fault.
Wells Fargo planned to require as many as 110,000 customers to agree personally to a refund via a letter before a check would be mailed out — and estimated that no more than half of the customers would do so, the Journal said.
Warren complained to Sloan that Wells Fargo was requiring "victims to opt in to receive a refund."
Pulley said the bank would address Warren's questions and those from any other lawmakers about the refund plans.
"Wells Fargo remains focused on making things right for our customers and is working with its regulators to ensure that these ongoing auto and mortgage remediations are completed accurately and as quickly as possible," Pulley said.
"Our auto remediation is underway and we expect it to be substantially completed by mid-year," she said. "We have also begun sending refunds to customers who previously contacted us to question their mortgage rate lock extension fees, and continue to work with our regulators on plans for contacting the remaining customers who paid those fees and invite them to request a refund if they believe that they were charged fees inappropriately."
Warren asked Sloan to get back to her by Feb. 28 with answers, including detailed descriptions of the bank's "process for identifying and notifying consumers" due refunds and how much money Wells Fargo has budgeted to compensate them.
On Feb. 2, the Federal Reserve ordered Wells Fargo to cap its growth and improve its corporate governance in response to what the regulator called "widespread consumer abuses and other compliance breakdowns."
The punishment stemmed from an investigation begun after the bank agreed to pay $185 million to regulators for opening accounts for customers without their authorization, a practice first reported by the Los Angeles Times in 2013.
Twitter: @JimPuzzanghera
---
Sign up for the California Politics newsletter to get exclusive analysis from our reporters.
You may occasionally receive promotional content from the Los Angeles Times.