Hot Property Newsletter: Ring out the old
We'll close the door on 2018 with some oldies but goodies. Our roundup this week includes properties associated with an iconic crooner, a portable-stove heir and a name steeped in filmdom history.
The Home of the Week, a French-style house on half an acre in Bel-Air, had remained in just one family for more than six decades. Now the 1950s residence is modernized with walls of glass and living spaces that seem to jut out into the leafy outdoors. The asking price for the nearly 5,000-square-foot home is $7.995 million.
Once you're done reading about these deals, visit and like our Facebook page, where you can find Hot Property stories and updates throughout the week.
– Neal J. Leitereg and Lauren Beale
A Rat Pack den
A swinging pad in Chatsworth that was home to crooner Frank Sinatra for about a decade is for sale at $12.5 million.
The legendary singer and actor leased the seven-acre estate in the 1960s from its original owner, bank heiress Dora Hutchinson. Sinatra was known for entertaining other performers from the Las Vegas nightclub scene.
In more recent years, the Midcentury Modern-style home has become a celebrity in its own right, appearing as a backdrop for television episodes of "Mad Men" and "Californication," as well as the 2006 film "Dreamgirls."
The streamlined single-story, built in 1949, is distinguished by such modernist staples as clean lines, open-plan space and towering floor-to-ceiling windows. Formal living and dining rooms, a den with a wet bar and seven bedrooms are within about 8,200 square feet of living space.
There's a swimming pool with a flagstone deck. A smaller dipping pool sits near the guest house.
Where he pitched his tent
A sale would certainly make Sheldon Coleman Jr. a happy camper. The grandson of Coleman Co. founder William Coffin Coleman has listed his Indian Wells home at $13.45 million.
The Mediterranean-style house, completed in 2008, is set on more than half an acre with an entry courtyard, a swimming pool with a spa and an outdoor living room. The built-in barbecue area features a pizza oven.
The 11,475 square feet of interiors include a vaulted-ceiling living room, a climate-controlled wine cellar, a bar, a game room, a media room, five bedrooms and six bathrooms.
Coleman became the third generation to run his family's namesake camping equipment company in 1988. The following year, he attempted to take the company private but was outbid by financier Ronald Perelman, who acquired Coleman Co. in a $545-million deal.
No doubt: It's a flip
No Doubt bassist Tony Kanal has wrapped up his latest home-flipping project in Los Feliz. The Traditional house he owned through a limited liability company sold for $2.6 million, public records show.
When he bought the fixer-upper in May for $1.66 million, listing photos showed such original 1935 details as an ornate portico, interior arches, hardwood floors and a wood-paneled den.
What he did inside the space remains a mystery; the property was not marketed through the Multiple Listing Service. The two-story house contained four bedrooms and three bathrooms within its 2,672 square feet before the redo.
Kanal, 48, has worked with Pink and Linkin Park, among others.
The studio is still sound
A gated estate in Lake Arrowhead once owned by movie soundtrack composer Mark Mancina is for sale at $4.9 million.
The 18.5-acre property features a sound studio custom built by Mancina, who sold the place in 2012 for $3 million. The studio could also be used as a self-contained apartment.
The Country English-style main lodge has vaulted exposed-beam ceilings and walls of glass that take in views of the lake and mountains. There are seven bedrooms and seven bathrooms within the 7,489 square feet of interiors.
Mancina, 61, has credits that include the films "Moana," "Con Air," "Twister" and "Training Day."
His place in film history
A Hollywood Hills West residence that Robert P. Fairbanks, brother of actor-filmmaker Douglas Fairbanks Sr. and former president of United Artists Studio Corp., once called home has sold for $2.788 million.
Robert Fairbanks, who supervised the construction of the United Artists and Fox Film Corp. studios, was living at the home when he died in his sleep in 1948, according to Times' archives.
Originally designed by architects Arthur and Alfred Heneman and built in 1914, the gated two-story was later remodeled by Charles and Henry Greene to incorporate Arts and Crafts elements.
The museum-quality home has four bedrooms and six bathrooms within more than 4,500 square feet of living space. A secret passage links the home's game room, wine room and gym to the swimming pool area.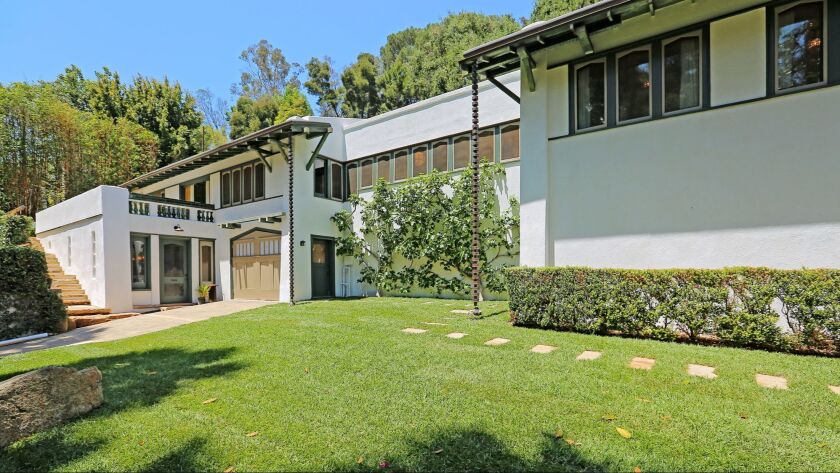 Ready for a signing
Author Kristin Hannah has put her longtime home in Kauai, Hawaii, up for sale at $10.75 million.
The oceanfront contemporary, built in 1998, sits on about half an acre in the North Shore area. Glass walls take in ocean views. The floor plan includes an office, a great room with a fireplace, a wet bar, three bedrooms and 2.5 bathrooms.
A swath of lawn separates the house from miles of sandy beachfront.
Hannah has written more than a dozen novels including "Firefly Lane," "On Mystic Lake" and "The Nightingale," the latter of which was a New York Times bestseller. Her latest book, "The Great Alone," also made the New York Times list as both print and audiobook bestseller this year.
From the archives
Ten years ago, the Kardashian family of reality TV fame listed their Hidden Hills home for sale at $3.395 million. The nearly 4,000-square-foot house included four bedrooms and five bathrooms.
Twenty years ago, former Dodgers All-Star first baseman Steve Garvey sold his Encino home for close to $1.4 million. The Country English-style house sat on 1.3 acres and had four bedrooms plus maid's quarters within its 3,400 square feet of living space.
What we're reading
Adding to the laundry list of the drawbacks of tiny houses, here's another one from a story in the Morning Call: They can be stolen. Meghan Panu's mini home was wheeled away on the trailer where it rested outside a St. Louis warehouse. A plea spread through social media helped track the movements of the house and it was recovered several days later 30 miles down the Mississippi River in (appropriately named) House Springs, Mo.
The crisp lines and angles of some of the most luxurious yachts in the world have made landfall, reports Forbes. The designers and engineers of super yachts have started bringing their expertise to houses and condos, borrowing the same angle that a prow uses to jut through the sea, among other shipshape features.
---
Inside the homes of the rich and famous.
Glimpse their lives and latest real estate deals in our weekly Hot Property newsletter.
You may occasionally receive promotional content from the Los Angeles Times.