In the summer of 1969, Charles Manson and his murderous "family" went on a rampage in Los Angeles that left nine people dead. Victims of the so-called Tate-LaBianca murders included actress Sharon Tate (wife of director Roman Polanski) and Los Feliz residents Leno and Rosemary LaBianca.
Here's what's happened to the key figures since that summer:
Charles Manson: Died in 2017 at age 83
Manson, who ordered the Tate-LaBianca killings but was not present for any of them, was found guilty of murder and sentenced to death.
After the California Supreme Court overturned capital punishment in 1972, Manson's sentence was reduced to life in prison.
Manson had "hundreds" of rules violations, prison officials say, and had gotten in trouble for having a cellphone and a homemade weapon while incarcerated. Manson was denied parole 12 times. His next parole hearing was scheduled for 2027. He had been in prison since 1971 and was serving his time at Corcoran State Prison.
In 2014, Manson and Afton Elaine Burton, a 27-year-old Manson devotee, were granted a marriage license, but it expired before the two could marry.
On Jan. 3, 2017, Manson was taken from prison to a hospital for an undisclosed medical issue. One source said he was seriously ill but couldn't provide specific information.
Patricia Krenwinkel: Imprisoned in Chino
Patricia Krenwinkel was a secretary when she met Manson at a party. She quit her job the next day and joined Manson's family.
She was found guilty of seven counts of murder in the killings, including stabbing the LaBiancas to death and writing "DEATH TO PIGS" on the wall in the victims' blood.
Krenwinkel, along with Susan Atkins and Leslie Van Houten, later condemned Manson and urged young people not to think of him as a hero.
"What a coward that I found myself to be when I look at the situation," Krenwinkel said in a 2014 interview with the New York Times. "The thing I try to remember sometimes is that what I am today is not what I was at 19."
After Atkins' death, Krenwinkel, now 71, became California's longest-serving female inmate. According to state prison officials, Krenwinkel is a model inmate involved in rehabilitative programs at the prison.
She is being housed at the California Institution for Women in Chino. Late last year, state parole officials postponed a decision on setting Krenwinkel free after her attorney made new claims that she had been abused by Manson or another person. The inquiry into the allegations took nearly six months. Krenwinkel was again denied parole in 2017. She will be eligible to apply for parole again in 2022.
Leslie Van Houten: Imprisoned in Corona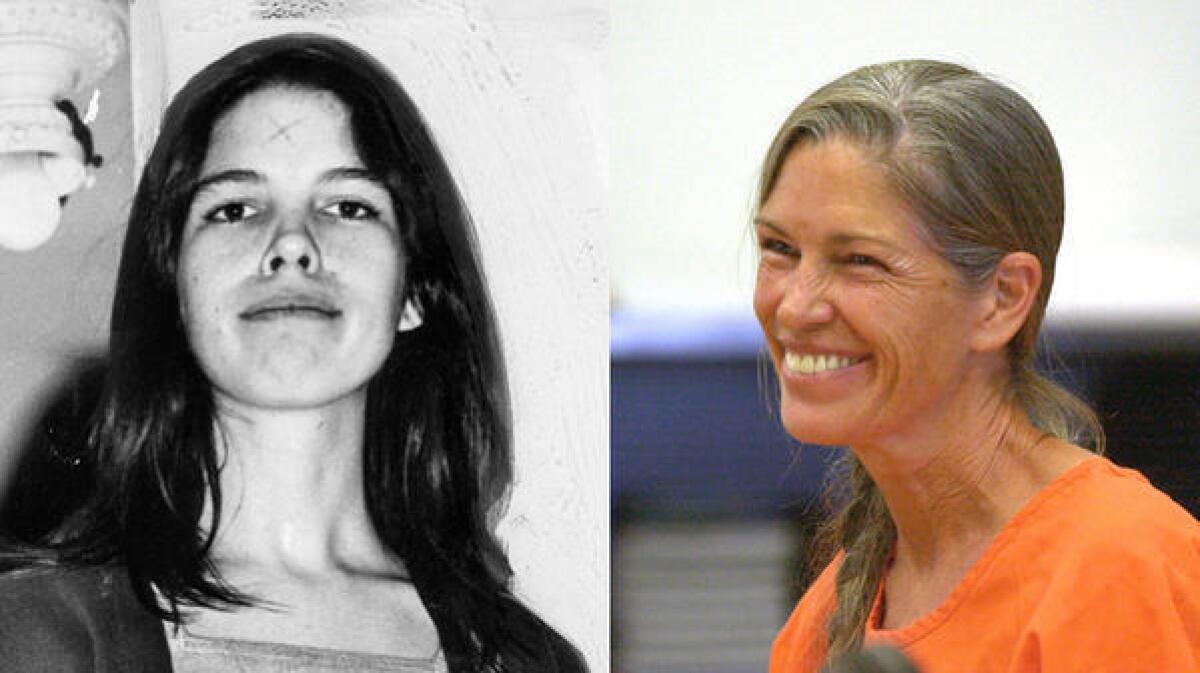 A jury found that former homecoming princess Leslie Van Houten was guilty of holding down Rosemary LaBianca in her Los Feliz home while an accomplice stabbed her. Van Houten was 19 at the time of the killing. She was convicted of murder and conspiracy in 1978 at her third trial for the crimes, just months after she'd been released on bail following a hung jury verdict.
Van Houten said she was introduced to Manson by a boyfriend and came to view him as Jesus Christ, believing in his bizarre plan to commit murders and spark a race war.
She is serving her life sentence at the California Institution for Women in Corona, prison officials say, and has been disciplinary-free her entire sentence.
Van Houten, 69, told a parole board in 2002 that she was "deeply ashamed" of her role in the killings. "I take very seriously not just the murders but what made me make myself available to someone like Manson."
California Gov. Gavin Newsom overruled a parole board's decision to free Van Houten in June, 2019. It was the third time a governor had stopped the release of the youngest member of Manson's murderous cult.
Former Gov. Jerry Brown denied her release twice. A state review board recommended parole for her in 2016, but Brown reversed that decision.
Los Angeles County Superior Court Judge William C. Ryan issued an 18-page ruling upholding Brown's reversal later that year. He said there is "some evidence" that Van Houten still presents an unreasonable threat to society.
Prosecutor Vincent Bugliosi: Died in 2015
Vincent Bugliosi was asked in 2009 — near the 40th anniversary of the infamous Manson murders — why the case has endured for so long.
"The very name 'Manson' has become a metaphor for evil, and evil has its allure," said Bugliosi, the prosecutor who got guilty verdicts in the mass murder case.
Bugliosi died of cancer June 6, 2015, at a Los Angeles hospital. He was 80.
After winning the convictions of Manson and the followers who carried out the killings, he used his celebrity to launch a career as a bestselling author, beginning with "Helter Skelter," his account of the Manson case that has sold more than 7 million copies.
Prosecutor Aaron Stovitz: Died in 2010
The original prosecutor in the Tate-LaBianca murders, Aaron Stovitz was removed from the trial after making comments about the case to the media.
After that, Bugliosi took the helm. Stovitz worked for the district attorney's office until 1981, prosecuting more than 500 jury trials, including 100 murder cases, according to his family. His other trials included prosecuting "Freeway Killer" William Bonin, who was executed in 1996. Stovitz died in 2010.
Charles 'Tex' Watson: Imprisoned and an ordained minister in San Diego County
Charles "Tex" Watson, Manson's self-described right-hand man, was sentenced to death for his part in the killings but was later given life in prison after the death penalty was overturned. In prison, Watson married, divorced, fathered four children and became an ordained minister.
A website for Watson's ministry, which claims to be written by Watson through letters from prison, says he believed "Manson offered a utopia but in reality he had a destructive worldview that Charles ended up believing in and acting upon. His participation in the 1969 Manson murders is a part of history that he deeply regrets." He hasn't had any disciplinary actions taken against him since 1973, corrections officials say.
Watson, 73, is housed at the RJ Donovan Correctional Facility in San Diego County near the Mexican border, where he walks the track "sharing my faith, relating to many men", according to the ministry's website. He has been denied parole 17 times. A state panel in 2016 once again found him unsuitable for release from prison for at least five more years.
Susan Atkins: Died in prison in 2009
Susan Atkins, a former topless dancer who became one of Manson's closest disciples, died in prison in 2009 at age 61.
Atkins, called the "scariest of the Manson girls" by a former prosecutor, confessed to killing Tate, the pregnant wife of director Roman Polanski, who was stabbed 16 times as she pleaded with the killers to spare her unborn son and then hanged.
At sentencing, where Atkins was condemned to death, she taunted the court, saying, "You'd best lock your doors," and "watch your own kids."
Her sentence was later converted to life in prison.
In prison, Atkins embraced Christianity and apologized for her role in the crimes, and the prison staff advocated unsuccessfully for her release in 2005. She was denied parole 13 times.
She married twice while in prison. Atkins was diagnosed with brain cancer in 2008 and appealed to prison and parole officials for compassionate release, but the state parole board denied the request.
Roman Polanski: Living in Europe, wanted in the U.S. and expelled from the film academy
Roman Polanski was in Europe when his wife and several friends were murdered by Manson's followers in the summer of 1969. Tate was 8½ months pregnant at the time.
Polanski went on to direct such movies as "Chinatown" and "The Pianist." Polanski fled Los Angeles for Paris in 1978 after being convicted of having sex with a 13-year-old. He has been living in exile in Europe for the last four decades and is considered a fugitive by the U.S. criminal justice system.
U.S. officials attempted to have Polanski, who now lives in France, arrested as he attended the opening of the Museum of the History of Polish Jews in Warsaw last year. U.S. officials asked Poland to extradite Polanski, but in October 2015 a Polish judge turned down the request, the New York Times reported.
In December 2014, a Los Angeles County judge rejected his attorneys' bid to have all sexual assault charges in the case dismissed.
In 2016, Polanski's accuser, Samantha Geimer, pleaded with a judge to sentence Polanski, 85 , to time served. Geimer said bringing an end to the media spectacle she has lived with for decades would be "an act of mercy to myself and my family."
The Academy of Motion Picture Arts and Sciences' board of governors voted in 2018 to expel Polanski and comedian Bill Cosby from the group's ranks, saying "The board continues to encourage ethical standards that require members to uphold the academy's values of respect for human dignity." Polanski sued the organization in April, arguing that the academy did not follow proper procedure in ejecting him.
Lynette 'Squeaky' Fromme: Released from prison in 2009
Manson follower Lynette "Squeaky" Fromme was convicted in 1975 of pointing a gun at President Ford in Sacramento in an attempted assassination. The gun didn't go off, and Secret Service agents wrestled Fromme to the ground.
She was sentenced to life in prison.
Fromme escaped from a federal prison in West Virginia in 1987 and was captured two days later while roaming the countryside about two miles away. She continued to correspond with Manson while she was in prison, officials said.
She was released on parole from federal prison in August 2009 at age 60 after serving 34 years.
According to reports at the time, Fromme planned to move to upstate New York.
Bruce Davis: Imprisoned in San Luis Obispo, Calif.
Bruce Davis, 76, was convicted in 1972 for taking part in the killings of Gary Hinman, an aspiring musician, and Donald "Shorty" Shea, a stuntman and a ranch hand at the Chatsworth ranch where Manson and his followers lived. Both murders occurred before the Tate-LaBianca killings, in which Davis did not participate.
Hinman's body was found in his home, with the words "political piggy" drawn on the wall with his blood.
In January 2016, Brown rejected Davis' parole, the third time a governor has done so, saying that Davis remains a danger to public safety. In his decision, Brown said that the "horror of the murders committed by the Manson family in 1969 and the fear they instilled in the public will never be forgotten."
Davis has been denied parole 30 times. A California parole panel again recommended his release in 2017 and Brown again rejected parole for him, according to the Associated Press.
Davis is serving a life sentence after he was convicted of two counts of first-degree murder and conspiracy to commit murder and robbery. He became a born-again Christian behind bars, earned a doctoral degree in philosophy of religion, and ministers to other inmates.
Linda Kasabian: Granted immunity for testifying against the Manson family
Linda Kasabian drove the killers to where the Tate and LaBianca murders occurred, and went along because she was the only one with a valid driver's license. She did not actively participate in the killings and in exchange for immunity became Bugliosi's star witness during the trial.
Kasabian ended up with the Manson group after she left an unhappy marriage when she was 21. She took her baby daughter and followed a friend to Manson's Spahn Ranch. There she became romantically involved with Watson and a devoted member of the family until she fled shortly after the LaBianca murders.
As of 1994, Kasabian was a mother of four and believed to be living on the East Coast.
Robert Beausoleil: Imprisoned in California
"Bobby" Beausoleil was convicted of Hinman's murder in 1970 and sentenced to death.
He later had his sentence commuted to life in prison, where he joined the Aryan Brotherhood gang and suffered a broken jaw and other injuries in various fights.
Beausoleil was in jail for the Hinman killing when the Tate-LaBianca murders occurred.
He was transferred to an Oregon state prison in 1994 as part of an "interstate compact" to house certain inmates, and had no disciplinary reports since 2008, state prison officials said. He was then moved to the California Medical Facility in Vacaville in 2015. Beausoleil, now 71, has been denied parole at least 18 times.
Newsom reversed a parole recommendation to free Beausoleil in 2019.
---