Man in custody after guard shoots at knife-wielding suspect at Third Street Promenade in Santa Monica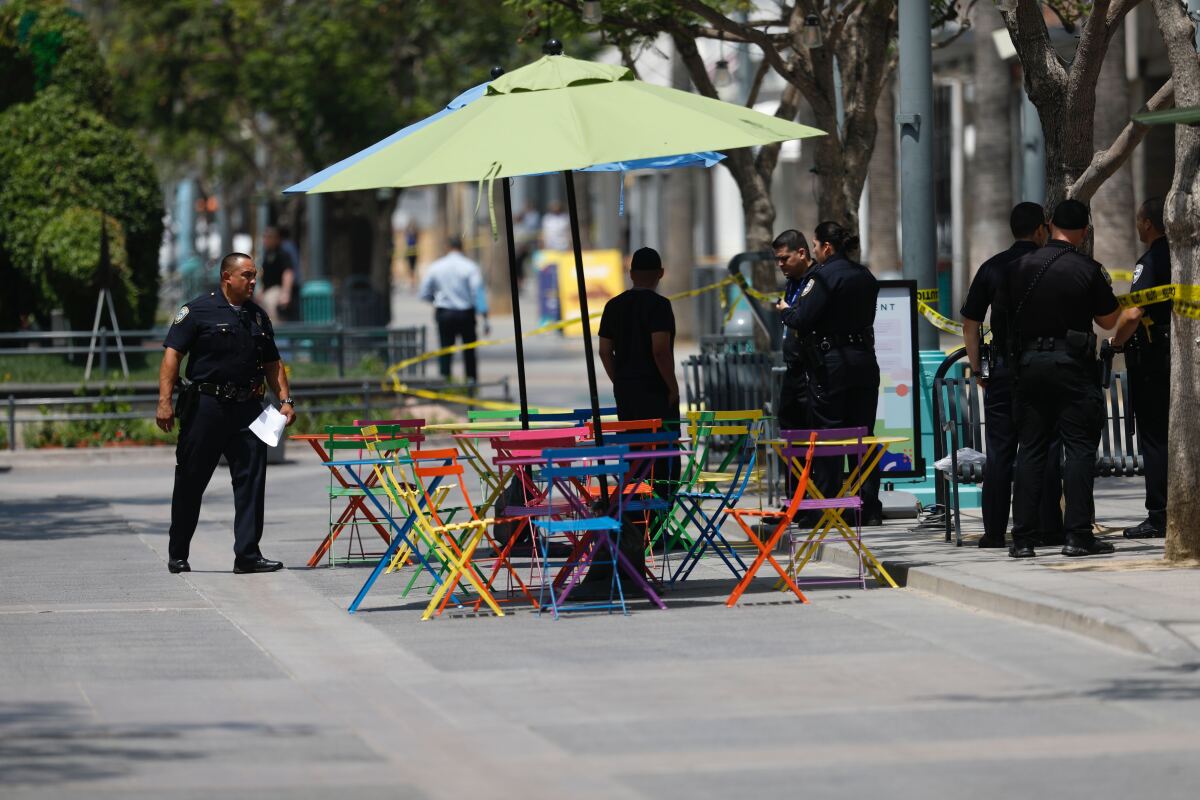 Gunfire erupted Friday morning near the Third Street Promenade in Santa Monica when a guard carrying money from an armored truck shot at a man armed with a knife who police say tried to rob him.
A Brinks security guard fired three rounds at the man near 3rd Street and Arizona Avenue about 11:15 a.m. after the man approached him with a knife, Santa Monica police Lt. Candice Cobarrubias said. The man was not struck by the gunfire and ran from the area with a bag of money.
The man was taken into custody in a parking structure in the 1300 block of 3rd Street about an hour later. Authorities also found a knife and the cash, Cobarrubias said.
"We want everyone to know the promenade is safe," she said.
A section of the promenade between Arizona Avenue and Santa Monica Boulevard remained cordoned off shortly after noon while police investigated. The stretch was empty except for a few detectives interviewing witnesses sitting outside a coffee shop.
Businesses in the mall briefly locked down after the gunshots rang out. Shoppers fled in panic.
Cori McCoy, an employee at the Body Shop, said she and her colleagues heard three gunshots coming from outside and immediately saw people running.
"We saw a few people outside run into nearby stores," she said. "Me and my other colleague ran toward the back."
An employee locked the Body Shop's doors, but within five minutes they reopened.
Dawn Thornton, the general manager at Bruxie, a fried chicken and waffles chain store in the area, said that when she heard the gunshots, she told her employees to stay inside.
"We had guests in the restaurant, so I had the staff do what they do but not go into the far end of the patio," she said.
Britania Childress was waiting in line with her daughter at a pop-up commemorating the "Friends" television show, nearly at the front of the line to take pictures on its famous orange couch, when she heard three gunshots in quick succession.
"It's a tourist area and there were cameras all around, so I thought they were doing some filming," she said. But a gasp rippled through the crowd when, seconds later, two police officers wearing bulletproof vests sprinted past. She took off with her daughter in the opposite direction.
"I'm thinking, 'Am I running in the right direction?' " Childress recalled. " 'Are there more guys?' "
She reached the promenade's intersection with Arizona Avenue just as a fleet of police vehicles screamed to a stop, lights and sirens blaring.
Dan Wentzel was on a food tour with his colleagues from the American Jewish Committee in Santa Monica when the gunshots rang out. While standing on Santa Monica Boulevard, he saw a flood of people running away from the promenade.
"People were running for their lives. Scared running. Everyone is so wired from these active shooter scenes," he said.
He and his colleagues dashed into Dragon Herbs, a tea shop, and were briefly on lockdown. They waited for about 10 minutes to see what would happen, and the shop soon reopened, he said.
"We're enjoying tea now, since we're here. Nice, calming, soothing tea. Everything's back to normal," he said.
Los Angeles Times staff writer Leila Miller contributed to this report.
---
The stories shaping California
Get up to speed with our Essential California newsletter, sent six days a week.
You may occasionally receive promotional content from the Los Angeles Times.