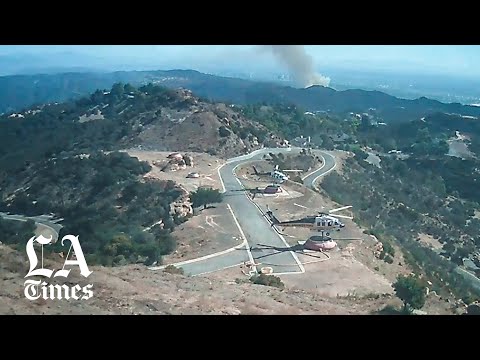 Perched atop the Santa Monica Mountains is a prime chunk of real estate with stunning ocean views that's owned by a wealthy former radio executive.
You won't find a palatial mansion or an infinity pool there, however.
Instead, the former exec and county firefighters have transformed the picturesque property into a remote base for helicopters to refill their water tanks — a spot that's helping prevent small fires from turning catastrophic.
Known as 69 Bravo, it's the result of an unusual partnership between the executive, whose legal name is Simon T, and the Los Angeles County Fire Department. The county's helicopters rely on the base as a quick and easy spot to refill water during blazes, such as the Palisades fire last month.
"You look at what this gives us, for all the residents that we serve," said Jon O'Brien, a deputy chief at the department. "It's unparalleled. I don't think you can place a value on having a site like this."
County fire officials first approached Simon T nearly a decade ago to propose a helipad at the 34-acre site, which is uniquely situated as a base of operations for emergencies such as earthquakes or medical evacuations.
"I don't think you can place a value on having a site like this."
— Jon O'Brien, Deputy Chief, Los Angeles County Fire Department
The site is a 15-minute drive from Pacific Coast Highway through winding canyon roads. It's since been transformed into a fully automated water base, where multiple fire helicopters can refill their tanks at the same time, over and over, as they make round trips to battle blazes.
Simon T has played a key role in transforming the private site into a crucial public asset, though he's reluctant to talk about it or take any credit.
"Make sure they get the credit," he said of the region's firefighters.
A pilot himself, Simon T became interested in firefighting when he saw helicopters using water from his ranch in Sequoia National Forest to fight a brush fire. That experience helped him understand that, in a region plagued by wildfires, pilots who fight them have limited water sources.
The things that set California apart, for better or worse, were all there last Sunday afternoon: terrifying flames, wine country glamour and a rescue straight out of Hollywood.
Pilots typically rely on reservoirs, lakes and wells — and, in extreme cases, even swimming pools. But 69 Bravo provides water in a particularly dry portion of the fire-prone Santa Monica Mountains, where the Woolsey fire raged last year.
The key features are the water tanks, known as "pumpkins" — round water bladders that resemble massive orange above-ground swimming pools. The helicopters — such as the county's Sikorksky S-70 Black Hawks — hover above the pumpkins and "snorkel" the water, sucking in about 1,000 gallons in minutes. They can then get back to the fire more quickly.
That multiple pilots can use the pumpkins at the same time without having to touch the ground differentiates the base from other watering spots in the region. That and the fact that mountain lions and deer are attracted to the water source, leaving behind muddy tracks as evidence that they dipped into a pool.
"You would have to go to other places that are farther away, so you would have longer turnaround times," said Drew Smith, a fire behavior specialist and county fire battalion chief who commands the region. "The longer the delay, the more opportunity the fire has to get larger."
The base has been vital over the years for dousing fires in Calabasas, Monte Nido, Pacific Palisades, eastern Malibu and Topanga — areas frequently on high alert, given the narrow evacuation routes. The rugged canyons within a five-mile radius of the site are home to more than 11,000 structures, most of them residential, and more than 30,000 residents, according to a Times analysis of building footprints and population data.
The base is also used by medical helicopters and deputies from the Los Angeles County Sheriff's Department for other emergencies. A patrol vehicle remains there just in case.
And the site is a resource for fighting fires farther away, as drought and sanitation efforts, such as the covering of Santa Ynez Reservoir in Palisades Highlands, have made other water sources less accessible.
Over the years, as county fire officials have taken more formal control of 69 Bravo, Simon T has remained an engaged landlord. From the command post he built to improve the site's usefulness, the former executive recently captured time-lapse video, compressed into a frantic minute, of a seven-hour aerial attack on the Palisades fire by L.A. County Fire Department helicopters.
The footage, shot from a rooftop, shows black-and-yellow helicopters — like a swarm of bumblebees in a nature film — buzzing in loops as thick white smoke pours over a ridge line.
The blaze scorched 40 acres, worrying homeowners in the wealthy Westside enclaves nearby, but the water-dropping choppers' presence above the rugged topography eventually helped douse the flames. The destruction probably would have been worse, firefighters say, without 69 Bravo.
Another instance in which the base was particularly useful was the Topanga fire in 2017, which burned 30 acres on a steep ridge just east of Topanga Creek, rendering it largely inaccessible to ground-level firefighting tactics. Over five days, numerous helicopters made 228 round-trip flights, dropping 220,000 gallons of water on the blaze before containment on July 4.
A 6,000-gallon "pumpkin" at Los Angeles County helispot 69 Bravo, an outpost atop Saddle Peak in the Santa Monica Mountains.
(Brian van der Brug/Los Angeles Times)
L.A. County Fire Dept. Battalion Chief Drew Smith at helispot 69 Bravo.
(Brian van der Brug/Los Angeles Times)
Helicopters hovering above the pumpkins can suck up 1,000 gallons of water in minutes.
(Brian van der Brug/Los Angeles Times)
Two landing pads at 69 Bravo.
(Brian van der Brug/Los Angeles Times)
Los Angeles County helispot 69 Bravo.
(Brian van der Brug/Los Angeles Times)
L.A. County Fire Department Battalion Chief Drew Smith inside the operations building at helispot 69 Bravo.
(Brian van der Brug/Los Angeles Times)
A drone view of 69 Bravo.
(Brian van der Brug/Los Angeles Times)
Fire officials say there are many such stories since the helipad first opened in 2010, when Simon T first allowed county officials to create a single landing zone there.
He had already spent years and millions of dollars developing the 34-acre property, which has stunning 360-degree views of the Los Angeles Basin, the Pacific Ocean and regional mountain ranges. On a clear day, visitors can see for 100 miles and point out landmarks, such as Mt. Wilson and Mt. San Gorgonio to the east and Camarillo and the Channel Islands to the west.
Two firefighting helicopters had to be grounded multiple times to avoid a drone whose pilot was apparently trying to snap photos of the flames.
Over the years, Simon T also had additional water lines and a septic system installed, and he built the snaking road that loops down the property's ridges, which could host as many as five homes. He has gradually added firefighting resources too, even as county officials took formal control of the property, first with a licensing agreement. Then, last year, the county entered into a seven-year, $12-million lease for the property, which it can then take over for $1.
Asked by The Times why he made such investments and struck the deal with the county, Simon T demurred.
He also pointed to county Supervisor Sheila Kuehl, whose 2018 motion formalized approval of the partnership.
The arrangement between Simon T and the county clearly eclipses that of a typical landlord-tenant relationship. He has added a command post filled with big-screen televisions, computers displaying weather conditions and wind reports, and other gadgets. He stocks the base with water and snacks for firefighters and others who visit.
Simon T also remains closely involved in the base's evolution — including suggestions for artists to repaint the department's aerial logo on a helipad, to the design and functionality of a mobile app that would allow pilots or firefighters on the ground to control water, lights and other functions there remotely.
Fire officials such as Smith praise Simon T's willingness to share the valuable land and to endure bureaucratic delays in formalizing the eventual sale. But mostly they appreciate his passion for the project.
The county Fire Department has its own plans for 69 Bravo. Smith, whose battalion covers much of the Santa Monica Mountains, including a traditional station not far away in Topanga Canyon, has been working on pruning the property's landscaping to ensure it's safe during wildfires — and creating a land-management model for neighboring residents.
Smith has added salt licks and a smaller water tank for the wildlife attracted to the location, including a herd of deer that has damaged pumpkins while trying to reach the water inside. A fuel depot is also planned so helicopters can refill not just their water supply.
It's unclear how many Topanga residents know about 69 Bravo, or the partnership that made it possible. Those who do are are grateful for both.
"The times are changing, in terms of extreme weather," said Susan Nissman, who's lived in the neighborhood 42 years. "It's a resource that is really being put to good use — and it's saving lives and property. I'm so glad its a tool we have."
Sign up for Essential California for news, features and recommendations from the L.A. Times and beyond in your inbox six days a week.
You may occasionally receive promotional content from the Los Angeles Times.