PG&E pulls back on expected outages after warning 450,000 people they'd lose power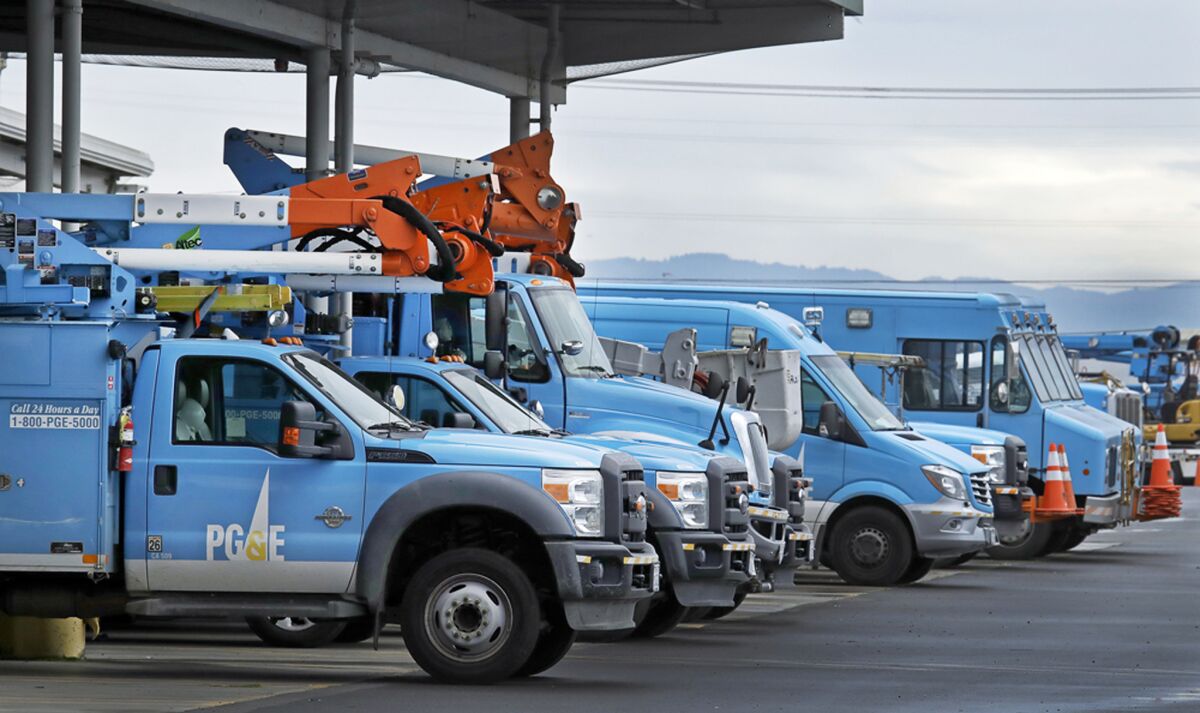 Hundreds of thousands of people saw their power shut off Wednesday morning as dry weather and strong winds rolled through Northern California, increasing the risk of fires.
Initially, about 450,000 residents were expected to lose power throughout the day, with outages beginning at 7 a.m.
The number of affected customers was cut in half from Pacific Gas & Electric's original estimates and was to affect 18 counties. Shutoffs began about 7 a.m. in Colusa, Glenn, Lake, Mendocino, Napa, Shasta, Solano, Sonoma, Tehama and Yolo counties. Wind speeds exceeding 50 mph, with gusts over 70 mph, were recorded in the region, the utility giant said.
Shortly before 1 p.m., however, PG&E said that weather conditions had improved, noting that 83,000 of the customers originally expected to lose their electricity would no longer be part of the public safety power shutoff. Outages are no longer expected in El Dorado, Nevada, Placer, Sierra and west Sonoma counties as well as the Camptonville area of Yuba County, the utility said. Some 14,000 customers in Butte, Plumas, Tehama and Yuba counties could still be affected.
Customers can learn when they are expected to lose power on PG&E's website. The utility said it expected to restore electricity by the end of the day Thursday.
PG&E continues to be criticized for its widespread preemptive power shutoffs. California Gov. Gavin Newsom has threatened to turn the utility into a customer-owned cooperative run by state and local governments. Meanwhile, the California Public Utilities Commission has opened a formal investigation into the shutoffs.
But this round of public safety shutoffs are smaller in scope, partly because weather conditions are not as intense as during several shutoff events in October. PG&E CEO Andy Vesey said in a news conference Tuesday night that the utility's goal was to continue to diminish the scale of the shutoffs.
"We're making that commitment very publicly that next year we will not be in the situation," Vesey said. "We will be able to protect the public in ways that are not as terribly disruptive as they are today."
Vesey said by the next fire season, the utility hoped to install additional weather systems for more focused data, automated power switches that will help shutoffs become more efficient and generators that will allow the utility to keep the lights on in homes.
Fire danger across the region is expected through Thursday morning, with a red flag warning in place, as a low-pressure system descends into Southern California, bringing the first rain and snow of the season.
Wind gusts in Northern California may reach 55 mph, with humidity levels in the teens, according to the National Weather Service. Overnight conditions aren't expected to lessen fire risks, forecasters said.
PG&E said in a statement late Tuesday there had been more uncertainty with the strength, timing and humidity levels of this weather system, but peak winds should subside by midmorning Thursday.
PG&E and Southern California Edison power cuts: Here is how to survive a blackout
The same low-pressure system's movement is causing the opposite problem in Southern California. Though meteorologists say the risk is low, rain always brings a potential for devastating mudslides in recently burned areas.
Flash flood watches are in place in the mountains, coast and valleys of San Diego County, as well as large parts of the Inland Empire, the weather service said.
---
Life is stressful. Our weekly mental wellness newsletter can help.
You may occasionally receive promotional content from the Los Angeles Times.