California Senate abruptly halts work due to a new coronavirus case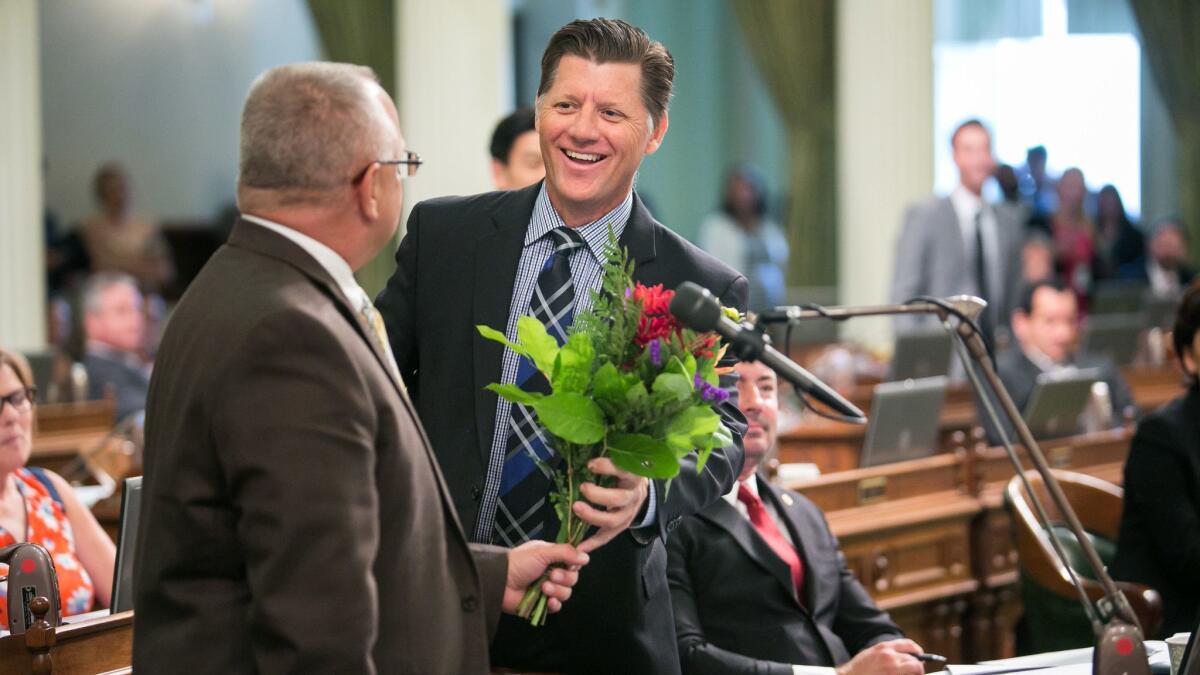 SACRAMENTO —
The California Senate canceled its floor session Wednesday after a Republican lawmaker from San Diego County tested positive for the coronavirus, complicating a hectic final week of legislative business at the state Capitol.
Sen. Brian Jones (R-Santee) confirmed Wednesday that he tested positive after his diagnosis sparked a chaotic morning in the Senate.
A second case was also identified, according to an email Secretary of the Senate Erika Contreras sent to lawmakers and their staffers later in the day. An officer with the California Highway Patrol tested positive after having last been inside the building Monday.
"The Senate will be prepared to continue our work when we have completed public health protocols to ensure that the risk of exposure has been eliminated," Senate President Pro Tem Toni Atkins (D-San Diego) said in a statement. "The Senate will use the tools available to us to make sure that we can complete necessary work prior to August 31."
But with nearly 280 bills awaiting action with only five days left, it's unclear how the Senate plans to finish the year.
Atkins must decide whether the house should move to remote voting, or a hybrid model of in-person and virtual participation.
Jones had returned to the Capitol this week, and the Senate has been working to conduct "immediate contact tracing." Several others have been warned that they could have been exposed to the virus, but Atkins has not said whether those people will be required to quarantine at home or allowed to return to the Capitol.
Jones was diagnosed after he and several other senators were tested for the virus in recent days. The Senate learned of the case after legislators met for a floor session Monday and Senate Republicans, including Jones, met in person for a caucus Tuesday.
Jones' office said in a statement on Facebook that the senator plans to take additional tests to rule out the possibility of a false positive. He is following federal and state protocols for those who have tested positive for COVID-19, the statement said.
Katie Talbot, a spokeswoman for Assembly Speaker Anthony Rendon (D-Lakewood), said the Assembly would proceed with hearings and floor sessions as planned.
Wednesday's news comes as lawmakers are divided over the extent to which the Legislature can act on bills with its members casting votes from remote locations. The Assembly has instituted a process for members at high risk of contracting the virus to submit proxy votes to the house's leaders. The Senate allowed remote voting by its members for bills when they were in committee. The upper house said last month that it would not allow remote voting during floor sessions.
Jones, who served in the Assembly for six years before being elected to the Senate in 2018, has been a vocal opponent of remote voting. He issued a news release earlier this month asserting that lawyers for the Legislature have advised lawmakers that they must be physically present at hearings or on the floor in order to vote on legislation.
"Just what California doesn't need, more secret deal-making with Tammany Hall-style rigged voting by political party leaders," Jones said in a statement at the time. "If legislative leaders want to change the Constitution, they need the approval of someone very important: the voters."
The pandemic has disrupted the Capitol since the Senate and Assembly halted sessions in March to lessen the risk of the virus spreading.
Both houses delayed a return from summer recess last month after two Assembly members and four staffers tested positive for COVID-19. That spread inside the Capitol was believed to be linked to legislators and staffers meeting to pass the state budget at the end of June.
Before the most recent case, a spokeswoman for the Senate said in July that one Senate staffer had tested positive in June while two employees who worked in district offices also had confirmed cases of COVID-19.
"We have, as senators, done a pretty good job of avoiding COVID-19 for five months," Sen. John Moorlach (R-Costa Mesa) said. "We're all doing our best and we're all trusting that everyone else is doing the same."
After learning about the new case in the Senate, Moorlach said he requested to be tested and is awaiting instructions. He said the Senate will have to make decisions soon about the end of the session.
"I'm just trying to stay calm," Moorlach said. "I would like to conclude session, and if those that tested positive have to do it remotely, then so be it."
Sen. Brian Dahle (R-Bieber) said that requiring him to take a test could be futile considering that the incubation period for the virus varies and he was around Jones in the last couple of days. Dahle said a nurse contacted him Wednesday and told him that he had been identified as someone who may have been exposed to the virus through Jones. Now he's waiting to hear whether he can return to the Capitol on Thursday.
In addition to the in-person caucus Tuesday, Dahle and several other Republican senators were in the same room Monday night. Dahle said that he socially distanced from others and that Jones wasn't present.
He said Senate leadership should allow him to return to the Capitol, remain a safe distance from others and vote in the final days of session.
"There's plenty of room in that chamber to safely distance 40 people and a few staff," Dahle said. "We don't need to freak out. If someone is worried about me, put me up in the balcony and give me a microphone and I'll be fine."
Like Jones, Dahle doesn't believe the Legislature has the constitutional authority to vote remotely.
"I want to keep people safe, but I want to go to work," he said. "We can do our job and there's plenty of ways to figure out how to do that, but I want to be present there and I want to speak on legislation that will affect millions of people."
Staff writer John Myers contributed to this report.
Sign up for Essential California for news, features and recommendations from the L.A. Times and beyond in your inbox six days a week.
You may occasionally receive promotional content from the Los Angeles Times.