Man charged in shooting attack on two L.A. County deputies in Compton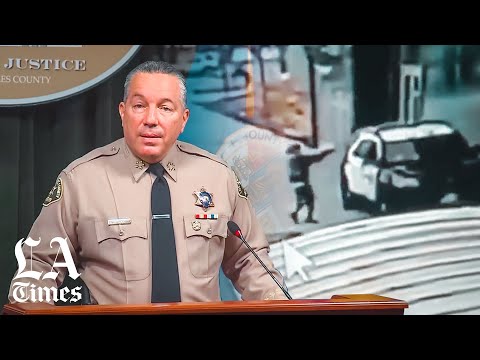 Attempted murder charges have been filed against Deonte Lee Murray, 36, in the attack at the Compton Metro station earlier this month.
Nearly three weeks after a gunman opened fire on two deputies sitting in their patrol car near the Compton Metro station, sheriff's officials announced that they had a suspect in custody.
Prosecutors filed attempted murder charges Wednesday morning against Deonte Lee Murray, 36, who was arrested Sept. 15 after a lengthy standoff in Lynwood in connection with a separate case. At the time, Sheriff Alex Villanueva said Murray was suspected in an armed carjacking and was not involved in the shooting.
The deputies — a 31-year-old woman and a 24-year-old man who were identified in the new criminal complaint as Claudia Apolinar and Emmanuel Perez-Perez — were shot in the face and head at point-blank range on Sept. 12. They underwent surgery, and both have since been released from the hospital.
"They still face a lot of surgery, reconstructive surgery," Villanueva said. "Fortunately they're doing OK."
At a court appearance Wednesday, Murray pleaded not guilty to the charges. Both his attorney, Jack Keenan, and the prosecutor, Jack Garden, asked that media requests for photographs and video footage of Murray in the courtroom be denied, citing the ongoing investigation.
Judge Michael J. Shultz agreed.
"His identity is a material issue in this case," Shultz said, noting that it "would compromise the defense, the prosecution or both" to visually identify Murray at this time.
Keenan said Murray, who is being housed downtown at the Twin Towers Correctional Facility, has been having a difficult time in the facility.
"He doesn't get fed, his food gets thrown away, he hasn't eaten today," he said.
Keenan requested that Murray be relocated elsewhere within Twin Towers, or to a different facility altogether, given "the nature of the victims in the case."
The judge denied that request, but said he would order deputies to reevaluate Murray's housing and address its propriety. Bail was set at $6.1 million, and Murray is due back in court Nov. 17.
Murray was previously charged with one felony count each of carjacking, second-degree robbery and assault with a semiautomatic firearm. The charges include allegations of association with a criminal street gang, discharging a rifle inflicting great bodily injury and personal use of an AR-15. He has pleaded not guilty.
Those charges stemmed from a Sept. 1 incident in which he allegedly shot someone in the leg with a rifle and stole his black Mercedes-Benz sedan, said Capt. Kent Wegener. On Sept. 15, Murray led investigators on a pursuit when they tried to stop him, Wegener said. During the chase, he said, Murray threw a pistol from his car. Investigators found him hours later hiding in bushes within the search area.
Wegener said that a ballistic comparison revealed that the .40-caliber pistol was the same weapon used in the attack on the deputies, and that it was linked to Murray through forensic testing. The gun was loaded with eight rounds — five short of its full capacity, he said, and five rounds were fired at the two deputies.
"At this point, investigators believe that Deonte Murray acted alone," Wegener said.
The day of the arrest, Villanueva had squashed speculation that Murray was linked to the shooting of the deputies. At the same time, though, the intense manhunt for the attacker largely ended. Villanueva was questioned Wednesday on what appeared to be a deliberate attempt to mislead the public, as well as on statements he made after the attack that stoked the idea that the shooting had something to do with recent protests against police brutality.
"We're not gonna tell you everything we suspect," Villanueva said. "We had no evidence at that time to tie him to anything else. Did we have suspicions? Yes … but we're not gonna tell you all of our suspicions."
He defended his prior statements related to the protests, saying brazen attacks on law enforcement have increased. "It's part of the environment we're in right now. It's a scary situation in the sense that there are people that have such deep-seated hatred towards law enforcement they're willing to just kill, unprovoked."
Investigators, however, did not specify a motive in the attack.
The shooting of the deputies was captured on surveillance video. It shows a figure in dark clothes casually walk up a pathway near the Compton Blue Line station, approaching the parked patrol car from behind.
The person draws closer and turns to face the passenger door of the black-and-white patrol SUV, his steps quickening. Inches from the window, he raises a gun, opens fire and runs back the way he came.
Moments later, the passenger door opens and a deputy stumbles out, hand on head. The driver's door opens soon after. On the radio, a garbled voice mutters: "998 Compton Pax."
"Compton Pax, deputies down," the wounded deputy says, almost unintelligibly. "Compton Pax 998."
The female deputy, managed to get out of the cruiser and help her partner hide behind a concrete pillar for safety, not knowing whether the gunman was still in the area.
She applied a tourniquet to her partner's arm, which was bleeding.

Sign up for Essential California for news, features and recommendations from the L.A. Times and beyond in your inbox six days a week.
You may occasionally receive promotional content from the Los Angeles Times.