McKinney fire levels homes, destroying a lifetime of memories in a flash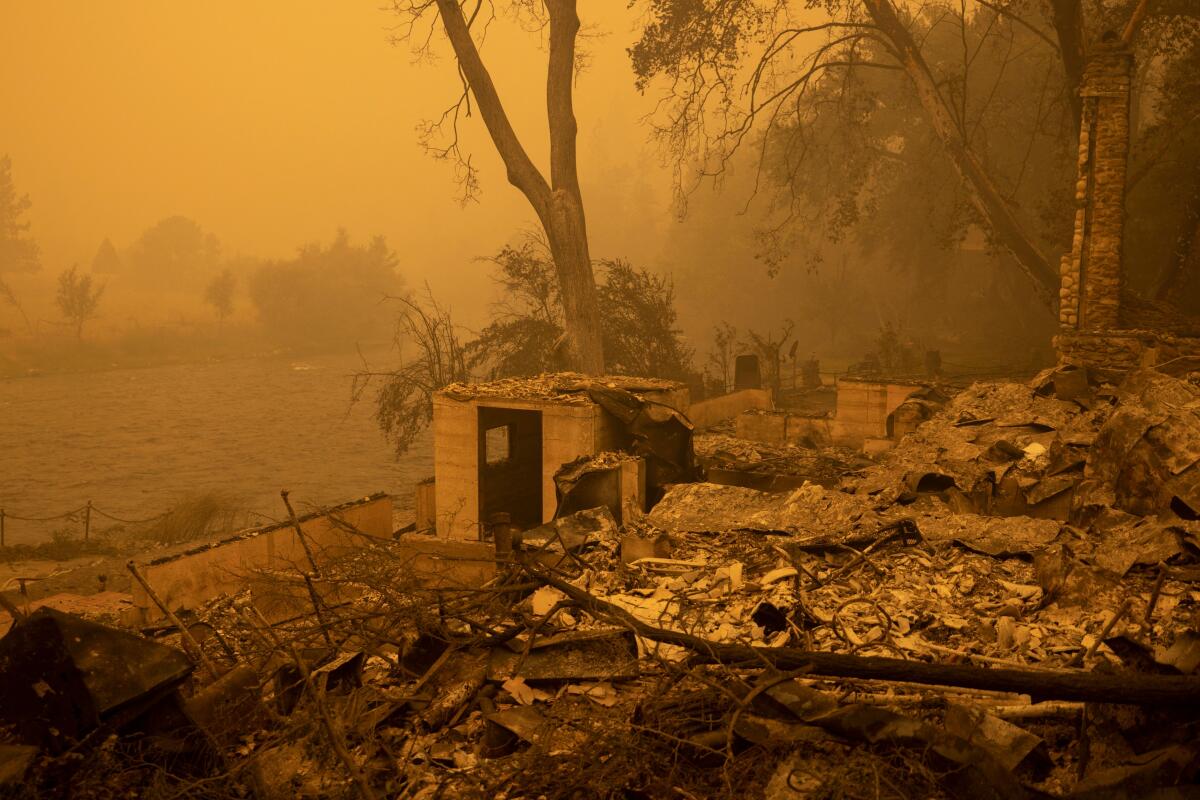 WEED, Calif. —
Days after the McKinney fire broke out in Northern California, anxious residents peppered officials with questions during a community meeting in Yreka on Monday night.
"When can we go back home?" one person asked.
"Can you show me my house on that map?" asked another.
One stood out from the rest: "What are we supposed to do if we lost everything?"
Sherri Marchetti-Perrault's words were swift and tinged with worry. Her hands were still darkened by soot after going to see the rubble that afternoon.
Marchetti-Perrault told The Times after the meeting that her home off Highway 96 had burned to the ground in the blaze.
"When we left, everything was on fire," she recalled. "It happened so fast. We left with the clothes on our back. We couldn't breathe and we couldn't see."
She was still processing the destruction Monday night, unsure of what to do or where to go next.
And she thought of her 78-year-old uncle who was in the house with her at the time and refused to leave. She fears he was killed.
"I know where he was sitting and I saw him," Marchetti-Perrault said. "I'm sure it was him."
The McKinney fire has ripped through 52,498 acres in Klamath National Forest. A red flag warning is in effect, and storms are expected.
The Siskiyou County Sheriff's Office has only confirmed two deaths in the fire, but Sheriff Jeremiah LaRue said he would look into it.
Fire crews have grappled with extreme conditions that fueled explosive fire growth in its initial stages, said Darryl Laws, a unified incident commander with the California Department of Forestry and Fire Protection.
But improving conditions led to cautious optimism among authorities on Monday.
Federal and state officials at the meeting said there had been some promising signs of progress on the fire throughout the day, thanks in part to some welcome precipitation. Containment, however, remained at 0% as of Monday night.
Crews laid a bulldozer line between the blaze and the threatened town of Yreka, officials said.
The relief began as a storm on Sunday dropped rain over the area, particularly on the east side of the fire, said Heather McRae, an operations section chief.
"That cloud cover and rain continued throughout the day today," McRae said. "That has given us a great advantage to be able to get in closer to this fire."
While the rain was a welcome boost to the fire suppression efforts, officials warned that the blaze's size and behavior mean there is still significant work needed to bring it under control.
Residents, meanwhile, continue their anxious wait.
A hot drizzle fell over the Weed Community Center earlier Monday, where nearly all of the 157 cots assembled by the American Red Cross had been occupied by evacuees.
Dozens of people milled about, some anxious and others bored, as the blaze raged in the nearby Klamath National Forest.
Many feared the worst, but for Harlene Schwander, 81, it had already happened: Her house, located along Highway 96, was leveled by the fire.
"If I had known, I would have gotten more," Schwander said. "I would have taken my sunglasses! I wasn't thinking."
Schwander, an artist, said she had almost nothing left save for the clothes on her back and the handful of family photos she grabbed before she fled Saturday with her three Cavalier King Charles spaniels.
About 1,700 firefighters battling the 55,493-acre blaze were contending with triple-digit heat and possible thunderstorms that could set off dangerous conditions. There were about 10 other smaller fires burning in Klamath National Forest.
The fire started about 2:38 p.m. Friday near Highway 96 and McKinney Creek Road southwest of the Klamath River, according to Cal Fire. The cause is under investigation.
"Mother Nature wasn't very kind to us when this fire started," said Laws, the Cal Fire unified incident commander.
A thunderstorm cell came over the area when the blaze broke out on Friday, creating strong, downdraft winds that caused the fire to grow to about 18,000 acres in its initial hours, he said. The fire then turned 180 degrees and made a run at a community.
Fire crews, however, are taking advantage of more favorable weather conditions, including rain, and are working to establish containment lines to prevent the blaze from spreading, Laws said.
The area around Humbug Creek is a particular focus, Laws said, adding that the last significant fire to come through the area was the Haystack fire in 1955. Crews hope to prevent the blaze from cresting a ridge that lies between the burn area and Yreka, he said.
Concerns for residents across Siskiyou County continue mounting, including worries over unaccounted people.
Authorities have recovered remains in addition to the two confirmed deaths but haven't determined whether they are human or animal, Courtney Kreider, a Siskiyou County Sheriff's Office spokesperson, told The Times earlier Monday.
An anthropology team from Chico State with experience helping authorities identify victims of the 2018 Camp fire has been deployed to assist in the effort, Kreider said.
LaRue, the sheriff, also acknowledged that the explosive blaze has generated intense heat and created immense challenges — both for crews fighting the fire and for those sifting through what it leaves behind.
"Most people have experienced fire through either a wood stove or a campfire, so it's like this isolated thing that you can put out," he said. "But these firestorms — it's intense heat, a thousand degrees."
Despite the harrowing conditions and painful wait for answers, some residents held on to hope.
For Leah and Jeff McCauley, news of the bulldozer and hand lines outside Yreka was the first optimistic news in days.
The couple own a 108-unit mobile home park and said they had a difficult time getting everyone on board with the evacuation orders.
Some residents are older, less mobile or otherwise require assistance, so it took time to help them evacuate. But about 25 or 30 others simply refused to go, he said, noting that he and his wife had stayed behind to continue checking on the people and the property.
"I'm the one out there with the hose," he said. "I'm fighting till the bitter end, no matter what."
The hikers were rescued on the California side of the trail at Red Buttes Wilderness as the McKinney fire continues to ravage Klamath National Forest.
Some neighborhoods on the western side of Yreka were ordered to evacuate, though officials said they saw little progression overnight on the edge of the fire closest to the city.
"Definitely Yreka is of concern, as is the other populated areas like Fort Jones," said Caroline Quintanilla, a spokesperson for the U.S. Forest Service. "So we're focusing on protecting the people, life and property."
At the evacuation center in Weed, Schwander assessed what was lost to the flames.
Among them were original paintings, photographs from her childhood and an antique rocking horse that, according to family lore, Richard Nixon rode on as a baby.
Her daughter, who lives nearby, managed to save a trunk full of jewelry.
"I'll be naked but laden with jewels," Schwander joked. Despite her good humor, however, she wasn't really sure what she would do next. She lives on Social Security — about $700 a month — and said she hadn't been able to afford insurance on her home.
The fire started Friday in a largely unpopulated area in the Klamath National Forest just south of the Oregon state line. It is California's largest wildfire of the year so far.
It was an all too familiar story for some residents of Siskiyou County, for whom fire is no stranger. Weed Mayor Kim Greene said much of the area was rebuilt after the Boles fire tore through in 2014, and many residents still had vivid memories of that blaze.
"What the people in Weed who have lost and rebuilt will tell you — this is the new normal," she said. "Our slogan in Weed is, 'You can log it, you can graze it, or you can burn it down,'" she said. "The state of California chooses to burn it down."
Sign up for Essential California for news, features and recommendations from the L.A. Times and beyond in your inbox six days a week.
You may occasionally receive promotional content from the Los Angeles Times.