Officials prepare to evacuate 22,000 people from Hemet wildfire's path, raising dire warnings of high winds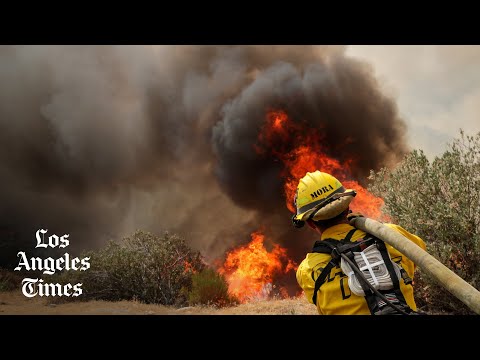 The Fairview fire, which has killed a father and his daughter, was only 5% contained as of Thursday morning, according to fire officials.
Firefighters battling a raging wildfire near Hemet issued dire warnings Thursday night as they prepared for a massive evacuation effort ahead of potentially more dangerous fire conditions.
Tropical Storm Kay, which is not forecast to make landfall in California, is expected to bring winds of more than 50 mph to the fire area. Combined with drought-stricken fuels, that could mean further explosive growth and unpredictable fire behavior.
The blaze, which had grown to 23,919 acres with 5% containment Thursday night, is expected to continue spreading in all areas due to shifting winds ahead of Kay's arrival, according to the California Department of Forestry and Fire Protection. Winds out of the east could move the fire westward.
Firefighters could also face "extreme downslope winds" coming off the surrounding 10,000-foot mountain peaks, Cal Fire officials said.
Tropical Storm Kay, which made landfall in Mexico, is forecast to bring rain and thunderstorms
"And then [that's] followed up with significant potential for rainfall," said Deputy Chief Jeff Veik of Cal Fire's Riverside Unit. "So we could go from a fire suppression event into significant rain, water rescues, mudslides, debris [flows]. We have challenging days ahead."
Heavy rains could moderate fire activity, officials said, but thunderstorms are also expected to bring lightning to the area, raising the risk of new fire starts.
Veik and other Cal Fire officials spoke during a Thursday evening community meeting where they urged the public to heed all evacuation orders and warnings.
"I have not seen a fire burn like this in Riverside County in my career," said John Crater, a Cal Fire division chief in Temecula. "It's a very stubborn fire. It's doing things that we just haven't seen."
As the state's wildfire death toll rises to nine, some are urging a new focus on alert systems.
Everyone in an area under evacuation orders or warnings should be ready to leave, Crater said.
"Have your bags packed, have a go bag and have a plan," he said. "We are expecting to evacuate about 22,000 people. ... The traffic impact is going to be heavy, so when we ask you to leave, please do so in an orderly manner and help our law enforcement partners."
Riverside County Sheriff's Capt. Zach Hall echoed the fire officials' pleas and said 400 to 500 deputies will be deployed to the evacuation area.
"We will be here to hold the line and watch your stuff while you're gone," Hall said.
The blaze has destroyed 11 structures so far and is threatening an additional 18,753, Cal Fire officials said.
Authorities have released a real-time map of all areas under evacuation orders and warnings.
Earlier Thursday, Gov. Gavin Newsom declared a state of emergency in Riverside County due to the fire. The order also covers El Dorado and Placer counties, where the Mosquito fire is raging west of Lake Tahoe, sending up a massive smoke plume that was visible from Chico.
Jon Heggie, a Cal Fire spokesperson, called the Fairview fire's growth "pretty substantial" but not rare. "I'd like to say it's uncommon, but it's fairly common nowadays," he said.
What's rare is that the blaze is raging as a storm system is traveling off the coast of Southern California, Heggie said.
"This is an unusual circumstance to have the outflow winds to be pushing from the east, which will be problematic," he said. "We have enough resources and we're planning for this weather event, but it could challenge our control lines. We can't rely on the rains, but it could potentially assist us."
Hurricane Kay, a system off Mexico's Baja California Peninsula, could bring humidity, flash floods, high winds and strong surf to Southern California.
Earlier on Thursday, Riverside County Sheriff's Sgt. Brandi Swan said 5,286 homes were under evacuation orders, an increase from about 3,700 on Wednesday. She estimated 10% of the approximately 18,500 residents within the evacuation grid have left.
The two people killed in the fire were identified by a family friend as Ian Compton, 40, and his daughter, Mikayla Porter, who was in her 20s and had autism. Their family pets were also killed as they tried to flee in their car but were surrounded by the blaze.
Tina Compton, Ian's wife, was found severely burned outside the car, was taken to a hospital and is expected to survive, said her friend, who did not wish to be named.
Swan confirmed two people were found dead inside a car in the 42400 block of Avery Canyon Road in eastern Hemet, but couldn't confirm their identities due to the condition of their remains.
The family was trying to escape the fire and loaded up their vehicle with their pets but didn't make it out of the driveway before the blaze engulfed their car, Tina Compton's friend said. Tina was pulled out by a neighbor who is also a firefighter.
A GoFundMe page has been set up for Tina Compton by her friend Kimberly Valadez for funeral and medical expenses. Compton also lost her home and belongings in the fire.
"Tina is the most selfless, loving, giving, kind hearted person," Valadez wrote. "...Tina is currently in the burn unit with 3rd degree burns and will be there for some time. She has a lot of healing and rebuilding ahead of her."
The deadly blaze has also threatened Diamond Valley Lodge, a tiger sanctuary on Sage Road in Hemet. An employee posted on social media that the fire is heading toward Diamond Valley Lodge and put out a request for volunteers to help rake and make barriers near the sanctuary. The message mentioned that the sanctuary's four tigers were too "spooked" to be transported.
The Fork fire broke out Wednesday afternoon in the small community of North Fork, prompting multiple evacuation orders.
"We are in need of manpower to help rake and make barriers," the post read. "If you can come, please do. Bring any tools you think could help."
Kathy Petersen, who had been in the Tahquitz High School evacuation center for two days, said she heard from deputies that her apartment was safe, but she was concerned about the food in her fridge going bad.
Petersen, 54, has lived in Hemet for 13 years and had never been close to a fire until Monday. After getting an alert on her phone, she looked out the window and saw smoke everywhere.
"I didn't think I was gonna have to evacuate," she said, "but as it got closer, I knew."
The deadly blaze is one of several burning in California. In addition to the Mosquito fire, which ignited Tuesday evening in Placer County and by Thursday night had grown to 13,705 acres with no containment, the Fork fire broke out late Wednesday afternoon and prompted several evacuation orders near North Fork, a small community in the Sierra Nevada foothills.
Last week, a wildfire broke out near Castaic, shutting down the 5 Freeway. The Route fire burned more than 5,200 acres before it was fully contained.
Sign up for Essential California for news, features and recommendations from the L.A. Times and beyond in your inbox six days a week.
You may occasionally receive promotional content from the Los Angeles Times.