ER doctor hit, stabbed while riding bike died at O.C. hospital where he saved lives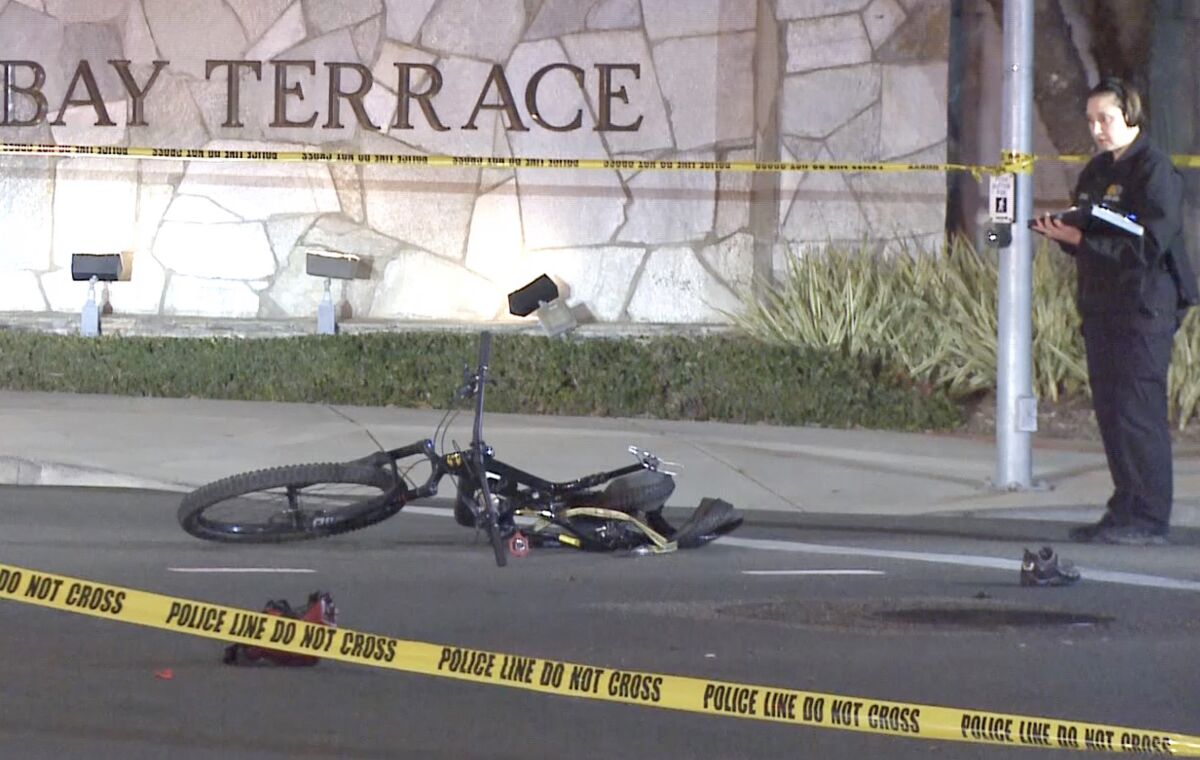 Several bouquets of flowers hung from a traffic light pole on Pacific Coast Highway where authorities say a well-known Orange County doctor was hit by a vehicle while riding his bike and then fatally stabbed by the driver in Dana Point.
The attack occurred about 3 p.m. Wednesday at Pacific Coast Highway and Crown Valley Parkway, the Orange County Sheriff's Department said in a news release.
First responders arrived to find 58-year-old Michael John Mammone suffering from severe injuries. He was taken to Providence Mission Hospital in Mission Viejo, where he died.
Mammone had been riding his bicycle north on Pacific Coast Highway when he was hit from behind by a car, according to authorities.
The driver, 39-year-old Long Beach resident Vanroy Evan Smith, got out of his white Lexus and stabbed Mammone repeatedly with a knife, officials said.
Smith was pinned to the ground by bystanders and taken into custody by law enforcement. A knife believed to have been used in the assault was found at the scene.
The victim was an emergency physician working predominantly out of Providence Mission Hospital in Laguna Beach and did not immediately appear to have any connection to the suspect, officials said.
There is no known connection between the two men, authorities said, and investigators are trying to determine what led to the assault. Anyone with information is asked to contact the Sheriff's Department at (714) 288-6740.
Smith was charged Friday with one count of murder with a sentencing enhancement of personal use of a deadly weapon, according to court records. Smith pleaded not guilty and is being held in the Orange County Jail in Santa Ana on $1 million bail. He faces a maximum sentence of 25 years to life, plus one year, if convicted on all charges.
Smith is listed as unemployed in jail records. He is scheduled to appear in court on Feb. 16 for a pretrial hearing.
Mammone worked as an emergency physician for Providence Mission Hospital, said Erin Prunell, a spokeswoman for the healthcare group.
He practiced mostly out of its facility in Laguna Beach and occasionally worked at the Mission Viejo location where he died, and at Children's Hospital of Orange County in Santa Ana.
"The entire Mission Hospital family is grieving over the loss of an incredible physician and friend," representatives for the hospital wrote in a statement. "We will honor Dr. Mammone's dedication to our community and passion for medicine."
Traffic deaths hit a 20-year high in Los Angeles last year.
Friends said he had a warm personality and "was the kind of person you wanted to be your doctor," a spokesman for Providence Mission Hospital said over the phone Thursday.
Mammone, who had been affiliated with Providence since 2011, was among the numerous medical professionals who toiled heroically during the height of the COVID-19 pandemic, the spokesman said, adding friends and family in Laguna Beach were devastated to learn of his death.
Mammone's family has declined to comment.
In a release, Orange County Dist. Atty. Todd Spitzer said. "An innocent man is dead because he took a bike ride to enjoy a beautiful California day along the beach and he was hit with a car and stabbed to death by someone he apparently never met. The murder of a complete stranger in broad daylight for what appears to be absolutely no reason is the stuff of nightmares."
The growing popularity of e-bikes has created a conundrum for Orange County cities as they try to balance state climate goals with concerns about rider and pedestrian safety.
The stories shaping California
Get up to speed with our Essential California newsletter, sent six days a week.
You may occasionally receive promotional content from the Los Angeles Times.