'Chesapeake Bandits' fugitive in L.A. armored car heists is captured by FBI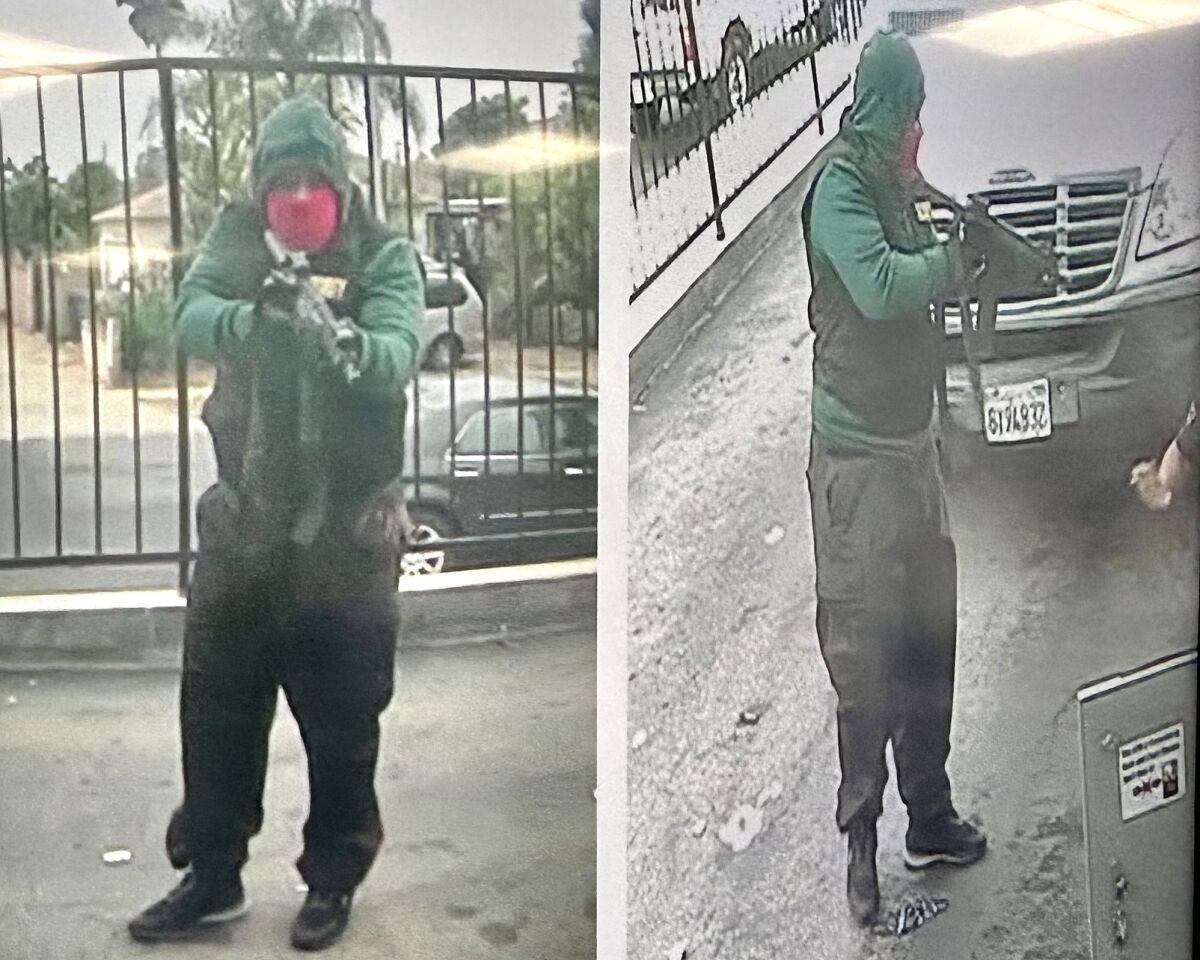 A fugitive suspected of being a ringleader of a prolific L.A. armored car robbery crew was captured by the FBI on Wednesday evening.
James Russell Davis, one of at least seven alleged robbers involved in the heists, was taken into custody in Rancho Cucamonga less than a week after law enforcement officials publicized their search for him, said Donald Alway, assistant director in charge of the FBI's Los Angeles field office. Authorities disseminated his image and characterized him as a mastermind behind a yearlong series of carefully planned armored car heists carried out with assault-style rifles.
The robbery crew has stolen more than $500,000, according to the FBI.
A federal arrest warrant was issued for Davis, 34, after he was charged last month in a federal criminal complaint with conspiracy to interfere with commerce by robbery.
An alleged accomplice, 36-year-old Deneyvous Hobson, was taken into custody Feb. 21. At least five others believed to be part of the "Chesapeake Bandits" — so called because investigators say they devised the holdups at a home on Chesapeake Avenue in L.A.'s West Adams neighborhood — remain at large.
Two of the officers who were shot were released from a hospital Thursday. The third officer is also expected to recover. The shooter died in the confrontation.
A video of one of the heists shows masked bandits wielding guns including an AR-style rifle with a short barrel, an optical sight and a large extended magazine.
The bandits would force security guards to the ground at gunpoint, zip-tie them, and grab the bags of money before fleeing.
In announcing a reward of $25,000 for information leading to arrests of any of the suspects last week, LAPD Chief Michel Moore said detectives investigating the armored car robberies had found connections among the crimes, which were committed at various banks last year in Hawthorne, Inglewood and Los Angeles.
Alway said the bandits would conduct surveillance on the locations, using multiple vehicles and personnel. The group had drivers who would remain in their vehicles during the robberies, he said.
Three weeks before the first holdup, at a credit union in Hawthorne, two men — believed to have been Hobson and Davis — were seen in a white Chevrolet Tahoe "for approximately one hour while a future victim, J.G. — a Sectran Security, Inc., driver — parked his armored car and collected cash" from ATMs, according to the criminal complaint.
A bank employee noticed the men and called police. A police officer questioned the two, who provided identification with the same Chesapeake Avenue address, according to an affidavit filed with the complaint.
"Three weeks later, to the day — and almost the exact same minute — ... J.G. was robbed while collecting cash from the same" ATMs, Elizabeth Cardenas, an FBI special agent, said in the affidavit.
The robbers were three men who used what appeared to be an AR-15 rifle and a handgun during the robbery, authorities said. They stole the guard's gun and about $100,000.
The crew allegedly pulled off a similar heist about half a mile away in Inglewood on June 9, stealing nearly $93,000, authorities said. A vehicle matching the description of Davis' Tahoe was "seen leading a getaway car within 30 minutes of the robbery on a nearby Ring camera."
According to court records, Hobson has previous convictions for robbery and assault with a deadly weapon, and Davis has a conviction for receiving stolen property and possessing burglary tools.
At least five other individuals believed to be part of the Chesapeake Bandits have yet to be identified. Surveillance photos of them can be seen on the FBI's website.
Anyone with information is urged to call the FBI with a tip. A reward of up to $25,000 is being offered in exchange for information leading to an arrest in the case.
The stories shaping California
Get up to speed with our Essential California newsletter, sent six days a week.
You may occasionally receive promotional content from the Los Angeles Times.