(Illustration by Diana Ramirez / De Los)
Latinx and Latin American comic vendors and illustrators gathered at the Museum of Latin American Art in Long Beach for the 11th annual Latino Comics Expo this past weekend.
The two-day event included panels that uplifted the history of Latino comics and addressed the issues Latino creators face in the comic book industry.
From the founders to the artists, the origin stories varied across the globe, but their central mission remained the same: Give power to their communities.
Ricardo Padilla and Javier Hernandez launched the Latino Comics Expo in 2011 to elevate Latino creators in the industry.
The R&B themed yoga classes might suggest added choreographed routines to newcomers, and while it includes an occasional twerk and body roll, yoga and its meditative elements take precedence.
"We established this as a place where Latinos and Latinas could come with their families, read Latino comic books and have a space that they can call their own, where we can share our art and creativity," Padilla said.
As a young father, Padilla attended comic book conventions with his children, who brought to his attention the lack of Latino representation in both the creators and comics.
"Ten, 15 years ago, you couldn't find any of this," he said. "There was nothing, and after a few years of complaining, [I said I] need to do the show."
For decades, the Olympic Auditorium was a hub for sports and entertainment in Southern California. A new interactive exhibit aims to preserve its history.
Hernandez started his own comic, "El Muerto," 25 years ago as a way to highlight his Mexican identity. The story follows 21-year-old Diego de la Muerte, who died on his birthday but was resurrected with supernatural powers.
"It was important to showcase a Mexican superhero, Mexican culture, Aztec mythology because back in 1998, you didn't see too much of that in comics, or even movies," Hernandez said.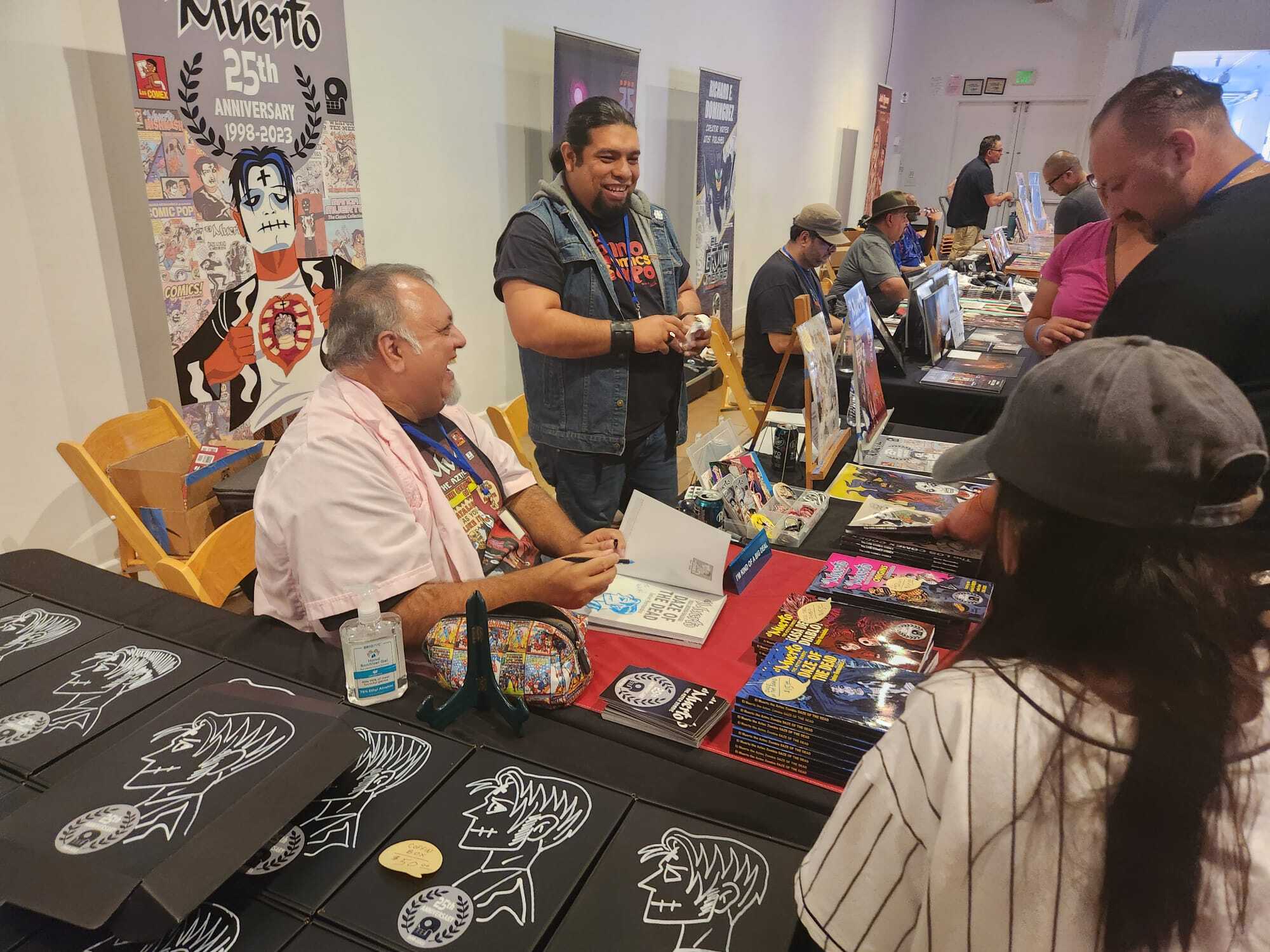 When Padilla and Hernandez started the expo, they did not realize there were so many Latino creators in the comic book industry.
As a child, J. Gonzo would save up his allowance to buy comic books at his local 7-Eleven gas station. Now, he self-publishes his comics.
The Red Pears hail from El Monte, where memories of backyard parties shaped their community and where music formed part of their identities.
"It was just a dissatisfaction with how I'd seen Mexican culture portrayed in American pop culture," said Gonzo, an author, illustrator and former graphic designer for Image Comics. "Every time you see Mexico in an American movie, it's sepia tone and brown and dirty-looking."
His comic, "La Mano del Destino," centers a Mexican wrestler in a world where lucha libre is foundational to the cultural fabric of a swanky pseudo-1960s Mexico. Instead of using dark, monochrome coloring, Gonzo's comic is vibrant with a neon glow.
"Our culture is just so much more vibrant than that," Gonzo said. "And someone needs to do a story where the luchador isn't like a punchline or a joke. Where he's treated like a hero."
After tiring of the lack of Latino superhero representation, Kayden Phoenix, an independent screenwriter and third-generation Chicana, created her own universe of Latina superheroes, "La Brava," during the pandemic.
"I wrote out a feature-length screenplay called 'Jalisco,' my first superhero," Phoenix said. "I shot a short film as well, and everybody said this should be a comic."
Phoenix's "La Brava" team is made up of various comic book characters, all with different heritages and superpowers intrinsic to their identities and communities. There is Santa, who has divine strength and déjà vu, and takes on a politician called Ice. There is also Ruka, an East L.A. girl who saves kids from getting kidnapped in her neighborhood.
There is no prince saving anyone but rather a group of superhero girls having fun as they fight social injustices, Phoenix said.
"As Latinas, we just don't get any of that information, knowing that we can grow up being strong," she said.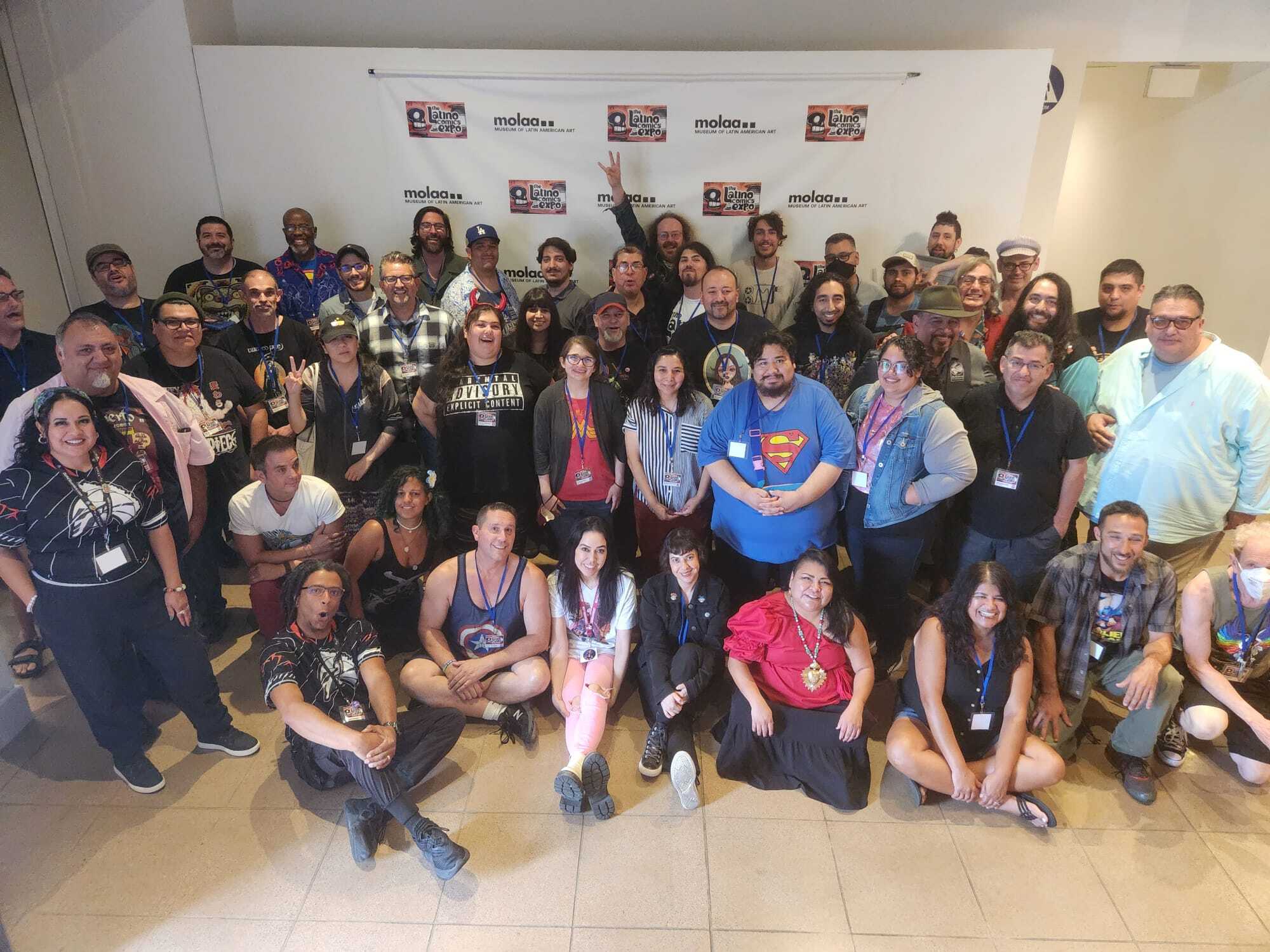 Author Elvira Carrizal-Dukes and illustrator Ronnie Dukes of Dukes comics created "Daizee & the Dukes of Chuco" in hopes that it would uplift Latino comic book readers.
"I try to write protagonists that are brown," Carrizal-Dukes said. "Women as the heroes who don't have supernatural powers.
"Instead, they use their brain and their intelligence and creativity and innovation to bring power to their community," she added.
In their comic, Daizee is a Latina inventor who creates a nuclear fusion solution that is kinetically charged, so there is no need for electric charging or fossil fuels.
Atlanta-based artist Yehimi Cambrón Álvarez has painted several large murals across the city to showcase the city's immigrant community.
"She's trying to get this invention into the hands of the community," said Carrizal-Dukes. "But the big billionaire oil and gas guys are trying to destroy their invention because they're a threat to their profits."
For the wife-and-husband duo, representation in the comic book industry is as essential in the stories as it is for the writers and illustrators of those stories.
"I think unless you have a Latina writer, then you won't have those perspectives," said Carrizal-Dukes. "And so I think that's the significance. We bring that knowledge that the industry does not have."
With 'Primos' emphasis on Maya culture, Axel Alonso and Al Madrigal bring a group of Mexican superheroes to the forefront of comics.