(Photo Illustration by Diana Ramirez / De Los; photos by Emma Benitez, Erik Mclean)
The holidays have crept up on us. Stores have feverishly rolled out their Christmas decor, and the smell of cinnamon has replaced pumpkin spice. KOST-FM (103.5) switches to strictly holiday music on Saturday, so it's only a matter of time before you get sucked into the spirit too. Before you get too far in, we've curated a lineup of weekend events just for you. Check out the rockers who play cumbia, an ode to '90s-style backyard parties or books and art for us and by us.
LIVE MUSIC
Canto en Resistencia: Gustavo Dudamel leads the L.A. Philharmonic in celebrating iconic protest music by Latina artists through Sunday as part of the two-week California Festival. On Thursday, special guests include French-born Chilean rapper and activist Ana Tijoux, Colombian singer and rapper Gloria "Goyo" Martínez, Mexican singer-songwriters Ely Guerra and Lila Downs and Colombian singer and actress Catalina García.
When: 8 p.m. Thursday
Where: Walt Disney Concert Hall, 111 S. Grand Ave.
Cost: Tickets start at $175
Special guests join Gustavo Dudamel and the Los Angeles Philharmonic for "Canto En Resistencia" ("Singing In Resistance") at Walt Disney Concert Hall.
From Friday through Sunday, Dudamel leads musical tributes to Chilean musician and activist Violeta Para and women's rights leader Susan B. Anthony. Mexican Latin Grammy winner Silvana Estrada, who recorded a beautiful Tiny Desk concert inside her parent's luthier workshop at her childhood home in Veracruz, joins the conductor and brings her own magic to the concert hall.
When: 8 p.m. Friday and Saturday, 2 p.m. Sunday
Where: Walt Disney Concert Hall, 111 S. Grand Ave.
Cost: Tickets start at $30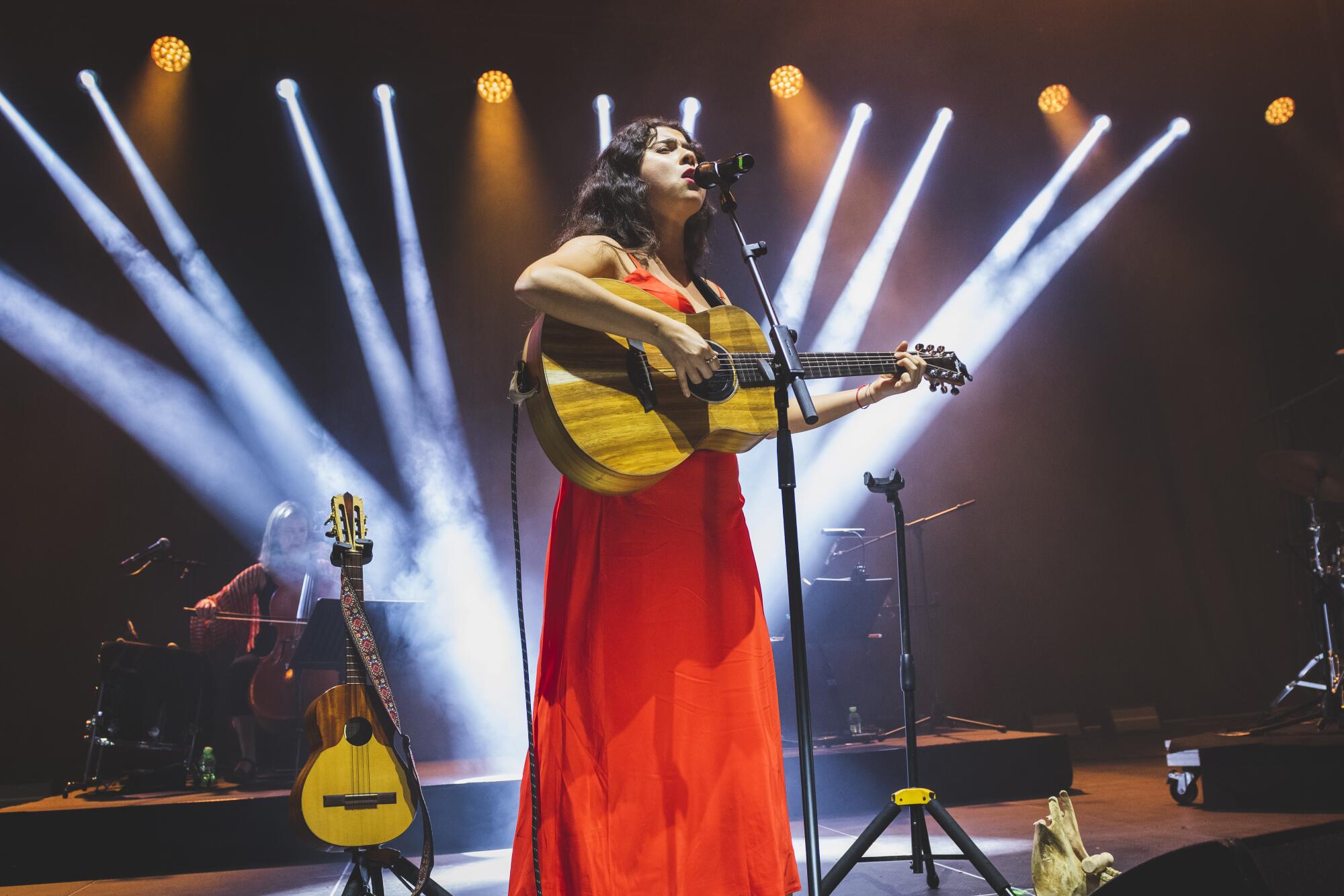 Son Rompe Pera at the Glass House: Who knew you could mosh at a cumbia show? Mexican fusion band Son Rompe Pera blends punk with cumbia to create a cool concoction that works. The band of brothers from the Mexico City suburb of Naucalpan is a rebellious bunch that brings such influences as the Misfits, Johnny Cash and the Ramones into its mix of traditional cumbia and marimba with hints of ska, garage and psychobilly. The band's second album, "Chimborazo," dropped this year and was recorded in Colombia, the birthplace of its rooted genre. The group goes even further with its sound exploration, adding dub and hip to the mix.
When: 8 p.m. Sunday
Where: The Glass House, 200 W. 2nd St., Pomona
Cost: Tickets $31.50
The band of brothers from Mexico bring the sound of their culture to the pit this weekend for a Noche De Los Muertos celebration at Hollywood Forever Cemetery
Diego Moraes at Tropico de Nopal: Singer-songwriter Diego Moraes may not be well known here, but he's making waves in the jazz scene in his native São Paulo, Brazil. The up-and-coming artist stops in L.A. on his Manda Nudes U.S. tour, where he'll play songs off his pandemic album that speaks to the need to free ourselves from screens and tap into our creativity. Fellow Brazilian singer Monique Maion joins the analog guy for a night of reflection on the positive that came from the pandemic.
When: 7 p.m. Friday
Where: Tropico De Nopal Gallery, 1665 Beverly Blvd.
Cost: Tickets $20
LA LOM at the Constellation Room: Fairly new to the scene, the Los Angeles League of Musicians is a trio formed in 2021 that blends Mexican-style cumbia sonidera, '60s soul and old-school Cuban jazz for a grown and sexy twist to the genre. Percussionist, drummer and model Nicholas Baker grew up in the San Fernando Valley surrounded by a family of musicians from Durango, Mexico. He and his dapper crew debuted their first EP last year to rave reviews, and KCRW-FM (89.9) gave the group best new music accolades for its latest "Angel's Point" single, dropped in August. Catch the trio while you can.
When: 7 p.m. Thursday
Where: Constellation Room at the Observatory, 3503 S. Harbor Blvd., Santa Ana
Cost: Tickets start at $48
The work of artist, curator and cultural consultant Anita Herrera examines the many intersections of life in CDMX and L.A. — and points to the possibility of a borderless existence.
ART & CULTURE
Diaspora Dialogues' "Family Party," a Tribute to L.A. Backyards: Proud Huntington Park native Anita Herrera fuses her love of fashion and visual art by creating pieces that portray her life working and living in both L.A. and Mexico City. Her Diaspora Dialogues series first debuted in CDMX as a way to build bridges by bringing the L.A. lifestyle to the motherland. Family Party takes us on a trip down memory lane to the '90s-style backyard celebrations many of us grew up hosting and attending. Unlike those celebrations, early arrival is suggested.
When: 6 to 8 p.m. kid-friendly, 21+ after 8 p.m. Saturday
Where: Location released with RSVP
Cost: Free with RSVP to familyparty.rsvp.la@gmail.com
Brown & Down Book Fair: This free fair brings together poets, bilingual book and zine publishers and purveyors for a day that empowers our community. Poets Belroute, Ale Roggero, Grace and Melany Rivera kick things off with their prose before readings by "Creep" author Myriam Gurba, "Atomik Aztec" author Sesshu Foster and "Confessions of a Radical Chicano Doo-Wop Singer" author Rubén Funkahuatl Guevara. Food, music, raffles and vendors are the icing on the cake for a book lover's dream day organized by Re/Arte Centro Literario, El Martillo Press, Midnight Books, Sin Cesar Literary Journal, Libro Abierto Press and Black Freighter Press.
When: Noon to 7 p.m. Saturday
Where: Coyote Studios, 3501 Union Pacific Ave.
Cost: Free
Poet José Olivarez curates the De Los Latino poetry series where poets reflect on their relationship with nature.
Inglewood Open Studios 14th Art Walk: The first and only art walk of its kind in the area, Inglewood Open Studios was created to uplift artists in the community. Meander through studios, galleries and cultural organizations like Nation's Lab, which offers martial arts, boxing and self defense classes with a focus on community building. Their Hyde Parkside event features such artists as the Money Studio founder Jorge "Thriller" Gómez, Andreinna Giron, printmaker Las Chicas Peligrosas, an interactive booth by asset mappers Cultural Treasures of South LA, poetry by Nai Ya Maji and music performances by Spanglish artist Dérly. Aguas Locas, El Paraíso and Tortas Ahogadas El Aguila provide the food and drink to sustain you for the rest of your trek at this family-friendly event.
When: Noon to 5 p.m. Saturday and Sunday
Where: Various locations throughout Inglewood
Cost: Free, donations welcome
GET OUTSIDE
For the record:
10:51 a.m. Nov. 10, 2023An earlier version of this article reported that the Amigas Hike with People's Yoga is on Saturday. It was on Friday morning. This version has been updated.
Amigas Hike with People's Yoga at Griffith Park: The first and only yoga studio in East L.A., People's Yoga opened in 2014 to open arms from the multigenerational community and came out of a pandemic stronger thanks to its faithful clientele. A new Nike collaboration recently made over the studio and helped lure students back in with free swag. Owners and L.A. natives Leah Rose Gallegos and Lauren Quan-Madrid stay true to their "come as you are" vibe, and you can feel the love from fellow POC yogis and teachers as soon as you walk inside their space. Today, they offer everything from gentle to feel-the-burn type classes, teacher training, sound baths, free online family yoga and hikes every few months. This one takes place at Griffith Park and is a chance to round up the homies, family and fur babies for some much needed outdoor activation. The weather couldn't be more perfect.
When: Meet and stretch, 8 a.m. Friday, 8:30 a.m., hike begins
Where: Griffith Park, Meet at Trails Cafe, 2333 Fern Dell Drive
Cost: Free with registration
L.A. is too big for us to know about all the events happening this weekend. If we missed something you think we should know about, let us know.
Curiel is a fourth-generation Xicana born in East L.A. and raised in Monterey Park and South San Gabriel. She's written for The Times, L.A. Taco, Latina magazine, LAist, KCET, Alta and the Huffington Post, and was the senior editor at Remezcla and Sí TV.
About this story
We asked what you most wanted to see on De Los and your feedback led to this story. We thank you for participating and helping us shape coverage that reflects your needs.