Film academy to conduct 'review' after Andrea Riseborough's surprise Oscar nod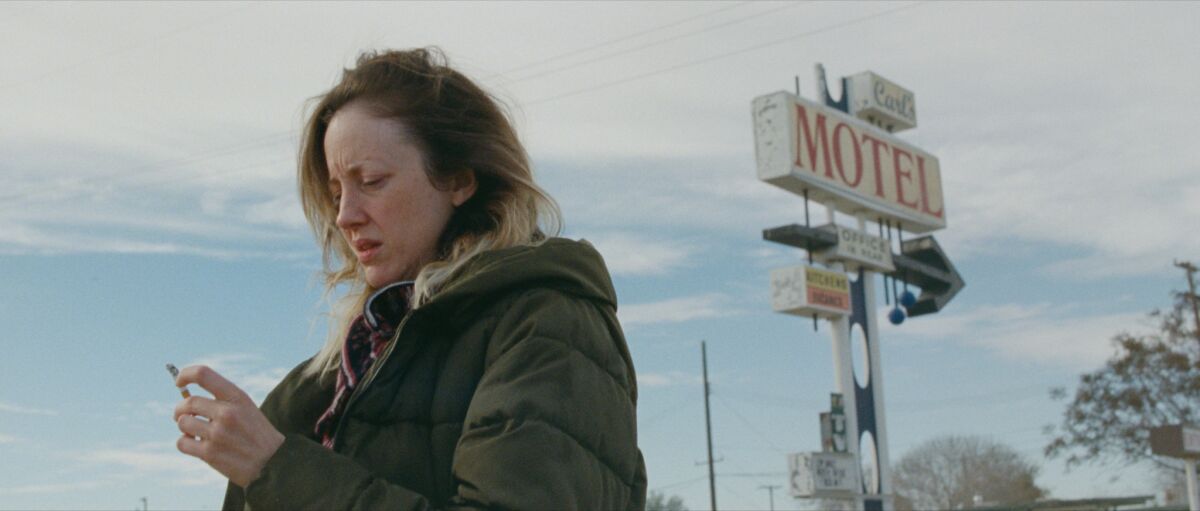 Just days after nominations for this year's Oscars were unveiled, the Academy of Motion Picture Arts and Sciences announced on Friday that it is "conducting a review" of this year's nominees to make sure none of them violated the organization's rules around campaigning.
The announcement comes as questions swirl around British actress Andrea Riseborough's surprise lead actress nomination for her turn as an addict trying to escape her demons in the little-seen drama "To Leslie," though the academy did not mention Riseborough by name.
"It is the Academy's goal to ensure that the Awards competition is conducted in a fair and ethical manner, and we are committed to ensuring an inclusive awards process," the academy said in a statement. "We are conducting a review of the campaign procedures around this year's nominees, to ensure that no guidelines were violated and to inform us whether changes to the guidelines may be needed in a new era of social media and digital communication."
Riseborough's unexpected nod was driven by a brief but intense grassroots campaign of social media posts and screenings to highlight her performance, with A-listers like Gwyneth Paltrow, Jennifer Aniston, Edward Norton, Charlize Theron and others lending their support to the cause.
The actor received a groundswell of support from A-listers for her role in the otherwise little seen "To Leslie."
"This nomination was hard-won for her," Kate Winslet told The Times earlier this week. Winslet led a virtual Q&A with Riseborough earlier this month as part of the effort to spread the word. "She has worked and worked and pushed herself for years. None of that is easy. This nomination is deeply and richly deserved."
While there have been plenty of surprise nods in the past, Riseborough's out-of-left-field nomination for a film that earned just $27,000 at the box office — alongside widely predicted nods for Cate Blanchett ("Tár"), Michelle Williams ("The Fabelmans"), Ana de Armas ("Blonde") and Michelle Yeoh ("Everything Everywhere All at Once") — set tongues wagging throughout Hollywood. Fueling the attention to Riseborough's nod were the exclusions of Viola Davis ("The Woman King") and Danielle Deadwyler ("Till"), who were both considered strong contenders, from the final five.
In the days since, some have quietly speculated whether the aggressive, star-studded effort to secure a nod for Riseborough violated the academy's rules around campaigning. Academy regulations forbid "contacting Academy members directly and in a manner outside of the scope of these rules to promote a film or achievement for Academy Award consideration."
Even as it announced its review, however, the academy noted, "We have confidence in the integrity of our nomination and voting procedures, and support genuine grassroots campaigns for outstanding performances."
With the Oscars set for March 12, it is unclear what steps, if any, the academy may take. The organization maintains a set of rules around what is and is not allowed when it comes to vying for nominations, which have been periodically updated over the years to account for the increasing sophistication, expense and intensity of Oscar campaigning.
Here are the nominees for the 2023 Academy Awards in all categories, announced live Tuesday from the Samuel Goldwyn Theatre in Beverly Hills.
The academy's board of governors is set to meet on Tuesday, with Riseborough's nomination expected to be on the agenda.
A representative for Riseborough did not immediately respond to a request for comment.
The academy has only rescinded a handful of nominations in its nearly 100-year history. The last was in 2014, when the original song nominee "Alone Yet Not Alone" was disqualified after it was discovered that its composer, Bruce Broughton, had emailed some members of the academy's music branch to make them aware of the song's submission in violation of academy rules.
On the heels of Riseborough's nomination, "To Leslie" will return to a small handful of theaters this weekend.
Times staff writer Glenn Whipp contributed to this report.
Get our L.A. Goes Out newsletter, with the week's best events, to help you explore and experience our city.
You may occasionally receive promotional content from the Los Angeles Times.