James Patterson donates $500,000 as independent bookstores struggle with coronavirus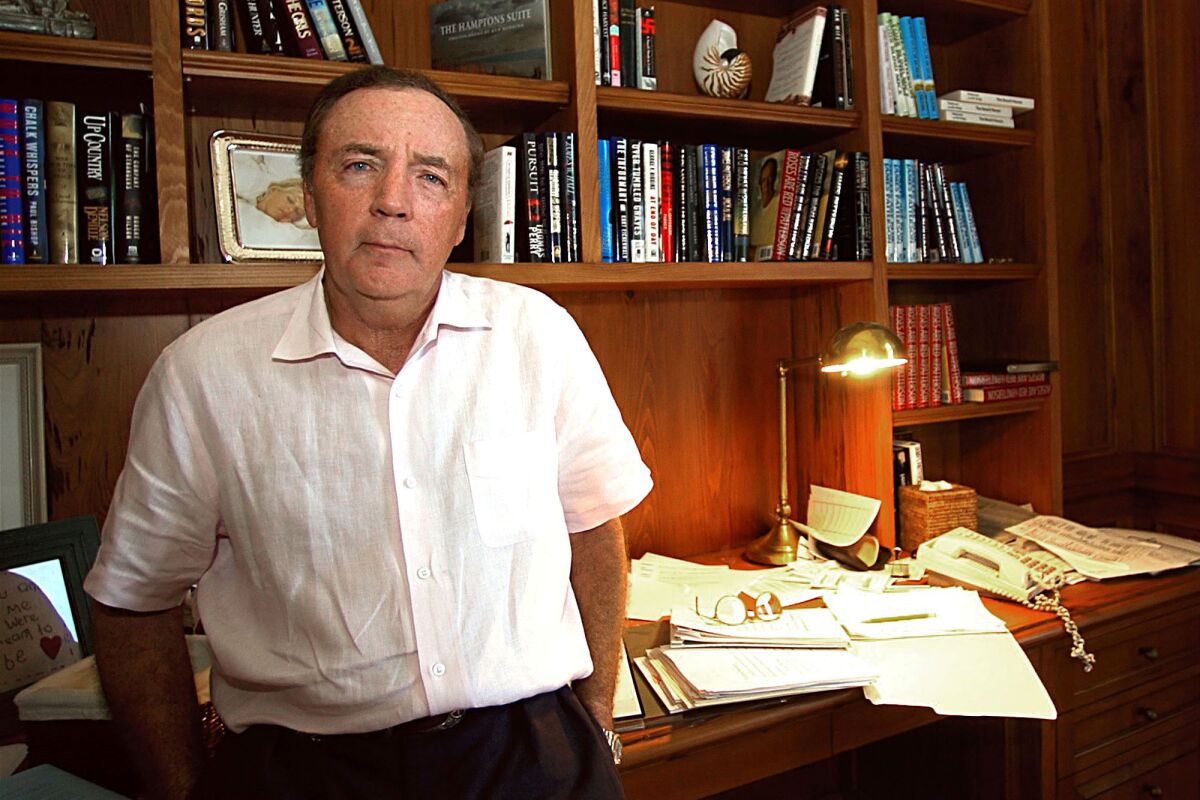 In an effort to keep struggling bookstores afloat, author James Patterson is offering some relief in the form of a hefty sum of money.
The bestselling writer of "Along Came a Spider" and "NYPD Red" announced on Thursday a personal donation of $500,000 to help save independent bookstores across the country. Many have been forced to shut their doors indefinitely or drastically change their business models to comply with measures imposed to slow the spread of the novel coronavirus.
Patterson also partnered with Hollywood star Reese Witherspoon and her platform Reese's Book Club, the Book Industry Charitable Foundation (Binc) and the American Booksellers Assn. to promote the #SaveIndieBookstores campaign, which will run through April 30. Binc will then distribute the funds raised to eligible independent bookstores. ABA members can apply for the grants April 10 through April 27 on the #SaveIndieBookstores website. The size of individual grants will depend on how much money is raised.
"I can't imagine anything more important right now, in terms of the book world, than helping indies survive," Patterson said on a phone call Thursday morning. "It's just so important culturally that we're paying attention to the written word, that people are communicating with the written word," he said, adding that teaching children to read competently is a high social priority. By combining forces with Witherspoon, he hopes the initiative will spread widely.
Daisy Ridley, Auli'i Cravalho and more Disney stars are among the latest celebrities reading children's books on social media to entertain quarantined families.
Patterson's donation is the latest of several large outlays he's made in recent years, including a $1-million gift in 2014. It's also one of several valiant efforts nationwide to help ensure that indie bookstores — which are not considered essential businesses — survive the pandemic. Many of those that have stayed open are taking orders by phone and online, offering curbside pickup and deliveries, and making in-store private browsing appointments.
Still, across the country, hundreds of bookstore employees have been laid off, including more than 30 from Los Angeles' Last Bookstore (about two-thirds of the staff). Portland, Ore.'s beloved Powell's Books, meanwhile, reportedly rehired more than 100 workers after online orders soared. But even before the pandemic, only a third of indie bookstores were profitable, according to the American Booksellers Assn.
Though bookstores have seen online sales grow since nonessential businesses were ordered to close under stay-at-home measures, many booksellers have said that online orders and deliveries alone doesn't come close to physical sales on a typical day.
Bookstores in L.A. are changing the way they sell amid coronavirus concerns. Most have closed but are offering curbside pickup and home delivery to customers.
"It feels like we're working five times as hard for five times less money," said Joshua Spencer, owner of the Last Bookstore. Though online sales are four to five times higher than they were before the COVID-19 pandemic, "it's enough to keep paying our staff, but it's not enough to keep paying our rent."
That's why publishing giant Simon & Schuster and Bookshop.org, which partners with indies and media, also joined forces this week to lend struggling bookstores across the country a hand.
"The affiliate fees that we make in directing sales to bookshop.org, we're donating those affiliate fees to Binc so that that goes to independent booksellers," said Liz Perl, Simon & Schuster's executive vice president and chief marketing officer. Among other efforts, the publisher also added bookshop.org buy buttons to all of its websites and encouraged its authors to add the link to their websites and social media profiles.
The campaign will run at least until the end of the calendar year, but that could be extended depending on the situation, said Perl.
Chevalier's Books in Hancock Park launched an online sales platform soon after the pandemic with bookshop.org. The website is aggressively pushing memberships and gift cards, said assistant manager Theresa Le Phung in an email.
"As of now, online orders and phone orders are just barely keeping us afloat," said Le Phung. "The real problem, however, is unpredictability. Sales might be good this week, but who knows what the next week will bring. Not having a clear finish line to this ordeal is perhaps the most excruciating part of this."
The Montrose children's bookstore Once Upon a Time is hanging on, thanks to the surge in online orders. "We'd get one or two, maybe three [online] orders a month, now we're getting three an hour," said the store's owner Maureen Palacios, who's navigating the new orders with her daughter, Jessica. (Palacios said she's paying her employees at least through the end of April, but she's not asking them to go into the store.)
Vroman's bookstores and West Hollywood's Book Soup have also gone solely digital. Before the pandemic, their online sales accounted for 1% of the business; now they're 100%. "We are incredibly grateful to our community for continuing to support us," said Julia Cowlishaw, chief executive of the bookstores, in an email. "[H]owever the volume isn't equal to our business when the stores are open."
"Using [leading books distributor] Ingram to fulfill orders limits the selection to just books and doesn't include the puzzles, games, newspapers and periodicals sitting on our shelves. Events are also an important part of our business," added Cowlishaw, who is a Binc board member and a partner in the #SaveIndieBookstores campaign.
Ebook sales are higher due to coronavirus, but bookstores are shutting down. In the end, Amazon wins.
The cancellation of larger events is also a major financial drain. Once Upon a Time depends heavily on The Times' Festival of Books, which was postponed until October. "We have three booths there," said Palacios. "April is the second biggest month of our year, and without any of that and all the associated events, this month is going to be devastating."
But news of Patterson's donation and the bookshop.org drive sparked joy for some local booksellers.
"That is tremendous," Palacios said, adding that Patterson has generously helped them in the past. The bookstore's storage unit and new front-store display windows were paid for with a Patterson grant, and he even gave Jessica a collage scholarship.
Jenna Spencer, the Last Bookstore's brand and marketing director, called the news "incredibly generous ... everyone is on a thin line right now, so it's going to take some outside help for many of us to continue."
The Last Bookstore has had some success with a creative new business model. Customers can schedule private browsing appointments during business hours to ensure social distancing (employees will even offer gloves and masks for shoppers). They've also started offering curated bundles. "Customers give us, on phone or email, their genre preferences and staff will take out a bundle of books worth $25 and up," said Spencer. They can choose their own books or be surprised. "Those have been a real big hit."
Still, the future is uncertain.
"We're off to a good start with this new model, but were not out of the woods," said Spencer, "and we have a lot of looming expenses that we need to figure out how to cover."
But with the outpouring of love and support from the community, Spencer remains hopeful.
"I'm optimistic that we'll get through this."
Get the latest news, events and more from the Los Angeles Times Book Club, and help us get L.A. reading and talking.
You may occasionally receive promotional content from the Los Angeles Times.