So much art, so little time. Here's your guide to help plan Frieze week
This week's L.A. Goes Out looks a bit different. February is unofficially art fair season in Los Angeles so today, I'll be focusing on one of the most expansive of them all: Frieze. The festival features more than 120 galleries from 22 countries and incorporates collaborations that extend beyond the fair. Frieze is open to the public from 11 a.m. to 8 p.m. Feb. 17, 11 a.m. to 7 p.m. Feb. 18 and 11 a.m. to 6 p.m. Feb. 19 (with an invite-only preview Feb. 16). Art will sprawl across two buildings, Santa Monica Airport and the Barker Hangar, with outdoor installations paving the path between.
This year's Frieze Projects are "Now Playing," a series of outdoor, site-specific works at the airport curated by the Art Production Fund, and "Against the Edge," works across the Westside of Los Angeles at historic architectural sites curated by Jay Ezra Nayssan, the founder and director of Del Vaz Projects. Tickets to Frieze range from $10 to $202. Details can be found on the art fair's website.
For the record:
10:55 a.m. Feb. 15, 2023An earlier version of this article misidentified a photographer as Stars. That is the name of the gallery exhibiting Clifford Prince King's work. The post also misspelled Stanya Kahn's surname.
As you can tell by now, there will be a lot of art. Instead of listing everything on display, I'm bringing you highlights and tips to make your experience a bit smoother. I'm Steven Vargas, your L.A. Goes Out host, and let's start with a mix of events to give you a taste of what's to come at Frieze:
Top 5 highlights
1. 'Focus'
Just like the fair itself, this section — highlighting younger galleries and emerging artists — will be bigger than ever. Curated by Amanda Hunt with associate curator Sonya Tamaddon, "Focus" will include work by Clifford Prince King, a photographer who portrays intimacy and care through a queer Black lens. The section also boasts work from Edgar Ramirez with Chris Sharp Gallery, which will showcase collage paintings that highlight Wilmington — an overlooked Los Angeles neighborhood. Other artists include Greg Breda, Kyoko Idetsu, Melissa Joseph, Sophie Wahlquist and Hana Ward. The section will take place in the Barker Hangar at Frieze.
2. 'Huddle' Simone Forti
Frieze is debuting a partnership with the Museum of Contemporary Art with a presentation of Simone Forti's "Huddle." The MOCA exhibit documents her nearly six-decade career as a choreographer and contemporary artist. "Huddle" is one of Forti's "Dance Constructions" from the 1960s — three of which are part of the show at the downtown L.A. art museum. In the "Dance Construction" piece at Frieze, performers huddle together, grasping onto each other by the legs and torso, as one by one, those in the huddle traverse over the tight-knit group. Performances take place at Frieze at 11:15 a.m. and noon on Feb. 17 and at 3:15 and 3:45 p.m. Feb. 18 in the outdoor area.
3. Jennifer West 'Hologram Phantom Limbs'
Art Production Fund's "Now Playing" brings new life to elements of everyday life in L.A. with site-specific artwork. Jennifer West's "Hologram Phantom Limbs" draws from L.A. historian Norman Klein's idea of phantom limbs. Combining the ideology and the city's urban development with holograms made from lo-fi technology of 3-D advertising projectors, West contemplates what the city's past may have looked like under the rubble. On top of the debris, you can see a haunting hologram of cats and a "phantom limb" of L.A.'s culture.
4. Stanya Kahn
As part of Frieze's annual R.U.in.ART commission, a California artist develops work for the Ruinart lounge at the festival. Stanya Kahn, a multidisciplinary artist based in L.A., has been selected this year. The result is a series of paintings featuring animals, ranging from an endangered ivory-billed woodpecker to Harambe, looking directly at the viewer while surrounded by a vibrant landscape, seemingly untouched by humankind.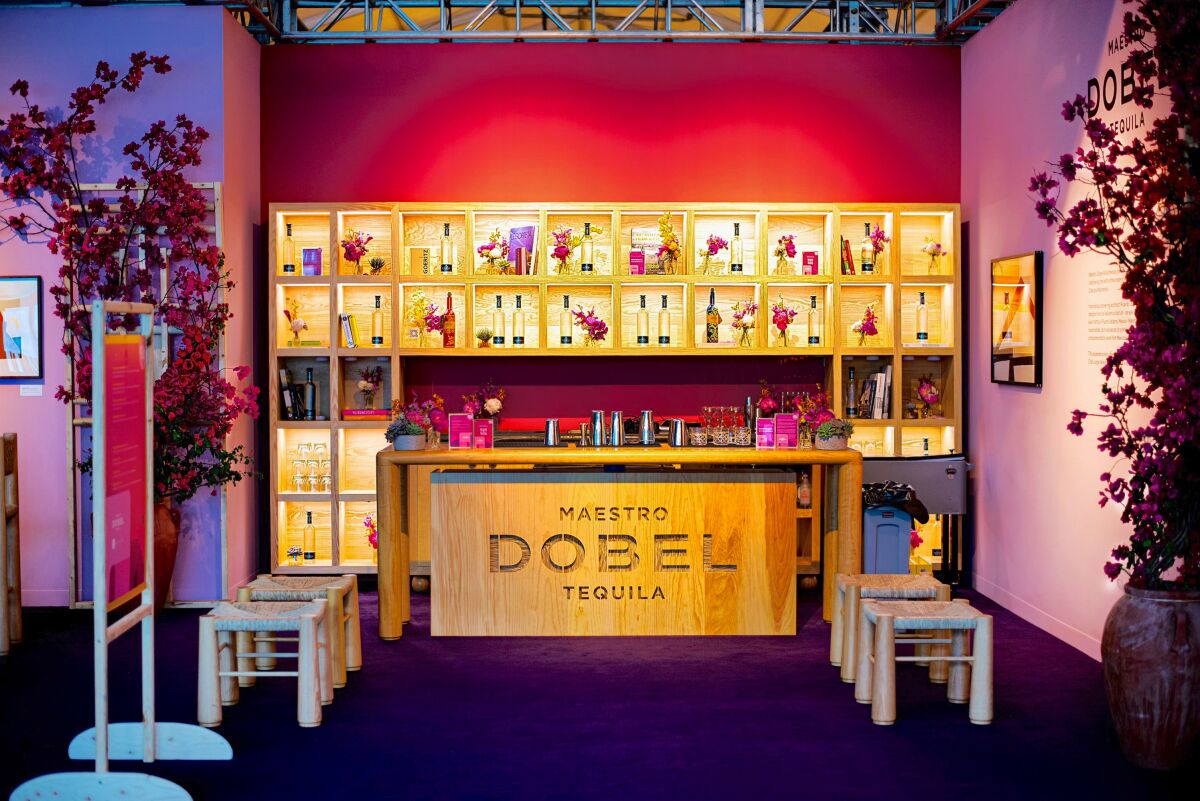 5. Maestro Dobel Tequila Lounge
Frieze has a list of partner initiatives that will be providing interactive and immersive experiences for patrons of the art festival. One of the partners, Maestro Dobel, will have an Artpothecary lounge dedicated to the Mexican Golden Age. So while you sip on a cocktail with the brand's tequila, you'll be surrounded by contemporary art brought to life by Maestro Dobel and Mexico City-based design project Clásicos Mexicanos. The style will pull from original designs by pioneering architect Ricardo Legorreta and his Vallarta collection. To immerse you even more into the cultural experience, the cocktail menu will evoke the Mexican Golden Age.
Bonus round: Sprüth Magers public opening reception
In addition to the festivities at the Santa Monica Airport, art galleries across the city will be programming around Frieze with special events, openings and more. While there are plenty of possible galleries to visit, Sprüth Magers offers the best way to ring in one of the most significant art weekends of the year: a free public reception. The gallery will welcome you with libation and art by Anne Imhof from 4 to 7 p.m. Feb. 15. "Emo" marks Imhof's first exhibition in L.A. and includes a labyrinthian installation, paintings, sculptures, drawings and video.
Your L.A. weekend, all mapped out
For a more comprehensive roundup of exhibitions, concerts, screenings, festivals and other events, check out Matt Cooper's Culture Guide. The mapped list is a go-to for those of you who make plans based on the commute, and it also can be filtered by type of event and by price. And if you're still making Valentine's Day plans, Cooper also has a holiday roundup for the day of love covering two weekends of events.
On-site performances and activations
Frieze will showcase quite a bit of visual art that are on a schedule. Here are a couple of performances and activations that you'll need to plan for in advance:
Alake Shilling, 'Buggy Ball'
Pulling from her childhood obsession with Lisa Frank school and craft supplies, Alake Shilling creates colorful characters full of emotion on soccer balls for her "Buggy Ball" activation site at Frieze. She uses soccer to further embrace one's inner child. The activation taking place at the airport soccer field incorporates a collaboration with the Los Angeles Football Club, which will be leading soccer clinics during the fair. The activation takes place from 3 to 5 p.m. Feb. 16 and 1 to 3 p.m. Feb. 19. Details can be found on Frieze's website.
Autumn Breon, 'Leisure Lives' and 'Swag Surf in the Water'
Honoring Santa Monica's Bay Street Beach and the Black spacial imaginary, Autumn Breon's "Leisure Lives" monumentalizes the legacy of Black Californians and pioneers of the area who provide rest and joy to the community. In addition to "Leisure Lives," Breon will have an accompanying performance titled "Swag Surf in the Water." The activation calls for viewers to claim and reclaim space for relaxation. The outdoor installation is part of the "Now Playing" program and the performance takes place at 2:30 p.m. Feb. 16. It'll include a procession by Breon and the Black Fist Brass Band from the Barker Hangar to the East site. More details can be found on Frieze's website.
Free happenings
Don't have a ticket, but still want to partake in Frieze festivities? Here are a few free happenings that are open to the public for you to get into the spirit of Frieze:
Tony Cokes, 'So to Speak' at Beyond Baroque
As part of "Against the Edge" programming, work by Tony Cokes will go up at the former Venice City Hall that is now home to Beyond Baroque. Since evolving into Beyond Baroque, the space has offered readings, film screenings and more. Cokes' work honors the space's legacy of Beat poetry and punk with musicality and rhythm. Walk-in hours to see the piece are 2 to 6 p.m. Feb. 14 and 15 and noon to 6 p.m. Feb. 16 through Feb. 19. Details can be found on Del Vaz Projects' website.
Julie Becker, '(W)hole' at Del Vaz Projects
The Del Vaz Projects in Santa Monica, once Shirley Temple's childhood home, will be presenting parts of late-Los Angeles artist Julie Becker's "(W)hole." The uncompleted work feels as if it were never meant to be seen. Work in the series ranges from a projected piece to a playful collage. The exhibition will be accompanied by a conversation with writers Chris Kraus and Ralph Coon at Del Vaz Projects at 10 a.m. Feb. 14. More details can be found on Del Vaz Projects' website.
Monday Evening Concerts 'Action 3' at the Merry-Go-Round Building at the Santa Monica Pier
The Santa Monica Pier Merry-Go-Round will be getting a temporary artistic makeover. In 1955, Los Angeles curator Walter Hopps presented "Action" on the carousel by wrapping it in fabric and covering it with paintings by Sonia Gechtoff, Craig Kauffman, Jay DeFeo and Richard Diebenkorn. His work also incorporated sounds of jazz and John Cage. In an homage to Hopps, Jonathan Hepfer, artistic director of Monday Evening Concerts, will devis a music program at 7:30 p.m. Feb. 16. The program will bring together notable visual artists and musicians to perform Cage's "Speech." While it is free, be sure to RSVP ahead of time on Frieze's website. And for more information, check out Del Vaz Projects' website.
Insights: How to prepare for a day at Frieze
If you're new to Frieze, expect to be overtaken by the size and scope of the festival. Some might say it is the Disneyland of the art world. Not really, but I'm mentally preparing for it as if it were Disneyland. Here are a few tips and reminders to prepare for your day at Frieze.

Wear comfy shoes: There is art all over the Santa Monica Airport and beyond, so you'll be getting your steps in, without a doubt. Keep the heels and trendy kicks at home; you can slay another day.
Pack snacks: There is food to purchase at the fair, but you can never be too prepared.
Plan how to get there: There are a limited number of parking spaces available at the fair so you'll have to plan to rideshare — such as Alto, Uber or Lyft — or take public transportation if you're not prepared to fight for a spot. Alto is also offering $10 off two rides, to and from the fair, from Feb. 16 to 19 with code FRIEZE23. As for public transportation, take the E line down to the Expo/Bundy station. From there, you can either walk 1.5 miles down Bundy Drive or take the Big Blue Bus 14 and get off at Airport Avenue. Still need a little help? Download the Transit app for a more comprehensive route from your location. Or you could ask someone to drop you off at the fair, like I'm doing!
Bring a coat in case it gets cold: It's that time of the year when the days are a bit warmer and the nights are a bit chillier. With installation and activations happening outdoors, it's best to bring a coat to fully enjoy the art in front of you without rushing to get back inside.
Bring cash: Technically, Frieze is a "cashless" event. But any Angeleno knows that local street vendors are always around for big events. So bring some cash, just in case.
And here's a map!
Eat and drink
The last thing you want is for your growling stomach to turn people's heads away from the art. Luckily, there are quite a few spots at Frieze, and outside, where you can get food and drinks. Let's start with what's inside:

Ruben Ochoa, 'Revolution Carts and Class: C Mobile Gallery': As part of the "Now Playing" program, Ochoa will be exhibiting his mobile gallery, Class: C, for the first time to the public in more than 15 years. The piece is influenced by his family's history in tortilla vending, displaying a tortilla sculpture inside the van. It speaks to the invisible labor of the L.A. street vendor community. Alongside the piece, there will be street vendor carts by Revolution Carts, where you can buy tamales and fruit during Frieze. Details can be found on Frieze's website.
Regarding Her Pop-ups: Frieze will have a series of pop-ups from Los Angeles-based restaurants curated by Regarding Her, a nonprofit organization dedicated to supporting female-identifying food and drink entrepreneurs. Participating restaurants include Ayara Thai, Bridgetown Roti, Clementine, Uli's Gelato, Gogo's Tacos, Hotville Chicken and Monroe Place.
If you'd like to step away from the mayhem of the festival for a bite, here are a few close spots in the area:
The Brixton: Located on the corner of Pico Boulevard and Yorkshire Avenue, this bar and restaurant has your typical pub food, along with larger American-style entrées. And, of course, there is plenty of beer and cocktails to choose from. More information can be found on the Brixton's website.
India's Tandoori: If you're craving Indian food, India's Tandoori is just down Ocean Park Boulevard at 23rd Street. The menu includes tandoori chicken, lamb, fish, shrimp and vegetables, along with roti made in-house. It's open from 9 a.m. to 9 p.m. Monday through Sunday, so it's the perfect spot to eat before or after Frieze opens. More information can be found on its website.
Estate Coffee: This spot is located just above the airport between 25th and 28th streets on Ocean Park Boulevard. I know I can't start my day without a cup of joe, so I had to plug a coffee shop. It's super close and it has breakfast burritos — my favorite breakfast item. More information on Estate Coffee can be found on its website.
Opening galleries outside the festival
You don't have to have a ticket to the main attraction to make an art extravaganza out of Frieze week. All across the city, there will be gallery openings and exhibitions to view, many of which are free. If you'd like to take a tour of L.A.'s new galleries, here are some you should visit during Frieze week:
Hauser & Wirth West Hollywood
Best known for its DTLA space, Hauser & Wirth is opening a new location in West Hollywood, occupying a vintage automobile sales showroom. The space is opening Feb. 15 with George Condo's "People Are Strange." The free exhibition pulls from the title of the Doors' 1967 song and displays Condo's abstract portraits that convey contradictions. Details on the opening and exhibition can be found on Hauser & Wirth's website.
Tappan Collective
The collective of contemporary art collectors is opening its first gallery space. The group is known for collecting and showcasing emerging talent, encouraging a new generation of art buyers.. The space in Beverly Grove is set to open to the public Feb. 22, with private appointments available Feb. 17 - 19 (to book, email advising@thetappancollective.com). Tappan worked with architect Marco Marraccini and interior designer Brandi Howe to create an immersive gallery space at 8200 Melrose Ave. Details on the Tappan Collective can be found on its website.
Art in Common
Co-founded by L.A.-based curator Zoe Lukov and producer Abby Pucker, Art in Common is a newly formed nonprofit that will be mounting a noncommercial exhibition, "Boil, Toil + Trouble," on Feb. 15 in Melrose Hill. The exhibit will take place in an unused commercial space and feature more than 50 contemporary artists who explore issues of water access and climate change through spirituality. This traveling exhibition is up until Feb. 26 and includes panel discussions and workshops. More details on the exhibition can be found on Art in Common's website.
Santa Monica Art Museum
The new Santa Monica Art Museum will host various programming for Frieze week, ranging from panel discussions on NFTs and immersive art to the opening of the museum's first regional exhibition "Looking West" — which is followed by a reception and after-party. Details on the free events can be found on the museum's website.
I'm all ears!
I didn't cover everything at Frieze. I mean, there are more than 120 galleries ... that would be one large newsletter. I hope these highlights gave you a place to start as you plan your Frieze experience. That's all I've got for this week. Follow our feed of recommendations and itineraries on Instagram and Twitter, and if you have recs of your own, send them to steven.vargas@latimes.com.

Updates
9:58 a.m. Feb. 15, 2023: Tappan Collective's public gallery opening has been postponed to Feb. 22. An earlier version of this newsletter reported Feb. 16 as the opening date.
Get our L.A. Goes Out newsletter, with the week's best events, to help you explore and experience our city.
You may occasionally receive promotional content from the Los Angeles Times.