SUNDAY
There she is, "2019 Miss Universe." Steve Harvey returns to host the competition in Atlanta. 7 p.m. Fox
Crossover alert! DC superheroes assemble as the five-part tale "Crisis on Infinite Earths" kicks off on "Supergirl" then continues Monday on "Batwoman" and Tuesday on "The Flash." The saga will conclude in January on "Arrow" and "Legends of Tomorrow." 8 p.m. The CW; also Mon.-Tue.
The special "America's Funniest Home Videos: America, This Is You!" celebrates the show that is somehow still on the air after three decades despite the fact that YouTube now exists. 8 p.m. ABC
Raven-Symoné is your hostess with the mostest for the new variety special "Holidays Unwrapped." 8 p.m. Disney Channel
"The Wonder Years' " Danica McKellar finds romance — and gets to meet Dolly Parton! — in the new holiday fable "Christmas at Dollywood." 8 p.m. Hallmark Channel
This is your captain speaking: Looks like this flight will be "Grounded for Christmas" in this new holiday romance. With Julianna Guill and Corey Sevier. 8 p.m. Lifetime
They're desperately seeking Sasquatch in the new special "Legend of Bigfoot" and the new series "Expedition Bigfoot." 8 and 10 p.m. Travel Channel
The exposé "The Lost Women of NXIVM" probes the case of the self-help organization that secretly housed a bizarre sex cult. 9 p.m. Investigation Discovery
"Madam Secretary," we hardly knew ye. The D.C.-set drama starring Téa Leoni signs off with a star-studded series finale featuring Cicely Tyson, Tyne Daly and the U.S. Women's Soccer Team. 10 p.m. CBS
Fresh faces like Olivia Thirlby and Fortune Feimster join returning regulars including Jennifer Beals in the new reboot "The L Word: Generation Q." Followed by the premiere of the queer-themed comedy "Work in Progress" starring Abby McEnany. 10 and 11 p.m. Showtime
The tech-industry satire "Silicon Valley" logs off after six seasons. With Thomas Middleditch, Martin Starr and Kumail Nanjiani. 10:05 p.m. HBO
"Mrs. Fletcher," we hardly knew ye. This limited series starring Kathryn Hahn as a sexually adventurous divorcée ends its run. 10:55 p.m. HBO
MONDAY
What's the buzz? A pledge-drive edition of "Great Performances" features an encore of the 2018 special "Jesus Christ Superstar Live in Concert" starring John Legend, Alice Cooper and Sara Bareilles. 8:30 p.m. KOCE; also Sat., 9 p.m.
That's a wrap! The winner is revealed on the freshman-season finale of "Wrap Battle." 10 p.m. Freeform
TUESDAY
The stand-up special "Michelle Wolf: Joke Show" finds the former "Daily Show" correspondent cracking wise about sex, relationships, social media and more. Anytime, Netflix
Famous faces from Jason Momoa to Michelle Obama join Ms. DeGeneres for the three-part special "Ellen's Greatest Night of Giveaways." With Jennifer Aniston, Justin Timberlake, Robert Downey Jr., et al. 8 p.m. NBC; also Wed.-Thu.
The four-part docu-series "Behind Bars: Women Inside" gets up close and personal with female inmates at a correctional facility in Massachusetts. 9 p.m. A&E
Have clipboard, will travel: The New England Patriots' Bill Belichick and Nick Saban of Alabama's Crimson Tide are profiled in the sports doc "Belichick & Saban: The Art of Coaching." 9 p.m. HBO
"Guardians of the Galaxy's" Dave Bautista goes "Running Wild With Bear Grylls" through the Arizona desert in this new episode of the celebrity outdoor-adventure series. 10 p.m. National Geographic Channel
WEDNESDAY
Filmmaker Irene Taylor Brodsky explores how deafness has impacted three generations of her own family in the intimate documentary "Moonlight Sonata: Deafness in Three Movements." 9 p.m. HBO
The intentionally offensive animated series "South Park" ends its 23rd season. 10 p.m. Comedy Central
THURSDAY
Bakers, start your ovens! "The Great American Baking Show: Holiday Edition" is back for a fifth season. With hosts Emma "Baby Spice" Bunton and Anthony "Spice" Adams and judges Sherry Yard and Paul Hollywood. 9 p.m. ABC
The 1973 bank robbery turned hostage crisis that gave rise to the term "Stockholm syndrome" is recalled in the 2018 crime drama "Stockholm." With Ethan Hawke, Mark Strong and Noomi Rapace. 9 p.m. Starz
FRIDAY
Is there life on Mars? "The Expanse" keeps expanding as the sci-fi drama, canceled after three seasons on Syfy, returns for a fourth as a streaming series. Anytime, Amazon Prime
"Marvel's The Runaways" are back in action for a third and final season. Anytime, Hulu
"Deadpool's" Ryan Reynolds heads a globe-trotting team of presumed-dead operatives in the new Michael Bay action flick "6 Underground." Anytime, Netflix
They're putting the tinsel in Tinseltown at the 88th edition of "The Hollywood Christmas Parade." 8 p.m. The CW
Shaggy and a cappella group Pentatonix are among the performers lined up for a "Disney Channel Holiday Party at Walt Disney World." 8 p.m. Disney Channel
An aspiring singer ("Smallville's" Erica Durance) makes beautiful music with a would-be songwriter (JT Hodges) in the TV movie "Christmas Stars." 8 p.m. Lifetime
A not quite 2000-year-old comedy legend looks back on his decades-long career in showbiz in the documentary "Mel Brooks: Unwrapped." 9 p.m. HBO
Pop star Gavin DeGraw and country music's Chris Young share the stage on an all-new "Crossroads." 10 p.m. CMT
SATURDAY
A would-be thief has his heart stolen instead in the TV movie "Holiday Heist." With Chaley Rose and Jatone Smith. 8 and 10 p.m. BET
A recent dumpee hires an actor to play the role of her boyfriend in the TV movie "Holiday Date." With Brittany Bristow and Matt Cohen. 8 p.m. Hallmark Channel
"Stranger Things' " David Harbour is no Ron Perlman in the 2019 reboot of the action-horror franchise "Hellboy." Milla Jovovich also stars. 8 p.m. HBO
Hip-hop's Ashanti stars as a grieving woman who forges a connection with a homeless jazz musician in the TV movie "A Christmas Winter Song." 8 p.m. Lifetime
"The Avengers' " Scarlett Johansson takes her sixth turn hosting "Saturday Night Live." With musical guest Niall Horan. 8:29 and 11:29 p.m. NBC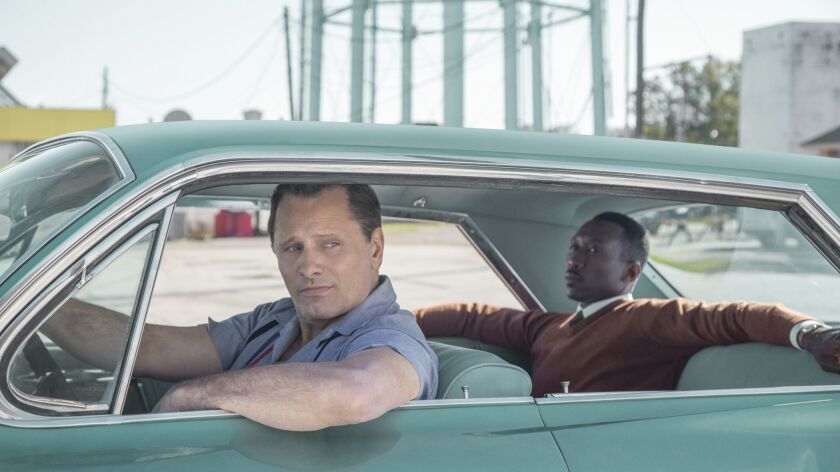 An Italian American bouncer (Viggo Mortensen) chauffeurs an African American concert pianist (Oscar winner Mahershala Ali) on a tour of the 1960s Deep South in the fact-based but controversial 2018 Oscar-winning drama "Green Book." 9 p.m. Showtime
Movies on TV this week: Sunday, Dec. 8: 'The Deer Hunter,' 'White Christmas' and more
Weekly TV Listings: Dec. 8 - 14, 2019
---