Let's sum up the year in television: An avalanche of new shows that we'll never get on top of. A torrent of returning shows we missed while trying to keep up with the new stuff. The arrival of two major streaming services with (OMG) more content. If only there were a guide to the best of the best, limited to 10 entries, listed in no particular order...
'Dickinson' (Apple TV+)
This wily and whimsical half-hour comedy chronicles the young life of poet Emily Dickinson, a teen who is not content with her place as a woman in 19th-century Massachusetts. Her world is a mix of stifling etiquette, modern ideology and teenage angst. Emily (Hailee Steinfeld) is a free spirit facing a future of domestic servitude. She expresses her anxiety and dreams of a bigger life in her poetry, of course, but also by throwing a house party when her parents are away, dressing as a man to crash a science lecture at an all-male college and submitting her work for publication against her father's will. Young characters here speak in 21st-century slang, while their parents are stuck in the 1800s, and they experiment with modern notions of identity and free will. "Dickinson" is a clever, feminist tale, a refreshing twist on the teen comedy — and the best show to come out of this year's streaming wars. (Full review.)
'The Boys' (Amazon Prime Video)
Forget fighting for truth, justice and ... whatever. The superheroes in Amazon Prime's irreverent comedy "The Boys" are morally compromised, self-centered drug addicts with mommy issues. They're represented, marketed and branded by a multibillion-dollar conglomerate. And they've been abusing their powers behind the protective cloak of celebrity. Based on the comic book series of the same name and co-produced by Seth Rogen, "The Boys" is a brilliant takedown of our superhero-obsessed culture. Don't mistake this satire's characters Homeland, A-Train and the Deep for Captain America, the Flash or Aquaman. Nope, totally different. Totally.
The year in entertainment: 2019's best movies, music, TV shows, games and more
'Fleabag' (Amazon)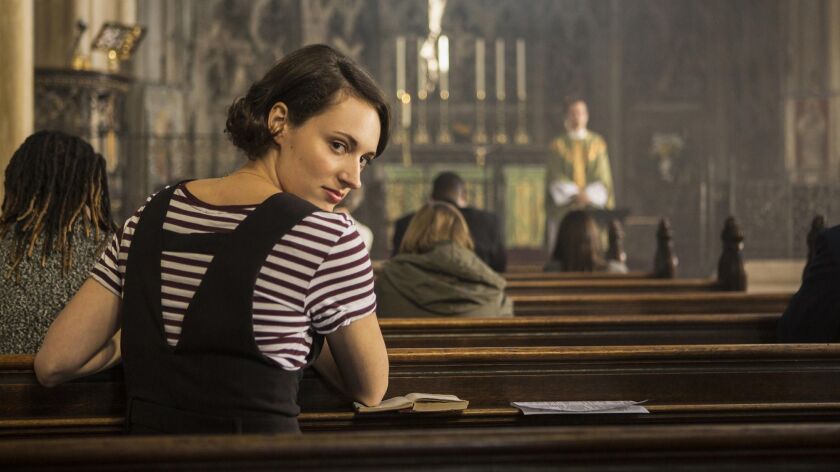 Phoebe Waller-Bridge. Olivia Colman. The Hot Priest. Fourth wall breaches. Emotional train-wreck comedy at its best. Shambolic women, your time is now.
'Chernobyl' (HBO)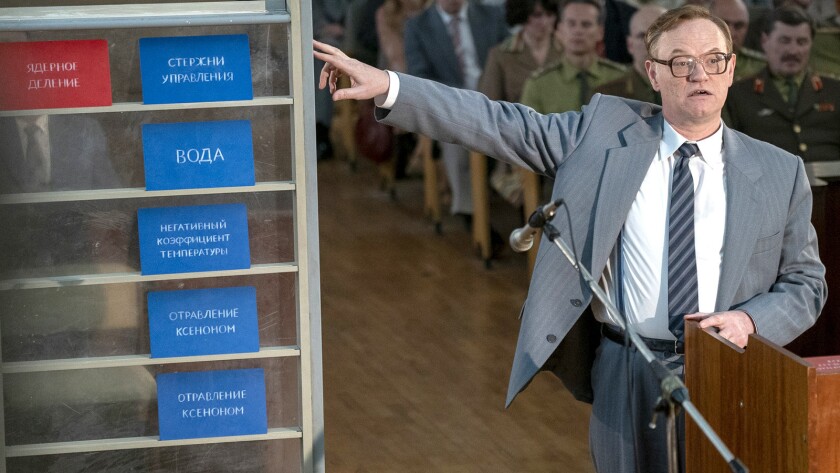 Set in the weeks and months surrounding the Chernobyl nuclear disaster of April 1986, this tense, riveting five-part historical drama re-creates the Soviets' covert campaign to hide the deadliest radioactive meltdown in human history while also struggling to contain it. The HBO/Sky UK co-production follows scientist Valery Legasov, who was brought in to aid the "cleanup." He races against the clock, trying to come up with solutions in real time while convincing a government of incompetent, corrupt cronies that the danger is real. Jared Harris should have won the Emmy for his haunting performance, while writer Craig Mazin and director Johan Renck's re-creation of dilapidated Soviet-era Ukraine is nothing short of brilliant. (Full review.)
'Ramy' (Hulu)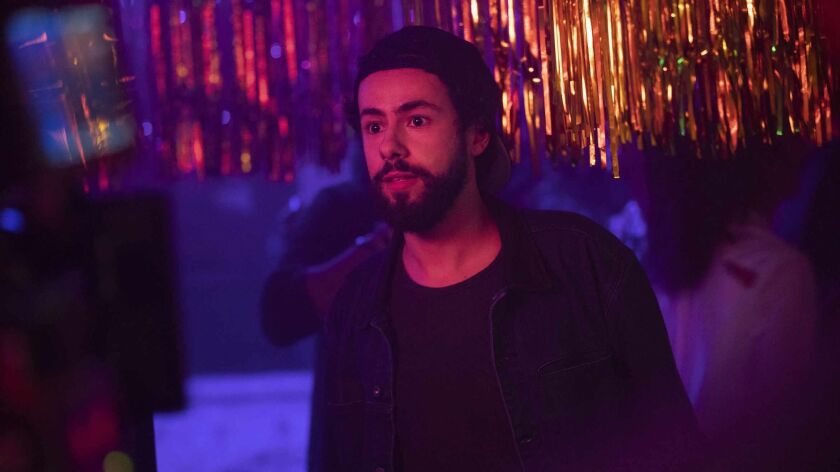 Millennial issues around dating, career and living with one's parents well after college took on new meaning with TV's first Muslim American sitcom. Set in a New Jersey neighborhood that looks nothing like Tony Soprano's, "Ramy" takes the immigrant story to another level by following the everyday life of the show's namesake (played by series creator and stand-up comedian Ramy Youssef). He's just a regular guy with a derisive younger sister, overworked father, depressed mom and racist uncle, trying to navigate his way toward stable adulthood with his faith intact. He'll get there one day, Inshallah.
'Surviving R. Kelly' (Lifetime)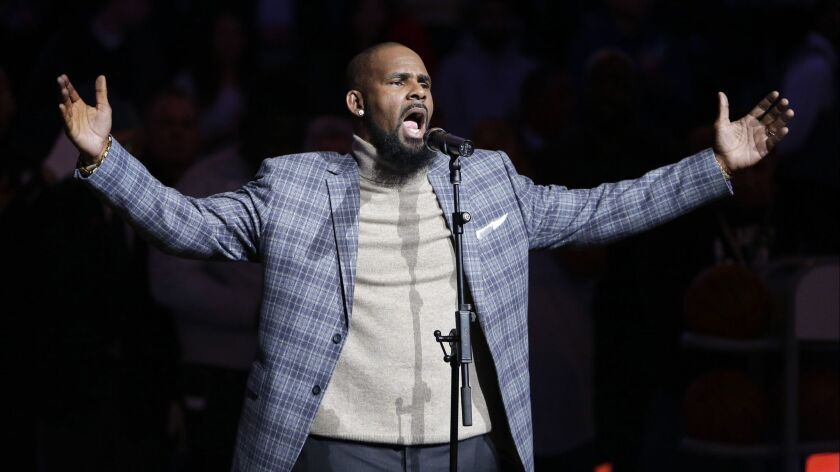 The six-part Lifetime docu-series gave voice to the accusers of R&B superstar R. Kelly after decades' worth of sexual abuse allegations that seemed all but ignored by authorities, the music business and his fans. Several brave women stepped forward to tell their stories, some for the first time, about how they became entangled with Kelly (some were as young as 14). It's a heartbreaking, infuriating and cathartic journey that would have never made it to the screen if it wasn't for the momentum of the #MeToo movement. Kelly has denied all the accusations, though he flaunted his relationships with girls and young women on albums and in public. Despite leaked videotapes and multiple allegations, he still sold millions of albums and won multiple awards throughout the 1990s and 2000s. Within weeks of the docu-series airing last January, Kelly's record label parted ways with the singer and he was formally charged with 10 counts of aggravated criminal sexual abuse. Can we change the name of Lifetime to Bravo? (Full review.)
'Stranger Things' (Netflix)
Go ahead. Say you're bored with '80s nostalgia and roll your eyes at the prospect of bingeing a returning series because there's so much new content out there. Sigh. If only half of it was as charming, fun and masterful in capturing the rigors of puberty as Season 3 of "Stranger Things." It mercilessly makes fun of the show's unofficial mascot, the 1980s, across all eight episodes, referencing the pool scene from "Fast Times at Ridgemont High" and abominations such as New Coke and scrunchies. And the battle for humanity? It's waged in the food court of a mall. Dude! (Full review.)
'The Good Place' (NBC)
Varying concepts of heaven and hell, sprinkled with philosophical questions and moral dilemmas, are the unlikely basis for a great network comedy. Then came "The Good Place." Take that, motherforkers. The fourth and final season, which concludes in January, has been pure, bizarre hilarity. For instance: The secrets of the universe were revealed by a baby elephant made of pure light (Shirley Temple killed JFK, apparently). Smart, entertaining and unparalleled in the creativity department?! Holy shirtballs, we're going to miss this freakin' show.
'I Am the Night' (TNT)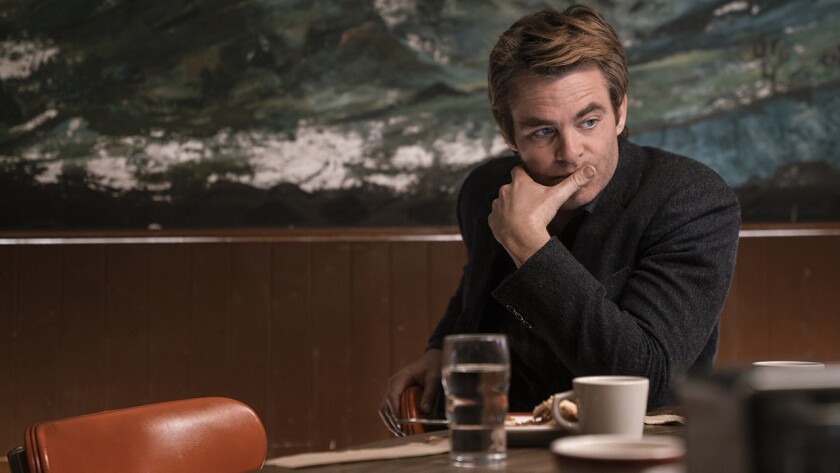 Set in the wake of the Black Dahlia murder, midcentury Los Angeles plays a starring role in TNT's gripping six-part drama, "I Am the Night." The limited series, inspired by the true-crime memoir "One Day She'll Darken: The Mysterious Beginnings of Fauna Hodel," follows a mixed-race teen, Fauna (India Eisley), from the old-money mansions of San Marino to corrupt LAPD headquarters to greasy spoons in Burbank on her journey to find her biological family. She becomes tangled in the city's most infamous unsolved murder when she learns that her grandfather may be the Dahlia's killer. Chris Pine is unrecognizable as the grizzled hero — a has-been journalist who's as complex as the city he used to cover. A compelling true crime drama and fascinating trip back in time down the traffic-free streets of old L.A. (Full review.)
'Brexit: The Uncivil War' (HBO)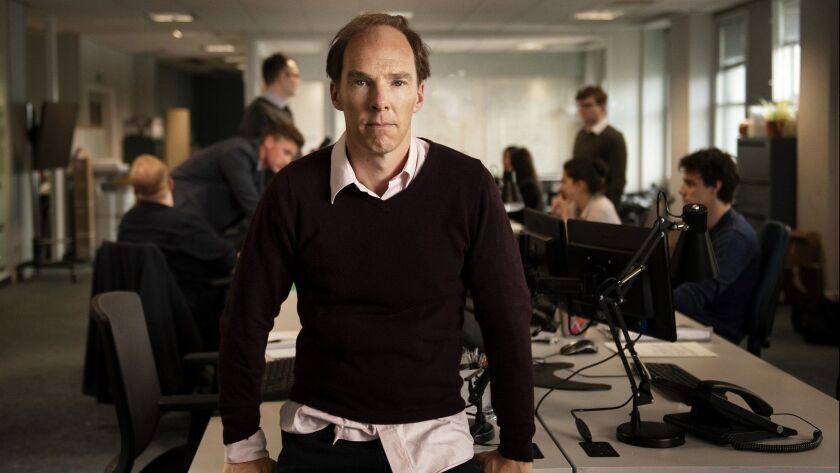 How the hell did Brexit happen? This intense, fast-paced film explains the second-biggest biggest political upset of the century — the U.K.'s decision to leave the European Union. Distributed by Channel 4 in Britain and HBO in the U.S., the film follows political strategist Dominic Cummings (Benedict Cumberbatch), the architect of the "Vote Leave" campaign, as he takes us through the dark corridors of advanced data mining, targeting inactive and low-information voters and the art of manipulating xenophobia for political gain. This nail-biter is as informative as it is entertaining. Written by playwright James Graham and directed by Toby Haynes ("Black Mirror"), the film deftly deconstructs the U.K.'s descent into madness, foreshadowing America's own version of the debacle a few months later with Trump's election. (Full review.)
---