Guests on Sunday Talk Shows: Alexandria Ocasio-Cortez on CNN's 'State of the Union'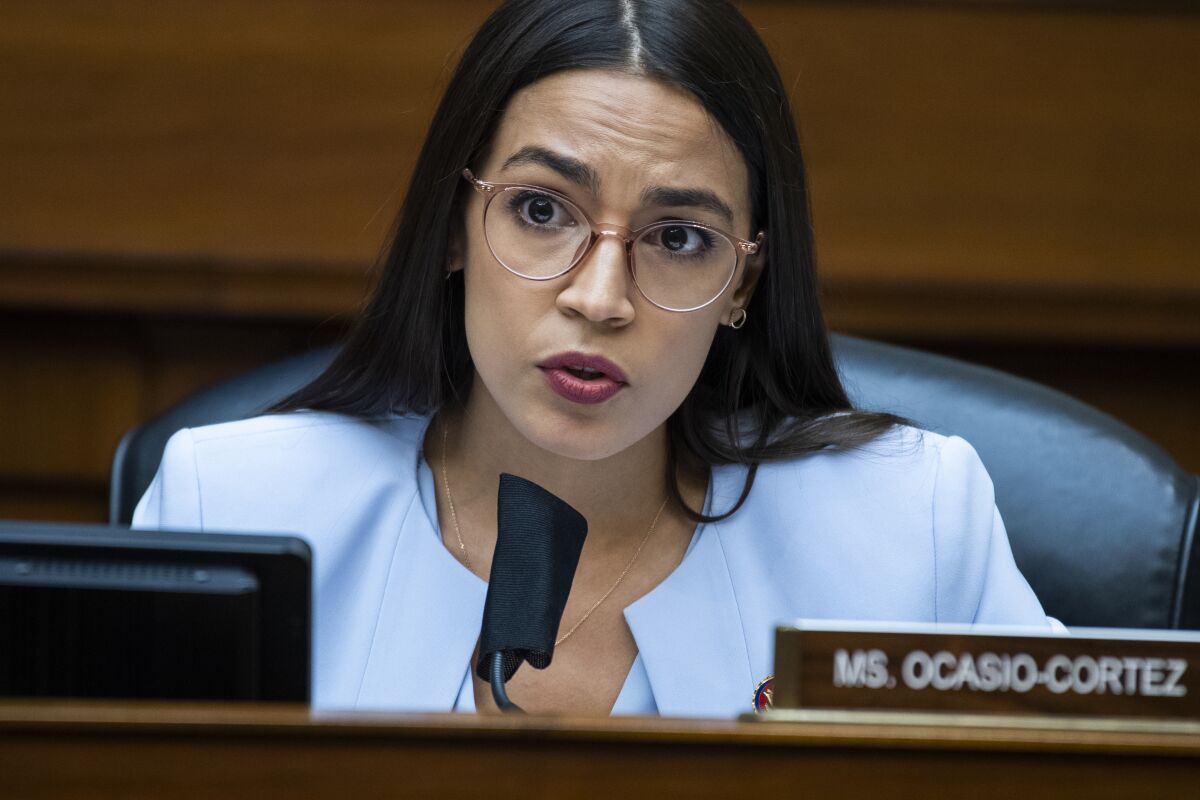 CBS News Sunday Morning (N) 6 a.m. KCBS
Good Morning America (N) 6 a.m. KABC
State of the Union Dr. Francis Collins, National Institutes of Health; Sen. Susan Collins (R-Maine); Sen. Joe Manchin (D-W.Va.); Rep. Alexandria Ocasio-Cortez (D-N.Y.); Gov. Mike DeWine (R-Ohio). (N) 6 and 9 a.m. CNN
Fareed Zakaria GPS How the Delta variant of COVID-19 threatens economic recovery: Author Paul Krugman ("Arguing With Zombies: Economics, Politics, and the Fight for a Better Future"). How to convince the vaccine-hesitant to get their shots: Author Richard Thaler ("Nudge: The Final Edition"). Political turmoil in Tunisia: Tarek Masoud, Harvard. The need for a commission for the Jan. 6 attack on the U.S. Capitol: Author Danielle Allen ("Living With Purpose: A One Foot Bible Study on Ephesians"). (N) 7 and 10 a.m. CNN
Sunday Morning Futures With Maria Bartiromo Sen. John Barrasso (R-Wyo.); Stephen Miller, America First Legal; former Housing Secretary Ben Carson; Larry Lindsey. (N) 7 a.m. and noon Fox News
Face the Nation Dr. Anthony Fauci, National Institute of Allergy & Infectious Diseases; Sen. Joe Manchin (D-W.Va.); Neel Kashkari, Federal Reserve Bank of Minneapolis; former FDA commissioner Dr. Scott Gottlieb; Dr. Sharon Alroy-Preis, Israel's director of public health services. (N) 7:30 a.m. and 2:45 a.m. KCBS
This Week With George Stephanopoulos Dr. Anthony Fauci, National Institute of Allergy and Infectious Diseases; Secretary of Transportation Pete Buttigieg; Rep. Adam Kinzinger (R-Ill.). Panel: Rick Klein; Donna Brazile; Rachael Bade, Politico; Reihan Salam, Manhattan Institute. (N) 8 a.m. KABC
Fox News Sunday Gov. Henry McMaster (R-S.C.); Brian Deese, National Economic Council; Dr. Francis Collins, National Institutes of Health. Professional rock climber and adventurer Emily Harrington. Panel: Marc Thiessen; Jacqueline Alemany, the Washington Post; Mo Elleithee. (N) 8 a.m. KTTV; 11 a.m. and 11 p.m. Fox News
Reliable Sources With Brian Stelter Does the CDC have a credibility problem: Dr. Celine Gounder, former member of the Biden-Harris Transition COVID Advisory Board; author Robby Soave ("Tech Panic"). Covering COVID-19 in the states where infections are surging: Keisha Rowe, Clarion-Ledger (Jackson, Miss.); Leada Gore, Alabama Media Group; Emily Woodruff, Times-Picayune and New Orleans Advocate. The "cult" of Trump: Jonestown massacre survivor Rep. Jackie Speier (D-Hillsborough). Mike Lindell versus Fox News: Author Anne Applebaum ("Twilight of Democracy"); Jared Holt, the Atlantic Council. (N) 8 a.m. CNN
MediaBuzz Mollie Hemingway; Clarence Page, Chicago Tribune; Mike Emanuel; author Ben Shapiro ("The Right Side of History"); Kat Timpf; Jim Gray. (N) 8 a.m. Fox News
Frank Buckley Interviews Alzheimer's activist Lisa Marshall. (N) 4:30 p.m. and 12:05 a.m. KTLA
60 Minutes Inside the dramatic missions to Mars by the tiny helicopter Ingenuity and the rover Perseverance. (N) 7 p.m. KCBS
The prime-time TV grid is on hiatus in print. You can find more TV coverage at: latimes.com/whats-on-tv.
TV highlights for Aug. 1-7 include the Tokyo Olympics, a profile of President Obama, a docuseries about UFOs and the superhero sequel "The Suicide Squad"
TV Grids for the entire week of Aug. 1 - 7 in downloadable and printable PDF files
Movies on TV this week: August 1: 'Unforgiven' on TCM; 'Jaws' on AMC; 'Star Wars: A New Hope' and 'Star Wars: The Empire Strikes Back' on TNT
Movies on TV for the entire week, Aug. 1 - 7 in interactive PDF format for easy downloading and printing

What's on TV: Television listings
Looking for what to watch on TV? Here are the television listings from the Los Angeles Times in printable PDF files.
Updates
11:45 a.m. July 31, 2021: Updated guests for "Fox News Sunday."
---
The complete guide to home viewing
Get Screen Gab for everything about the TV shows and streaming movies everyone's talking about.
You may occasionally receive promotional content from the Los Angeles Times.