How to watch every Oscar-nominated movie in the major categories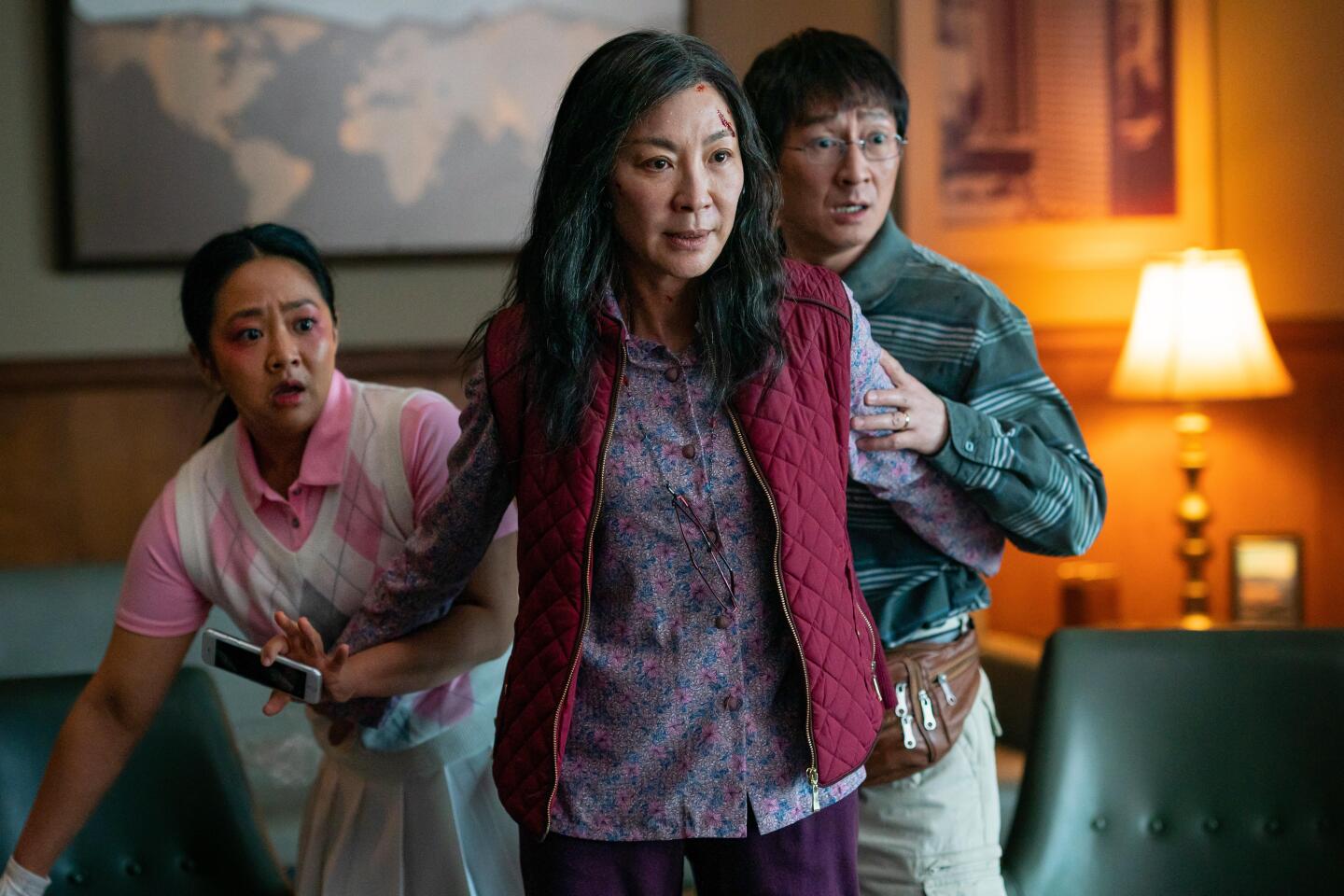 The nominations for the 95th Academy Awards were announced bright and early Tuesday morning. The 2023 Oscar nominations were a mix of predictable nods and a few surprises. "Everything Everywhere All at Once" earned the most nominations — 11, including six for major awards (best picture, directing and acting). "All Quiet on the Western Front" and "The Banshees of Inisherin" followed with nine nominations each. "Banshees" tied "Everything" with nods in six major categories, while "All Quiet" had one.
As Hollywood continues to struggle to fill theaters and compete with home viewing, 13 of the feature films nominated for major awards are now available for streaming, some on multiple platforms. Only two of the nominated documentary features and two of the nominated international features are currently streaming, and all five of the animated features are available now.
Here's where to find nearly all of them. Be sure to watch this page, as we will update as more films get released for streaming.
Here are the nominees for the 2023 Academy Awards in all categories, announced live Tuesday from the Samuel Goldwyn Theatre in Beverly Hills.
'Aftersun'
Running time: 1 hours 41 minutes | Rating: R, for some language and brief sexual material.
Streaming: Apple TV+: Rent/Buy | Prime Video: Rent/Buy
Also in theaters.
"Aftersun" ... is what Scottish writer-director Charlotte Wells calls an "emotionally autobiographical" work, inspired by her recollections of a summer vacation she and her father took together in the '90s. It's a memory piece and, as such, a rumination on the ways in which memories can be at once indelible and imprecise, how they can torment us and fail us and still be the most precious things — maybe even the only things — we have left. (Read more) — Justin Chang
'All Quiet on the Western Front'
Running time: 2 hours 28 minutes | Rating: R, for language.
Streaming: Netflix: Included
"All Quiet on the Western Front," directed by Edward Berger, is hardly the first movie to argue — quite persuasively — that war is hell. It is, however, the first filmed adaptation of Erich Maria Remarque's seminal World War I novel in which the Germans actually speak German. The book's previous screen incarnations — Lewis Milestone's Oscar-winning 1930 film, Delbert Mann's 1979 telefilm — featured platoons of English-speaking actors cast as men with names like Kropp, Müller and Tjaden, a choice that made for some cognitive dissonance but scarcely mitigated their dramatic power or purpose. And that purpose — to de-glorify the horrors of trench warfare, mock the foolish vanity of nationalism and condemn the futility and cruelty of mass death — is one that should transcend barriers of language and culture anyway.
Even so, this solid, stirring new adaptation, which will represent Germany in the Oscar race for international feature, sets a noteworthy precedent. There's an undeniable power in seeing Remarque's once-serialized novel — an antiwar statement so definitive that it was duly banned by the Nazis a few years after its 1929 publication — brought to the screen in its original tongue. The sight of actual German actors in these roles can only lend authority to Remarque's lament for a generation of men — his generation — who were "destroyed by the war," even as it serves to bolster the movie's horrifyingly visceral realism. (Read more) — Justin Chang
'Avatar: The Way of Water'
Running time: 3 hours 12 minutes | Rating: PG-13, for sequences of strong violence and intense action, partial nudity and some strong language.
Streaming: In wide release, not currently streaming.
In "Avatar: The Way of Water," director James Cameron pulls you down so deep, and sets you so gently adrift, that at times you don't feel like you're watching a movie so much as floating in one. From time to time he brings you to the bottom of an alien sea, shot with stunning hyper-clarity in high-frame-rate 3-D and teeming with all manner of surreally strange fish — all oddly shaped fins, decorative tentacles and other vestiges of an otherworldly, faintly screw-loose evolutionary timeline.
You can imagine the fun (and the headaches) that Cameron and his visual-effects wizards must have had designing this brilliant ocean-floor nirvana. You can also see an astronomical budget (reportedly north of $350 million) and an extraordinarily sophisticated digital toolkit at work, plus a flair for camera movement that, likely shaped by the director's hours of deep-sea diving, achieves an exhilarating sense of buoyancy.
Much as you might long for Cameron to keep us down there — to give us, in effect, the most expensive and elaborate underwater hangout movie ever made — he can't or won't sustain all this dreamy Jacques Cousteau-on-mushrooms wonderment for three-plus hours. He's James Cameron, after all, and he has a stirringly old-fashioned story to tell, crap dialogue to dispense and, in time, a hell of an action movie to unleash, complete with fiery shipwrecks, deadly arrows and a whale-size, tortoise-skinned creature known as a Tulkun. All in all, it's marvelous to have him back (Cameron, that is, though the Tulkun is also welcome). He remains one of the few Hollywood visionaries who actually merits that much-abused term, and as such, he has more on his mind than just pummeling the audience into submission. (Read more) — Justin Chang
'The Banshees of Inisherin'
Running time: 1 hour 49 minutes | Rating: R, for language throughout, some violent content and brief graphic nudity.
Streaming: HBO Max: Included | Prime Video: Rent/Buy | Apple TV+: Rent/Buy
Also in theaters.
The year is 1923, and in the distance the Irish civil war is raging, providing some blunt yet hazy thematic scaffolding for this more intimate tale of men in conflict. The beauty of Inisherin will soon turn sour and corrosive, much like the once-harmonious friendship between Pádraic Súilleabháin (Colin Farrell), a sweet-souled dairy farmer, and Colm Doherty (Brendan Gleeson), a gruff, gimlet-eyed fiddle player. In the opening scene, Pádraic sets out to meet Colm for their usual afternoon pint, only to find the man sitting at home, his back to the window, quietly ignoring Pádraic's knocks and entreaties. Can a man scowl not just with his face but with his entire hulking frame? Somehow, Gleeson manages.
Bewildered by this silent treatment, Pádraic remains unperturbed — surely it must be some sort of joke or misunderstanding — and refuses to accept that the friendship is over, even after Colm later spells it out for him down at the pub: "I just don't like ya no more." After a pause that lasts a small eternity, Pádraic responds, with a mix of confusion, disbelief and heartache that Farrell plays to perfection: "Ya do like me!" And the funny thing is, he's right. (Read more) — Justin Chang
'Black Panther: Wakanda Forever'
Running time: 2 hours 41 minutes | Rating: PG-13, for sequences of strong violence, action and some language.
Streaming: Disney+: Included | Prime Video: Rent/Buy | Apple TV+: Rent/Buy
In theaters.
The end comes right at the beginning: swift, expected, crushing. King T'Challa, the Black Panther of Wakanda, is grievously ill, and his brilliant scientist sister, Shuri (a forceful Letitia Wright), is working desperately to engineer a cure. The clock ticks and the camera races, but for all the tension there's predictably zero suspense: T'Challa is soon dead, leaving the princess and the queen mother, Ramonda (Angela Bassett), to grieve with their subjects. That we never see even a flashback to T'Challa's face — the face of the late Chadwick Boseman — in these opening moments adds to the sense of finality, of an absence that reverberates beyond the parameters of fiction. We share the characters' devastation but not their shock; unlike them, we've had some time to prepare.
So, of course, have the filmmakers. And from the opening scenes of "Black Panther: Wakanda Forever," director Ryan Coogler's tact, intelligence and discernment are more than apparent. He wants to honor — without exploiting — Boseman's memory, and he knows that he doesn't have to push hard to earn our tears. He also knows that, as a matter of narrative opportunity as well as philosophical principle, every end really is a beginning. And so even as he guides us on a hushed procession through the streets of Wakanda and through a series of eerily beautiful funeral rites, Coogler maintains unflagging forward momentum and quickly puts a grief-stricken empire on high alert. There are already new adventures — and yes, fresh occasions for grief — on the horizon. (Read more) — Justin Chang
'Blonde'
Running time: 2 hours 47 minutes | Rating: NC-17, for some sexual content.
Streaming: Netflix: Included
Also in theaters.
There's at least one moment in "Blonde," Andrew Dominik's dazzling, depressing and fatally incurious movie about Marilyn Monroe, when you might not be sure if you're watching Ana de Armas or the genuine article. Watching this lustrous black-and-white sequence, set during the production of "Some Like It Hot" (1959), I was briefly certain that was the real Monroe boop-boop-be-dooping her way through "I Wanna Be Loved by You," so evocatively does De Armas narrow her gaze (her eyes are the big giveaway) and drink in the milky adoration of the spotlight. Only the absence of that teasing shadow on her dress, the one that mimics a rising and falling neckline, gives the game away.
Even in these times of Oscar-grubbing biopic overload, a moment like that has to count as some kind of achievement. It takes more than crimson lips, swiveling hips and a platinum dye job to incarnate this most enduring of 20th century movie stars, even if Monroe was reduced to her physical attributes for too much of her short life and extraordinary career. (Read more) — Justin Chang
'Causeway'
Running time: 1 hour 34 minutes | Rating: R, for language.
Streaming: Apple TV+: Included
Total nominations: 1
Actor in a supporting role: Brian Tyree Henry
From the silent opening moments of "Causeway,"the feature debut of acclaimed theater director Lila Neugebauer, it's clear that this spare drama is a return to the stripped-down indie roots of Oscar-winning star Jennifer Lawrence, whose breakout performance in Debra Granik's harsh and scrappy 2010 film "Winter's Bone" earned the actor her first Academy Award nomination at age 20.
Barefaced, looking wan and thin, her hair lank, Lawrence seems as young as she did 12 years ago in "Winter's Bone," and her performance is a far cry from the steely Katniss Everdeen of "The Hunger Games" trilogy or the operatic goddesses she portrayed in three films directed by David O. Russell ("Silver Linings Playbook," "American Hustle," "Joy"). Her profile in an out-of-focus close-up is enough to instantly recognize, but as we meet her character Lynsey, Lawrence is almost unrecognizable. (Read more) — Katie Walsh
'Elvis'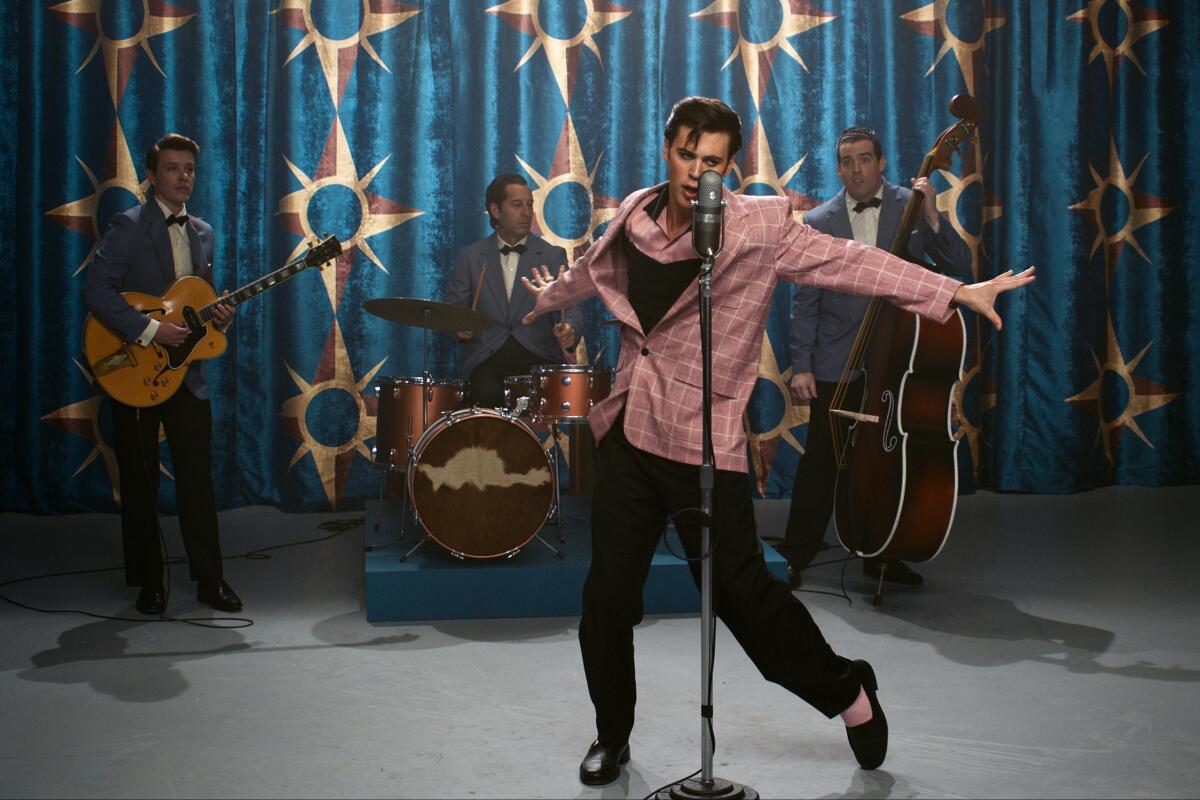 Running time: 2 hours 39 minutes | Rating: PG-13, for substance abuse, strong language, suggestive material and smoking.
Streaming: HBO Max: Included | Prime Video: Rent/Buy | Apple TV+: Rent/Buy
Why hasn't there been a great Elvis biopic yet? Well, Austin Butler wasn't around to star as the King of Rock 'n' Roll. At the center of Baz Luhrmann's sprawling pop epic "Elvis," a film as opulent and outsize as the King's talent and taste, Butler delivers a fully transformed, fully committed and star-making turn as Elvis Presley. The rumors are true: Elvis lives, in Austin Butler.
Swirling around Butler's bravura performance is a manic, maximalist, chopped-and-screwed music biopic in which Luhrmann locates Elvis as the Earth-shaking inflection point between the ancient and the modern, the carnival and the TV screen, a figure of pure spectacle who threatened to obliterate the status quo — and did. Luhrmann takes Presley's legacy, relegated to a Las Vegas gag, and reminds us just how dangerous, sexy and downright revolutionary he once was. He makes Elvis relevant again. (Read more) — Katie Walsh
'Everything Everywhere All at Once'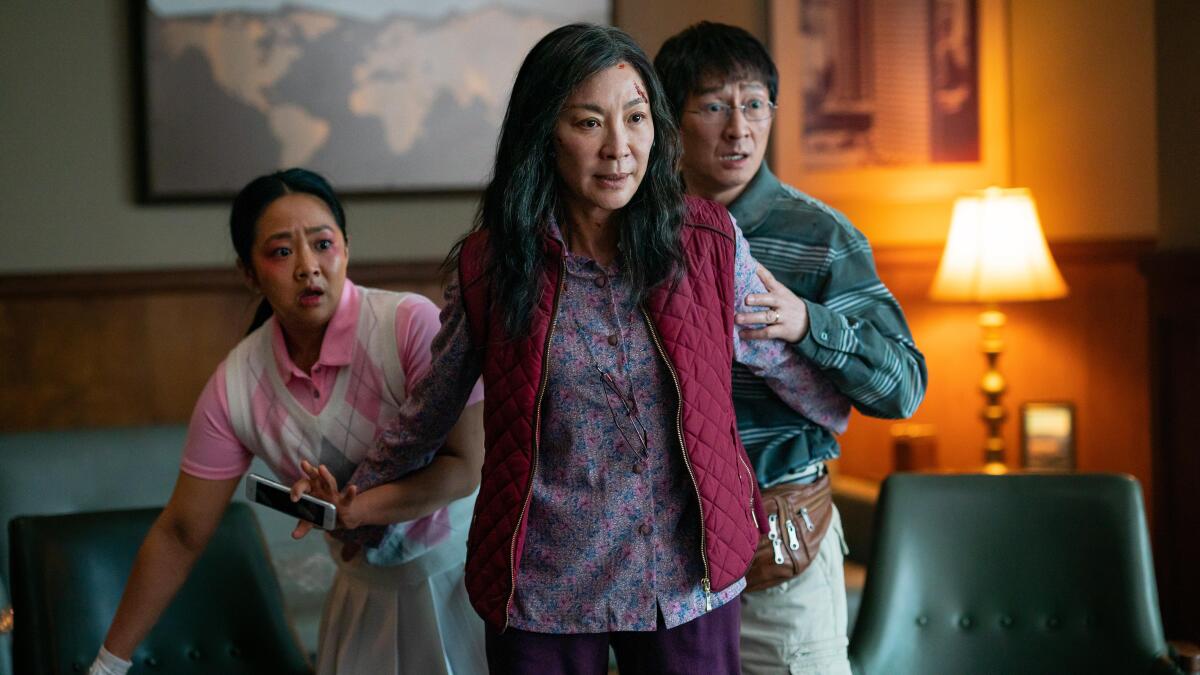 Running time: 2 hours 19 minutes | Rating: R, for some violence, sexual material and language.
Streaming: Paramount+: Included | Showtime: Included |Prime Video: Buy | Apple TV+: Buy
Also in theaters.
At the beginning of "Everything Everywhere All at Once," the camera creeps slowly toward a circular mirror — an apt start for a movie that will soon whoosh its characters through one looking glass after another. Amid all the whooshing, though, try to hold on to the image of that circle, which isn't the easiest thing to do amid all the sights and sounds, frenzied fight scenes and grotesque sight gags that Daniels — a.k.a. the writing-directing duo of Daniel Kwan and Daniel Scheinert ("Swiss Army Man") — have crammed into their latest surreal head-spinner of a movie.
Running a funny, messy, moving, grotesque, sometimes exhilarating and often exasperating 140 minutes, "Everything Everywhere All at Once" can be a pain and knows it; it might also be its own cure. Crammed with ideas, jokes, laments, non sequiturs and some terrific actors you've seen before (if not nearly enough), the movie comes at you like a warm hug wrapped in a kung fu chop: It's both a sweet, sentimental story about a Chinese American family and a wild, maximalist sensory assault. In the end, its many swirling parts unite around a remarkably coherent purpose: to provide a rare and dazzling showcase for a megawatt performer who scowls, gasps, punches, kicks, leaps, flips, soars and finally transcends.
That would be Michelle Yeoh, who has long been one of Asia's top action stars but — from early breakthroughs ("Tomorrow Never Dies," "Crouching Tiger, Hidden Dragon") through prestige disappointments ("Memoirs of a Geisha," "The Lady") to a few high-profile supporting turns ("Crazy Rich Asians," "Shang-Chi and the Legend of the Ten Rings") — has never enjoyed the spectacular Hollywood career she's long deserved. (Even "Everything Everywhere," originally conceived for Jackie Chan before Daniels decided to reconceive the lead as a woman, nearly eluded her as well.) The agony of what might have been haunts Yeoh's stardom, and it also looms over her Evelyn Wang, a stressed-out, desperately unfulfilled woman who's staring down the barrel of the IRS as the action gets underway. (Read more) — Justin Chang
'The Fabelmans'
Running time: 2 hours 31 minutes | Rating: PG-13 for some strong language, thematic elements, brief violence and drug use.
Streaming: Prime Video: Buy | Apple TV+: Buy
Also in theaters.
More than once during his fabled career, Steven Spielberg has been dismissed as a technician masquerading as an artist; as the most popular of American filmmakers, the logic goes, he must also be the most impersonal. It's a judgment that doesn't quite explain the intensely personal connection a lot of us feel to his movies. Or does it? More than any other director, Spielberg confounds the notion that the personal and the popular, or the technician and the artist, are fundamentally at odds. The intensity of feeling you experienced on your first (or third) close encounter with a Spielberg classic — maybe you levitated out of your seat at "Raiders of the Lost Ark" or had your nerves shredded by "Jaws" — was likely so pure that it felt like yours and yours alone, never mind that millions of moviegoers around the world felt the same way.
Like all great storytellers, Spielberg knows the value — the beauty — of artifice and embellishment, as well as the permeability of truth and fiction. "The Fabelmans" is as slick, transporting and painstakingly orchestrated as anything in his filmography, and also as funny, stirring and implacably sad. What makes it personal isn't that you believe everything in it happened exactly as you see it. It's how vivid and enveloping it feels as it's happening in front of you, and how recognizable and bittersweet an ache it leaves behind. (Read more) — Justin Chang
'Living'
Running time: 1 hour 42 minutes | Rating: PG-13 for some suggestive material and smoking.
Streaming: In theaters, not currently streaming.
Total nominations: 2
Actor in a leading role: Bill Nighy
Not long into "Living," Mr. Williams learns that he has not long to live. The news doesn't come as a huge shock, but even if it did, you gather, nothing about this man — not his stiff posture, his calmly appraising gaze or his thin, flat line of a mouth — would betray anything resembling devastation or even surprise. We are in 1950s London, and Mr. Williams, who's spent more than two decades toiling away in the county hall's Public Works department, has encased himself in a shell of propriety, receiving every new document and file with unfailing politeness and unflappable calm. Why should his response to his own demise — in six months to a year, max — be any different?
Here it should be noted that Mr. Williams is played by Bill Nighy, for whom a show of restraint is never just a show of restraint. Within emotional parameters that other actors might have found gloomily constricting, Nighy coaxes forth a tour de force of understatement, suffused with an almost musical melancholy. There's a whisper of humor to Mr. Williams, a sense of irony about a death sentence that he keeps secret from all but a trusted few. In the movie's best moments, Nighy lures you into the impression that he's sharing a private joke with you, a glimmer of comic insight into an unbearably sad situation. (Read more) — Justin Chang
'Tár'
Running time: 2 hours 38 minutes | Rating: R for some language and brief nudity.
Streaming: Peacock: Included | Prime Video: Rent/Buy | Apple TV+: Rent/Buy
Also in theaters.
It's not until an hour into "Tár" that we see the title character — a classical conductor known the world over as Lydia Tár and played by an unimprovable Cate Blanchett — do what she was born to do. It's an astonishing performance nestled inside another: In one shot, Lydia towers like a colossus over the podium and the camera, her face visible only to the musicians seated off-screen, her arms spread wide as if she were embracing or perhaps possessing the world. Classical music buffs, who will have a particular field day with this movie, will also have sharper observations than mine on the merits of Blanchett's posture and baton technique. But this actor doesn't even need to lift a baton, or approach a podium, to make us feel we're in the presence of a singularly gifted musical body and mind.
A lesser movie — and one of the weird pleasures of "Tár" is that you can't stop imagining the lesser movie it so easily might have been — would have introduced Lydia in full-blown maestro mode, so as to convince us of her genius at the outset. But writer-director Todd Field takes that genius as a given and trusts we'll do the same; he respects the intelligence of the audience as surely as he does the magnificence of his star. (Read more) — Justin Chang
'To Leslie'
Running time: 1 hour 59 minutes | Rating: R, for language throughout and some drug use.
Streaming: Prime Video: Rent/Buy | Apple TV+: Rent/Buy
Total nominations: 1
Actress in a leading role: Andrea Riseborough
At the start of the jittery indie drama "To Leslie," a free-spirited Texan named Leslie (Andrea Riseborough) wins the kind of lottery prize usually referred to as "life-changing money." But Leslie doesn't really want her life changed. A reckless alcoholic, she burns through her windfall so fast that she loses everything — including her son James (Owen Teague), who has set himself up with a calmer life with the help of old family friends Dutch (Stephen Root) and Nancy (Allison Janney). Years later, Leslie visits James, Dutch and Nancy, looking for their help; but she still has no interest in getting clean or following anyone's rules. (Read more) — Noel Murray
'Top Gun: Maverick'
Running time: 2 hours 10 minutes | Rating: PG-13, for sequences of intense action, and some strong language.
Streaming: Paramount+: Included | MGM+: Included | Prime Video: Rent/Buy | Apple TV+: Buy/Rent
Also in theaters.
"If you think, you're dead." That's one of Tom Cruise's more memorable lines from "Top Gun," a cautionary reminder that when your engine flames out or an enemy pilot locks you in their sights, hesitation means death. Inadvertently, the line also suggests the best way to enjoy Tony Scott's immortal 1986 blockbuster: Best not to think too long or hard about the dumb plot, the threadbare romance, the fetishization of U.S. military might or the de rigueur plausibility issues. The key is to succumb, like Cruise's high-flying Maverick himself, to a world of unchecked instinct and pure sensation, to savor the movie's symphony of screaming jets and booming Giorgio Moroder, not to mention all those lovingly photographed torsos and tighty-whities.
Jets still scream and muscles still gleam in the ridiculous and often ridiculously entertaining "Top Gun: Maverick," though in several respects, the movie evinces — and rewards — an unusual investment of brainpower. I'd go further and say that it offers its own decisive reversal of Maverick's dubious logic: It has plenty on its mind, and it's gloriously alive. (Read more) — Justin Chang
'Triangle of Sadness'
Running time: 2 hours 28 minutes | Rating: R, for language and some sexual content.
Streaming: Prime Video: Rent/Buy | Apple TV+: Rent/Buy
Also in theaters.
Best motion picture
Director: Ruben Östlund
Ruben Östlund's social satire, "Triangle of Sadness," is many things: a cautionary tale about the perils of slurping shellfish on rough seas, a blunt (as in dull) critique of the one percent, a (wasted) opportunity to hear Woody Harrelson espouse the tenets of Karl Marx and a pessimistic suggestion that people — both the oppressors and the oppressed — share a fundamental willingness to exploit each other given the right circumstances. Strip away the Rolexes and scrub brushes, and we're all the same underneath — horrible!
Don't get me wrong. There are things to admire in Östlund's overstuffed exercise in derision. Example: No film in history has boasted so many artfully composed shots of people in the throes of intestinal duress. Just how much vomit is there? Imagine the blueberry-pie-eating scene in "Stand by Me" on top of Mr. Creosote's explosion in "Monty Python's the Meaning of Life" mixed with the overflowing toilets of "Parasite," and you have an inkling of what Östlund unleashes in a drawn-out second act set piece that might tax the patience of even those inclined to appreciate exercises in grotesque absurdity.
But let's put aside the puking as there's a bit more to "Triangle of Sadness." (Read more) — Glenn Whipp
'The Whale'
Running time: 1 hour 57 minutes | Rating: R, for language, some drug use and sexual content.
Streaming: Prime Video: Rent/Buy | Apple TV+: Buy/Rent
Also in theaters.
Total nominations: 3

Actor in a leading role: Brendan Fraser
Actress in a supporting role: Hong Chau
When the camera looks at Brendan Fraser in "The Whale," what does it see? It sees a man named Charlie who weighs 600 pounds and is slowly expiring from congestive heart failure in a drab Idaho apartment. It also sees a familiar Hollywood face attached to a most unfamiliar body, enacting the kind of dramatic, prosthetically enabled transformation the movie industry likes to slobber over.
You might find these two images to be of a piece — an intuitive fusion of performer and role that reaches for, and sometimes achieves, a state of transcendent emotion. Or you may find them grotesquely at odds: the character whose every groan, wheeze and choking fit means to inspire both empathy and revulsion, and the actor whose sweaty dramatic exertions are calculated to elicit praise and applause. (Read more) — Justin Chang
'Women Talking'
Running time: 1 hour 44 minutes | Rating: PG-13, for mature thematic content including sexual assault, bloody images and some strong language.
Streaming: Prime Video: Rent/Buy | Apple TV+: Buy/Rent
Also in theaters.
For much of "Women Talking," Sarah Polley's suspenseful and galvanizing fourth feature, we are in the hayloft of a barn overlooking a remote stretch of farmland, with a lonely dirt road winding toward the horizon. The sunlight spilling in through the window seems to beckon to the eight women who have gathered here to think, rage, plan, argue and, yes, talk — about the abuses they've suffered and the impossible decision that awaits them. As the shadows lengthen and the conversation intensifies, the light also seems to fall gently on each speaker in turn, as though illuminating them from above or even within. Whoever might be wielding this light — be it the God they worship or the director behind the camera — these women have their full attention, and also ours.
Skillfully adapted by Polley from the 2018 novel by Miriam Toews, "Women Talking" unfolds in the aftermath of a sustained campaign of sexual violence. Over two years, several Mennonite men have raped more than a hundred women and young girls in their remote colony, drugging them with cattle tranquilizer and then assaulting them in their beds. The rapists, unidentified until recently (a male elder had attributed the attacks to evil spirits), have been jailed in a nearby town; the other men, complicit in spirit if not in deed, have gone to bail them out, leaving the women alone with just 24 hours to determine their response. Should they forgive the men, as their Christian beliefs would seem to demand? Should they respond with their own physical violence or pack their things and leave the colony? (Read more) — Justin Chang
DOCUMENTARY FEATURES
'All That Breathes'
Running time: 1 hour 37 minutes | Rating: Not rated
Streaming: HBO Max: Included
In industrially choked New Delhi, ever-worsening skies send migratory birds of prey plummeting to the earth — and if they're lucky, where they can be found by a pair of Muslim brothers who, in a makeshift basement clinic on a dilapidated, narrow street, can nurse them back to flying strength.
"All That Breathes," Shaunak Sen's extraordinary documentary about amateur bird medics Nadeem Shehzad and Mohammad Saud, operates in a transfixing liminal space — one where repair heals not only the wounded creature, but the human being briefly tending to it, and also clarifies a precipitous moment of ecological and societal change. (Read more) — Robert Abele
'All the Beauty and the Bloodshed'
Running time: 2 hours 2 minutes | Rating: Not rated.
In theaters, not currently streaming.
Where life wounds, art and fellowship can heal, or at the very least, cauterize into the most expressive of scars. Photographer Nan Goldin knows this as much as anyone, her life's journey from suburban captivity to outsider freedom, from Polaroid chronicler of her circle of intimates to consequential artist/activist, is all on moving, enriching display in Oscar-winning filmmaker Laura Poitras' enthralling documentary, "All the Beauty and the Bloodshed."
If you've ever doubted how art, rage or action can make meaningful change, Goldin's combination of all three fighting an opioid crisis that nearly killed her is exhilarating proof of the power of "screaming in the streets," to borrow what the queer artist David Wojnarowicz — one of many close friends of Goldin's whom the AIDS epidemic took — wryly described as a necessary ritual of the living in a time of too much death. (Read more) — Robert Abele
'Fire of Love'
Running time: 1 hour 33 minutes | Rating: PG, for thematic material including some unsettling images, and brief smoking.
Streaming: Disney+: Included | Hulu: Included (Until March 11)
The visually entrancing volcano documentary "Fire of Love" chronicles a magnificent obsession and might even make that obsession your own. It didn't have to work terribly hard in my case. I was already a budding volcanophile when I decided, at age 8, that I'd never seen anything more beautiful than the geysers of lava raining down on Kilauea, a hyperactive Hawaiian monster that I soon declared my favorite volcano in the world. (It was one of several contenders.) I wasn't much older when I learned that one of Kilauea's longest recorded eruptions actually started the day I was born, one of those funny coincidences that felt eerily prophetic at the time.
My 8-year-old self, no less than my present-day one, would have thrilled to the majestic images in "Fire of Love," which deserve to be seen on the biggest screen possible. The images were filmed by fearless French volcanologists Katia and Maurice Krafft, who pursued their shared passion to the ends (or at least the edges) of the Earth, where the crust fissures and rock slides against molten rock.
Katia, a geochemist, and Maurice, a geologist, met as students in 1966, married in 1970 and spent the rest of their lives visiting active volcanoes all over the world, marching right up to flowing lava rivers and smoking craters and filming what they saw. (Read more) — Justin Chang
'A House Made of Splinters'
Running time: 1 hour 27 minutes | Rating: Not rated.
Streaming: Prime Video: Rent/Buy | Apple TV+: Buy/Rent
Also in theaters.
'Navalny'
Running time: 1 hour 38 minutes | Rating: Not rated
Streaming: HBO Max: Included
The smoking gun moment in the sensationally gripping new documentary "Navalny" is something to see. We are deep in the investigative weeds with Alexei Navalny, the Russian opposition leader, and Christo Grozev, the Bulgarian journalist investigating the August 2020 poisoning that nearly ended Navalny's life. By this point in the film, they've already amassed considerable evidence that the assassination attempt was ordered by the Kremlin, but that still doesn't prepare you for the electrifying sequence in which Navalny starts calling up the men who executed the plot and confronting them, one by one, with what he knows.
The first few men immediately hang up. But then Navalny — showing some of the smarts and daring that helped make him the public face of anti-Putin resistance — tries a different tack with one of them, pretending to be a Kremlin functionary demanding answers as to why the poisoning failed. To the shock of Navalny and his colleagues, the man on the other end steps right into the trap and begins dropping secret after incriminating secret, including the means by which the deadly nerve agent Novichok made its way into Navalny's system.
It's a jaw-dropping moment — even the generally unflappable Grozev covers his face in exhilaration and disbelief — in a documentary that moves with the swiftness and tension of a crackerjack thriller. (Read more) — Justin Chang
INTERNATIONAL FEATURES
'All Quiet on the Western Front' (Germany)
(See above)
'Argentina, 1985' (Argentina)
Running time: 2 hours 21 minutes | Rating: R, for language.
Streaming: Prime Video: Included
Also in theaters.
Films about important historical moments are often marked by a heavy solemnity, a sometimes suffocating respectfulness that can make one forget that these events involved real people, human beings with passions and foibles. This is especially common when the subject matter is as dreadful as the 1970s-1980s military dictatorship in Argentina and its practice of "disappearing" — kidnapping, torturing, raping and killing — its own citizens.
Not so, "Argentina, 1985."
The new Spanish-language film from Amazon — Argentina's submission for the 2023 international feature Oscar — gives these crimes against humanity every ounce of weight they demand but never forgets the humanity of its characters. This is particularly true of its depiction of protagonist Julio César Strassera, the prosecutor assigned the seemingly impossible task of holding to account the military leaders responsible for these atrocities. (Read more) — Michael Ordoña
'Close' (Belgium)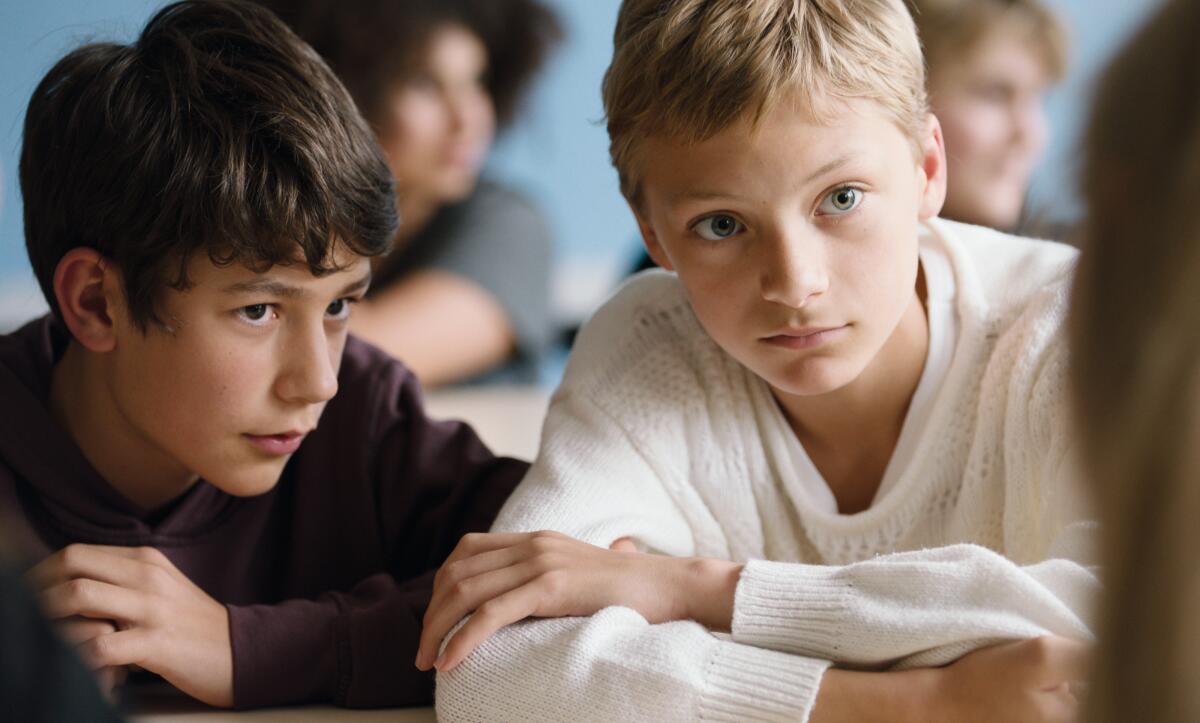 Running time: 1 hour 45 minutes | Rating: Rated PG-13, for thematic material involving suicide and brief strong language.
Streaming: Apple TV+: Rent/Buy | Prime Video: Rent/Buy
Also in theaters.
Lukas Dhont's artful tearjerker about a warm friendship between two young boys who fall victim, in different ways, to society's homophobic, hyper-masculine norms left me in misty-eyed admiration, if also suspicious of certain narrative choices that seem less restrained than evasive. Still, there's no denying Dhont's command of his craft or his extraordinary skill with actors. (Read more) — Justin Chang
'EO' (Poland)
Running time: 1 hour 26 minutes | Rating: Not rated
Streaming: Criterion: Included | Apple TV+: Rent/Buy | Prime Video: Rent/Buy
Also in theaters.
In one of the most astonishing sequences in "EO," a rapturous hymn to the natural world from 84-year-old Polish director Jerzy Skolimowski, a wandering donkey gets lost in a forest primeval. Night has fallen, but pools of moonlight illuminate this hushed, dark world in all its living glory. A little frog skims along the surface of a rushing stream. A skittering spider spins its web. An owl frowns down at the donkey from its treetop perch, as though registering an intruder's presence. There are also a couple of howling wolves, a wary red fox and, in time, an array of green laser beams announcing the presence of nearby hunters, whose gunshots shatter the serenity of this woodland idyll.
The entire sequence tells much of the movie's story in miniature. Again and again this donkey, known as EO (an approximation of the sound he makes), will experience a moment of freedom, only for a few human beings to come along and drag him back into harm's way. (Read more) — Justin Chang
'The Quiet Girl' (Ireland)
Running time: 1 hour 34 minutes | Rating: PG-13, for some strong language and smoking.
Streaming: Not currently streaming.
A neglected child discovers a her-shaped space to fill in "The Quiet Girl," Colm Bairéad's hushed, delicately rendered family drama, set in an Irish countryside of tasks and beauty, of the rarely-heard-in-movies Irish language, but also of things unsaid that, in their own way, become a shared language of the lost.
Faithfully transferred from Claire Keegan's artful 2010 short story "Foster," "The Quiet Girl" is both the best reason movies should look to more compact narratives for adaptation and, in a few instances, indicative of where cinematic choices can leave unnecessary footprints. But everything in this heartfelt tale is made with the deepest sincerity, and gently packed with soulful portrayals and lovely imagery.
One of those exquisite images from cinematographer Kate McCullough's palette is among the movie's first, the camera locating young Cáit (Catherine Clinch) — whose name we hear called out repeatedly by her impatient mother — lying in a field of tall grass, the blades nearly covering her in their comforting pastoral clasp. (Read more) — Robert Abele
ANIMATED FEATURE
'Guillermo del Toro's Pinocchio'
Running time: 1 hours 56 minute | Rating: PG, for dark thematic material, violence, peril, some rude humor and brief smoking.
Streaming: Netflix: Included
Every "Pinocchio" is some wonder-struck filmmaker's hope that their carved, sculpted and painted version of Italian author Carlo Collodi's 140-year-old story about a manufactured boy will be accepted as a real movie someday. (Roberto Benigni and Disney have each tried twice.) Are we surprised, then, that Oscar winner Guillermo del Toro — the closest thing genre cinema has to a Geppetto, considering the painstaking care of his imagined worlds — had his own in the works for more than a decade?
And is it any wonder that the choice of stop-motion for "Guillermo del Toro's Pinocchio" is just the modeling magic this tale needs to feel new-old again? Combining a darker tone closer to Collodi's spirit with a commedia dell'arte sensibility regarding familiar elements and bizarre tangents, Del Toro, his co-screenwriter Patrick McHale and co-director Mark Gustafson — a stop-motion veteran getting his first feature credit — have made more of a Frankenstein-ed fairy tale than some irreverent answer to the Mouse House's 1940 hand-drawn classic. That's a good thing. Sometimes an odd, awkward thing, and at times a naggingly modern thing, but mostly a good thing. (Read more) — Robert Abele
'Marcell the Shell With Shoes On'
Running time: 1 hour 30 minutes | Rating: PG, for some suggestive material and thematic elements.
Streaming: Showtime: Included | Apple TV+: Rent/Buy | Prime Video: Rent/Buy
One of the harsher lessons of "Marcel the Shell With Shoes On," an otherwise winsome bit of family-friendly whimsy, is the high price of internet stardom. Marcel — a garrulous 1-inch-tall seashell with one googly eye, two Creamsicle-colored sneakers and the burbling voice of the actor-comedian Jenny Slate — learns this firsthand when a few short videos about his life go unexpectedly viral, earning him the adoration of a less-than-adorable fan base. As he scrolls through inane YouTube comments ("'So cute' … ugh!") and watches fame seekers take selfies outside his window, Marcel longs for his days of obscurity, when he and his family could dwell at a relatively peaceful remove from the human world. (Read more) — Justin Chang
'Puss in Boots: The Last Wish'
Running time: 1 hour 42 minutes | Rating: PG, for action/violence, rude humor/language, and some scary moments.
Streaming: Apple TV+: Rent/Buy | Prime Video: Rent/Buy
Also in theaters.
Twelve years after the "Shrek" spinoff "Puss in Boots," the sassy Spanish feline voiced by Antonio Banderas has returned for another fairy tale-busting adventure, which remixes a new set of familiar nursery rhymes and beloved children's fables to entertaining ends.
Our titular tabby is living a swashbuckler's life, swilling leche, singing songs, saving towns, raking in the adoration and accolades, when he dies his eighth death, landing him in his ninth, and final, life. Spooked by a visit from the grim-reaping Big Bad Wolf (Wagner Moura), Puss decides to hang up his hat and boots and head for retirement in the home of a crazy cat lady, Mama Luna (Da'Vine Joy Randolph).
But he can't escape adventure, and soon Puss is caught up in the quest for a magical wish, which is in the possession of a greedy, pie-producing hoarder of enchanted trinkets, Little Jack Horner (John Mulaney). Remember him, with the Christmas pie and the plum on his thumb? (Read more) — Katie Walsh
'The Sea Beast'
Running time: 1 hour 59 minutes | Rating: Rated PG, for action, violence and some language.
Streaming: Netflix: Included
With "The Sea Beast," Netflix throws its harpoon at a 2023 Oscar nomination for animated feature.
While the film's dialogue and characters aren't exactly unique, its visuals are remarkable, and it's actually about something. It's a ripping yarn, a gorgeously rendered kaiju adventure on the high seas that uses fantasy to ask pertinent questions about the stories we believe, and who benefits from that belief.
Viewers are plunged in the deep end with an immersive opening sequence depicting the aftermath of a ship's destruction. We're in a world of wooden vessels at war with monsters; an oceanside kingdom has been sustained largely by a class of "hunters" whose job it is to rid the sea lanes of these giant creatures. (Read more) — Michael Ordoña
'Turning Red'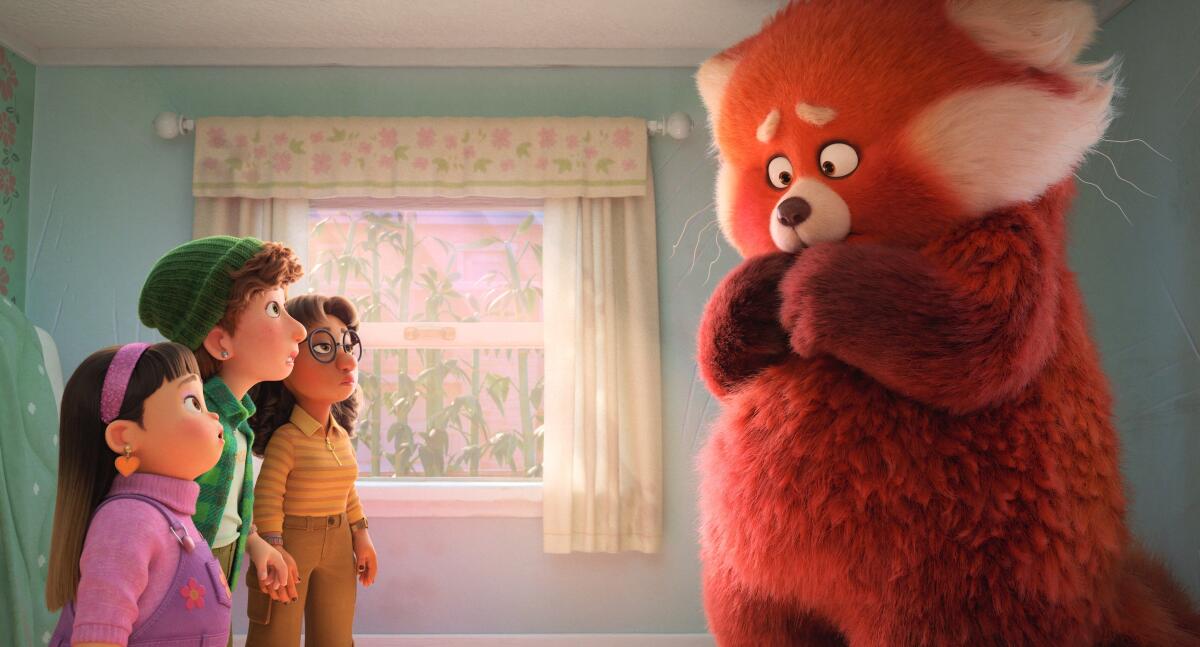 Running time: 1 hour 40 minutes | Rating: PG, for thematic material, suggestive content and language.
Streaming: Disney+: Included | Apple TV+: Rent/Buy | Prime Video: Rent/Buy
As 13-year-old Meilin Lee awakes one morning from uneasy dreams, she finds herself transformed in her bed into an enormous red panda — a cuddly giant ball of scarlet fluff with pointy white ears and a long, bushy tail. That tail will cause a bit of damage; so will Mei's efforts to hide the truth about the big, smelly, unruly monster she's become overnight. Chaos reigns, to quote a similarly red-furred critter from "Antichrist," a rather less family-friendly movie about female sexuality and its discontents. Mei's panda persona may be an adorably oversize plush toy (and the latest merchandising boon to the Walt Disney Co.), but she's also one hell of a menstrual metaphor.
Which is not to say that "Turning Red" — a cheeky title for a movie that sometimes plays like "Carrie" with the cutes, or "The Joy Luck Club" meets "Ginger Snaps" — deals purely in the metaphorical. (Read more) — Justin Chang

Updates
10:51 a.m. March 10, 2023: Updated "Close," "EO" and "Marcell the Shell With Shoes On."
5:21 p.m. Feb. 22, 2023: Updated streaming options for "The Whale," Women Talking," "A House Made of Splinters" and "EO."
11:06 a.m. Feb. 9, 2023: Updated: "All That Breathes" adding HBO Max.
11:06 a.m. Feb. 7, 2023: Updated: "Black Panther: Wakanda Forever" adding Disney+; Apple TV; Prime Video.
3:59 p.m. Jan. 31, 2023: Updated "Fire of Love," adding Hulu.
2:44 p.m. Jan. 27, 2023: Updated "Tár," adding Peacock.
Get our L.A. Goes Out newsletter, with the week's best events, to help you explore and experience our city.
You may occasionally receive promotional content from the Los Angeles Times.