Review: Claire Chase creates theater of the lung in enthralling flute recital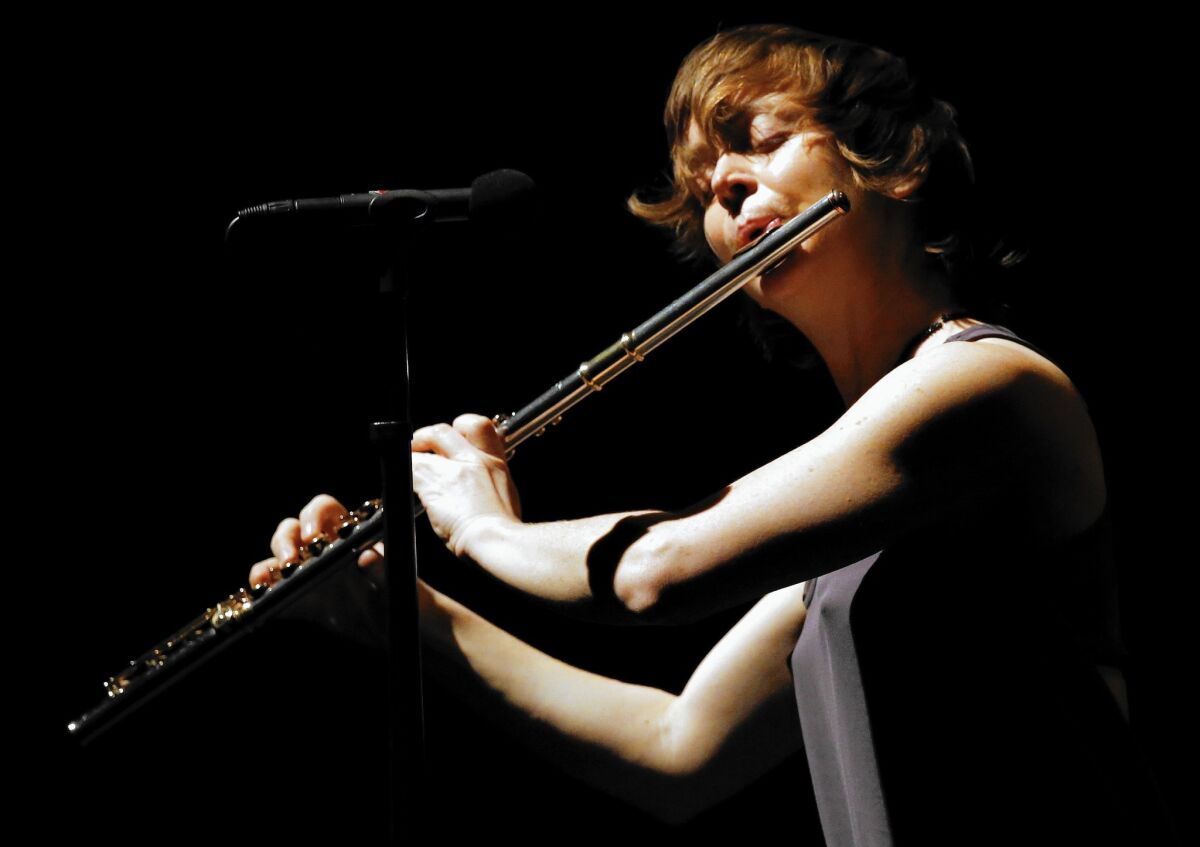 Los Angeles Times Music Critic
Claire Chase, a flutist and MacArthur "genius," on Saturday afternoon did what only a brilliant flutist and MacArthur "genius" could do: She turned UCLA's Schoenberg Hall into a giant lung.
It is unlikely that this rare feat of oxygenation attracted much notice from the scientists who work nearby in the campus' biology and chemistry laboratories. But Chase, founder and director of ICE (International Contemporary Ensemble), is both a force of musical nature and a force of the flute. As the centerpiece for her "solo" recital sponsored by the school's Center for the Art of Performance, Chase performed and organized the West Coast premiere of Italian composer Salvatore Sciarrino's "Il Cerchio Tagliato dei Suoni" (Cutting the Circle of Sounds), written for four flute soloists and 100 migrating flutists and meant to last 70 minutes.
Whether she attracted the attention of scientists or not, she did bring out the fire marshal. Sciarrino's 1977 immersive flute extravaganza calls for the four soloists to be placed around the hall. The migrant flutists take over the aisles. But the idea of 100 flutists blocking the exits freaks out the fire department.
At first, only 40 were allowed, then the marshal relented and let in a couple of dozen more as long as they kept moving. Perhaps this is why the performance was on the short side, lasting a mere 55 enthralling minutes.
The hall was darkened, with spotlights on Chase, who was onstage, and the other soloists (Michael Matsuno, Erin McKibben and Christine Tavolacci) spread around the hall. The work operated as a kind of large-scale call and response, causing long drones to float around the room or sharp attacks to ricochet off the walls. At one point, Chase conveyed what might have been the call of a lonely loon, answered by loons from afar. Sometimes Schoenberg was filled with sound of breathing, creating a kind of theater of the lung.
The migrants — ranging in age from 10 to seventysomething — roamed or paraded the aisles, their flutes illuminated from inside by LED lights inserted in their instruments. They were atmosphere. They provided cushions for drones or feathery flutter-tongue background that made all the air around them vibrate as though a gentle aural breeze were blowing.
At the end, birdlike migrants transformed into what appeared to be a chorus of panting dogs, only these were panting dogs who could play the flute. It was unlike anything anyone had surely heard before or even ever imagined.
Putting this together is the kind of feat in which Chase excels. Her work with ICE goes beyond being a flutist in the ensemble, commissioning new works or managing what has become the most impressive and sophisticated new music ensemble of its type in New York. She has also helped make ICE a model of outreach and education activities. Through Skype and email, she gathered her migrants from L.A., San Diego, Santa Barbara and Brooklyn. Sciarrino's "Cerchio" was then put together in public workshops Thursday and Friday at the Hammer Museum. Amateurs were welcome.
The prelude for "Cerchio" was a short, meditative work, "Alone," written last year for Chase by Brazilian composer Marcos Balter. "Alone" was not, as almost nothing in this recital was, alone. It involved a percussionist at the audience's left playing wine glasses.
For the second half of the recital before a small but enthusiastic crowd, Chase offered four pieces from her magnificent latest CD, "Density." The works were very different but flowed seamlessly. Chase can seem almost giddy in her enthusiasms when she speaks to the audience. But with flutes (she had them in all sizes from piccolo to bass) in hand she is a staggering virtuoso who plays with the cocky assurance of a rock star.
She began the second half with Steve Reich's "Vermont Counterpoint," for solo flute and 10 pre-recorded flutes, casually walking onstage after the recording had already begun and then jumping right into the complex rhythmic layers. She riffed a bridge into Balter's "Pessoa," a sumptuous score for six bass flutes (five of them pre-recorded), an ocean of overlapping puffy low notes.
With Mario Diaz de León's "Luciform" for solo flute and electronics, she then moved more into the aural realms of outer space. Here, as in everything that had come before, Chase had the benefit of Levy Lorenzo's sound engineering, which not only made her amplified flute sound natural but also balanced her perfectly with electronics, as well as Sciarrino's fluttery flute hordes.
Chase returned to Earth with an incisive performance of Edgar Varèse's "Density 21.5," a classic flute solo (and her only real solo) from 1936 that flutists regard as having put the oxygen in modern flute music. On Saturday, the levels of the molecule in the flute universe never seemed higher.
---
Get our L.A. Goes Out newsletter, with the week's best events, to help you explore and experience our city.
You may occasionally receive promotional content from the Los Angeles Times.