Ann Philbin and the art of the provocative are thriving at the Hammer Museum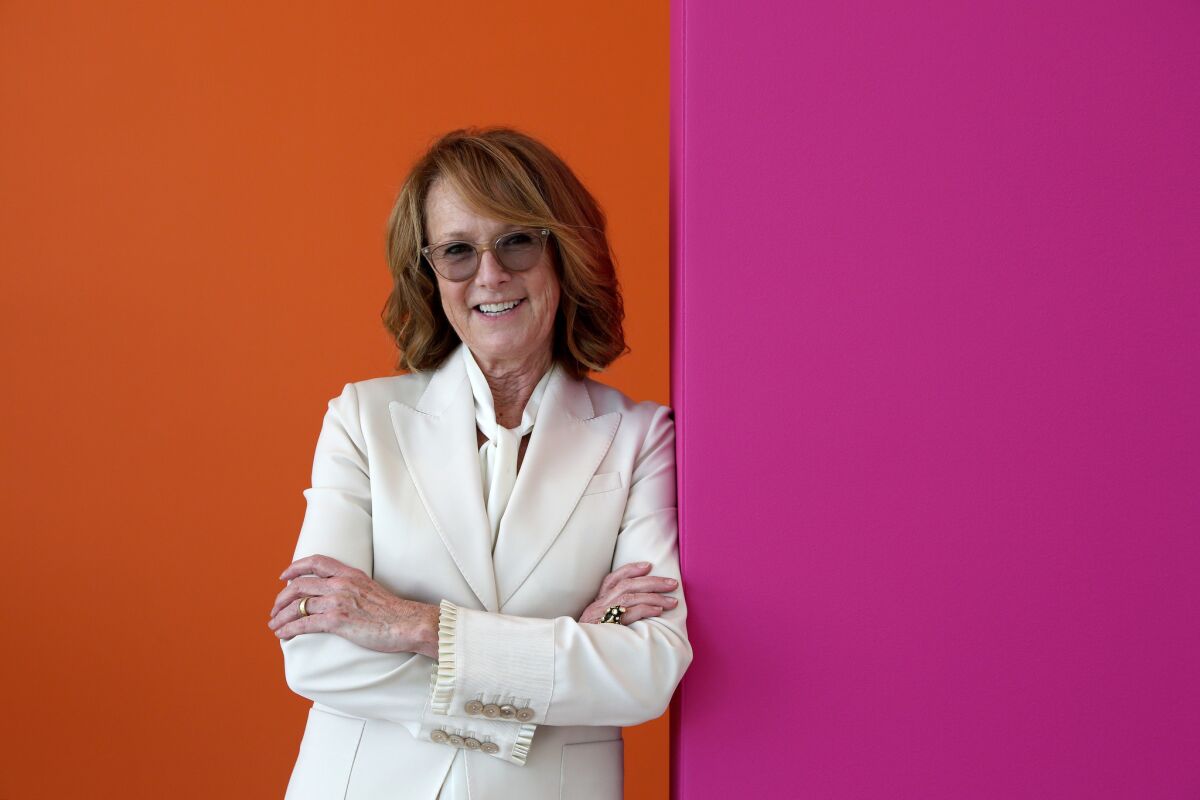 In the 1980s, when the art world was struggling to distill the pain and loss of the AIDS epidemic, Ann Philbin, a young curator with an avant-garde eye and an activist's edge, walked into a New York gallery and came upon a simple and searing work: A white, scoured sink by sculptor Robert Gober.
"It took my breath away," said Philbin, who watched many friends die of a disease that swept through the East Village and inspired gay artists like Gober to respond. "I thought, 'Oh, my God, I have no idea what it means, but for me that sink had all the beauty and pathos of what we were living through in that moment, and what we were living through was horrifying.'"
That reckoning spoke not only to Philbin's aesthetic but to a provocative instinct that art should define its era, challenge its politics and resonate with a truth that can startle and illuminate. Her 19 years as director of the UCLA Hammer Museum have personified that credo, turning the institution into one of nation's most enticing and risk-taking ventures, exhibiting not only contemporary and conceptual art, but holding hundreds of programs a year on topics including racism, civil disobedience, feminism, clean energy and talking sex with Dita Von Teese.
"When I came here," said Philbin, who left the Drawing Center in New York to move to the Hammer, "L.A. was considered not at all an interesting city for art. But in these two decades, it has become the red hot center, arguably in the world. Artists are moving here from Berlin, South America, a lot from Europe. The environment here is not about making money, it's about making art."
Trim and mercurial, Philbin, who once clashed with billionaire Eli Broad over funding and turned away potential board members who didn't share her progressive inclinations, runs on self-assurance and charm. She looks right at you, as if perhaps you're a painting or video installation to be politely scrutinized, and then, if all goes well, conspired with. She is at ease in the penthouses of donors and the cluttered studio apartments of unknown artists, looking for that revelatory find that will celebrate Los Angeles' ascension.
The Hammer's current 'Made in L.A. 2018' biennial exhibition features 33 artists from ethnicities that reflect the city's diversity. It is a signature show that, like many at the institution, highlights new and under-recognized local artists. Throughout her career, Philbin, who started out as a painter, has focused on artists ahead of boards of directors, donors, collectors, the public and other complicated whims and egos that are at once a distraction and necessity for an institution to thrive.
"I started with artists and it took a long time for people to notice anything was happening here," said Philbin, whose operating budget has jumped from $5 million to $25 million since 1999. "But it gave us credibility with the artists. Only in the last six years has the general public finally noticed. We're still building our audience. Sometimes I say more people in Berlin know who we are than in Westwood."
Andrea Bowers, whose work is often politically charged, praised the Hammer last year for hanging her 50-foot mural depicting banks, including one of the museum's donors (Wells Fargo), that were funding the controversial Dakota Access Pipeline, which runs through the Standing Rock Native American reservation. "Annie has amazing courage to do projects that other institutions might not do," said Bowers. "The reason LA has evolved into one of the major art cities in the world has a lot to do with her tenure."
But Philbin fears that the city's allure for artists — many of whom studied at local schools -- is now threatened by rising rents and creeping gentrification, factors that in other cities, notably New York and San Francisco, pushed artists away. The pressure is likely to intensify as Southern California becomes attractive to the tech industry, a shift that could recast the region's character and culture.
"Real estate prices are something that's now talked about all the time. You can feel it changing. It's a big concern for artists," said Philbin. She added that in San Francisco, the tech industry was estranged from the local art scene. "They were in their own little bubble," she said of tech companies. "You can't old hold it (development) back. You can't stop it. But you can do it differently. I hope they understand what it means to be a citizen. If so, we have the potential to alter this landscape in the most exciting way."
Philbin is fierce about the duties of citizenship and the cachet of brand, turning a university museum into a world-class institution, one that has received two recent donations totaling $50 million to underpin a $180-million campaign for renovations, endowment, exhibitions and gallery expansion. "We're going for big game," she said. "Our exhibition partners are MOMA, the MET, the Tate, the Whitney."
That sense of prowess and singularity — the museum's affiliation with the university is not readily apparent on its website — has at times agitated some at UCLA, though Philbin says, "it's not an issue today."
The Hammer's autonomy grew out of legal disputes and financial maneuverings in the 1990s when UCLA took over what was then the Armand Hammer Museum, founded by the CEO of Occidental Petroleum to house his art collection. Brett Steele, dean of UCLA's School of the Arts and Architecture and a member of the Hammer board, said there is no tension between the Hammer and the university, adding that the museum's degree of independence "is something we talk about."
Philbin followed the "strength of her convictions in building this museum into what it has become," said board chairwoman Marcy Carsey, a television producer who donated $20 million last year to the Hammer. "Sometimes she stood up to very powerful people and put her job on the line."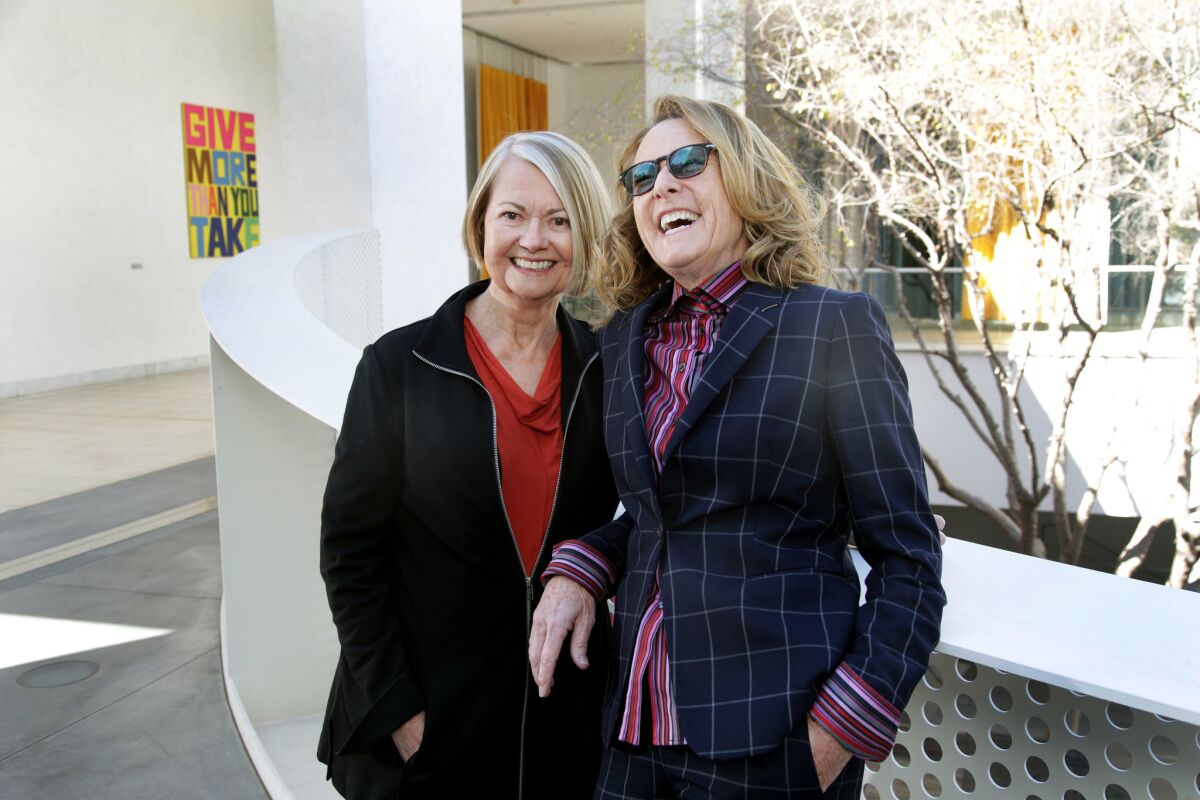 One of those times came shortly after Philbin arrived at the Hammer and learned that then-board member Eli Broad wanted to divert millions of dollars from the sale of a museum-owned scientific drawing by Leonardo da Vinci to start what became the Eli and Edythe Broad Art Center at UCLA. Philbin helped block Broad's attempt, a telling move against one of the city's most powerful arts patrons.
That early encounter appears not to have damaged their relationship. When asked about the matter, Philbin said, "Eli and I had a disagreement in the past, but we're friends now." Broad, who can be temperamental when his plans are challenged, called Philbin "a determined, smart leader who has shown remarkable vision," adding, "Los Angeles is fortunate to have her."
On a recent morning, Philbin, a photographer in tow, walked through the annual Kids' Art Museum Project (K.A.M.P.) fundraiser in the Hammer courtyard. Children painted, weaved, drew and built Legos alongside artists including skateboarder Chad Muska and architect Kulapat Yantrasast. The event raised about $200,000 and provided a glimpse of the celebrity (Bill Hader and Jimmy Kimmel read children's stories), wealth (Chanel and diamonds) and talent (painter Rosson Crow oversaw the collage table) that fuels the LA art scene.
Philbin did tricks with a magician who held a deck of Tiffany & Co. playing cards. The metaphor, though happenstance, was evident: Philbin has navigated the delicate and at times ego-fueled intersection between wealth and art for years, most visibly at the annual museum's Gala, with a guest list that ranges from Sarah Jessica Parker to architect Frank Gehry. The event raised $2.4 million last year.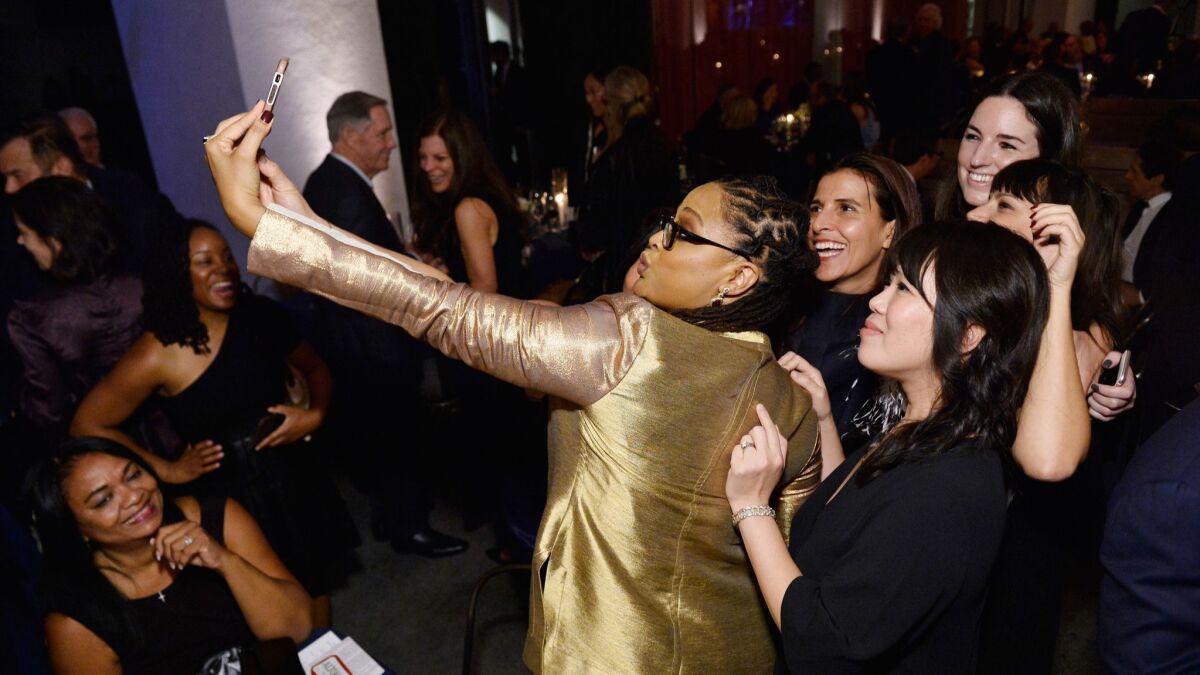 To the consternation of some artists and curators, she has invited celebrities to have a hand in exhibitions. Steve Martin, an intrepid collector, curated a show by Canadian artist Lawren Harris. Will Ferrell and Joel McHale starred in a short video to explain the works in the "Stories of Almost Everyone," a recent exhibition about how we interpret art objects. Philbin thought Ferrell and McHale would add an everyman sense of humor to a show that featured folded socks and piled letters and was inscrutable to many. The video had more than 850,000 views on YouTube and Facebook.
"This was a little controversial because the curators said, 'You're making fun of the art.' And I said, 'No, I'm not. I'm trying to find a way where people can find comfort with their discomfort about this work," said Philbin, adding that one artist refused to be in the video. "One of the works of art was a pillow that had only been slept on by acrobats. I'm sorry, but if we cannot make fun of ourselves. If we cannot make fun of that then we're just…."
The daughter of an artist and a lawyer who worked in President John F. Kennedy's administration, Philbin gets along well with her board ("their job is to support us, not lead us") and is freer to explore her tastes than directors at many other institutions. It would be hard to imagine the leadership turmoil at MOCA — director Philippe Vergne's contract will not be renewed next year – plaguing the Hammer. This has allowed her to concentrate on exhibitions like "Radical Women: Latin American Art, 1960-1985", a recent acclaimed show that featured artists who fought racism, misogyny and political oppression.
"Our public programs are unabashedly progressive in their viewpoints," said Philbin, who is married to Cynthia Wornham, a senior vice president at the Natural History Museum of Los Angeles County. "I have a couple of Republicans on my board, but they're good Republicans [she laughed], and they probably mostly agree with the point of view we're putting out there. Many other museums couldn't get away with that. There are people on their boards who are very partisan. Democrats and Republicans and people who are very wealthy who have very strong points of view about immigration and this and that."
Philbin received a master's degree in museum studies/arts administration from New York University. She remembers the days of Reaganomics, AIDS memorials in Greenwich Village, and when Cindy Sherman worked was a receptionist at Artists Space. And though she is now building a vibrant art scene that reflects Los Angeles, like many in her world, she wants the recognition of New York's cultural media and established order. The art world may be shifting west, but the perception remains that much of its influence is in the east.
She is in some ways is reminiscent of Deborah Borda, who left her post as head of the New York Philharmonic and took over the Los Angeles Philharmonic in 2000. Borda put aside East Coast conventions and, along with conductor Gustavo Dudamel, built one of the most innovative orchestras in the world. So much so that the struggling New York Philharmonic lured her back last year to infuse it with her marketing skills and adventurousness.
"I'm still a New Yorker at heart," said Philbin. "But risk and experimentation are much more embraced in L.A."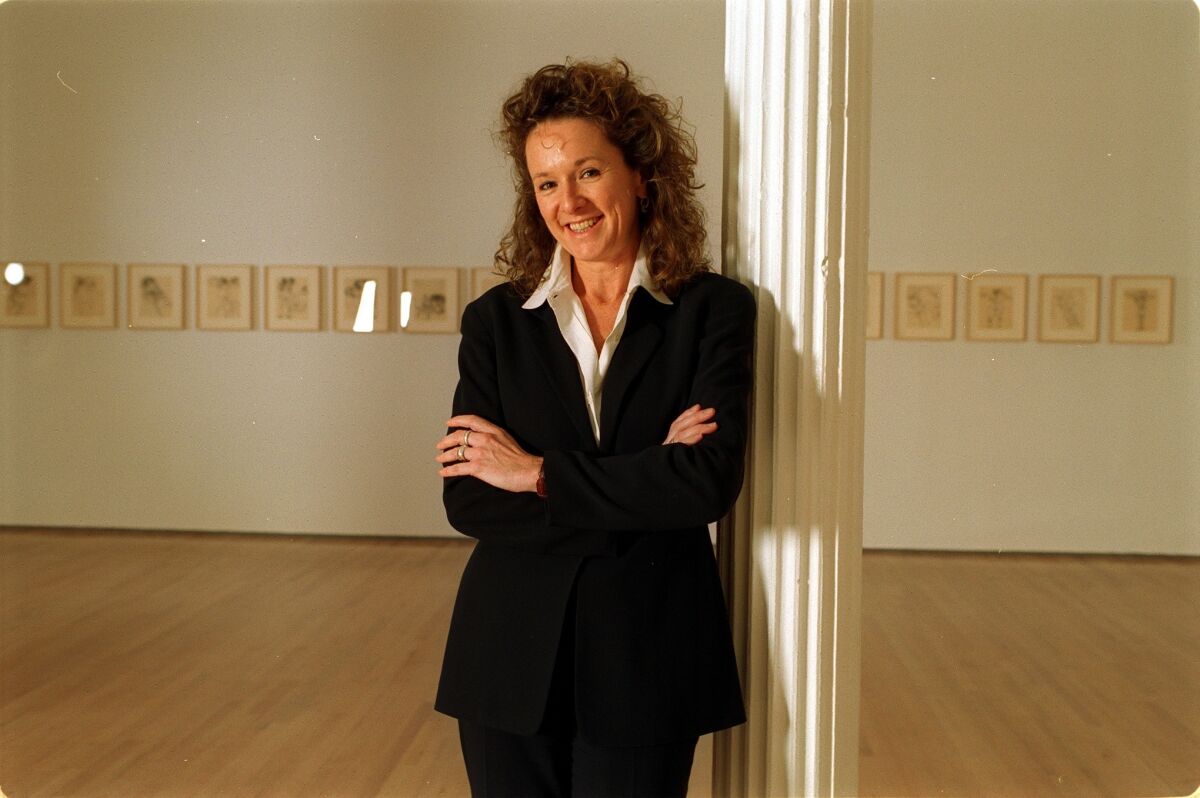 On a May afternoon, Philbin, dressed in ivory-colored pants and a jacket, walked amid pieces being installed for the "Made in L.A. 2018" show, which encompasses topics ranging from climate change to social justice that reflect our unsettled times. They include works by Luchita Hurtado, a 97-year-old Venezuelan-born painter whose images turn the body into landscapes, and Charles Long, a slight man in a black T-shirt who stood next to a sculpture that could be viewed as either the base of a cut-down tree or a severed penis.
"This is the room where patriarchy ends," Long said with a laugh.
"I like it," Philbin said.
The unexpected, a place where imagination finds spark and voice, a style all its own, that's what she saw in Gober's sink during the AIDS crisis. And it defined her many-years quest to meet Lee Bontecou, a sculptor popular in the 1960s who retreated from the public eye to make art in a barn deep in Pennsylvania. Philbin was determined to bring Bontecou's new works to the Hammer.
"I had been writing Lee for 10 years. She never responded," said Philbin. Her break came when Elizabeth Smith, a curator at MOCA, made contact with Bontecou. "So we made this pilgrimage to Pennsylvania. I literally fainted. When she opened the barn doors, I had to sit down and put my head between my legs. The work was phenomenal, and she was doing it in total isolation. It was like it was being seen for the first time. The show opened at Hammer in 2003 and went on to MOMA."
She paused while recounting the story, lingering over the memory of that sublime instant when barn doors swung toward the light.
See the most-read stories this hour »
Twitter: @JeffreyLAT
ALSO
Rage and wonder in 1968: The year war came through the TV and I felt pieces of childhood ending
Paul Schrader wrestles with the sacred and profane in his new 'First Reformed'
How images — sometimes manipulated and altered — are shaping the seething world of our politics
Rage and wonder in 1968: The year war came through the TV and I felt pieces of childhood ending
Get our L.A. Goes Out newsletter, with the week's best events, to help you explore and experience our city.
You may occasionally receive promotional content from the Los Angeles Times.