LAXArt plans Hollywood gallery, citywide project called the Occasional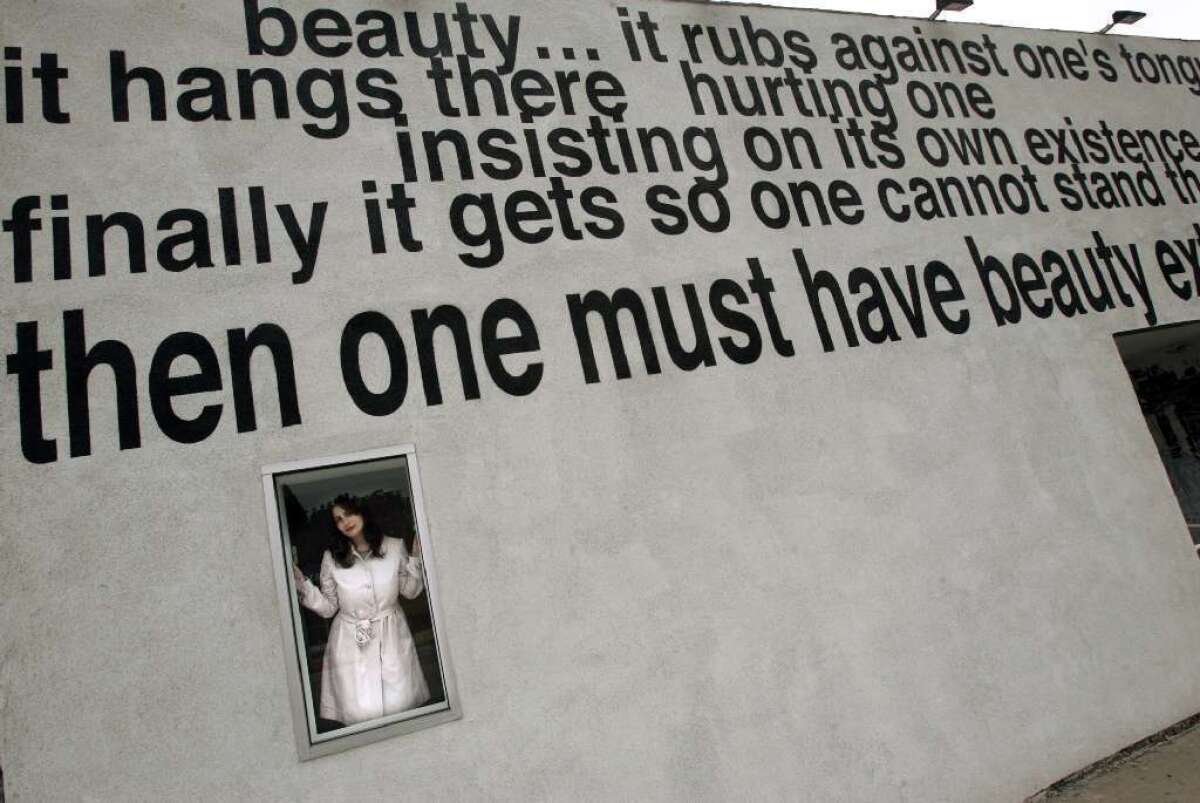 The rapidly growing art hub near Santa Monica Boulevard and Highland Avenue just got busier.
On Tuesday the nonprofit, alternative art space LAXArt announced plans to relocate from Culver City to 7000 Santa Monica Blvd., joining Regen Projects, Michael Kohn Gallery, Hannah Hoffman Gallery and the newest arrival, Gavlak Gallery, in Hollywood.
LAXArt is moving into what used to be the recording studio of Radio Recorders, which captured the voices of Elvis, Billie Holiday, Louis Armstrong and Frank Zappa, among others. The exhibition space's official debut is planned for January 2015, though artists may start creating work there as soon as the next few weeks.
"It's a very busy moment for us," said LAXArt founder and director Lauri Firstenberg, whose organization will turn 10 next year. "We've been thinking about our anniversary for quite some time, thinking practically and ideologically about how you reinvent yourself and continue to respond to the city. Because there's a new dynamism in Los Angeles, an expansion of the art community."
Coinciding with the new gallery space, LAXArt will launch a citywide art initiative called the Occasional. The program will showcase a series of commissioned works, primarily from international artists, that will debut one at a time at the gallery as well as at other L.A. art institutions and at "experimental sites" around the city -- perhaps in a hotel or under a bridge.
The curatorial team for the Occasional, helmed by Firstenberg, includes Sylvia Chivaratanond, an L.A.-based curator at the Centre Pompidou in Paris; LAXArt curator Matthew Schum; and New York-based independent curator Linda Norden.
"It's kind of a non-biennial platform," Firstenberg said. "It's not a group exhibition, but an umbrella for a series of ongoing projects focusing on individual artists and the ways they work and getting new resources into the hands of artists to create new work."
One of the Occasional's first projects, with funding from the Andy Warhol Foundation for the Visual Arts and the National Endowment for the Arts, will be a series of sculptures and signs by L.A. artist Shana Lutker riffing on Paris locations where Surrealist artists gathered, debated, fought and performed during the early 20th century.
Over the next few years, Firstenberg said, the Occasional plans to work with artists Mark Boulos, Nira Pereg, David Hartt and Tavares Strachan, among others.

LAXArt's new space will incorporate a main art gallery, a smaller gallery for new films and videos, two to four project spaces and a sculpture garden.
The move to Hollywood further propels an art gallery migration east. Various Small Fires, relocating from Venice, will open a North Highland Avenue gallery on Oct. 9. This week David Kordansky Gallery, formerly of Culver City, opens on South La Brea Avenue.
LAXArt considered locations "all over" but chose Hollywood because of this particular building. "It was usable and ready to move in," Firstenberg said. "It's not a traditional exhibition space -- it feels like an experimental arts organization. And it seemed to literalize our programmatic needs and desires. We like to put our resources toward art and artists rather than any grand renovation."
To celebrate its 10th anniversary, LAXArt is having a benefit gala on Sept. 27 at Greystone Mansion in Beverly Hills. The event will feature "performances and interventions" by emerging and established artists, including Thomas Lawson, Joel Kyack, Fay Ray, Gerard & Kelly, Jibade-Khalil Huffman, Galia Linn, Tim Youd, Brian Bress and Geraldine Neuwirth.
Get our L.A. Goes Out newsletter, with the week's best events, to help you explore and experience our city.
You may occasionally receive promotional content from the Los Angeles Times.