Review: Thomas Adès and Nico Muhly, with a Natalie Portman assist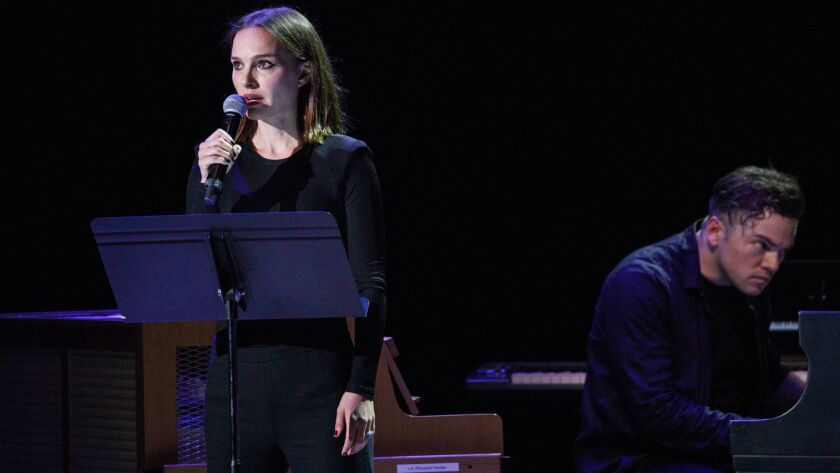 Music Critic
Thomas Adès and Nico Muhly are two major composers with much in common. By his early 20s, Adès, who is now 48, had already been dubbed in his native England the next Benjamin Britten. Muhly, a decade younger, also attracted attention in his 20s as a standout student at Juilliard, a protégé of Philip Glass and an arranger for Björk.
They further share a wide and individual eclecticism that includes early music as well as the world they inhabit — its modernism and its pop culture. They have both shown an unmistakable flair for wickedly thumbing their noses at convention and for reverence of their art form. And they both have coped with unreasonable expectations from the media, becoming examples of what doesn't kill you makes you stronger.
Friday happened to be an excellent day to survey the current state of both composers. In the morning at Walt Disney Concert Hall, the Los Angeles Philharmonic added another feather in its centennial commissioning cap with the premiere of Adès' "Inferno." Well , feather hardly goes far enough. This fabulous, unfettered 45-minute ballet score, given a sensational performance under Gustavo Dudamel, is more like an orchestral rendering of the fashions of the Metropolitan Museum of Art's recent camp gala in New York.
In the evening, Muhly put on an event titled "Archives, Friends, Patterns" at the Theatre at Ace Hotel, a program of his music and what he called lesser-known works by Glass specially designed for the Center for the Art of Performance at UCLA show. It featured a group of New York performers who have had a long association with Muhly, plus a surprise appearance by a Hollywood star.
There are a couple other coincidences between Adès and Muhly. Their most important recent projects happen to be operas inspired by early 1960s films about the upper classes acting badly. Adès' "Exterminating Angel," based on Luis Buñuel's social satire, has just been released on a Metropolitan Opera video. Muhly's "Marnie," which is closer to Winston Graham's novel than the Hitchcock film, reached the Met this season and can be streamed on the company's website.
REVIEW: In his 151st role, Plácido Domingo plays the 'wild cat' as old lion »
Another thing that unites Adès and Muhly happens to be Britten, who loomed over the day. With "Inferno," the first act of what will be a full-length ballet, Adès has produced what will surely be the most lavishly arresting British story ballet score since Britten's Indonesian-themed "The Prince of the Pagodas" in 1957. And wouldn't you know it, the central portion of Muhly's program happened to be a direct, indeed obsessive, tribute to Britten's flirting with Indonesian gamelan music.
The L.A. Phil will premiere the second half the season after next, and the Music Center will present the first staging of "Inferno" in July, with Adès conducting the L.A. Phil.
The 13 sections represent levels of Dante's hell. First there is "Portal," in which a very big orchestra whoops it up with the screaming alarm of "Abandon Hope," so outrageous as to bring a smile, as though this were going to be one hell of a hell theme park.
Lugubrious Liszt is channeled to ferry souls across the River Styx. Paolo and Francesca find themselves on a Tchaikovskian treadmill of whirlwind adultery. Adès has something orchestrally outrageous for everyone — gluttons, popes, critics, flatterers, hypocrites, thieves. No one in the orchestra is neglected in this gaudy parade. The percussion is particularly extravagant, Adès' hand often on the whip.
"Inferno" is the third exceptional major new work Dudamel has premiered this season after John Adams' piano concerto "Must the Devil Have All the Good Tunes?" and Andrew Norman's "Sustain". Dudamel now will concentrate on Mozart, Haydn and Beethoven (all somewhat neglected in the orchestra's centennial urgency for the new) for the next two weeks. On Friday, Dudamel began with an elegant reading of Mozart's "Jupiter" Symphony, followed by the First Violin Concerto. Michael Barenboim was the ardent soloist who added his own Adès-ian ornate cadenzas.
In yet another of the coincidence sweepstakes, Muhly was in a film a few years ago with music by Glass titled "Portals" that was directed by Benjamin Millepied. And Friday's surprise movie star was Millepied's wife, Natalie Portman.
She appeared in the concert's first half, which was devoted to works by Glass that Muhly said were little heard and that were arranged for an ensemble that included violin, viola, two pianos, flute, vocals, two pianos and percussion. Muhly himself handled a range of keyboards. Among the performers were composer Caroline Shaw as vocalist, percussionist and violinist, along with violist Nadia Sirota.
The works happened to be West Coast-centric. Portman dramatized the Young Mrs. Lincoln's non sequiturs in an excerpt from the Rome Segment of Robert Wilson's "the CIVIL warS," originally planned for the 1984 L.A. Olympic Arts Festival and ultimately performed by the L.A. Phil later that year and again in 2014. There were further excerpts from Glass' first commercial Hollywood film, "North Star," as well as from "Mishima," "Monsters of Grace" (which was commissioned by UCLA) and "Satyagraha."
A central set featured Muhly and singer-pianist Thomas Bartlett performing the two-piano gamelan arrangements that Britten once recorded with American composer Colin McPhee, and new songs by Muhly and Bartlett in a similar mode. Bartlett moodily sang/whispered something or another into a microphone as he bent over the piano as if the effort to produce any sound at all were a kind of ecstatic pain. This is also the material of Muhly's latest Nonesuch recording. The good news is that "Marnie" shows him taking a far more nuanced direction.
The other good news is that the all-over-the-map Muhly is at home in drones. "Drones & Viola" and "Drones & Violin" comprised the final portion of a long evening. With Sirota's rich-wine viola, Lisa Liu's penetrating violin and Muhly's gong-like piano chords, the music moves slowly, while still remaining theatrical and even danceable. A manic composer sort of slows down in these pieces, combining Muhly's connection with the Icelandic scene with his Renaissance-meets-Minimalism. Heard in this new context, what it really sounded like was true to the spirit of Britten and the gamelan made modern.
FLUXUS: Why a woman fed hay and water to a baby grand piano outside Disney Hall »
---
From the Oscars to the Emmys.
Get the Envelope newsletter for exclusive awards season coverage, behind-the-scenes stories from the Envelope podcast and columnist Glenn Whipp's must-read analysis.
You may occasionally receive promotional content from the Los Angeles Times.