The politics of wedding cake: 'This Is Us' writer Bekah Brunstetter ices a big year with a timely play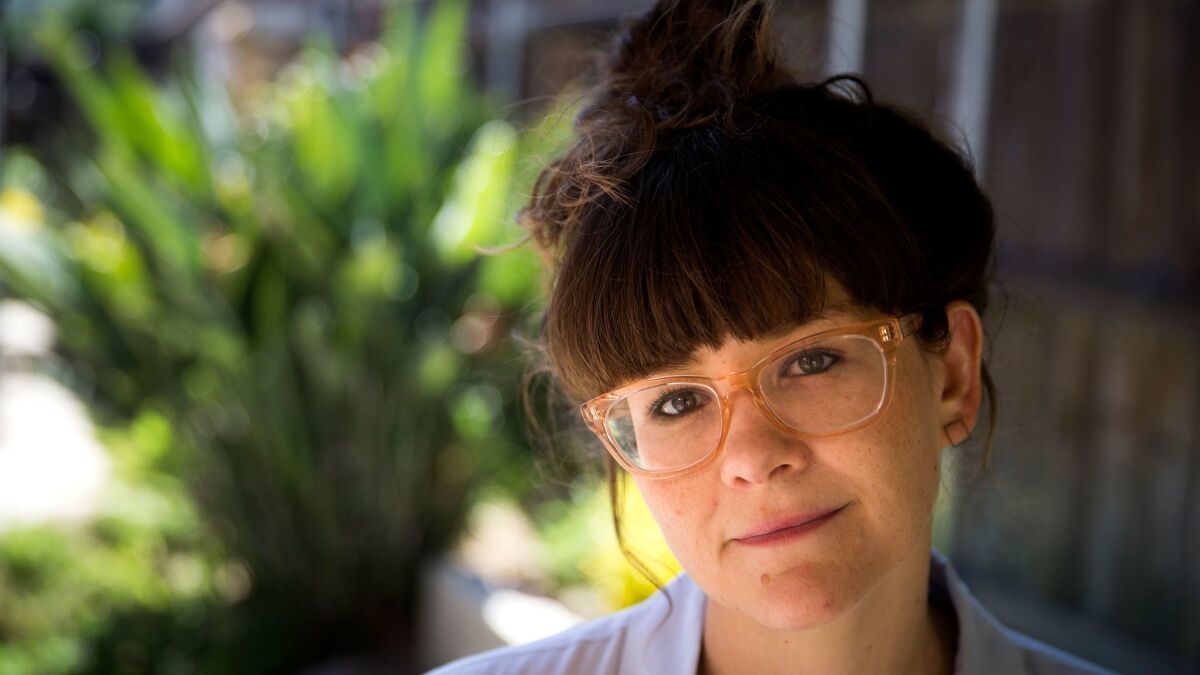 When Bekah Brunstetter needs to think through an issue, she starts writing.
Sometimes she keeps at it until she's come up with a play, such as her new comic drama "The Cake." But what's most important is the impulse to head to a keyboard, which has proved invaluable to a career that just keeps outracing itself. In addition to a stack of theater projects, she wrote for two of this season's hottest television shows, NBC's "This Is Us" and Starz's "American Gods."
"I need to relax more," the 35-year-old newlywed admits. "I will just work all the time.
"The discipline is good, but there is totally a dark side of it."
That doesn't mean she'll change anytime soon.
She's back at work for a second season as a writer-producer for "This Is Us" while also rehearsing the "The Cake" with the Echo Theater Company. Even before the play's first production opens this week in L.A., it is scheduled at four more theaters, including La Jolla Playhouse in February and Houston's Alley Theatre next summer.
"The Cake" has caught attention so quickly in part because of its topicality — it's the tale of a sweet-natured Christian baker surprised by a cake order for a lesbian wedding — and because Brunstetter has become known over the last decade for insightful, relatable, funny writing.
Bekah Brunstetter discusses her new comic drama "The Cake," which will open its first production in L.A.
SIGN UP for the free Essential Arts & Culture newsletter »
Her plays include "Going to a Place Where You Already Are," well received in its premiere at South Coast Repertory last spring, and "Be a Good Little Widow," which has had coast-to-coast stagings, including at San Diego's Old Globe and North Hollywood's NoHo Arts Center.
With so much pouring forth from her laptop, it seems only appropriate that she should be seated in front of it — closed, for the moment, on her dining table/writing desk — as she settles in for a chat one weekend afternoon at home in Los Feliz.
"The Cake" emerged from the division she sometimes feels between her adult life as a writer — first in New York, then Los Angeles — and her youth in Winston-Salem, N.C., where she was raised in the Southern Baptist church.
"I feel like I should show you this picture," she says as she dashes into the next room, returning with a framed photo of herself at age 6, dressed in shiny shoes and sweater-skirt combo as the family minister presents her with her first Bible. A few minutes later, she retrieves the Bible too.
Both are ready reminders of growing up in a warm, steadfastly Christian family.
Nowadays, Brunstetter struggles with religion, so much so that she keeps returning to it as a topic in her plays. But when she travels home, she's never far from it, as when she's invited to lunch with her mom's prayer group. "They are just the most loving, most hilarious women you would ever meet," Brunstetter says. "They're constantly praying for me. It's just this, like, beautiful hug."
These are the sorts of Christians she thinks of when her big-city friends become frustrated with the rate of change as places like her home state wrestle with bathroom laws and same-sex marriage.
"I want to be cool and smart like all of my colleagues and be super-political and intelligent and hold my own in those conversations," she says, "but it's just not me."
Back in North Carolina, she'll find herself at a similar loss for words as she hears others, including her parents, talk about why gay marriage is wrong.
In either situation, she says, "I hear the other point of view echoing in my head" and "I see myself getting split, ripped in half."
That means it's time to write, to put her feelings into words.
"On both sides," Brunstetter says, "they're forgetting the human being that's at the center of this."
So in "The Cake" she puts the argument in human terms. Her pivotal character, Della (portrayed by Debra Jo Rupp, the mom on "That '70s Show"), is a baker in Winston-Salem who follows the recipe in religion as well as baking, but that doesn't mean she's rigid. She is lively, engaging and attuned to others' feelings.
Q&A: Debra Jo Rupp talks about bringing "Cake" to life »
Still, she's caught off-guard when she's visited by Jen, the daughter of her deceased best friend and a young woman she loves as her own. Jen, who's been away for a long time, is pulling together plans for a hometown wedding — to another woman. This comes as a double dose of news to Della, who, when asked to bake the cake, gets flustered.
"A lot of plays are more on the scathing side when it comes to organized religion," Brunstetter says. "It was really important to me to start with a character who has conservative values and make her the hero — start the play with her and, hopefully, have an audience fall in love with her. And then, after we get to know her, have her do something that, quote-unquote, 'we' — the liberal theater audience — don't agree with. And then we have to wrestle with how we feel about her, just like she's wrestling with her belief system.
"I support gay marriage, but I see how painful it is for people to accept it when they have this belief system that has brought them comfort and joy and structure their entire lives. We on this side don't give enough respect to that struggle. It's, like, 'It's 2017, get onboard.' To make a tiny bit of progress, that's more realistic than someone completely changing overnight."
The subject made headlines Monday when the Supreme Court agreed to hear an appeal this fall from a baker ruled to have violated a Colorado anti-discrimination law when he refused to make a wedding cake for a same-sex couple.
Brunstetter wrote "The Cake" as a member of the Echo Playwrights Lab, and the script was given a reading a year ago as part of its development process. "We all just sat there crying," recalls Echo artistic director Chris Fields. "That's what Bekah can do to you."
The play "is infused with humanity and love and humor," he says. "She really understands and loves these people."
South Coast Repertory's artistic director, Marc Masterson, notes the same qualities in "Going to a Place," which SCR commissioned and helped to develop before staging its premiere. "You can see her personality in her writing," he says. "She's warm; she's funny. She's wonderful with actors; people respond really well to her input and her ideas."
Isaac Aptaker, a showrunner for "This Is Us," says his staff benefits from these qualities too. "She has a really empathic imagination," he says. "She's able to come from every character's angle and get in everyone's head. She is just able to tap into anyone's experience."
As an example, Aptaker singles out an episode Brunstetter wrote for the time-skipping family drama in which Jack sets aside his dreams and accepts a drudge desk job to put young son Randall in private school — a parable about parental sacrifice from a writer who has yet to have a child of her own.
The supernatural world of "American Gods" would seem further out of her realm except that in her one season with the show, she took the lead on the research used to shape the goddess Easter. Her religious background and her love for that holiday ("I have a big Easter potluck every year," she says) came in handy.
Brunstetter walks many miles in other people's shoes, something she did for "The Cake" in a timely bit of parallelism.
As she worked on the script, she was preparing for her wedding to Morrison Keddie, an actor, SAT tutor and substitute teacher. They married in North Carolina last October. This meant Brunstetter was on the same path as the brides of "The Cake," Jen and Macy.
"We're two straight, white people; we can do whatever we want. I was thinking about that, how lucky we are," Brunstetter says. Though gay people can marry, there still can be a stigma. "Getting married on its own is complicated enough without adding a whole other layer of how the world's perceiving the relationship."
That's the sort of thought that she wants to send out into the world — to get people talking, to challenge entrenched ideas.
"I am a writer and I love it," she says, "and through this thing that I love I am able to explore different points of view and maybe help equip people for those conversations."
♦ ♦ ♦ ♦ ♦ ♦ ♦ ♦ ♦ ♦
'The Cake'
Where: Echo Theater Company at Atwater Village Theater, 3269 Casitas Ave., L.A.
When: Previews through Friday; opens Saturday. 8 p.m. Fridays, Saturdays and Mondays; 4 p.m. Sundays. Ends Aug. 6.
Tickets: $20 and $34; previews are pay what you can, $15 suggested
Information: (310) 307-3753, www.echotheatercompany.com
Twitter: @darylhmiller
MORE THEATER STORIES:
Allen Leech and Ginnifer Goodwin on 'Constellations'
Dance goes digital in an impressive Barak Ballet premiere
Warhol, Nico, a naked handstand, a crucifix: The Broad kicks off 'Happenings' with songs and shocks
Get our L.A. Goes Out newsletter, with the week's best events, to help you explore and experience our city.
You may occasionally receive promotional content from the Los Angeles Times.