Behind the scenes of the landmark musical's arrival at the Hollywood Pantages on move-in day. Read full "Hamilton" coverage>>
Heard of this little show called "Hamilton"? Oh, that's just a little arts editor humor now that the most anticipated musical to hit Hollywood has rolled into town. I'm Craig Nakano, The Times' culture editor, filling in for your usual newsletter host, Carolina A. Miranda, who will return next week. Until then, we have a behind-the-scenes look at Lin-Manuel Miranda's revolutionary bit of theater history, plus one or two things for you non-Hamiltonians too.
Can 'Hamilton' overcome the hype?
You've heard (or at least heard about) the audacious hip-hop musical about our Founding Fathers, the diversity of the cast, the critical acclaim. For fans who have waited months to see the show, expectations may be impossibly high — just like ticket prices. But in the end, Times theater critic Charles McNulty says, what matters is the work — and this work really matters.
First person: Oskar Eustis
As artistic director of the Public in New York, Oskar Eustis had a front-row seat to the evolution from song collection to theater juggernaut. The power of "Hamilton," Eustis tells us, is its ability to unleash the patriotism that some audience members didn't even know they had, to connect people to their country in a way they may never have felt before. "It allows progressives to unashamedly love America," he writes. Don't miss his first-person piece or the archives photos he shared.
For more "Ham" history, Times staff writer Deborah Vankin compiles an entertaining timeline with the 2009 video of Miranda at the Obama White House's poetry jam, singing, "How does a bastard, orphan, son of a ..."
The new faces of the 'Ham fam'
Staff writer Jessica Gelt catches up with Aaron Burr (otherwise known as Joshua Henry) and Angelica Schuyler (the dynamic Emmy Raver-Lampman) and hears about the power of "Hamilton" to change lives — theirs and others'.
Henry is blown away by parents who bring children to the backstage door every night and point to the actor as the embodiment of the American dream. Raver-Lampman, whom many expect to be a breakout from the show, recounts her journey from background player to spotlight star.
Just how much bubble wrap did they need?
"Hamilton" hit the road with 14 trucks and 42 wardrobe gondolas manned by eight dressers, two pressers, a stitcher and full-time laundry person. (Did we mention the 513 lighting instruments, prop trunks and full-time physical therapist?) Join Deborah Vankin for a behind-the-scenes look of a tour on the move.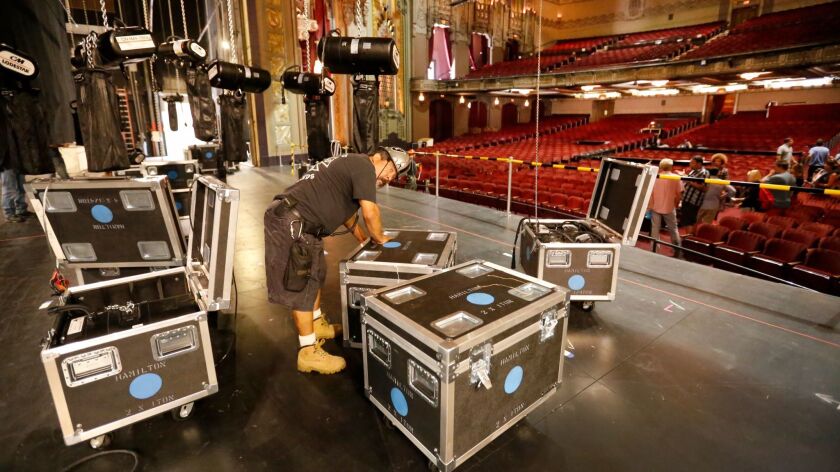 One for the mothers
Alex Lacamoire, music director of "Hamilton," traces his life's path back to — you guessed it — Mom. Writer Tim Greiving explains how Lacamoire's mother fought to keep her hearing-impaired son from getting marginalized at school, and how he rose to become Lin-Manuel Miranda's right-hand music man despite the hearing impairment. "All my life I've missed punchlines — where people just say that one joke and then the whole room starts laughing, and I have no idea what they said," Lacamoire says. But who's laughing now?
In other 'Hamilton' news ...
Our No. 1 story online: Most people are still obsessed with how to get tickets, including the $10 ticket lottery that probably will break the Internet before cats (or "Cats"). Even the employee at Dunkin' Donuts across the street from the Pantages has his tickets.
For those who have seen the show, what's the hottest souvenir? The top sellers in the official "Hamilton" store in New York include a "young, scrappy & hungry" onesie that very well could inspire a fabulous adult Halloween costume in West Hollywood. Just sayin'.
If you're not quite ready to move on, may we suggest: latimes.com/hamilton.
♦ ♦ ♦ ♦ ♦ ♦ ♦ ♦ ♦ ♦
Other arts newsmakers: Dennis Prager, conductor
Inviting a popular radio host who's notorious for comments about gays, Muslims and liberals may seem like a savvy Santa Monica Symphony strategy for free publicity and higher tickets sales, but music critic Mark Swed asks: At what cost?
Warhol's HBO moment
Art critic Christopher Knight tunes into "Brillo Box (3¢ Off)," a short HBO documentary tracing the history of an Andy Warhol sculpture that was purchased in 1969 for $1,000 and eventually sold at auction for a record-breaking $3 million. In his review, Knight offers some compelling history and context you won't hear in the movie.
Michael Moore on Broadway
What happens when Michael Moore confronts the reality of a President Trump? The title says it all: "The Terms of My Surrender." Critic Charles McNulty takes his seat at the Belasco in New York and finds "Surrender" to be less a piece of theater and more a support group for disheartened Democrats.
Barbara Cook remembered
Reader mail has been flowing in for McNulty's appreciation for Broadway and cabaret legend Barbara Cook, 89, who died Tuesday. "Through the songs of Rodgers & Hammerstein, Stephen Sondheim, Jerry Bock and Sheldon Harnick," McNulty writes, "she let her listeners know that their emotional stories were true, that they were not alone and that the survival of their inner lives was what was really worth singing about."
David Lynch, the musical
What if avant garde dramatist Antonin Artaud, William S. Burroughs and David Lynch opened a nightclub? And what if that club were set in hell? That's how singer Timur Bekbosunov describes "Artaud in the Black Lodge," by composer David T. Little and opera impresario Beth Morrison. Writer Catherine Womack dives into the bizarre, surrealistic swirl.
In other news ...
At the Hollywood Bowl, conductor Nicholas McGegan shined with young violin standout Simone Porter and rising star Karina Canellakis made a fine debut with the Los Angeles Philharmonic.
Two Anthony Minghella one-acts at Pacific Resident Theatre provide a compelling window into the filmmaker's prowess as a playwright.
For gallery goers: a group art show centered on man and machine at the Pit, and Farah Atassi painting that are pure catnip for fans of midcentury design.
Last but not least …
As "Smokey and the Bandit" turns 40 years old, Jeffrey Fleishman takes a look at the good ol' boy and portrayals of white working-class men at a time when shifting demographics and technological change are changing our culture.
Support coverage of the arts. Share these stories.
---