For this Malibu artist, 18, the Woolsey fire teaches tough lessons in starting over
Hunter Blaze Pearson has a fiery name. The artist, 18, had evacuated five times in his life, occasions when the Agoura Hills home that he shared with his mother had been surrounded by smoke and threatened by flames. Each time, son and mother returned to find their house at the Seminole Springs mobile home park untouched.
So when he got wind of the Woolsey fire one night in early November, he half-heartedly threw his electronics into a backpack — enough stuff to tell his mother that yes, he had indeed packed. Then he went to bed.
Even when a Nixle alert at 1:30 a.m. instructed them to evacuate immediately, Pearson shrugged it off as routine. His mother, Cindy Ventrice, kept asking him to save his artwork that hung in their hallway like a gallery.
They quickly grabbed a few: three Pop art portraits in acrylic paint, two black-and-white pieces in pencil, a sketch he made as a 4-year-old and a pair of shoes he customized with colored pens. Don't worry about the rest, he told his mother repeatedly. We're coming back. We've always come back.
Later that morning, the Woolsey fire tore through half of the mobile home park. Though Pearson and his mom weren't able to return for 11 days, a friend sneaked in and took a photo. The home — plus Pearson's tools, sketchbooks and archive of 50 or so pieces — had been reduced to debris. (Beyond the five artworks he grabbed, a sixth piece was on display at Malibu City Hall, which did not burn down.)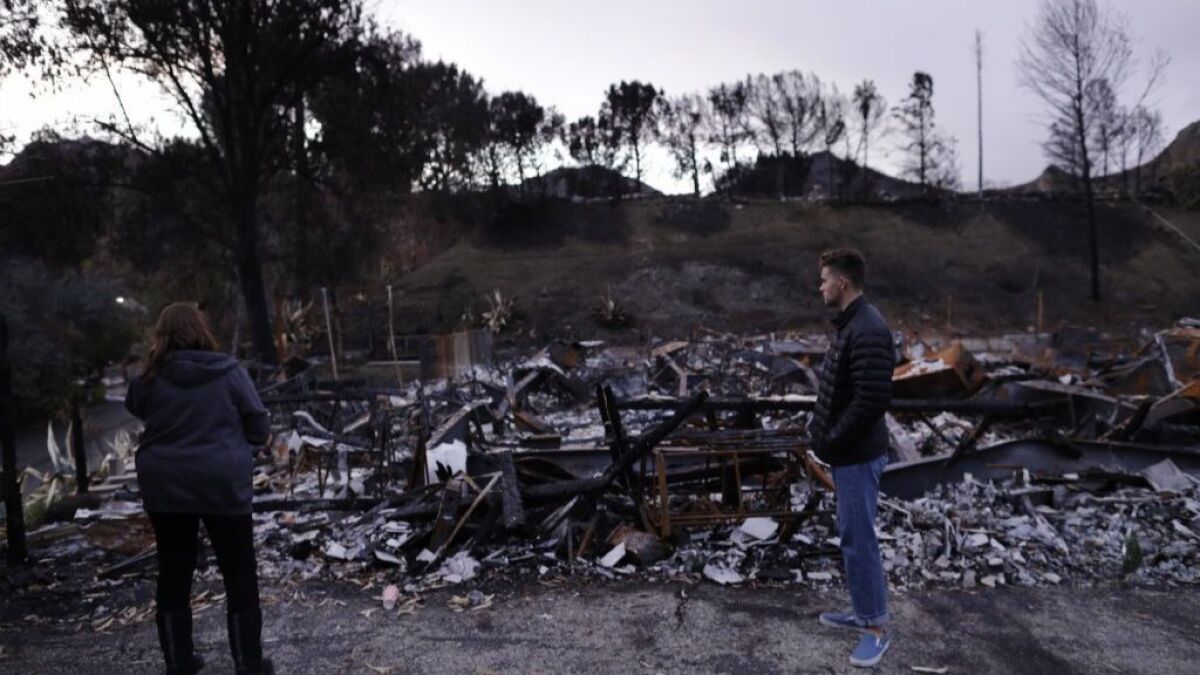 MALIBU FIRE: Lita Albuquerque's lost art and Smithsonian-bound archive »
Pearson has gained new insight about his work after losing so much of it.
"Going there and sifting through the ashes, I saw everything practically became powder," he recalled. "I realized it's all so fragile, and everything I work on is so impermanent in comparison to fire. Everything gets completely incinerated.
"So many people do art that's so profound and with so much meaning behind it, and I've always been worried that my stuff doesn't," he continued. "Now, I'm OK with my art as just an escape, almost like eye candy. You're not looking at it to figure out the meaning of life or anything. Sometimes, it can just be pretty to look at."
Pearson, his mother and their dog, Zuma, were displaced for weeks, hopping between friends' homes and hotels.
"Thanksgiving was at Panera Bread, and Trader Joe's bags were our luggage," Ventrice lamented.
They're renting a two-bedroom home in Agoura Hills while Ventrice takes steps to rebuild through the mobile home company.
Meanwhile, Pearson found refuge in deadlines. The fire hit when he was finalizing concert merchandise designs for Maroon 5. A Malibu High School graduate and an Otis College of Art and Design admittee, he first got the gig after a pair of his customized shoes caught the eye of lead singer Adam Levine (whose younger brother is a former classmate of Pearson's). Fresh off creating designs for the band's Asia tour, Pearson is working on an earbud collaboration with Ultimate Ears.
But the fire also has sparked other ambitions.
"I want to try bigger canvases," Pearson said, "the ones measured in feet, not inches."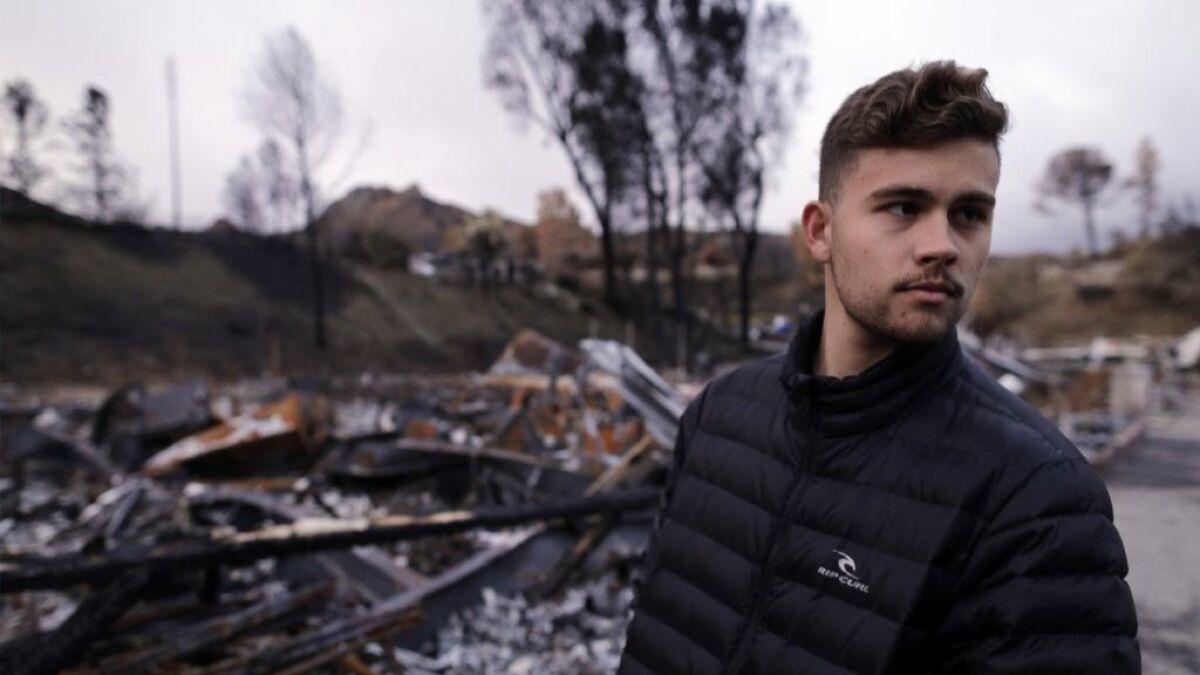 MALIBU FIRES: A location scout loses years of photography documenting vintage New York »
Twitter: @cashleelee
---
Get our daily Entertainment newsletter
Get the day's top stories on Hollywood, film, television, music, arts, culture and more.
You may occasionally receive promotional content from the Los Angeles Times.