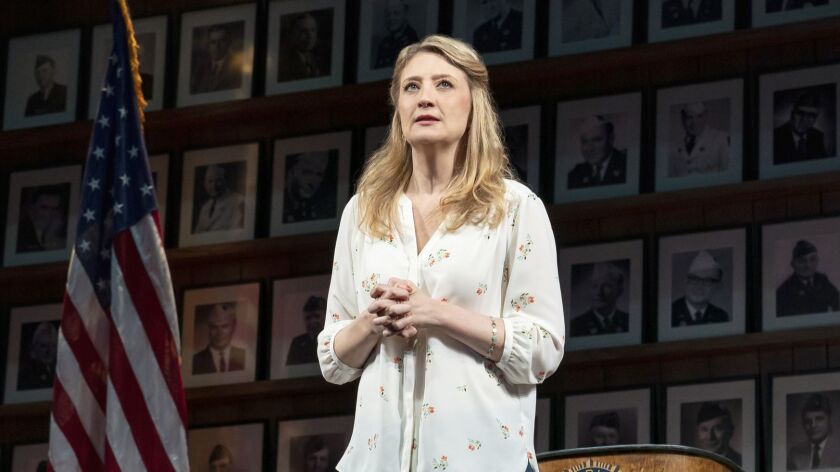 "What the Constitution Means to Me," Heidi Schreck's Tony Award-nominated play that has Broadway buzzing, will come to Los Angeles as part of the 2019-20 season lineup at the Mark Taper Forum and the Kirk Douglas Theatre, Center Theatre Group Artistic Director Michael Ritchie is expected to announce Thursday.
Joining Schreck in the Taper schedule will be Academy Award-winning screenwriter Ethan Coen, who will open next season with a new collection of short plays titled "A Play Is a Poem," and Rajiv Joseph, who will have the world premiere of his play about LeBron James, "King James." Rounding out the list of newly announced productions is August Wilson's "Jitney" and Pulitzer Prize winner Annie Baker's "The Antipodes."

AHMANSON 2019-20: 'Once on This Island,' Matthew Bourne's 'Swan Lake' and Mike Birbiglia »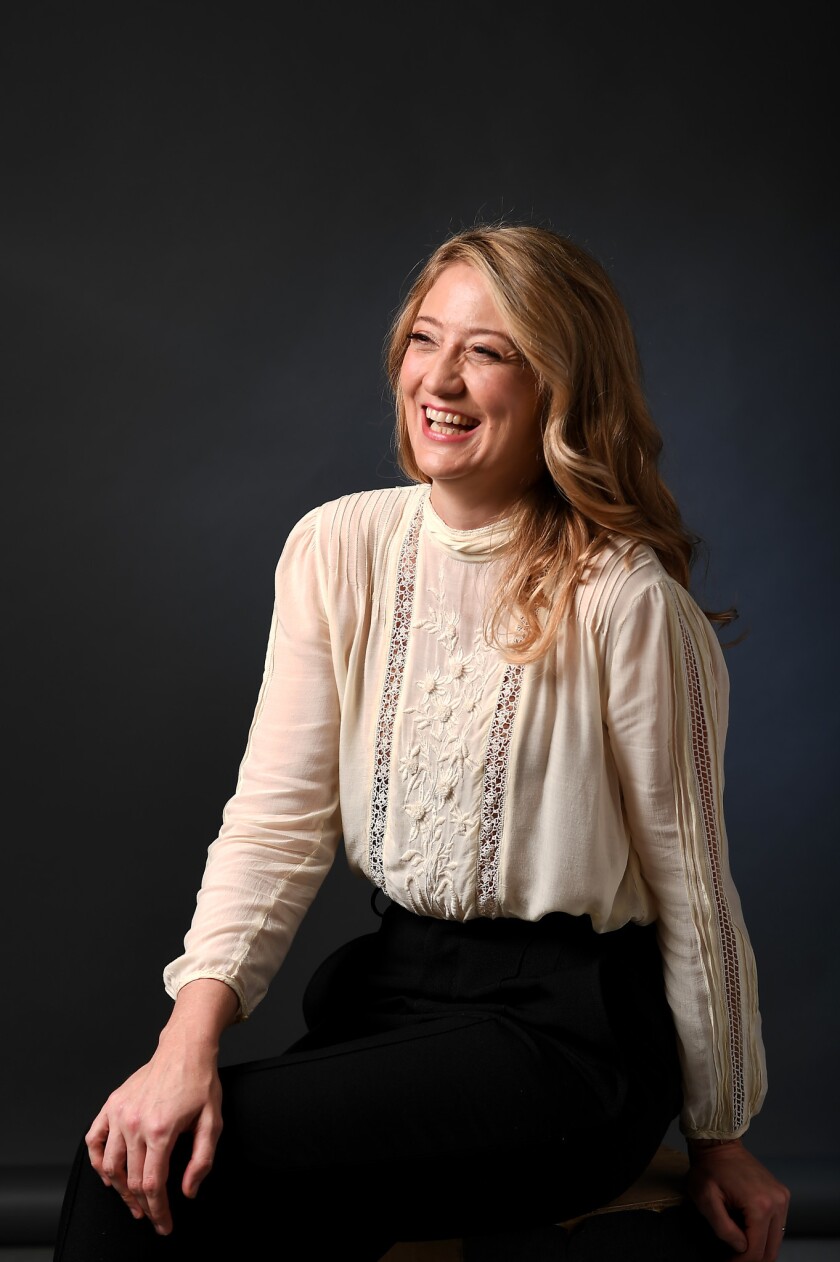 Schreck wrote and stars in "What the Constitution Means to Me," which opened March 31 at the Helen Hayes Theater in New York to glowing reviews. On Tuesday the show earned two Tony nominations — for best play and for Schreck as lead actress in a play. (The Taper was unable to confirm whether Schreck will perform in Los Angeles.) Schreck also was a finalist for the 2019 Pulitzer Prize for drama.
The show is based on Shreck's experience as a teenager earning her college tuition by giving speeches on the Constitution in American Legion-sponsored competitions. Her 15-year-old self gives way to her present-day self, a decidedly less enthusiastic parser of a historic document in which she finds disturbing shades of meaning, noting that women's bodies have been left out of the text altogether.
In seeking to understand how the Constitution affects modern life, particularly for women, Shreck plumbs the depths of her family history to uncover stories with crucial implications for future generations.
Times theater critic Charles McNulty called "What the Constitution Means to Me" a "singularly charming, politically urgent and cathartically necessary play," and praised it for being a "delightfully free-form theatrical experience."
CRITIC'S TAKE: Tony nominations sort out an eclectic, erratic season — with mixed results »
Coen's "A Play Is a Poem" consists of five one-acts set in Appalachia, Hollywood, a New York tenement, an L.A. private investigator's office and a gazebo in Natchez, Miss. Each story aims to serve up an eclectic mix of offbeat narratives about life in America.
"Jitney," which won the Tony in 2017 for best revival of a play, will be directed by Ruben Santiago-Hudson, fresh off his recent Taper run of "Lackawanna Blues." "Jitney" is set in the 1970s and follows the drama surrounding a group of men struggling to make a living by driving unlicensed cabs.
Baker won the 2014 Pulitzer Prize for drama for her play "The Flick." Her latest comedy, "The Antipodes," features nine characters in an unidentified writers room. In a mixed review of the play's 2017 world premiere off-Broadway, Times critic McNulty wrote: "Baker, examining the group dynamics under her high-powered microscope, has a good deal of fun exposing how the creative process has been unnaturally corporatized."
The final show of the season at the Taper will be Joseph's world premiere of "King James," which explores the impact that Lakers' star James had on Cleveland while he played for the Cavaliers. Joseph was a 2010 Pulitzer finalist for "Bengal Tiger at the Baghdad Zoo." His play "Archduke" received its world premiere at the Taper in 2017.
Taper subscribers also will receive tickets to one of two previously announced solo shows presented at its sister venue in downtown L.A., the Ahmanson Theatre: John Leguizamo's "Latin History for Morons" or Mike Birbiglia's "The New One."
TONY NOMINATIONS: The complete list in every category »
The Center Theatre Group also is announcing its lineup for the Kirk Douglas in Culver City. It opens with "On Beckett," a remount of the Irish Repertory Theatre production that is conceived and performed by Bill Irwin, who has long been obsessed with Nobel Prize-winning Irish playwright Samuel Beckett.
"Until the Flood," is Dael Orlandersmith's probing examination of the unrest that infected Ferguson, Mo., after unarmed black teenager Michael Brown's death at the hands of a white police officer in 2014.
The Kirk Douglas will continue its Block Party for a fourth season, remounting two plays from smaller local theaters.
Closing out the season will be "Sakina's Restaurant," written and performed by Aasif Mandvi, the actor, writer and former correspondent for "The Daily Show." The one-man show centers on an Indian immigrant trying to live the American dream while working at a restaurant in New York City.
Tickets are available initially by subscription only. Information: (213) 972-4444 or www.centertheatregroup.org/season.
=====
The Mark Taper Forum schedule in chronological order:
"A Play Is a Poem"
Written by Ethan Coen, directed by Neil Pepe
Sept. 11-Oct. 13
"Jitney"
Written by August Wilson, directed by Ruben Santiago-Hudson
Nov. 22-Dec. 29
"What the Constitution Means to Me"
Written by Heidi Schreck, directed by Oliver Butler
Jan. 12-Feb. 16
"The Antipodes"
Written by Annie Baker, directed by Lila Neugebauer
March 25-April 26
"King James"
Written by Rajiv Joseph, directed by Anna D. Shapiro
Dates yet to be announced
NEW IN L.A. THEATER: Our weekly column on what to see on smaller stages »
=====
Kirk Douglas Theatre schedule:
"On Beckett"
Conceived and performed by Bill Irwin
Sept. 13-Oct. 27
"Until the Flood"
Written and performed by Dael Orlandersmith, directed by Neel Keller
Jan 24-Feb. 23
"Sakina's Restaurant"
Written and performed by Aasif Mandvi, directed by Kimberly Senior
Dates to be announced
CRYING IN THEATER: How one play encapsulates our desire to shed tears with strangers »
---