Mueller report as theater: John Lithgow to portray Trump in new play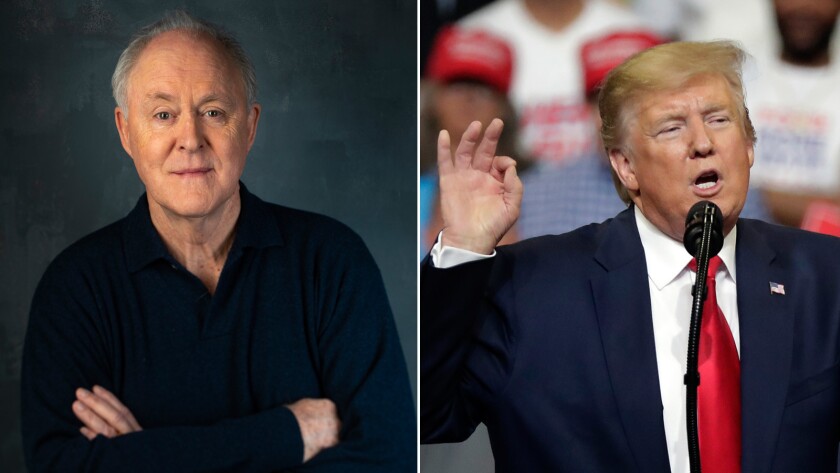 Former special counsel Robert S. Mueller III's investigation of President Trump is coming to the stage with an all-star cast.
Mark Hamill, Julia Louis-Dreyfus, Sigourney Weaver, Alyssa Milano, Zachary Quinto, Alfre Woodard and Michael Shannon are among those who will participate in a live reading of the new play "The Investigation: A Search for the Truth in Ten Acts" on Monday night.
Directed by Scott Ellis, the 70-minute, intermission-less performance will feature John Lithgow as Trump, Kevin Kline as Mueller, Joel Grey as Jeff Sessions, Jason Alexander as Chris Christie and more.
Kyra Sedgwick, Gina Gershon, Piper Perabo, Justin Long, Frederick Weller, Ben McKenzie, Noah Emmerich, Wilson Cruz and Aidan Quinn are also part of the cast, who are appearing in the production pro bono. Former White House press secretary Bill D. Moyers will introduce the reading, and Annette Bening will serve as its narrator.
The one-night-only event will be performed in front of a live audience at New York's Riverside Church and simultaneously livestreamed, beginning at 6 p.m. Pacific time. It is executive produced by Susan Disney Lord, Abigail Disney and Timothy Disney.
Pulitzer Prize-winning playwright Robert Schenkkan ("All the Way," "The Kentucky Cycle") adapted the script from Mueller's report, on whether Trump obstructed justice during the 2016 presidential campaign.
"The Mueller report is full of startling, funny, shocking, disturbing human behavior. You can't make this stuff up. Your jaw is on the ground," Schenkkan told The Times hours before the reading, which uses the verbatim text of the report.
"This is everything you need for a satisfying performance. The stakes couldn't be higher, and, of course, the characters are just so theatrical."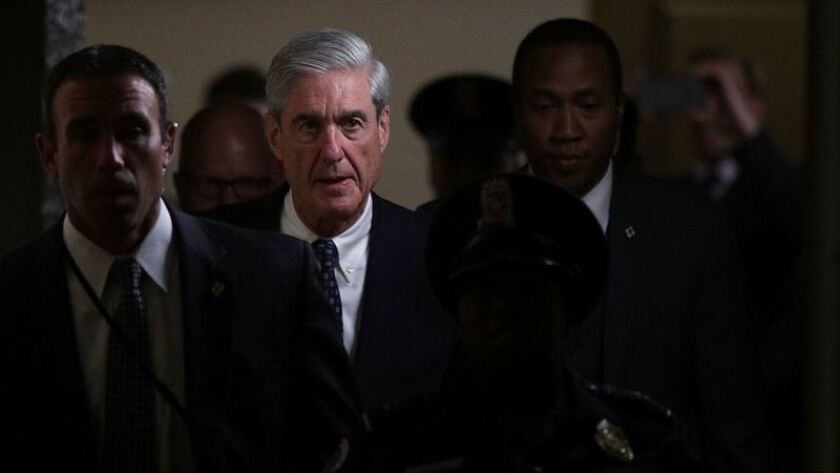 Schenkkan was sought out by producers to adapt the legal document for the stage.
"I had been very frustrated about the inability of the report to gain traction — so few people have read it, including those in Congress," he said. "The lawyers did a superb job, but it's a legal document… it's a little hard to work through as a citizen. But it's a classic Watergate story, where it's not just the crime but also the coverup that gets people in trouble."
Schenkkan streamlined the 448-page report into a 10-act play with the help of LawWorks, an organization that assists people in need of free legal advice and that is also a presenter of the event.
"We hope to make the central narrative of the report very clear to anyone: What actually happened; who did what, when and why; and why it matters," he said. "I hope people will find it illuminating and thought-provoking, and ultimately move them to action, whatever that means to them."
What if Trump himself tunes in to Monday night's performance?
"Well, I don't think the president was very enamored of the report to begin with, but maybe even he didn't take the time to read all of it," Schenkkan said with a laugh. "So this might be helpful to him."
Watch Robert De Niro and Stephen King explain the Mueller report »
"The Investigation" is the entertainment world's latest take on the Mueller report, which was also at the center of a recent Now This video with Robert De Niro, Stephen King, Martin Sheen, Laurence Fishburne, Sophia Bush, Rob Reiner, Rosie Perez, George Takei and Jonathan Van Ness. It's also the subject of a number of newly launched true-crime podcasts.
Twitter: @cashleelee
---
Inside the business of entertainment
The Wide Shot brings you news, analysis and insights on everything from streaming wars to production — and what it all means for the future.
You may occasionally receive promotional content from the Los Angeles Times.