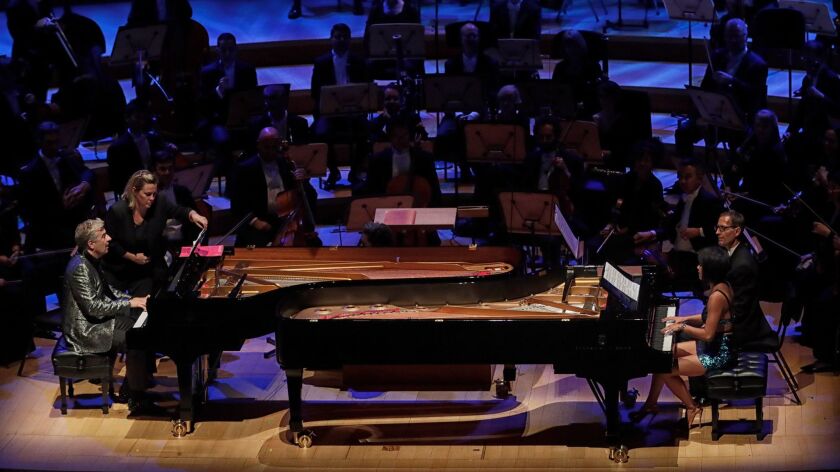 Guidelines for an orchestra gala tend to go something like this:
Be flashy. Show off the orchestra. Get Yo-Yo Ma as soloist. Keep it short. Dumb down. Remember that many paid generously for the posh party afterward.
Ever the disrupter, the Los Angeles Philharmonic opened its season Tuesday night with an annual gala that this time featured but a chamber orchestra. It began with a symphony by an 8-year-old!
The L.A. Phil had already called upon Ma a couple of weeks ago at the Hollywood Bowl, where an audience of unprecedented size listened with rapt attention to the cellist play six Bach suites nonstop for three hours.
Tuesday's gala was shorter (by half) and more lightweight. But the orchestra, nonetheless, remarkably refused to underestimate its classy crowd. The reward at the end: chocolates in elegant paper parachutes dropped from the Walt Disney Concert Hall ceiling.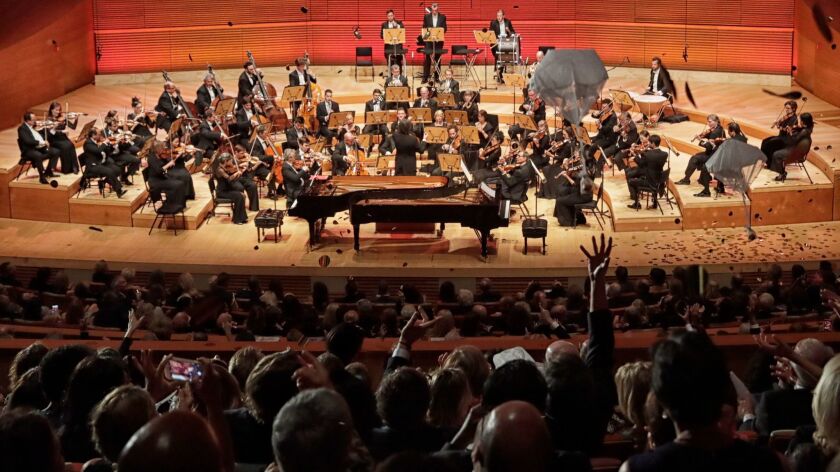 Gustavo Dudamel is devoting the first two weeks of the season to works that a 35-year-old Mozart wrote in his last year, among them his final piano concerto, sublime clarinet concerto, last ravishing chamber piece (a string quintet) and about an hour's worth of "The Magic Flute." The gala, titled "Mozart — the Early Years," was a brief but illuminating look at where it all began.
How it all began, as Dudamel noted in his remarks to the audience, is another matter. The program followed Mozart's all-but-measureless development over about a dozen years from the juvenile Symphony No. 1 to his brilliantly Mozartean Concerto for Two Pianos written a couple of hundred pieces later. The use of a small orchestra was not, incidentally, to save money, since the purpose of the gala is to support the L.A. Phil's education projects and the players donate their services. This was simply about not compromising on a good idea.
Still, star performers were welcomed, and they included Austrian soprano Anna Prohaska singing Mozart's first hit, "Exsultate Jubilate," and no less than Jean-Yves Thibaudet and Yuja Wang as the two-piano team in the double concerto.
No one would bother with the 10-minute Symphony No. 1 were it not in the childish hand of you-know-who. It is predictably formulaic. But that show-off opening fanfare followed by an alluring series of string chords already seem to herald a Mozart trait. The melodies may be obvious and their development rudimentary, but the sheer élan, which Dudamel enthusiastically emphasized, is stunning.
Jump three years to an 11-year-old's operatic school assignment, the duet "Discede Crudelis" from "Apollo et Hyacinthus," strikingly reveals Mozart's early talent for theater with an indiscreet vocal flair that Prohaska and countertenor Tim Mead made impressively evident. In this context, Prohaska's probing account of "Exsultate Jubilate" demonstrated that the work need not be treated as a teenager's glitzy vocal showpiece, as most sopranos are tempted to do, but an example of Mozart's early yet deep maturity.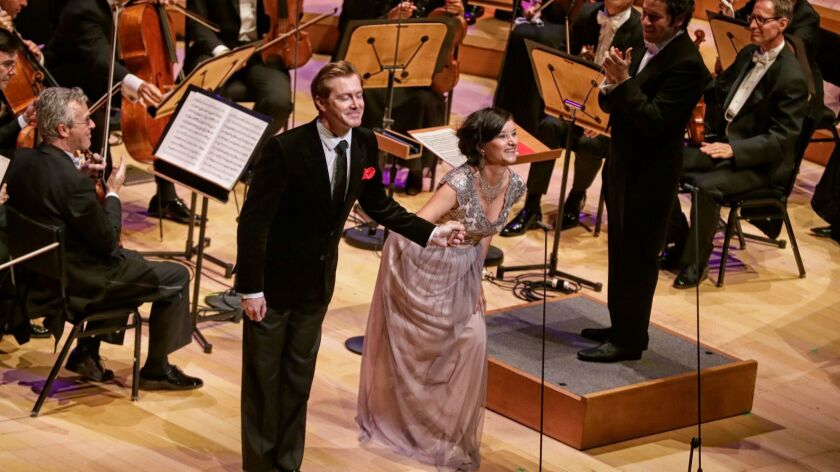 Wang and Yefim Bronfman were originally to be the soloists in the double concerto, but Bronfman has come down with pneumonia and Thibaudet was a last-minute replacement. And a lucky replacement. First of all he and Wang share a love for glitter, although it proved hard for her to compete with the older pianist since her dress was so skimpy. Thibaudet took advantage of covering his jacket and shoes with sparkle.
The sparkle carried over to Mozart, who wrote the concerto as a loving dialogue for himself and his sister. Thibaudet set a supremely suave tone. Wang's responses were more adamant, a playful anything-you-can-do-I-can-do-better. This is an irresistible piano duo in the making.
Following a two-piano Milhaud encore, Dudamel added the splash of the overture to "The Abduction From the Seraglio," still early Mozart but by this point an opera great. Finally, in breaking every rule of galas, the orchestra rained on this parade Mozartkugeln — the rich chocolate and marzipan balls sold in the composer's hometown, Salzburg — potentially spoiling the appetite of those headed for the gala dinner, but whetting the appetite for the Mozart to come.
MORE ARTS NEWS AND REVIEWS:
Prices rise at the Hollywood Bowl
L.A. Master Chorale lifts 100 voices for Bernstein
Demons, on the feet and in the soul, in Matthew Bourne's 'The Red Shoes'
---