Pulitzer for music goes to Ellen Reid for her first opera, 'prism'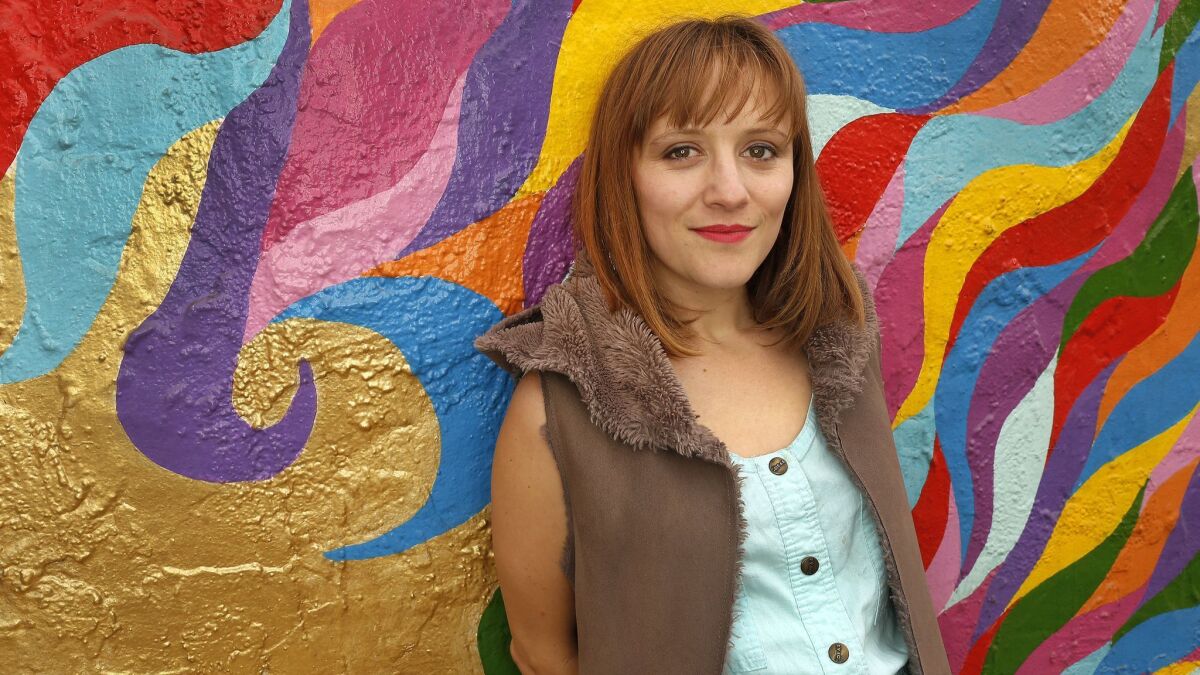 Ellen Reid, the Los Angeles composer whose debut opera centered on a young woman's agonizing struggle with the psychological effects of sexual assault, has won the Pulitzer Prize for music.
"It feels unreal — like I'm going to wake up!" Reid said by phone shortly after the announcement Monday in New York, where she was celebrating with a sushi lunch with her boyfriend, Adam Lesser. (A piece of uni, she said, arrived at the table with a candle in it.)
Reid's opera, "prism," with a libretto by Roxie Perkins, premiered in November at REDCAT in Los Angeles as part of L.A. Opera's Off Grand series for experimental works, co-presented by Beth Morrison Projects. Times critic Mark Swed hailed the piece as brilliant, writing that Reid is "a maker of wonder, mystery, suspense, fear and glory. Notes slide into one another as if guided by a secret force. Melodies are endless and inventively transformed, the atmospheric pressure ever changing."
REVIEW: With Ellen Reid's incandescent 'prism,' an opera composer is born »
The composer said "prism" resonated "because it's a story that has happened to so many people. The story is about how deeply something like sexual assault can affect you. And sitting with it for a long time and having such a supportive team, we were able to go to the depths of something."
L.A. Opera President Christopher Koelsch called the work "insightful, incisive, wrenching, knowing, erudite."
"She's marrying the kind of compositional history of the art form with a much more contemporary vision," said Koelsch, who added that the Off Grand series was conceived for artists like Reid — "a way for the opera company to engage with an exciting, emerging class of composers," he said. "So when that work is recognized nationally, outside of the L.A. ecosystem, it's a proud moment for both the company and more importantly, the artists we support."
Reid, 36, a Tennessee native who splits her time between L.A. and New York, has seen her star rise quickly.
With "prism," she became the first composer to have a world premiere with Los Angeles' four major classical music institutions: the Los Angeles Philharmonic, L.A. Master Chorale, L.A. Chamber Orchestra and L.A. Opera.
Reid's "Petrichor," which the chamber orchestra commissioned, premiered in February 2018. "Dreams of the New World," a 40-minute choral work exploring hope and the American dream, was co-commissioned by the Los Angeles Master Chorale (with the Choir of Trinity Wall Street) and premiered at Walt Disney Concert Hall in May 2018. "Oscillations: One Hundred Years and Forever" was an L.A. Phil centennial season commission that premiered in October.
Reid also wrote music for artists Janet Cardiff and George Bures Miller's immersive "video walk" installation with 3-D sound, "Thought Experiments in F# Minor," which premiered at Disney Hall in March. Reid's composition, "#Bang huM oFFice ruin," was a reinvention of Bach's Fugue in F-sharp minor.
She first landed on some critics' radar with Yuval Sharon's inventive 2015 mobile opera, "Hopscotch," staged around downtown L.A. and its environs, for which Reid was one of the composers.
As a self-described composer and sound artist, Reid has followed a somewhat unusual path. She graduated from Columbia University in 2005 with a bachelor's in music, focusing on musicology and computer music. She lived in Thailand for 2½ years, where she taught music at an international school. Working in a Bangkok theater, she became interested in Thai classical musicians, which eventually led her to opera, she said.
In 2009, Reid moved to L.A. to pursue a master's in composing at CalArts.
"There's vast creativity and possibility in L.A.," she said. "Definitely going to CalArts helped me find my path — which I think reflects the L.A. mind-set."
L.A. composer Andrew Norman was a Pulitzer finalist in the music category for "Sustain," an L.A. Phil commission.
In another arts category, the Pulitzer for drama went to Jackie Sibblies Drury for "Fairview," which Times critic Charles McNulty called "a 21st century play with a radical 1960s soul," a play that "deconstructs the warping power of the white gaze." In his review last month of Drury's latest work, "Marys Seacole," McNulty praised the playwright's conceptual brilliance and further hailed "Fairview" as the most breathtakingly innovative play he saw last year.
The finalists in the drama category were "Dance Nation" by Clare Barron and "What the Constitution Means to Me" by Heidi Schreck.
Support our coverage of local artists and the local arts scene by becoming a digital subscriber.
See all of our latest arts news and reviews at latimes.com/arts.
---
Get our L.A. Goes Out newsletter, with the week's best events, to help you explore and experience our city.
You may occasionally receive promotional content from the Los Angeles Times.