Dora De Larios, innovative artist known for creating ceramic work that reflected L.A., dies at 84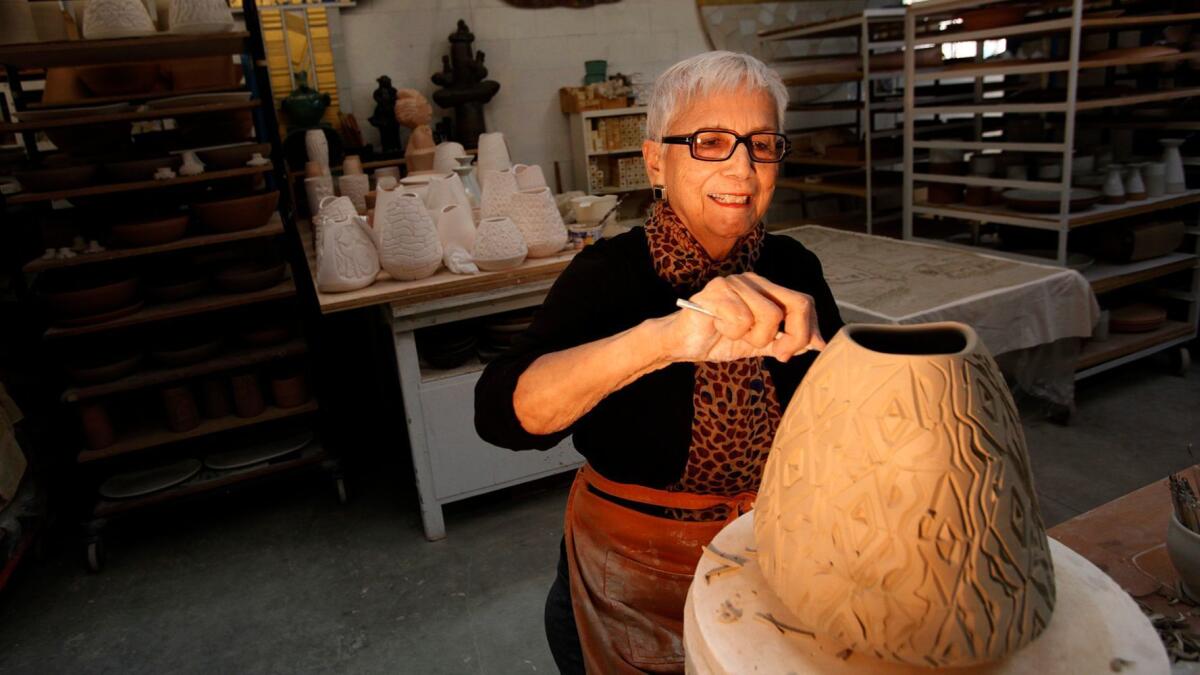 Dora De Larios, an inventive ceramic artist known for her bright public murals, whimsical sculptures and the crafting of a set of dishes on an impossible deadline for a White House luncheon, has died at 84.
Her death at her home in Culver City on Sunday came after a four-year battle with ovarian cancer and was confirmed by her daughter, Sabrina Judge.
The artist, who over the course of six decades produced work that has graced museums, hotels and public spaces in cities around the world, worked until the very end.
"She always said, 'I want to work until I plotz' — and she did," Judge said. "She was working, drawing until probably six days before she died. Her hand was still sharp. The lines were still great. What an incredible way to live."
When she passed away, De Larios was in the midst of preparing for an expansive survey of her work that is scheduled to inaugurate a new 2,800-square-foot gallery at the Main Museum in downtown Los Angeles next month.
"Dora was an artist who followed her own path," said Main Museum director Allison Agsten, who is curating De Larios' show. "There was a time the kind of work that she was making really felt like it was outside the context of Modernism, but that's what I appreciate about her.
"She had a certain kind of endurance. She made work for decades — sometimes people weren't paying attention, but she still made work. And it stands the test."
In an interview with The Times late last year, De Larios said she never felt the desire to conform to the artistic conventions of the 20th century — be it abstraction or minimalism.
"I had to follow my own dream," she said, retaining an air of fierce grace even as cancer claimed her body. "I really didn't care what others were making."
Throughout her career, De Larios' work took singular forms — as small, sprightly sculptures of animals and towering goddesses — inspired by her interest in pre-Columbian craft and ancient Japanese design.
In a 1960 profile in The Times, writer Beverly Johnson noted that De Larios' sculptures "seem to have sprung from the other side of Alice's looking glass — a curious but agreeable blending of the primitive and the refined."
That unusual blend was shaped in part by the artist's Los Angeles childhood.
De Larios was born in 1933 in Boyle Heights to a pair of Mexican immigrants. Her father, who hailed from Mexico City, was a great admirer of culture and often took the family to museums — both in California and Mexico, where they would return regularly on family visits.
It was during a trip at age 6 to the National Museum of Anthropology in Mexico City — where she was fascinated by the museum's intricately carved Aztec calendar — that De Larios knew she wanted to become an artist.
Her youth in Japanese American districts in South Los Angeles further shaped her aesthetic worldview and inspired a long-running interest in Japanese art and culture. It would also result in an experience that would haunt her for the rest of her life: the moment when the U.S. government rounded up her Japanese American friends and neighbors and hauled them off to internment camps during World War II.
"As a child, it was very traumatizing," she said in 2017. "I mean, if they could go, who would be next?"
De Larios fell in love with clay during a ceramics class at Dorsey High School in South L.A. — to the point of becoming obsessed. She later cultivated her craft in the ceramics studio at USC, from which she graduated with a degree in ceramics in 1957.
Her career — which spanned more than half a century — was one of her own devising.
Shortly after graduating, she found studio space and began crafting decorative and functional work that she often sold herself: dishes, candle holders, eccentric animals. In 1968, with her friend and fellow ceramicist Ellice Johnston, she established Irving Place Studio, where a group of half a dozen female artists all shared resources and staged their own sales. (They also exchanged child care and recipes.)
"She was a woman of color who had to make a way for herself at a time when there wasn't a natural path," Agsten told The Times earlier this month.
The hard work paid off.
By the 1970s, De Larios began taking on architectural commissions, creating bright ceramic murals and large-scale monuments — including a library in Compton and a sculpture in Nagoya, Japan. Among her most notable works in this guise: crafting the color and texture for an 18,000-square-foot mural for the atrium of Disney's Contemporary Resort in Orlando, Fla., based on a design by Mary Blair.
But one of the most prestigious — and perhaps the most surprising — moments of her career came in 1977, when she was asked to create 12 hand-painted table settings for a White House luncheon in less than 40 days.
"It was crazy," De Larios told The Times late last year. But her works — delicately painted blue-and-white majolica dishes — were a triumph.
She made work for decades — sometimes people weren't paying attention, but she still made work. And it stands the test.
— Allison Agsten, director, Main Museum
Throughout her life, De Larios had a career that defied expectation.
When other artists were crafting work inspired by Modernism, she continued to examine her Mexican heritage. When other ceramic artists quickly gave up, she kept on hitting the studio. She worked throughout her marriage to architect Bernard Judge (which ended in divorce in the '80s) and she worked while raising her only daughter.
In 2012, she and her daughter revived Irving Place Studio as a company that sells a line of De Larios' decorative and functional objects — a way of introducing her work to a younger generation interested in craft.
"It was sheer determination," Judge said. "It was not easy. It was not easy financially. Anybody else would have given up because it was too difficult. She didn't.
"She was stubborn, that was a part of it," Judge added with a laugh. "When she was dying, she said, 'I'm ready to go. But you know me — I'm stubborn.'"
De Larios could simply never imagine a life without clay, without creating.
"There's still so much to learn," she told The Times in 2015, as she dealt with the effects of her cancer. "It keeps me charged up. When I was sick, I'd come to the studio, sometimes for only two or three hours. It saved my life by taking me outside of myself."
De Larios is survived by her daughter, her son-in-law, Aaron Glascock, and her grandchildren Ume and Mose Judge-Glascock.
Sign up for our weekly Essential Arts & Culture newsletter »
Twitter: @cmonstah
ALSO
Ceramic artist Dora De Larios on shaping her own path by melding the Mexican, Japanese and Modern
At 81, ceramic artist Dora De Larios still creates for new audiences
Jan Baum, art dealer who pioneered La Brea's gallery row in the 1980s, dies at 89
Get our L.A. Goes Out newsletter, with the week's best events, to help you explore and experience our city.
You may occasionally receive promotional content from the Los Angeles Times.