Essential Arts & Culture: Art after the crash, a museum rises in Houston, an innovator of dance on video
Los Angeles culture has been hopping this week. I'm Carolina A. Miranda, staff writer at the Los Angeles Times, with this week's essential culture news:
ART & THE CRASH
It's been 10 years since the biggest Dow Jones drop in history. The Times looks at the long-lasting effects of the recession on L.A. culture. "It's been a period of great institutional abundance, growing cultural confidence, and a staggering cost of living, especially for the artists who make it all happen," writes Scott Timberg. "The long-term effects of the crash are not entirely clear because some are sorting themselves out." Los Angeles Times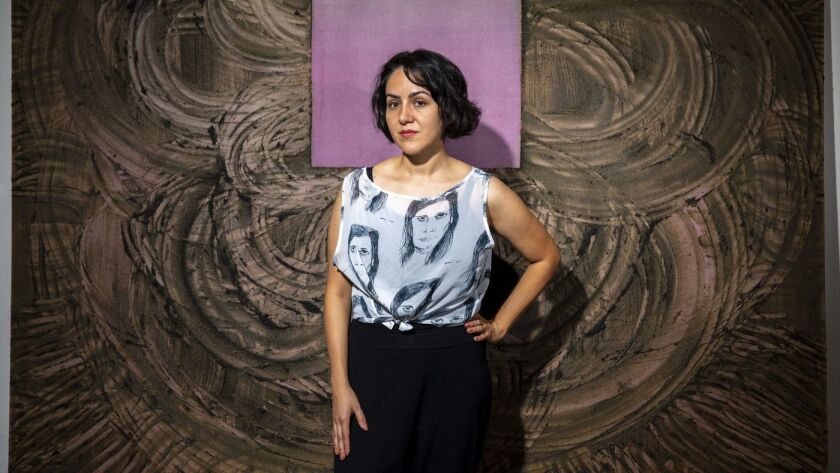 In related stories:
— Charles McNulty looks at how theaters became more attuned to working class stories, such as Lynn Nottage's "Sweat," but "the reliance on salacious box office bait has only intensified."
— Mark Swed notes that the city's classical music institutions have weathered the storm, and in fact, the Los Angeles Philharmonic stands as a shining example of what happens when you invest.
— In visual arts, Christopher Knight zeroes in on the market. "The Great Recession," he notes, "had a significant role to play in cementing the idea that contemporary art could be an asset class, like stocks, bonds, equities or money markets."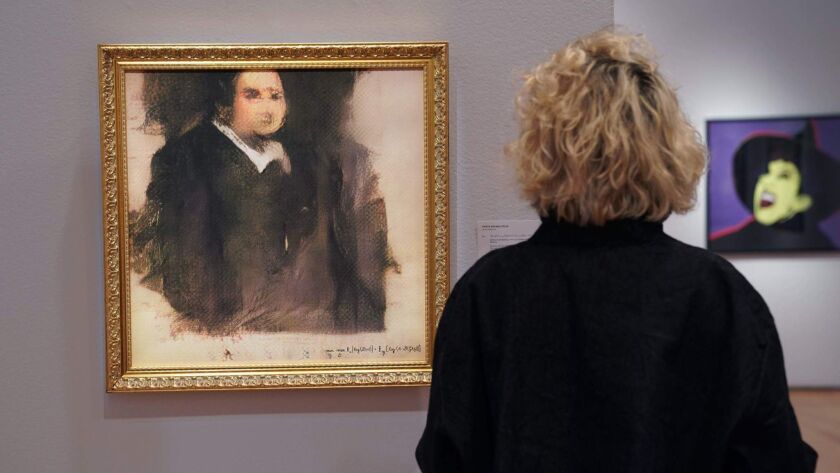 A NEW MUSEUM
Christopher Knight traveled to Houston for the unveiling of the Menil Drawing Institute, designed by Los Angeles architects Johnston Marklee & Assoc., and featuring a debut exhibition of works by Jasper Johns. It is the first facility built expressly for the exhibition, study and conservation of modern and contemporary drawings, and it is, he writes, "a sophisticated stunner." Los Angeles Times
Plus, Knight has a look at a "grim but captivating" installation by Danial Nord at the Torrance Art Museum, consisting of a series of translucent humanoid figures permanently tethered to digital devices. Los Angeles Times
WOMAN OF MANY FACES
"I don't see the point in doing something if you're not risking falling on your face." That's what actress Cate Blanchett tells The Times' Deborah Vankin of collaborating with Julian Rosefeldt on "Manifesto," currently on view at Hauser & Wirth. It features the actress as 13 different characters — all of whom recite artist manifestoes. Los Angeles Times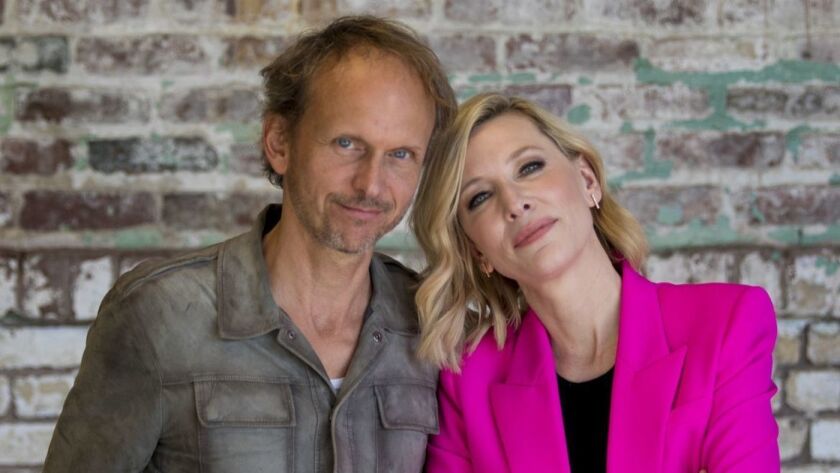 MASTER OF DANCE
An installation titled "MC9," by video artist Charles Atlas captures the achievements of Merce Cunningham, the man Mark Swed describes as "the greatest dancer and choreographer of the second half of the 20th century." The piece is on view at the Los Angeles County Museum of Art. Swed found it "riveting." He writes: "I could only think that this is what it must have been like to be inside Cunningham's head." Los Angeles Times
Because Swed is a maniac, he spent last weekend concert hopping: catching the Pacific Symphony in Orange County, a premiere of a new work by Oliver Knussen by the LA Phil in L.A. and a Sunday gig by Kaleidescope, the conductor-less orchestra that this season is focused on playing new compositions by women. Los Angeles Times
He also reports on a concert including a new work by composer Steve Reich at Walt Disney Concert Hall and the Los Angeles debut of pianist Margaret Leng Tan at REDCAT, playing George Crumb's "Metamorphoses (Book 1)." Los Angeles Times
30 YEARS OF MINIMALISM
Because we're on the subject of Steve Reich: the composer sat down for a Q&A with Richard Ginell to remember some of the earliest performances of his groundbreaking minimalist work. "The musicians were totally out of touch with my idiom," he recalls of the 1984 premiere in Germany of "The Desert Music." "There was no way to correct it." Los Angeles Times
IN THE GALLERIES
A new exhibition of work by Alexander Calder at Hauser & Wirth brings together 30 black sculptures from a nearly four-decade period in his life — works that are "jagged, organic, dramatic and playful," writes contributor Matt Stromberg. Los Angeles Times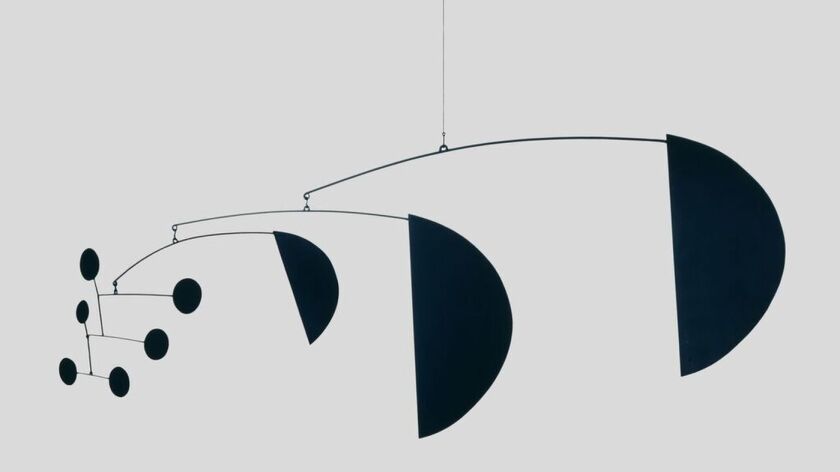 Plus, Raúl de Nieves' show at Freedman Fitzpatrick features "impish figures" that are "bombastically bedazzled," looking like "cartoon characters in some mysterious psychodrama," writes Times contributing reviewer Sharon Mizota. Los Angeles Times
ORIGINAL WORKS
Charles McNulty reviews Qui Nguyen's "Vietgone" in a new production by East West Players. He reports that he remains "struck" by "the originality of the playwriting." And while the staging is uneven, actor Paul Yen is "stupendous" in the role of a bad boy father. Los Angeles Times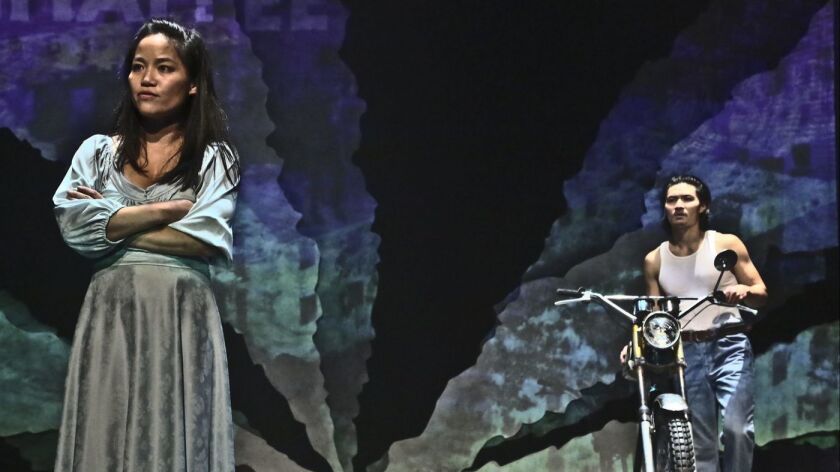 Plus, McNulty has a look at Eliza Clark's "irritating and ultimately chilling new comedy "Quack" at the Kirk Douglas Theatre — which takes on the wellness industry. Los Angeles Times
A PIVOTAL FIGURE
María Irene Fornés, the Cuban-born playwright who was pivotal to the off-off-Broadway movement, died this week at age 88. Charles McNulty describes the nine-time Obie winner as "arguably the most influential American dramatist whose work hasn't become a staple of the mainstream repertoire." Los Angeles Times
ON STAGE
Tom Stoppard's "Rosencrantz and Guildenstern Are Dead," which imagines the musings of a pair of Shakespeare's minor characters, is a difficult play to stage. But, as The Times' Daryl H. Miller notes, A Noise Within is giving it a go "and succeeding marvelously." Los Angeles Times
Miller also has a look at a play inspired by a man whose family once owned much of Hollywood, "Señor Plummer's Final Fiesta," by Rogue Artists Ensemble, while Margaret Gray reviews "Winter Solstice" at City Garage, which is (quite appropriately) a case study of ineffectual reactions to fascism.
Plus, Christina Campodonico has a look at new works by Jacob Jonas The Company, the dance company-in-residence at the Wallis Annenberg Center for the Performing Arts.
READY FOR THE WEEKEND:
Matt Cooper lines up the weekend's best picks including a Day of the Dead party and a Morrissey concert with Joan Jett as opener. He's also got the week ahead in classical music, theater, art and dance, the latter of which includes a dance performance by Contra-Tiempo that is all about joy.
Plus, I round up my own visual arts picks in Datebook, which includes a show of Renaissance types getting butt nekkid. Sounds like date night to me.
IN OTHER NEWS:
— How the seller of a Nazi-looted painting by Degas has continuously eluded the family to whom it originally belonged. New York Times
— Arts organizations are reconsidering their ties to Saudi Arabia's Abdulaziz Center for World Culture. Hyperallergic
— Thomas Campbell, former director of the Metropolitan Museum of Art, will take over as director at the Fine Arts Museums of San Francisco (FAMSF). San Francisco Chronicle
— Campbell is trading places with Max Hollein, who recently left FAMSF to direct the Met. As reporter Lee Rosenbaum notes, it's a curious choice. CultureGrrl
— "We are doing something here that is an example of how things can work." Gustavo Dudamel at mid-career. New York Times
— An installation on the L.A. River can only be seen in virtual reality. Los Angeles Times
— William Poundstone has a "field guide" to Ragnar Kjartansson's "The Visitors" at the Broad. Los Angeles County Museum on Fire
— "Rather than look at these women, you adduce what it's like to be them." A great read on Impressionist painter Berthe Morisot by Peter Schjeldahl. New Yorker
— How the Boston Ballet is supporting women choreographers. Boston Globe
— Downtown L.A.'s California Plaza is getting a needed makeover: the impractical "watercourt" is out, a new lawn is in. Los Angeles Downtown News
AND LAST BUT NOT LEAST…
A great story about a trove of lost master tapes that contained Ecuador's musical history. BBC Outlook
Sign up for our weekly Essential Arts & Culture newsletter »
carolina.miranda@latimes.com | Twitter: @cmonstah
---
Inside the business of entertainment
The Wide Shot brings you news, analysis and insights on everything from streaming wars to production — and what it all means for the future.
You may occasionally receive promotional content from the Los Angeles Times.