Newsletter: Essential Arts & Culture: L.A.'s Barak Ballet goes on tour, LACMA's grand plan and a 97-year-old art star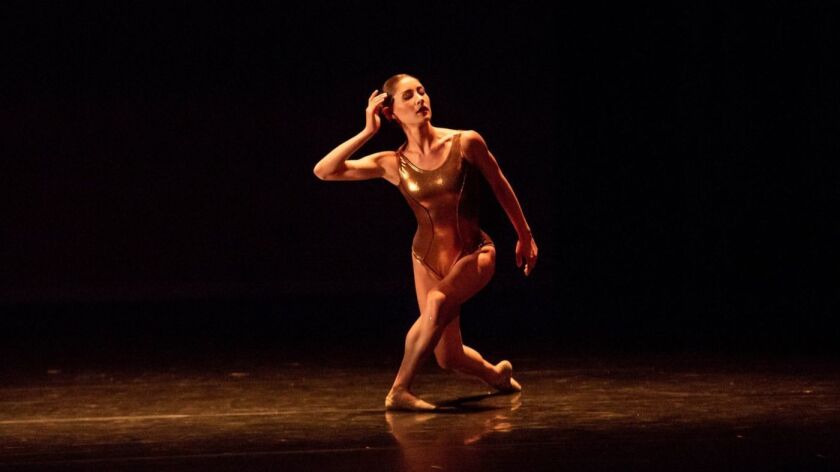 The weekend is upon us with Hades-hot temperatures, and the team at Essential Arts (a.k.a. me, staff writer Carolina A. Miranda) is ready to go all Margarita Bear and bust into someone's yard, drink their booze and clamber into their pool. In the meantime, here's what's hot in the world of culture, much of it air-conditioned:
FRESH MOVES
Los Angeles dance troupe Barak Ballet is about to go on tour, and Times contributing reviewer Laura Bleiberg caught them in performances at the Broad Stage in Santa Monica before they set out. The costumes were "luscious," and the choreography paired classical movement with an exotic score. "Barak," she notes, "continues up a path toward excellence." Los Angeles Times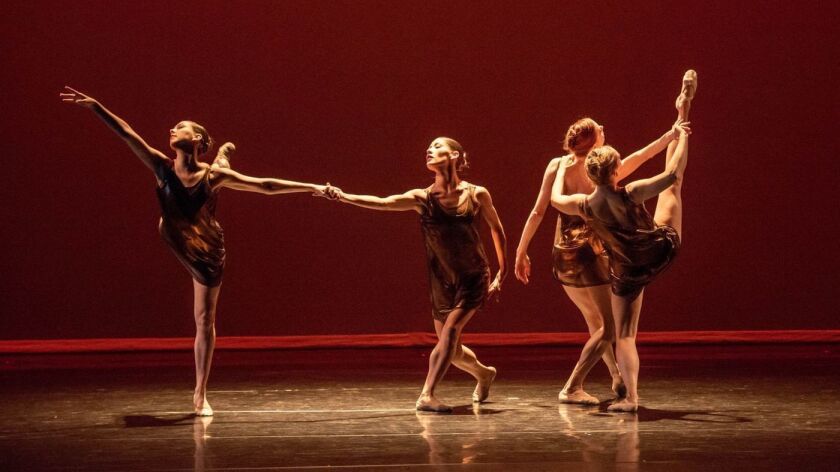 Plus, an extensive report on L.A.'s burgeoning dance scene. New York Times
And, in case you missed it, our guide to the best L.A. dance companies. Los Angeles Times
CLOCK TICKING ON LACMA REBUILD
Times culture writer Deborah Vankin reports on where things stand with Michael Govan's grand building plans for the Los Angeles County Museum of Art. "The [Peter] Zumthor project is about six months behind schedule," she writes. "The process, including building permits and entitlements, is taking longer than expected, Govan says. And the museum's $650-million fundraising campaign, he adds, is 'in pace with the project.' Which is to say: going slowly." Los Angeles Times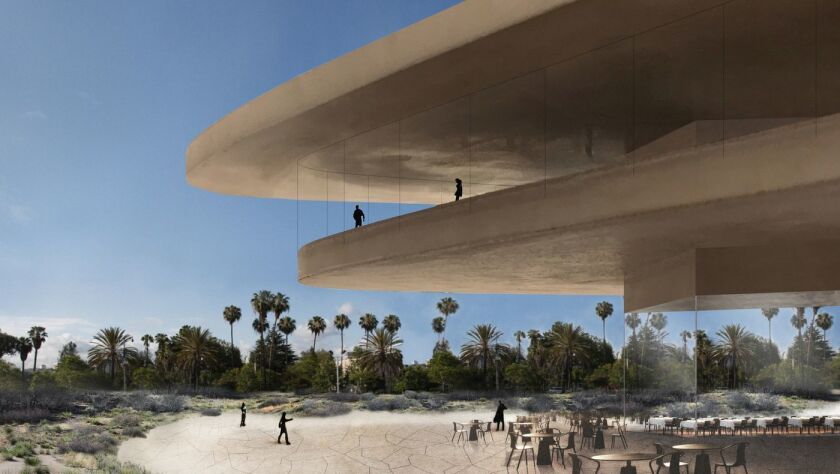 Plus Vankin walks through a history of LACMA building plans. (I swear that 1986 Hardy Holzman Pfeiffer building is the architectural equivalent of '80s shoulder pads.) Los Angeles Times
Which brings me to this terrific photo essay featuring fashion from the 1988 Melanie Griffith jam, "Working Girl." I am now ready for the architecture of Aqua Net. Clothes on Film
SLEEPER HIT
Since we're on the subject of LACMA: Times art critic Christopher Knight reports that, despite its dry-sounding name, "The Chiaroscuro Woodcut in Renaissance Italy" is "ground-breaking" and "lucidly organized." The show, currently on view at LACMA, tracks the ways in which 16th century masters, including innovators such as Ugo da Carpi, captured shadow and light, in some cases producing a veritable "Renaissance CinemaScope." Los Angeles Times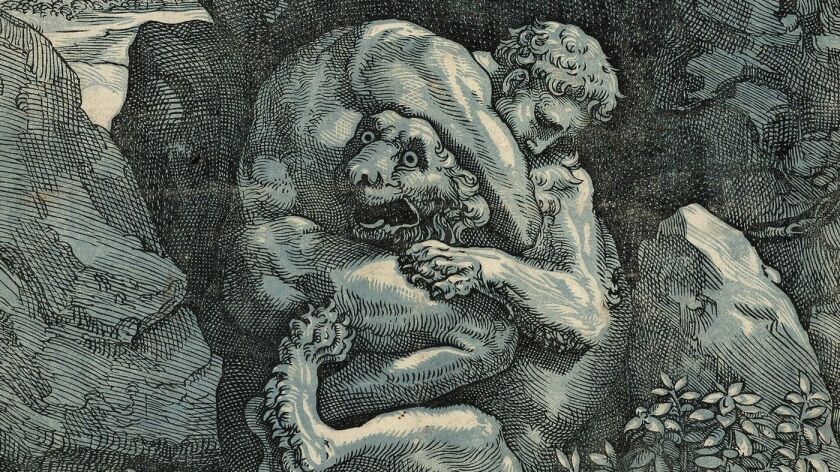 97 YEARS YOUNG
Painter Luchita Hurtado, age 97, is one of the breakout stars of the Hammer Museum's "Made in L.A." biennial. The Venezuela-born artist, who produces surreal forms that employ pattern and the body, has been pals with artists such as Rufino Tamayo and Isamu Noguchi but has shown her own work infrequently. Recent exhibitions have helped raise her profile, and incredibly, the near-centenarian is still drawing and painting. As she tells me: "There is still life in this old horse." Los Angeles Times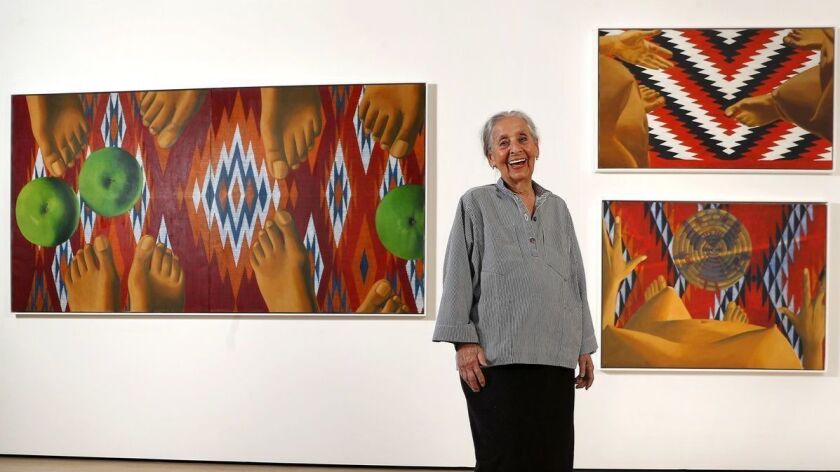 NEW LEADER AT THE HUNTINGTON
The Huntington Library, Art Collections, and Botanical Gardens announced it has appointed Karen R. Lawrence, former president of Sarah Lawrence College, as its new director. Lawrence, as Jessica Gelt reports, is credited with savvy fundraising at the college during the recession. The $$$ is important, but I'm hoping the first thing Lawrence will do is strip down this institution's dowdy, unwieldy name so that it's simply "The Huntington" — which is what everybody calls it anyway. Los Angeles Times
IN THE GALLERIES
Times contributing reviewer Leah Ollman has been doing the gallery thing. This includes a visit to Gavlak to see sculptures by Alex Anderson that display "a penchant for barbed beauty," and a swing by the California African American Museum, where Shinique Smith's installation of found objects reflects a site where "nurture and nationhood converge" and "clash anew."
Also on the to-do list: "The Candy Store" at Parker Gallery, a group show that brings together work from the fabled Folsom, Calif., art space founded by Adeliza McHugh — which was intended to be a nougat shop, until McHugh was unable to get the necessary permits. This "delectable tribute," writes Ollman, "tells the Candy Store's heartening tale with vivid concision."
Need more art? My weekly Datebook has all the happenings, including a photography show about dust at UC Riverside and a presentation by Emory Douglas in Hollywood. Los Angeles Times
SINGING WITH THE ANGELS
In 1993, a Fulbright scholar from California by the name of Amy Biehl was killed in a black township in Cape Town. In response, her parents launched a foundation to support arts and education in South African townships. Singers from the Amy Foundation choir recently teamed up with L.A.'s very own Angel City Chorale to mark the latter organization's 25th anniversary. The musical collaboration, which took the young South African singers around L.A. over the course of a week, is covered by The Times' Makeda Easter. Los Angeles Times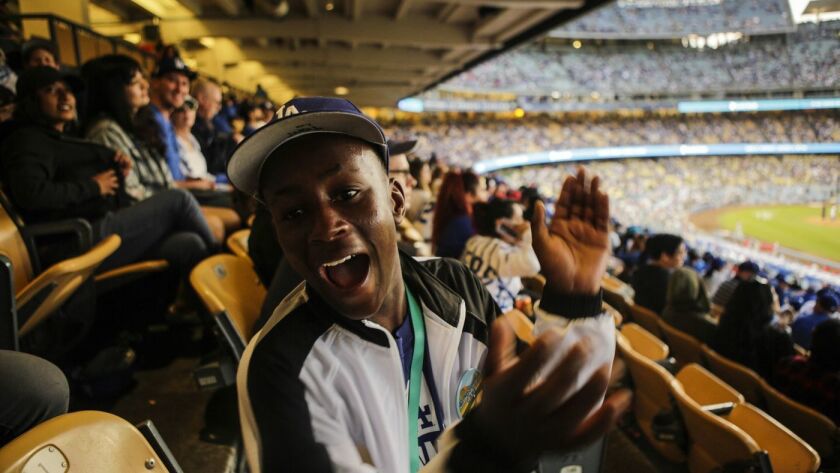 AROUND TOWN
Times contributor Matt Cooper has all the best weekend picks, including the launch of the iPalpiti Festival of International Laureates at Disney Hall and free Shakespeare in Griffith Park. Los Angeles Times
While Philip Brandes rounds up what's happening in the 99-seat theaters, including "Big Fish" in Anaheim and a story about a Russian-style summer romance by the Antaeus Theatre Company in Glendale. Los Angeles Times
ARCHITECTURE + VR
On a recent visit to the studio of Morphosis architects in Culver City, I strapped on a pair of virtual reality goggles and got to feel what it'll be like to stand in the atrium of the firm's planned Orange County Museum of Art. I spoke with Morphosis founder Thom Mayne, as well as an architect at Frank Gehry Partners, to see how architects are beginning to employ this new technology. Los Angeles Times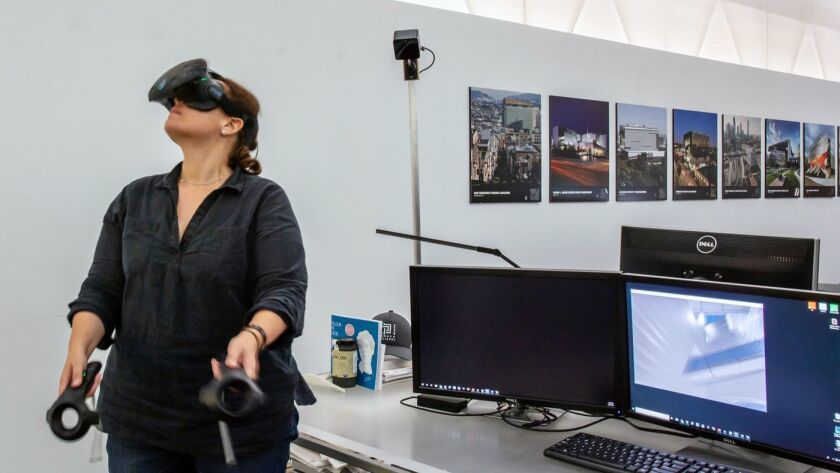 CRITICISM I'M DIGGING
A wondrously dyspeptic review of Bill Clinton and James Patterson's thriller "The President Is Missing" by Anthony Lane: "Bill Clinton, who can write, has hooked up with James Patterson, who can't, but whose works have sold more than three hundred and seventy-five million copies, most of them to happy and contented customers for whom good writing would only get in the way." New Yorker
IN OTHER NEWS….
— "It just feels like the whole place hasn't come together around what they need." A report on New York's floundering Lincoln Center. New York Times
— An engrossing, erudite profile of artist Adrian Piper by Thomas Chatterton Williams. Piper's solo retrospective, on view at the Museum of Modern Art, will land at the Hammer Museum in October. New York Times
— "When Henry Taylor paints, it is as though he had been born with caulk over his eyes, as if it were nothing for him to access that low-down, murky place where we store who we are." Rachel Kaadzi Ghansah profiles the L.A. painter. Vulture
— In tribute to the late photographer Laura Aguilar (obituary here), poet and artist Raquel Gutierrez recalls the Chicana lesbian haunts and softball teams of L.A.'s Eastside. New Inquiry
— A rare self-portrait of renowned 17th century painter Artemisia Gentileschi has entered the collection at the National Gallery in England. The National Gallery
— Speaking of portraits: William Poundstone has a terrific piece on Desiderio da Settagnano's "Bust of a Young Boy" (1460-64), on view at the Getty Museum — from a pioneering sculptor who knew how to let kids be kids. Los Angeles County Museum on Fire
— Artist Senga Nengudi is known for sculptures crafted from pantyhose. A show at Art + Practice in Leimert Park examines her trajectory as a performance artist, a practice nurtured by the period she spent in L.A. Artnet
— In his review of the latest design spectacle at Washington, D.C.'s Building Museum, Kriston Capps wonders if the institution is "taking architecture seriously." Citylab
— Sort of related: Raney Knudson examines the museum spectacle complex. Glasstire
— "I see fiction not as the construction of an alternate world but as what your imagination gives you from the real world." A Q&A with Pulitzer Prize-winning critic Hilton Als. Paris Review
— Architect Jeanne Gang on why architecture needs to contend with pay equity. Co. Design
— "'Do I look busy?' becomes more important than 'Am I doing my best work?' " Apparently open plan office design isn't all that. Quartz
— Related: a flashback to this 2016 report on how the open plan became all the corporate rage. (Blame advertising.) NPR
— Critic Allison Arieff on why we need to reconnect with our streets. New York Times
— The great, terrifying dance epidemic of 1518. The Guardian
AND LAST BUT NOT LEAST…
Helen Keller and her dogs. Perkins School for the Blind
Sign up for our weekly Essential Arts & Culture newsletter »
carolina.miranda@latimes.com | Twitter: @cmonstah
---
Your essential guide to the arts in L.A.
Get Carolina A. Miranda's weekly newsletter for what's happening, plus openings, critics' picks and more.
You may occasionally receive promotional content from the Los Angeles Times.