Newsletter: Essential Arts: Superb 'Humans,' 400 Fringe plays and Pasadena's Museum of California Art to close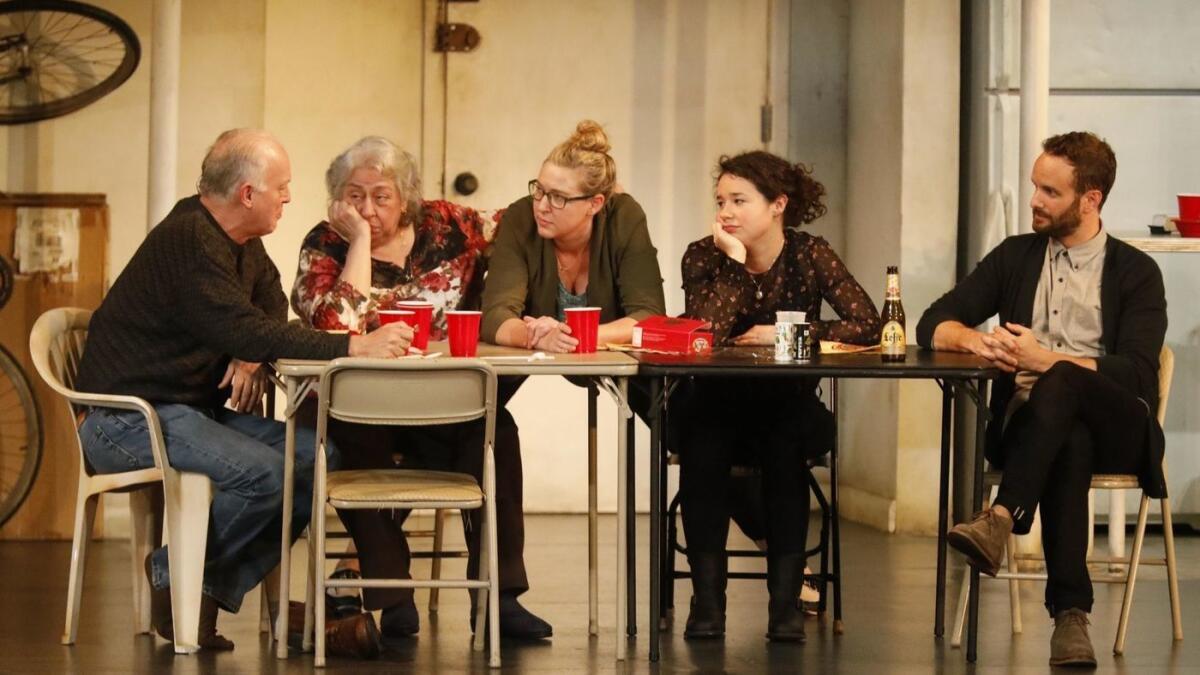 Bring on the weekend! I'm Carolina A. Miranda, staff writer at the Los Angeles Times, with your dose of what's good culture-wise — including a stellar cast of 'Humans' and Ellsworth Kellys' fine lines:
ALL TOO HUMAN
"If there's a better ensemble working in America right now than the extraordinary cast of 'The Humans,' " writes Times theater critic Charles McNulty, "I'm unaware of its existence." Stephen Karam's drama, which won the Tony Award for best play in 2016, and which just opened at the Ahmanson Theatre with nearly the entire Broadway cast, is set around the family dinner table at Thanksgiving. It's a "yawningly familiar" structure, McNulty notes, but the play captures in "wincingly accurate detail" the nature of "contemporary American domestic life." Los Angeles Times
'LONG DAY'S JOURNEY' RENEWED
Speaking of great casts: Jeremy Irons, Lesley Manville and Jessica Regan have been starring in the recent production of "Long Day's Journey Into Night" since it was first revived at the Old Vic in Bristol in 2016. But as the play has traveled from Bristol to London to New York and now Los Angeles (it's on view at the Wallis in Beverly Hills), the Eugene O'Neill play has changed and evolved. In every city, Regan tells The Times Christina Schoellkopf and Sara Cagle, it feels like a "totally different production." Los Angeles Times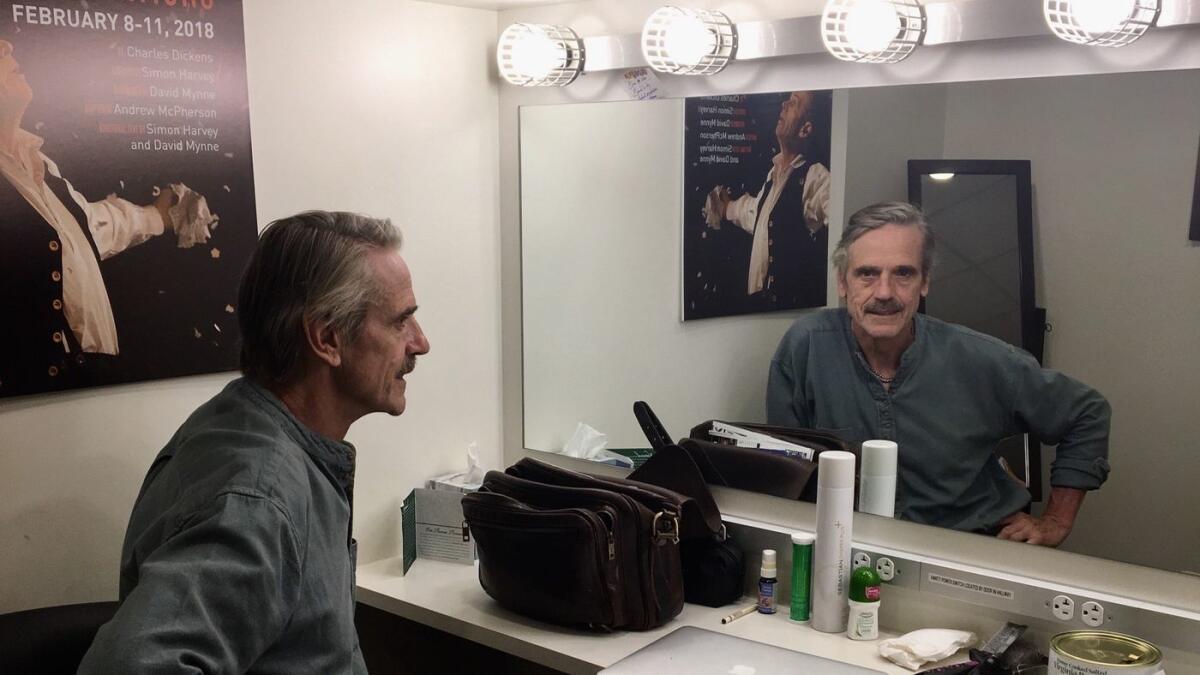 A MODERN LYSISTRATA
A new production of Aristophanes allegorical comedy, "Lysistrata," about a band of women who come together and withhold sex until the men of their nation stop warring, updates the ancient Greek tale, using as inspiration Cindy Sheehan, the military mom who lost her son in Iraq and became an antiwar protester. "Lysistrata Unbound," written by Eduardo Machado and directed by John Farmanes-Bocca at the Odyssey Theatre, links to the ancient theatrical origins, notes Times contributing reviewer Philip Brandes, "but the graft of modernist sensibilities is not a seamless one." Los Angeles Times
400 PLAYS IN TWO WEEKS
The Hollywood Fringe Festival is in its home stretch. The Times' Makeda Easter writes about the festival of nearly 400 ensemble and solo theatrical works, comedy, cabaret and dance shows covering everything from black self-actualization to #MeToo and PTSD. The Fringe, says director Ben Hill, provides "a heartbeat of where the performing arts are at any given time." Los Angeles Times
ON THE STAGE
Times contributing reviewer F. Kathleen Foley checks out Rogue Machines' production of Leslie Ayvazian's play "100 Aprils" at the MET Theatre, about a dying Armenian man contending with the genocide that haunts him. Unfortunately, notes Foley, the play "falls precipitously into the divide between surrealism and political didacticism." Los Angeles Times
Foley also rounds up everything that's going down in the city's 99-seat theaters, including a play about slaughterhouse workers and a farce about online love. Los Angeles Times
Matt Cooper has weekend picks, including performances by the dance troupe Herencia Flamenca and the Gay Men's Chorus. Los Angeles Times
Cooper also has a look at the week ahead at Southern California theater, including Henry Ong's "The Blade of Jealousy," a modern adaptation of Spanish playwright Tirso de Molina's classic comedy "La Celosa De Si Misma (Jealous of Herself)" and The Eve of Jackie: A Tribute to Jackie Wilson, a salute to the R&B legend by Broadway's Chester Gregory. Los Angeles Times
PASADENA MUSEUM TO CLOSE
The Pasadena Museum of California Art, which since its founding in 2002 has focused on exhibiting historic and contemporary art from California, has announced that it will close after the current exhibitions conclude on Oct. 7. Museum director Susana Smith Bautista told Times culture writer Deborah Vankin that the museum has been experiencing financial problems — but didn't provide an exact reason for the shutdown. "I would love to believe there was still a way to keep the museum open, but there's a lot of work to do and I don't know if it can be done," says Bautista. "I don't feel like I was given enough time." Los Angeles Times
CLASSICAL NOTES
Times classical music critic Mark Swed took in a performance of a semi-staged "Boris Godunov" opera by the San Francisco Symphony, led by Michael Tilson Thomas. Tilson Thomas's strategy was "not to overtly update 'Boris,' " but to integrate it with other art forms. (The scenic and costume design was inspired by an Andrei Tarkovsky film.) Tilson Thomas "took a stately approach," writes Swed. "Bells and orchestral brilliance brightened the hall when needed. Mainly, though, an understated melancholy from the orchestra pervade." Los Angeles Times
Swed also caught a show of work by Ben Johnston, America's "dean of microtonal music," at REDCAT. The performances were "transcendent," writes Swed, anchored by the L.A.-based Lyris Quartet and a crew of "supple" microtonal players. Los Angeles Times
Matt Cooper has a look at the week ahead in classical music, including the California Philharmonic's summer opener at Disney Hall. Los Angeles Times
WALLS GO UP AND COME DOWN
In the latest of my Venice Architecture Biennale dispatches, I have a look at the urbanist and cultural legacy of the Berlin Wall, which has now been gone longer than it was up. The German pavilion at the biennale explored this history in the gripping "Unbuilding Walls," a timely, informative and beautifully installed exhibition that looks at the indelible scars left behind by arbitrary political division. Los Angeles Times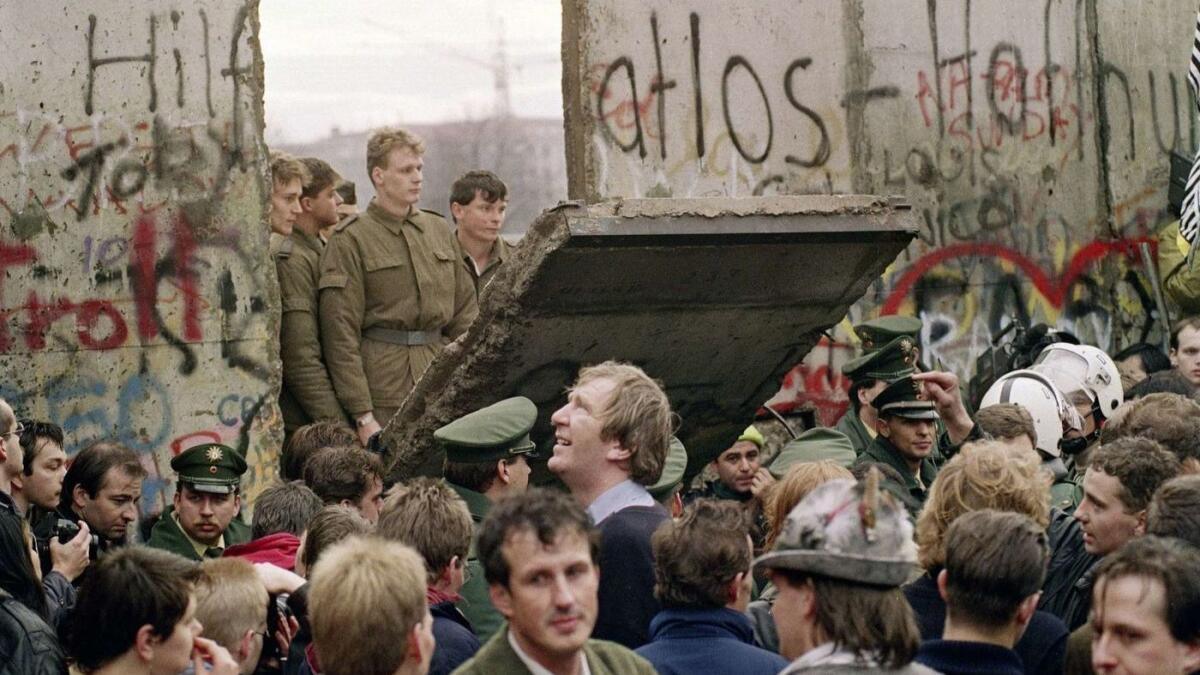 CRITIC PROOF
Its design may be scorned, but The Times' Roger Vincent notes that the L.A. Live complex has been crucial to downtown's resurgence. Los Angeles Times
ELLSWORTH KELLY'S EYE
An exhibition of works by Ellsworth Kelly at Pasadena's Norton Simon Museum shows the dual paths the artist took throughout his seven-decade career — bold color and spare line drawings. The show, writes Times contributor R. Daniel Foster, offers a "a kind of pristine awareness." Los Angeles Times
Need more art happenings? In my weekly Datebook I've got a gallery's 25th anniversary show and a show of paintings that explores police violence — plus much more. Los Angeles Times
And Matt Cooper looks at the week ahead in Southern California museums, including the Laguna Art Museum's centennial celebration of the Laguna art colony. Los Angeles Times
IN OTHER NEWS…
— The architecture of separation: design writers Diana Buddis and Alissa Walker examine the architecture of the camps for migrant children. Curbed
— The Atlantic posted a flurry of new pieces this month in its Metropolis Now series on technology and cities, including Georgina Voss on the Brexit effect on Britain's ports, Anthony Alofsin's defense of suburbs, Geoff Manaugh's look at how the L.A. County Sheriff's use of quadcopter rescue drones might change cityscapes and our sense of privacy, plus my own piece on the awkward ways automation is shaping architecture. Will spaces be designed for people to come together? Or for us to transact with machines? The Atlantic
— 250 things an architect should know. Reading Design
— Tom Hanks had to improvise during a medical emergency during a production of "Henry IV." Deadline Hollywood
— The Broadway show "The Band's Visit" sees an uptick on music streaming sites following the Tony Awards. Los Angeles Times
— Plus, as Tony Shalhoub prepares to leave "The Band's Visit," Sasson Gabay prepares to take the lead role. Vulture
— Michael Jackson's estate is developing a Broadway musical on the entertainer's life. New York Times
— A show at the Skirball Cultural Center brings together ephemera from the life of composer Leonard Bernstein. Los Angeles Times
— Gia Kourlas has a round-up of exquisite dance costume. New York Times
— Former MOCA curator Helen Molesworth delivered the commencement address at UCLA's School of the Arts and Architecture, passionately inveighing against "outmoded forms of thought" and the "death rattle of our colonial past." Hyperallergic
— A show in London looks at how Mexican painter Frida Kahlo transformed herself into an icon — not just through painting, but through dress. Los Angeles Times
— Anish Kapoor has sued the National Rifle Association for showing his iconic "Bean" sculpture in a promotional video. Curbed Chicago
AND LAST BUT NOT LEAST…
The historic art ladies photoshopped into modern office environments. I'm the one on the right, draped on the cabinet. @MedievalPete
Sign up for our weekly Essential Arts & Culture newsletter »
Get our L.A. Goes Out newsletter, with the week's best events, to help you explore and experience our city.
You may occasionally receive promotional content from the Los Angeles Times.