Essential Arts & Culture: MOCA mum on its future, Bowie ballet tribute, Coachella art tower
Is the director of the Museum of Contemporary Art Los Angeles on his way out? Does David Bowie make for good ballet? And which MFA program would you date? I'm Carolina A. Miranda, staff writer at the Los Angeles Times, with the week's top culture stories:
ESSENTIAL IMAGE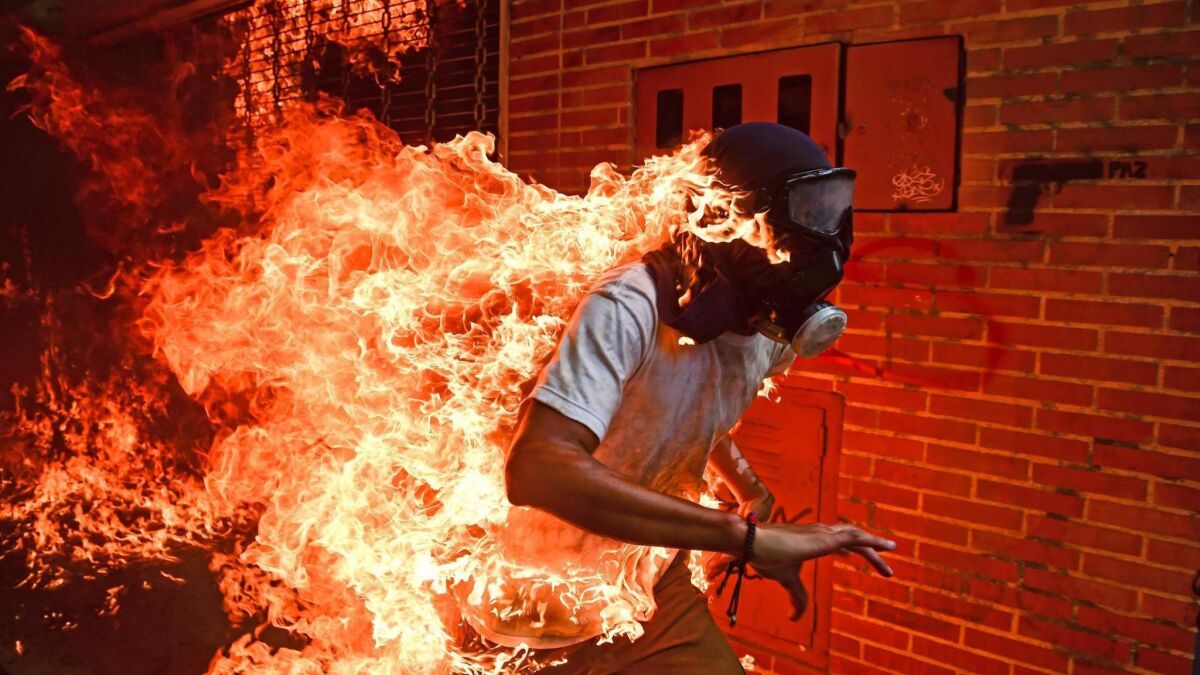 An image of a protester catching fire during a demonstration against the regime of President Nicolás Maduro in Venezuela has won the World Press Photo of the Year award. Ronald Schemidt is the man behind the lens. New York Times
TURMOIL AT MOCA
MOCA director Philippe Vergne has put his $4-million Hollywood Hills mansion on the market. This follows the surprise firing of chief curator Helen Molesworth and the cancellation of the museum's gala. The Times' Deborah Vankin has been on the story: "The museum again refused to comment on whether the search for a new chief curator had started. The museum also would not say how it intends on filling a funding gap created by the cancellation of its annual gala." Los Angeles Times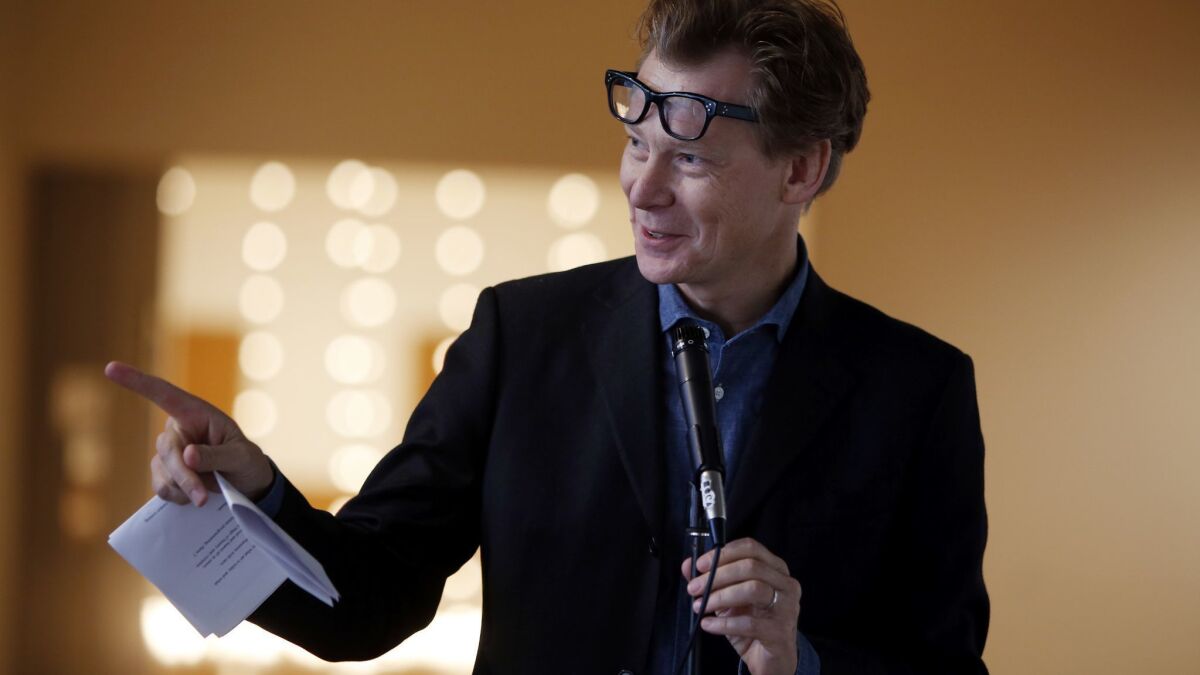 Vankin is also on the case of institutional turmoil at the Watts Towers Arts Center, where director Rosie Lee Hooks has been suspended for reasons that remain undisclosed. Los Angeles Times
IN THE GALLERIES
Alison Saar's latest show at L.A. Louver is inspired by the character of Topsy in "Uncle Tom's Cabin." The sculptor imagines her as a defiant figure. "Saar has brilliantly made and remade Topsy," writes Times contributing reviewer Leah Ollman, "restoring her innate power to make herself." Los Angeles Times
Also on Ollman's docket: Robin Cameron's "dizzyingly dense video" at Moskowitz Bayse and a group show that looks at the revealing nature of daily acts of art-making at Arena 1 Gallery.
Among the new gallery shows this week: "Sentimental" by Michelle Groskopf at Row DTLA, which opens Saturday; Francesca Gabbiani's "Vague Terrains and Urban ..." opened Friday at Gavlak; and "Rodriguez/Valadez in Vernon," a two-artist show with L.A. painters Sandy Rodriguez and John Valdez at Fine Art Solutions, which opens Saturday. More in my arts datebook. Los Angeles Times
COACHELLA'S TOWER OF LIGHT
The Coachella Valley Music and Art Festival is underway in Indio. The music will get the lion's share of attention, especially with Beyoncé and the Weeknd performing, but the festival's art is always a conversation starter — and excellent Instagram backdrop. This year's most-photographed installation is "Spectra," a seven-story spiral tower from U.K.-based design studio Newsubstance. "We're almost at the center point, directly across from the main stage," Newsubstance creative director Patrick O'Mahony told Times writer Sonaiya Kelley, "so we feel like we're almost a beacon of light at the heart of the festival." Los Angeles Times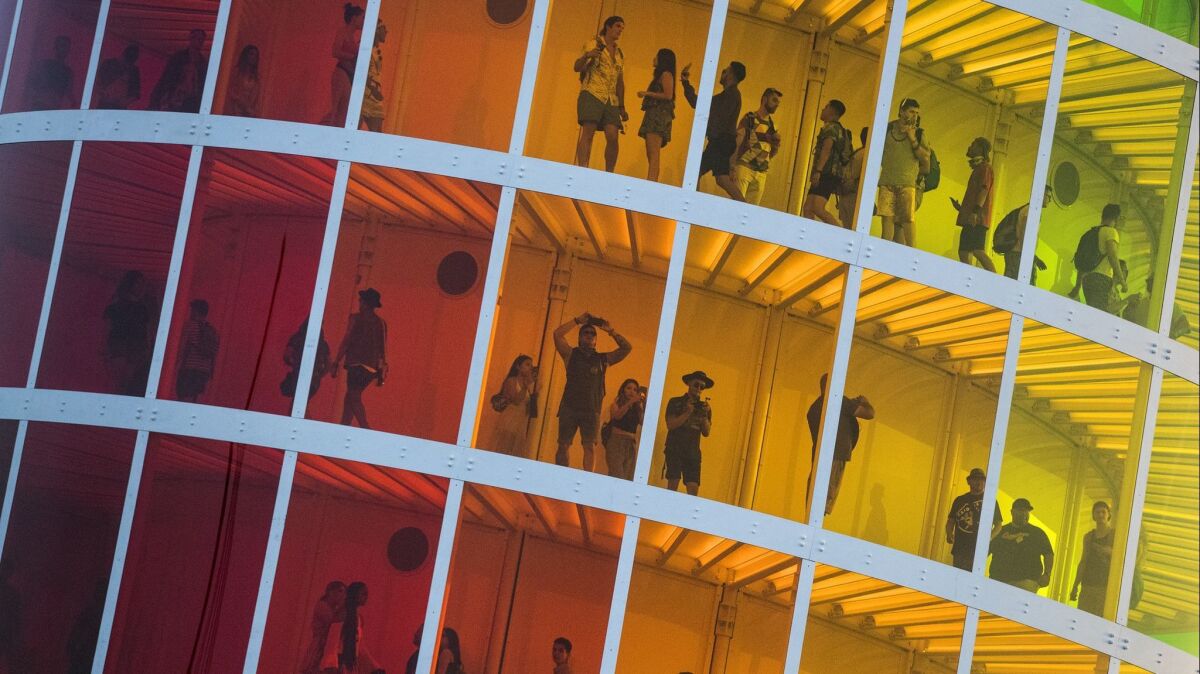 LET'S DANCE
Complexions Contemporary Ballet is paying tribute to David Bowie with "Stardust," a ballet that explores the rhythms of nine Bowie songs. "He was so courageous and unafraid to reinvent himself over and over and over again," choreographer Dwight Rhoden tells contributor Tim Greiving, "and that was just really compelling." The show lands at the Dorothy Chandler Pavilion on April 20. Los Angeles Times
DANCE PIONEER
Donald McKayle, one of modern dance's leading lights, has died at the age of 87. The accomplished dancer and choreographer ran the Donald McKayle Company (whose alumni included Alvin Ailey and Lar Lubovitch) and appeared on a list of "America's Irreplaceable Dance Treasures" published by the Library of Congress. His dances, writes Times reporter Jessica Gelt, "were known for their humanism as well as their eclectic mix of influences." Los Angeles Times
TWO HOMAGES AND ONE COMEDY
New York's Wooster Group is back at REDCAT through Sunday with a production of "A Pink Chair (In Place of a Fake Antique)," a tribute to avant-garde Polish theater director Tadeusz Kantor that also is thrillingly avant-garde. "The Wooster Group doesn't do academic homages," writes Times theater critic Charles McNulty. "The group peers into the past through a unique and intentionally disorienting multimedia lens. 'A Pink Chair' isn't so much a resurrection of Kantor's aesthetic as a stirring encounter with it." Los Angeles Times
McNulty also was moved by a "glorious" new production of Joshua Harmon's play "Significant Other" at the Geffen Playhouse, whose intimate scale better serves the play's "vibrant dialogue" and "resplendent neuroticism" than the large Broadway houses. While the work could use some judicious pruning, McNulty says that the production "compensates for the dramatic ungainliness by getting nearly everything else right." Los Angeles Times
Plus, McNulty caught productions of "Hamlet" and "Saint Joan" by Bedlam, another New York Company, at the Broad Stage. The shows — featuring four actors taking on all the talking roles in plays by Shakespeare and George Bernard Shaw — represent a "Herculean" effort. But it's a theatrical challenge that is as exhausting for the performers as for the audience. Los Angeles Times
PHANTOM 2.0
The Times' Daryl H. Miller checks out "Phantom of the Opera" sequel "Love Never Dies" at the Hollywood Pantages (soon to land at Costa Mesa's Segerstrom Hall). "The compositions are grandly written by Andrew Lloyd Webber, the portrayals thrillingly well sung and the staging terrifically sumptuous," he writes. "But the storytelling requires viewers to make leaps of logic and to reassess several beloved characters." Los Angeles Times
MUSIC AND POETRY
When Orange County's Pacific Symphony makes its Carnegie Hall debut on April 21, it will do so with a program of India-centric music — which makes sense, writes Times classical music critic Mark Swed, given the significant presence of Indians in Orange County. He got a taste of what that event might sound like at a Thursday concert at Segerstrom Hall that featured Ravi Shankar's Sitar Concerto No. 3 and a "magnificent" rendition of Philip Glass' "The Passion of Ramakrishna." Los Angeles Times
Swed jogged up to San Francisco for an event that was all about the joys of unintelligible sound: "Sound Poetry: The Wages of Syntax," featuring performances by Enzo Minarelli, Jaap Blonk and Michael McClure. Los Angeles Times
And he caught Mahler's "Das Lied von der Erde" at Disney Hall — an event that served as a confluence of happenings. There was the technological display: wild projections inspired by Mahler's songs, courtesy of the collective Teatrocinema and resident director Yuval Sharon. But the performances were musically somber, with Gustavo Dudamel dedicating them to his mentor, El Sistema founder José Antonio Abreu, who died late last month. Los Angeles Times
HOW IMAGES SHAPE POLITICS
I teamed up with Times film and culture writer Jeffrey Fleishman for a conversation about the ways in which images — sometimes altered — shape our political state of mind. Recall the case of Parkland shooting survivor and gun control advocate Emma Gonzalez, who at one moment was being compared to Joan of Arc, but in the next saw an image of herself tearing up a gun target Photoshopped into a fake picture of her ripping up the Constitution. "In one doctored moment," writes Fleishman, "she became both saint and sinner in our seething politics." I note that these sorts of manipulations have deep roots in the 20th century — such as an iconic work of art by Yves Klein that is part of the collection at the Los Angeles County Museum of Art. Los Angeles Times
IN OTHER NEWS …
— "Harry Potter" and "Frozen" are breaking box office records on Broadway. Los Angeles Times
— A bunch of kids join a theater critic to review "Frozen." Totes adorbz. YouTube
— "Hamilton" won seven trophies at the British theater's Olivier Awards. Los Angeles Times
— Why tackling sexual harassment on Broadway isn't easy. BuzzFeed
— Music critic Alex Ross on why the Detroit Symphony is worth paying attention to. The New Yorker
— A history of concert halls. Or why Wagner has a lot to do with why we sit quietly in a big dark room to listen to classical music. Van Magazine
— Max Hollein, of the Fine Arts Museums of San Francisco, has been named the new director of the Metropolitan Museum of Art. New York Times, San Francisco Chronicle
— Critic Sebastian Smee asks why some great female artists aren't getting the institutional respect they deserve. Washington Post
— The Institute of Contemporary Art in Boston has closed a show of work by Nicholas Nixon, who has been accused of sexual harassment, at his request. The Art Newspaper
— Meanwhile in Milwaukee: Critic Mary Louise Schumacher reports on murals by pioneering feminist Marjorie Kreilick (the second woman to win the Rome Prize) that are in danger of being lost. Milwaukee Journal-Sentinel
— As midrange galleries struggle, spaces like New York's Postmasters are turning to crowd-funding. Artnet
— The Mike Kelley Foundation for the Arts has announced its latest round of artist grants totaling $400,000. Los Angeles Times
— Zaha Hadid's only private residential home has now been completed — and the price tag came to $140 million. I'll take two. Architectural Digest
— Critic Michael Kimmelman has a fascinating story about the way in which architecture can be used as a forensic device. New York Times
— And the story behind Denise Scott Brown and Robert Venturi's influential architecture book, "Lessons from Las Vegas." 99% Invisible
LAST BUT NOT LEAST …
Prestigious MFA programs as guys you've met on Tinder. Watch out for Cornell. McSweeney's
Sign up for our weekly Essential Arts & Culture newsletter »
ALSO
How 'brown buffalo' Oscar Acosta, best known as Hunter Thompson's Dr. Gonzo, inspired his own TV doc
Artist-run space 356 Mission is leaving Boyle Heights. Founders Laura Owens and Wendy Yao explain why
Why so many Mexicans revile the Colonial Californiano architectural hybrid that spread from SoCal
---
Get our L.A. Goes Out newsletter, with the week's best events, to help you explore and experience our city.
You may occasionally receive promotional content from the Los Angeles Times.