Essential Arts: Whitewashing a mural, 'Mockingbird' on Broadway, Zubin Mehta hits L.A.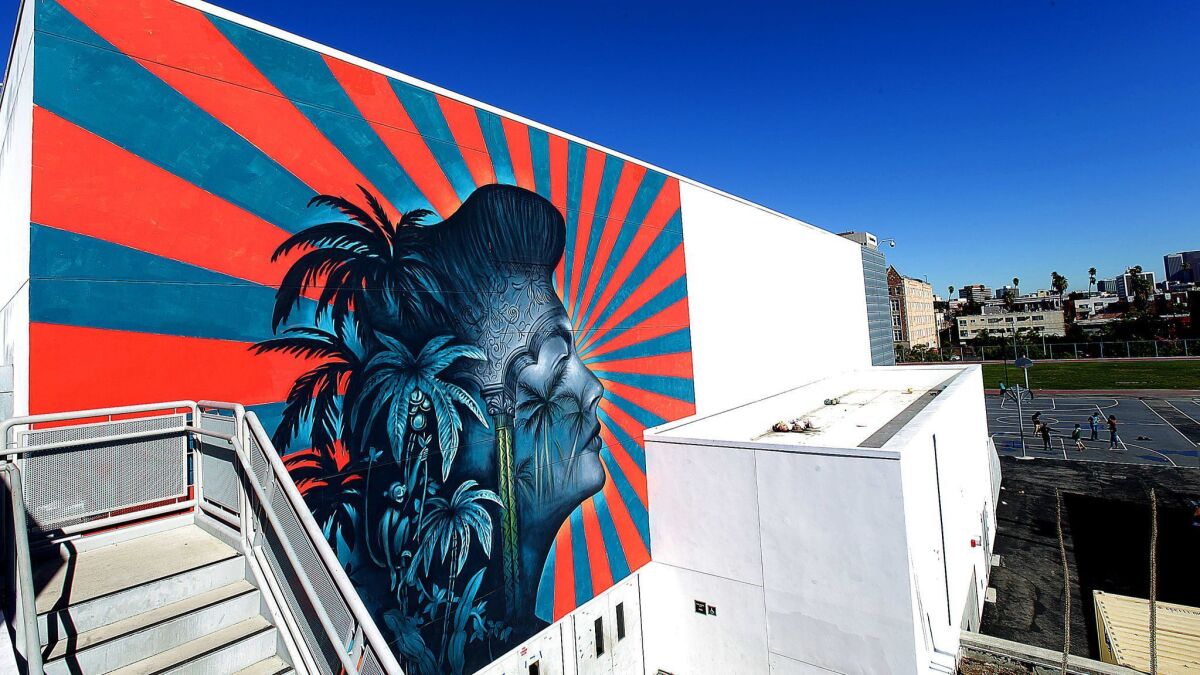 A little bit of controversy. A little bit of Broadway. A little bit of Zubin Mehta. I'm Carolina A. Miranda, staff writer for the Los Angeles Times, with the week's essential arts stories.
MURAL CONTROVERSY
Los Angeles Unified School District officials have announced that a mural by Beau Stanton at a Koreatown school will be whitewashed after the president of the Wilshire Community Coalition alleged that the mural depicts a Japanese flag from World War II offensive to Koreans. Times art critic Christopher Knight says the starburst is a common motif in architecture and other murals around L.A. and that the attack on the 2016 mural may be politically motivated. "Deceptive claims," writes Knight, "have been weaponized to shut down free speech." Los Angeles Times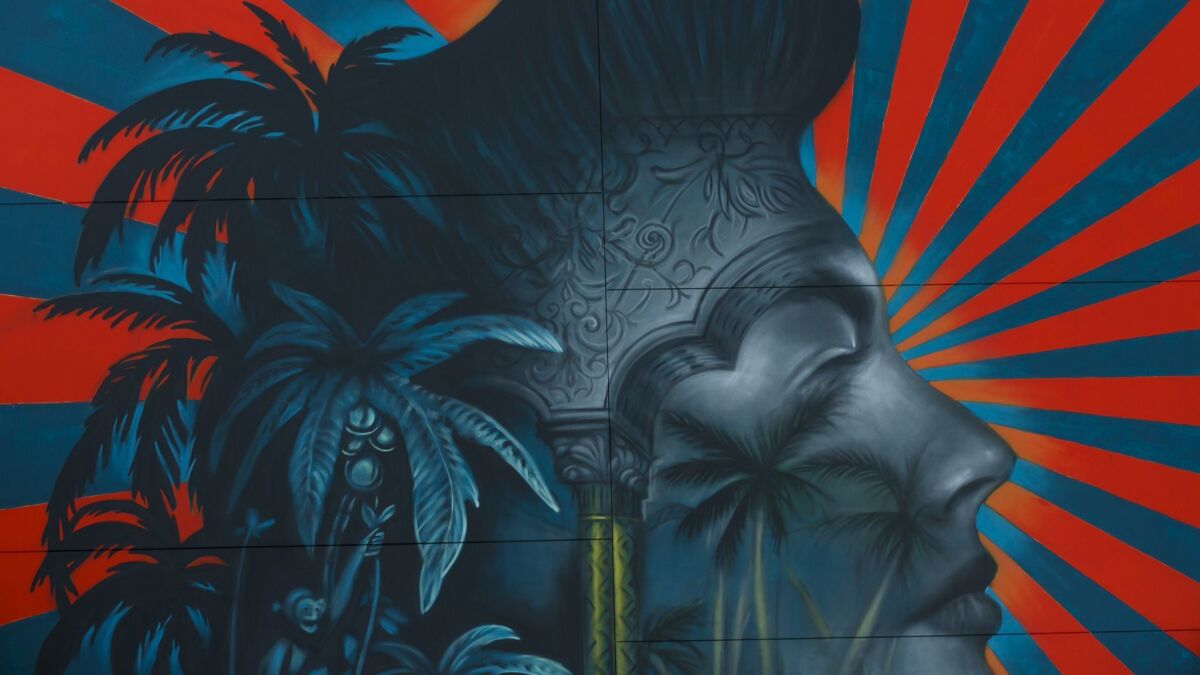 KEEN OBSERVER
Zoe Leonard made headlines earlier this year when a short text she wrote in 1992 about wanting an outsider for president was censored from Instagram. Now her mid-career retrospective is on view at the Museum of Contemporary of Art in Los Angeles, where she is presenting her quietly observant photographs and installations, as well as that controversial text. "I really grew up looking at space, thinking about space," she tells me, "thinking about space and architecture as a forum for human interaction." Los Angeles Times
And one more story of censorship. Livestream journalist Patti Beers, who writer Sam Slovick says is "part of a movement reinventing the political documentary in real time," had her Twitter account taken away in October. We can't say for sure if it's related, but less than 24 hours after the story about her work was posted Friday, Twitter restored her account. Los Angeles Times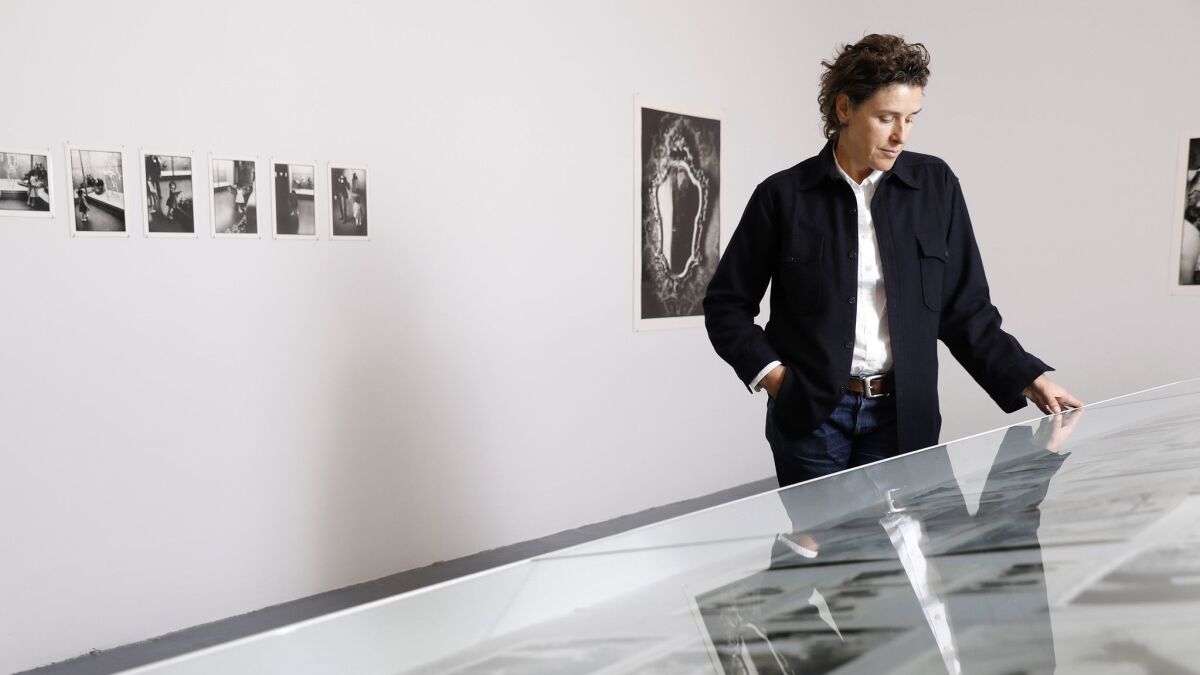 ON BROADWAY
Times theater critic Charles McNulty has been hitting the shows in New York. He caught a performance of "To Kill a Mockingbird," the adaptation of Harper Lee's novel by screenwriter Aaron Sorkin. The play, which features Jeff Daniels in the role of Atticus Finch, focuses the storyline on the adults. "Quarrel all you want with the liberties that are taken," writes McNulty. "Sorkin, [director Bartlett] Sher and an impeccable cast have created something provocatively fresh." Los Angeles Times
Sort of related: Casey Cep considers the legacy of Atticus Finch. New Yorker
Also on the docket for McNulty was "The Prom," a new musical comedy at the Longacre Theatre that left our critic feeling like he had "died and gone to campy heaven." The story, about a band of Broadway stars intent on a helping a queer teen go to prom, overstays its welcome, notes McNulty, but a rousing final number brings everything to joyous conclusion. Los Angeles Times
And because we've got you, babe, McNulty also checked out "The Cher Show" at the Neil Simon Theatre. And while it's got plenty of glitz, along with three different Chers at three different stages of the star's life, "this is a jukebox musical, where biography is processed through a kind of playwriting Auto-Tune." At least the back-up dancers are hot. Los Angeles Times
GETTING MEHTA
Zubin Mehta, the conductor who led the Los Angeles Philharmonic in the 1960s and '70s is back in town — leading the LA Phil through a Brahms cycle through the weekend. Times classical music critic Mark Swed reports it was a triumphant return for Mehta: "He was master of Brahms. He was master of a vibrant L.A. Phil, which gave him more than I've ever heard the New Yorkers, Berliners or Viennese give him. Most of all he was master of himself, rising above a year of health problems." Los Angeles Times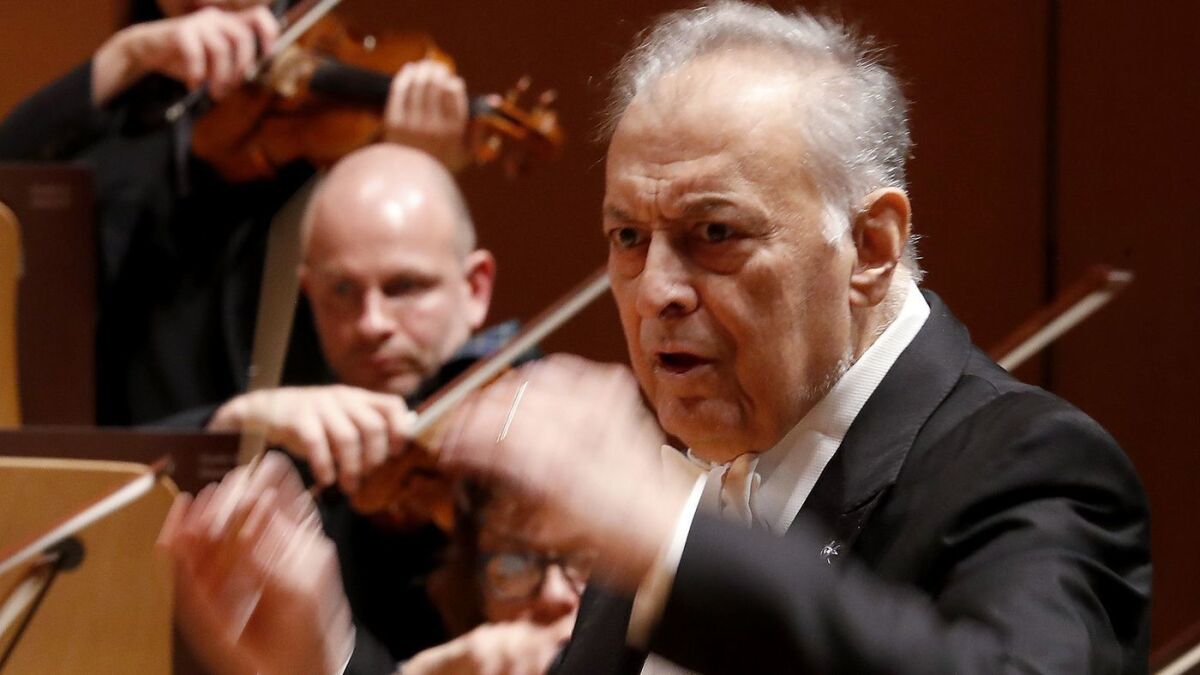 EXHILARATING SHOWS
Patricia Kopatchinskaja, the Molodovan-born violinist who served as musical director of last summer's Ojai music festival, was back in SoCal for a show at Hahn Hall in Santa Barbara as part of the UC Santa Barbara Arts & Lectures series. Mark Swed reports that she played Bartok's Second Violin Sonata in unorthodox ways. "It goes without saying that this is a violinist who allows neither herself nor audience to take anything for granted." Los Angeles Times
Plus, Swed has been reveling in the work of some interesting quartets, including the Kronos Quartet in shows in Santa Barbara and L.A., and the St. Lawrence String Quartet, which performed Haydn at the Segerstrom Center in Costa Mesa. "The ensemble disrupted the mother of all disrupters," he writes, "aka the father of the string quartet. It was pretty exciting." Los Angeles Times
ALL THE BEST
It's year-end wrap-up time!
— Charles McNulty comes through with a range of the best theatrical works, including "Cost of Living" and its human truths, and the star turns in "Dear Evan Hansen."
— In the world of classical music, Mark Swed looks at the musicians who spread joy and justice, including L.A. Phil director Gustavo Dudamel and composer Ellen Reid.
— Christopher Knight rounds up the 10 most engaging museum shows, including Jasper Johns at the Broad museum and the "Made in L.A." biennial at the Hammer Museum.
— And art critics Roberta Smith, Holland Cotter and Jason Farago choose their favorite art books. New York Times
READY FOR THE WEEKEND
Matt Cooper has the week ahead in classical music, dance, theater and museums. Plus, he's got all the weekend picks, from "The Nutcracker" to Taylor Mac.
Daryl H. Miller looks at what's doing on the 99-seat beat, including a holiday show involving Aphrodite, and I round up all the latest visual arts happenings in my weekly Datebook, including a show about the art of calligraphy.
IN OTHER NEWS…
— Kaywin Feldman will become the first woman to lead the National Gallery of Art in Washington, D.C. Washington Post
— A lawsuit alleges pay inequity at the Boston Symphony Orchestra. Washington Post
— Remembering dancer and choreographer Arthur Mitchell. The Guardian
— Cuba's Decree 349 criminalizes cultural activities that are not sanctioned by the government — and opposition to it is intensifying. Numerous artist-activists, including Tania Bruguera and Amaury Pacheco, have been arrested attempting to protest the decree. Artforum, New York Times
— A riveting profile of Max Harris, who did chores at Ghost Ship and is now doing time for the raging fire that consumed the lives of 36 people in 2016. New York Times Magazine
— LACMA will soon be closing its European art galleries in preparation for the construction of its new Peter Zumthor-designed building, but it's unclear if fundraising for the project is done. Los Angeles County Museum on Fire
— "Money has totally corrupted the ability to make a meaningful form." David Adjaye takes on money and architecture at the World Architecture Festival in Amsterdam. Dezeen
— How Stuart Palley captures the sinister beauty of California's fires. Los Angeles Times
— An evacuation can cause gridlock. Alissa Walker reports on reconsidering our dependence on cars when fleeing an emergency. Curbed
— From slavery to dress maker to the White House: the incredible life of Elizabeth Keckly. New York Times
— Needed: a caretaker for a stone tower in Palos Verdes. Daily Breeze
AND LAST BUT NOT LEAST…
That time the ladies from "Broad City" hit the galleries. Comedy Central
Sign up for our weekly Essential Arts & Culture newsletter »
carolina.miranda@latimes.com | Twitter: @cmonstah
---
Get our L.A. Goes Out newsletter, with the week's best events, to help you explore and experience our city.
You may occasionally receive promotional content from the Los Angeles Times.